NFL Week 10 Biggest Individual Matchups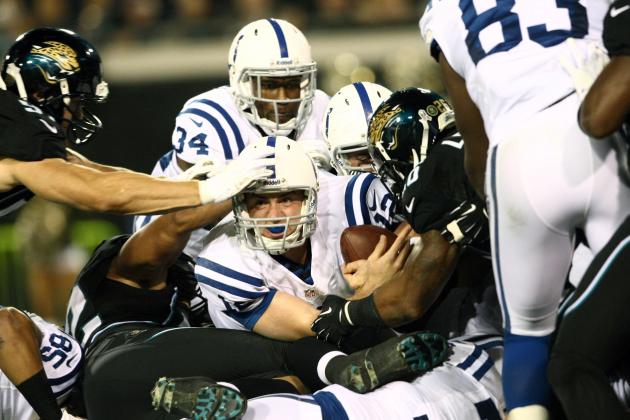 Douglas Jones-US PRESSWIRE
Andrew Luck and the Colts rolled past the Jaguars on Thursday night
Kudos to the 6-3 Indianapolis Colts, who have already tripled their 2011 win total just nine games into the 2012 campaign.
Elsewhere, the remainder of Week 10 will feature a Sunday and Monday night of old friends and familiar faces renewing acquaintances.
There are a number of quarterbacks facing off against teams that they have had great success against in the past.
There are also a few players squaring off against the same clubs that they once had great success with.
And there's a former head coach/turned offensive coordinator who at this time last season was coaching with the team he's facing off against this week.
Add in a prime-time special between two teams that both sport the second-most wins in the league this season to date and it makes for a fascinating card.
So why waste time reading this introduction?
The fun awaits…
Begin Slideshow

»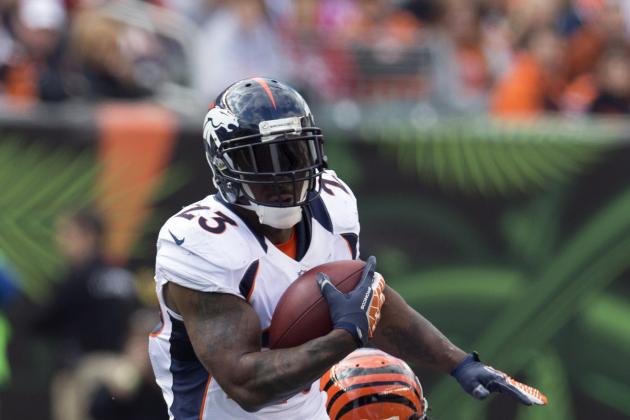 Greg Bartram-US PRESSWIRE

The Carolina Panthers finally snapped a five-game losing streak by keeping Washington Redskins quarterback Robert Griffin III under wraps.
This week's task may be slightly different.
Enter Denver Broncos quarterback Peyton Manning, he of five straight games with three touchdown passes.
But while most will focus on the battle between the first overall pick in 1998 (Manning) and the top selection in 2011 (Panthers quarterback Cam Newton), it will be up to the Carolina defense to play a big part in making things tough for the Broncos offense.
It's been another solid season for running back Willis McGahee, who has rushed for 620 yards and topped the 100-yard mark three times in 2012.
Rookie Luke Kuechly, who leads the team with 77 tackles, is now at middle linebacker with Jon Beason shelved for the season. If the Panthers can keep McGahee and Co. under wraps, it could an interesting afternoon in Carolina.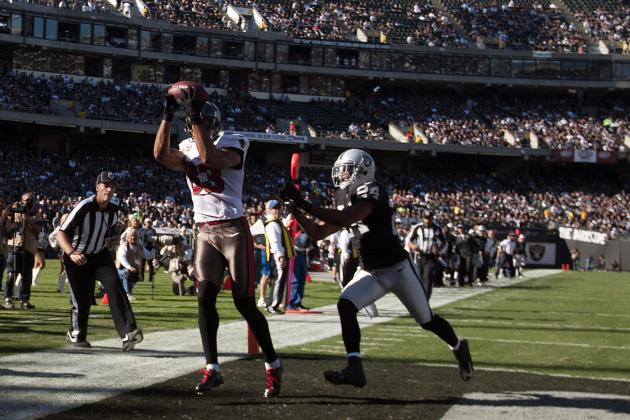 Ed Szczepanski-US PRESSWIRE

For the San Diego Chargers, a 4-4 start has unfortunately been par for the course as of late.
For the Tampa Bay Buccaneers, a 4-4 start has the making of a promising season.
Unfortunately, it's been another erratic season to date for Norv Turner's Bolts, who are now 12-12 in their last 24 games dating back to 2011.
Meanwhile, Greg Schiano has definitely made an impression in Tampa as the new-look Bucs have already equaled their victory total from a year ago.
While rookie running back Doug Martin has been one of the talks of the league the last few weeks, he could have his issues this Sunday against the NFL's fourth-ranked run defense.
Enter former-Charger-turned-Buccaneer wideout Vincent Jackson, who has somewhat quietly emerged as the team's leading pass catcher. While the rangy receiver has totaled only 31 receptions, they have been good for 710 yards (22.9 average) and six scores.
Schiano's team is 3-1 in its last four games and has totaled 28 or more points in each of those contests. It will be interesting to see if cornerback Antoine Cason, who has totaled two interceptions and leads the Bolts with seven passes defensed, can keep the big plays to a minimum.
Perhaps it's also worth a mention that while the Chargers have allowed 14 touchdown passes this season, 10 have come in the team's four losses.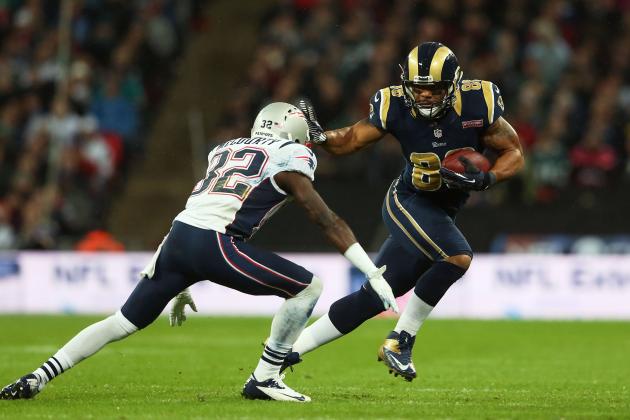 Scott Heavey/Getty Images

Save for the New York Giants, defeating the New England Patriots has not been an easy task for any team in the NFL for the last decade or so.
It's been particularly frustrating for the Buffalo Bills, who have incredibly dropped 22 of their last 24 games to New England dating back to the teams' second meeting in 2000.
Not that the Bills haven't tried as of late. In Week 3 of 2011, they ended a 15-game losing streak to the Pats with a 34-31 win at Orchard Park after rallying from a 21-0 deficit.
In last season's finale, Buffalo owned a 21-0 lead only to watch New England score the final 49 points of the game. And six weeks ago, Chan Gailey's club opened up a 21-7 third quarter advantage over the Patriots only to fall handily, 52-28.
Over the last five meetings, Bill Belichick's team has put 31 or more points on the board in each contest. And try as he may, Bills quarterback Ryan Fitzpatrick has attempted to keep pace with this division rival.
In those same five outings, the Buffalo signal-caller has thrown 10 touchdown passes but has been picked off 15 times, including at least twice in each game.
In this season's earlier meeting, Patriots cornerback Devin McCourty, who has actually started at safety the last two games, had two of the team's four interceptions of Fitzpatrick. The talented defender will look to add to those numbers on Sunday afternoon.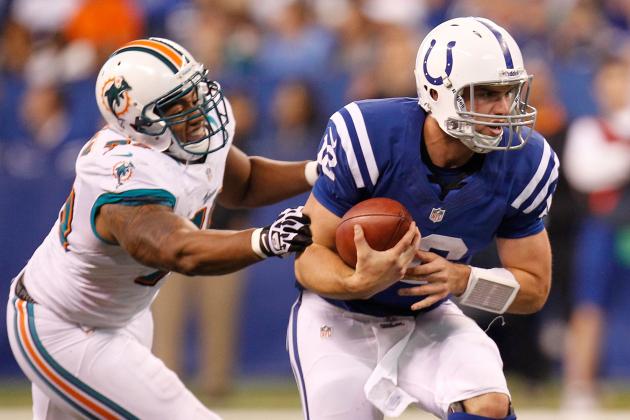 Gregory Shamus/Getty Images

So why the emphasis on the Tennessee Titans offensive front when this team seemingly can't get out of its own way on defense and special teams?
Mike Munchak's team has given up an astounding 308 points in nine games this season, including 30 or more points in seven of those nine contests. But while most of that falls on the defensive side of the ball, the Titans offense has had some issues as well.
Quarterback Jake Locker had a fumble returned for a touchdown in the Week 1 loss to the Patriots, while veteran Matt Hasselbeck has had three interceptions returned for scores, including one by Chicago Bears linebacker Brian Urlacher in Tennessee's 51-20 loss.
So it is imperative that Munchak's offensive line keeps his quarterback out of harm's way. And that will be easier said than done against Miami Dolphins defensive end Cameron Wake, who got off to a slow start this season sack-wise but has been on fire ever since.
While the former Pro Bowler didn't have a sack in his first three games, a 4.5-sack performance at Arizona obviously woke up Wake. Now the Dolphins defender is among the league leaders with 8.5 sacks and has gotten to the quarterback at least once in each of the last five games.
It's a streak Titans left tackle Michael Roos hopes to bring to a screeching halt on Sunday.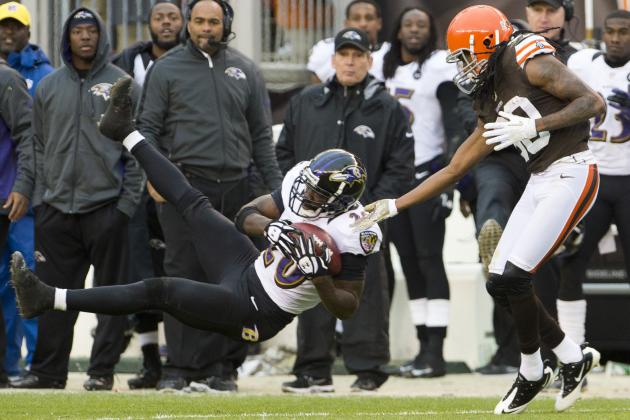 Jason Miller/Getty Images

Talk about a blast from the recent past.
Actually, that's probably overstating this matchup a bit. Still, after facing the Ravens twice a season on a regular basis, Oakland Raiders quarterback Carson Palmer returns to Baltimore to battle the Ravens for the first time since he was a member of the Cincinnati Bengals.
And no doubt the former Pro Bowl signal-caller has fond memories of his meetings with these members of the AFC North. In 13 encounters with the Ravens, Palmer was 9-4 as a starter and threw more touchdown passes (15) than interceptions (11).
Of course, the last few seasons haven't been kind to the one-time Heisman Trophy winner, who has thrown 44 interceptions in his last 34 games with the Bengals and Raiders, with eight of those returned for touchdowns.
And speaking of picking off the quarterback, Ravens free safety Ed Reed totaled career interception No. 60 last week as he continues to climb the all-time list in this category.
It will be interesting to see if his old friend Palmer assists him in the matter.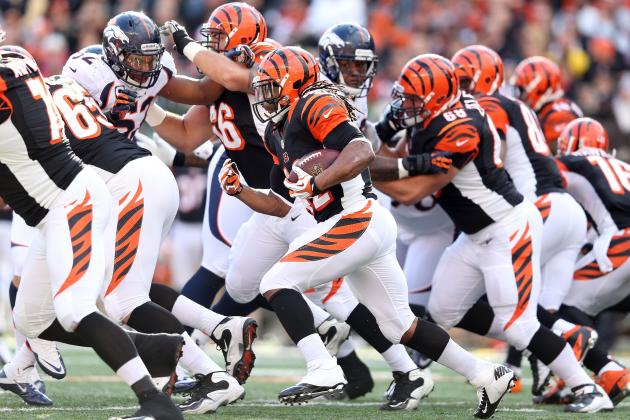 Andy Lyons/Getty Images

Last season, the New York Giants finished 9-7 and rode a hot finish to a Super Bowl title.
A year ago, the Cincinnati Bengals also finished 9-7, which was good to secure a playoff berth but third place in the AFC North.
These days, the latter is in the midst of a four-game losing streak that has Marvin Lewis and company's plan for a return to the postseason a little shaky.
Meanwhile, the defending NFL champions are coming off a loss to Pittsburgh in which their offense managed only 182 total yards, just 24 more than the Steelers managed on the ground (158).
While Bengals quarterback Andy Dalton has thrown more touchdown passes (14) than interceptions (11), it's also worth noting that the second-year signal-caller has been picked off at least once in all eight games this season.
Hence, it may be a good week to lean on BenJarvus Green-Ellis this week. The one-time Patriots running back has totaled at least 20 carries in a game just twice this season but could take advantage of a spotty New York run defense.
It's been a banner year for Giants linebacker Michael Boley, who leads his team with 54 tackles and has also chipped in with five takeaways. But he and his mates could be tested early and often if Bengals offensive coordinator Jay Gruden turns this case over to the Law Firm.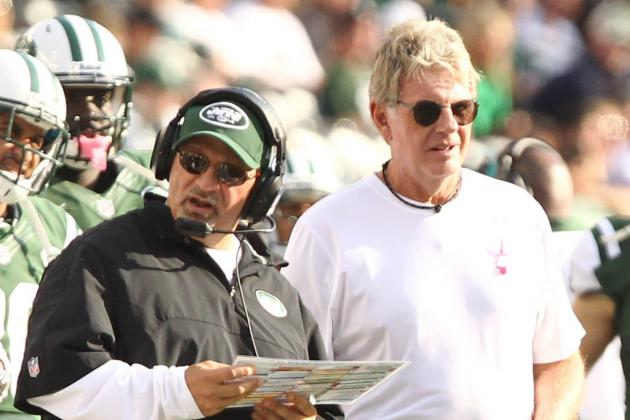 Debby Wong-US PRESSWIRE

The last two times we saw Rex Ryan's New York Jets, they were anything but special.
Back in Week 7 at New England, the Green and White gave up a 104-yard kickoff return for a score to the Patriots' Devin McCourty in an eventual 29-26 overtime loss.
When last we saw Ryan's club two weeks ago against the Miami Dolphins, the Jets had both a field goal and a punt blocked, the latter for a touchdown, and were caught napping on an onside kick in the first quarter in a humbling 30-9 setback.
So what can special teams coordinator Mike Westhoff do about these unhappy returns?
Well, he won't be getting much help from Leon Washington on Sunday as the specialist faces his former team for the first time. The seven-year veteran has seven career kickoff returns for scores and ranks sixth in the NFL in kickoff return average (29.1) this season.
And the last thing that Ryan, Westhoff and the rest of the Jets need is an opening-kickoff return by Washington to get Seattle's boisterous crowd in an even bigger uproar.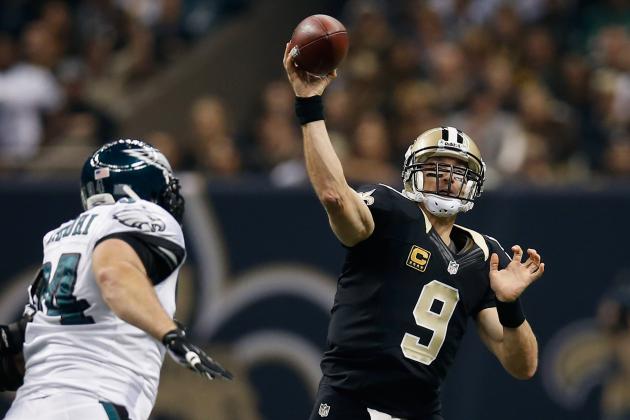 Chris Graythen/Getty Images

As many try to speculate as to when (or if) the Atlanta Falcons will lose their first game in 2012, this meeting with the New Orleans Saints is certainly garnering some votes.
That's because thanks in large part to quarterback Drew Brees, the Cajuns have owned this series since the former Chargers' quarterback turned into a Saint in 2006.
New Orleans has won three straight and is 10-2 in the last 12 meetings with the Falcons. Brees has put up some impressive numbers in those games, throwing for 3,639 yards (300-plus yards in eight games) with 26 scores and just 11 interceptions. And Falcons defenders have sacked the Saints signal-caller just 10 times in those dozen meetings.
This season, the Falcons defense has allowed only eight touchdown passes in as many games while totaling 10 interceptions, four of those by talented free safety Thomas DeCoud. And if the heady defender can get his hands on a couple of Brees' throws, the Falcons' run at perfection may indeed continue.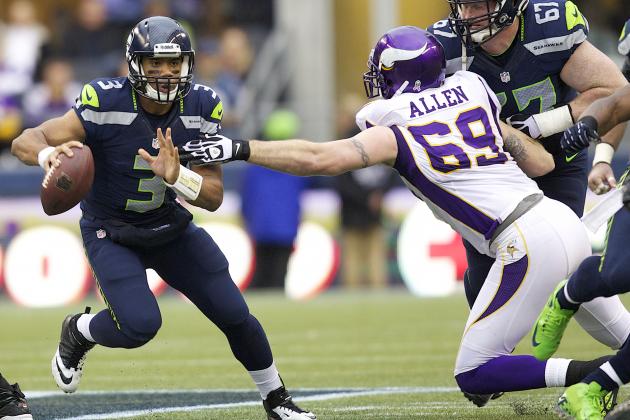 Stephen Brashear/Getty Images

The gap has closed in the highly competitive NFC North, to say the least.
A few weeks ago, the Detroit Lions were coming off their third straight loss, a 20-13 home setback to the improved Minnesota Vikings. Since then, Jim Schwartz's team has reeled off three victories in four games.
That win by Leslie Frazier's club was followed by a victory over the Titans. But since then, Minnesota has dropped three of its last four contests.
And in the blink or two of an eye, we now have the 5-4 Vikings hosting the 4-4 Lions.
In this season's first meeting, the Minnesota defense sacked Lions quarterback Matthew Stafford five times, including once by Vikings defensive end Jared Allen.
But last week, Allen's streak of totaling at least one sack in six straight games came to an end at Seattle. Meanwhile, Detroit has given up only six sacks in its last four contests.
So Lions veteran left tackle Jeff Backus once again renews acquaintances with last season's NFL sack leader, who has totaled an astounding 69.0 sacks in 73 games since joining the Vikings in 2008.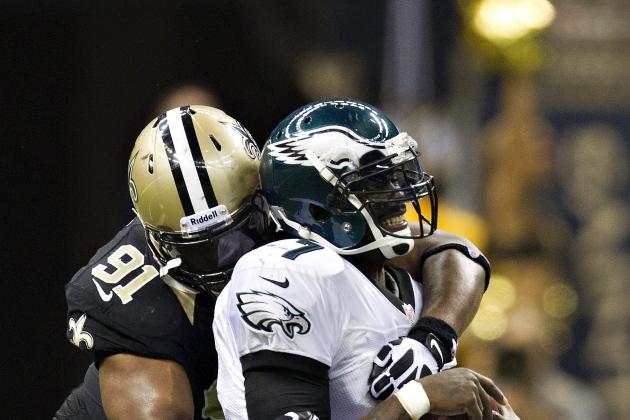 Wesley Hitt/Getty Images

This one seems all too obvious.
Since entering the National Football League in 2005, no player in the league has totaled more sacks (108.5) than Dallas Cowboys defender DeMarcus Ware.
The perennial Pro Bowler is off to another terrific start in 2012, tied for second in the league with 9.0 sacks. And given the way the Philadelphia Eagles offensive line has performed as of late, Ware figures to be everywhere, more specifically draped all over opposing quarterback Michael Vick.
Not to be a killjoy, but let's see what good that does Jason Garrett's team.
Last season, in two games vs. the Birds, the perennial Pro Bowl havoc-creator amassed 15 tackles and all six sacks of Vick by the Cowboys in 2011. And it added up to a pair of losses to Philadelphia by a combined score of 54-14.
Last Monday night at the Superdome, Vick was sacked seven times in a 28-13 loss to the Saints. It will be interesting to see if Ware and company can equal or surpass those numbers.
It will be more intriguing to see if the Cowboys can actually win the game.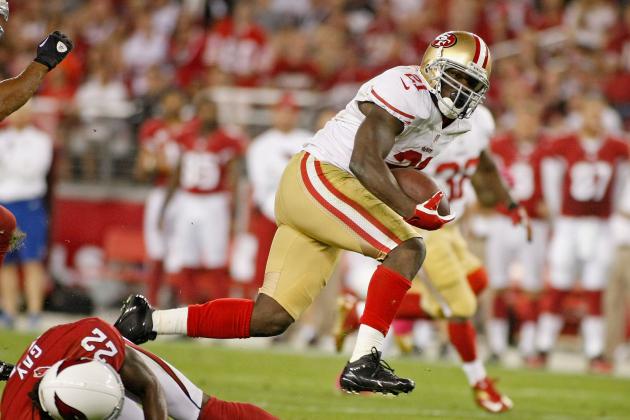 Ralph Freso/Getty Images

Both the St. Louis Rams and San Francisco 49ers have had two weeks to prepare for this head-knocker in the City by the Bay.
And while these clubs appear headed in opposite directions, there will be plenty of collisions in this NFC West rivalry.
One key will be how an improved Rams defense handles the NFL's top-ranked ground attack led by 49ers running back Frank Gore, whose 656 yards ranks fifth in the NFC.
All told, Jim Harbaugh's club is averaging 168.6 yards per game rushing and has been held below 100 yards just twice in eight games this season, both resulting in losses.
Per usual, middle linebacker James Laurinaitis leads St. Louis in tackles and is one part of a defensive unit that has reversed its field in terms of stopping the run.
After finishing 31st in the NFL in stopping the run in 2011, the Rams are a very respectable 13th in that department this season.
If you are into numbers, here's an interesting duel of sorts. By game's end, what will be the higher total; Gore's carries or Laurinaitis' tackles?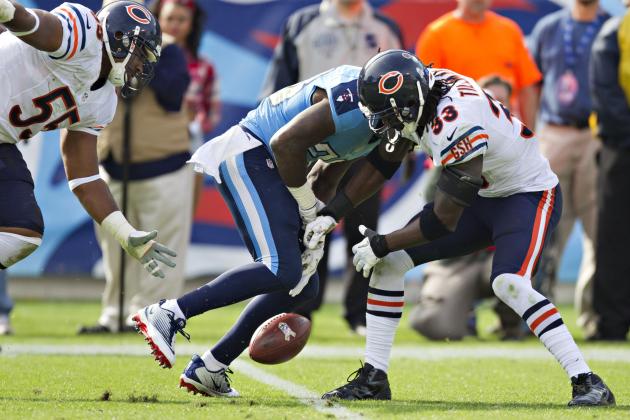 Wesley Hitt/Getty Images

There's still half a season to play in NFL 2012 but the front-runners for certain individual awards are emerging.
While there's still plenty of time to debate all of these accolades such as MVP, Rookies of the Year and Coach of the Year at a later time, the honor of 2012 NFL Defensive Player of the Year has seemingly turned into an intriguing two-player race. And how convenient is it that both performers will be on the field in Chicago on Sunday night?
Houston Texans defensive end J.J. Watt is in the midst of his second season, but he's become a seasoned pro quickly as the former first-round pick leads the NFL with 10.5 sacks and his team with 10 passes defensed.
Chicago Bears veteran cornerback Charles Tillman has totaled two interceptions and returned both for touchdowns but has also knocked down six passes and forced an astounding seven fumbles, four of those in last week's win at Tennessee.
Both of these players are having outstanding years and Sunday night's head-to-head encounter (unless Tillman opts to miss the game due to personal reasons) should be both interesting and entertaining…
Unless you're Matt Schaub or Jay Cutler, that is.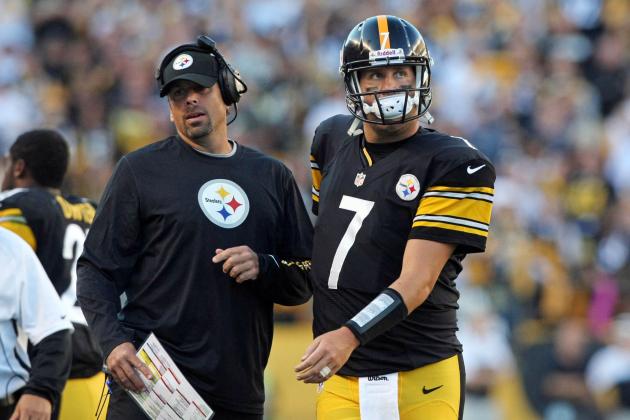 Jason Bridge-US PRESSWIRE

It's safe to say emotions will be running high in the Steel City on Monday night.
Enter the 1-7 Kansas City Chiefs, losers of five straight games and having already committed an astounding 29 turnovers in eight games, easily the most in the NFL.
Back in 2010, the team finished 10-6 and was the surprise winner of the AFC West thanks in part to first-time head coach Todd Haley, whose team committed just 14 turnovers in 16 regular-season games that year.
With a disappointing 5-8 record after 13 games in 2011 and off a 37-10 loss to the New York Jets, Haley was shown the door and replaced by Romeo Crennel, who was doing double duty as head coach and defensive coordinator until he recently relieved himself of the latter duties.
Of course, Haley has now landed in Pittsburgh where his relationship with quarterback Ben Roethlisberger has been a much-discussed subject. However, these days the only talk in Pittsburgh is how Mike Tomlin's team has suddenly won three straight games after a 2-3 start.
Still, you can't help but wonder how Haley plans to take advantage of a struggling Chiefs defense, ranked 22nd this season against the run, which this coach knows all too well.