Miami Dolphins: 3 Ways Reggie Bush Will Exploit the Titans' Uninspiring Defense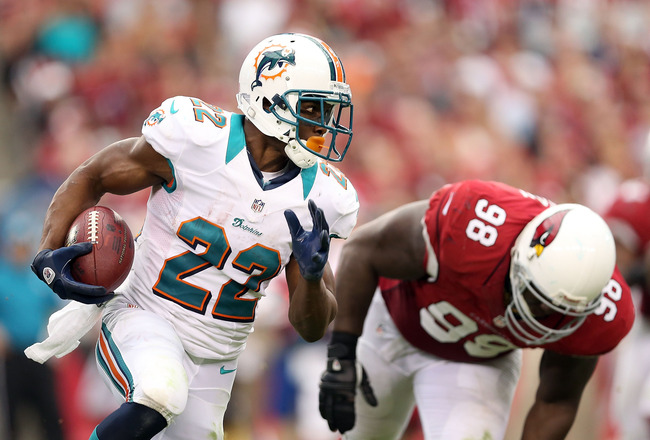 Christian Petersen/Getty Images
On Sunday, the Miami Dolphins will look to push their postseason pursuits into overdrive as Reggie Bush and the upstart Dolphins host the struggling Tennessee Titans.
The Titans' defense, in particular, has been at the bottom of the league this year, allowing the third-worst rush defense and 27th-ranked pass defense.
They have also held just one team under 20 points this year, a 19-13 overtime loss to the Colts.
Certainly, facing some of the league's top rushers has not helped those stats. Tennessee traveled to face Arian Foster's Texans and Adrian Peterson's Vikings, but was also blown out at home by Chicago due, in part, to Matt Forte.
Averaging 4.4 yards per game, Reggie Bush is not far behind those names this season and can easily exploit the Tennessee defense in Week 10.
As a Rusher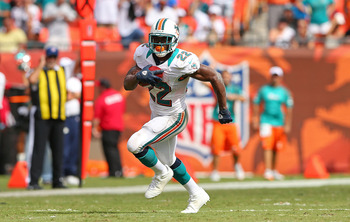 Mike Ehrmann/Getty Images
Not surprisingly, Bush has had his biggest games against Miami's weakest opponents this season.
Bush was instrumental against Indianapolis and Arizona—both teams that have allowed over 1,000 yards on the ground already this season—but he exploded against Oakland.
At home against the Raiders, Bush was utilized primarily as a rusher, carrying the ball a season-high 26 times, gaining 176 yards and two touchdowns.
Tennessee will be by far the weakest team the Dolphins have played yet, but Oakland's 3-4 defense could be an accurate barometer for Bush.
The interior of the Oakland defense is anchored by third-year linebacker Rolando McClain. Bush moved easily through the Oakland defense and will face off against more of the same from Tennessee and Akeem Ayers.
Ayers may be a bit quicker on the outside, but even against one of the league's best defenses—Week 1 in Houston—Bush average nearly five yards per carry.
Through the Air
Christian Petersen/Getty Images
Reggie Bush's most dangerous quality is unquestionably his versatility. His ability to get out of the backfield has gained him an additional 171 yards this season.
He is not a receiver, however. Sending Bush on a wheel route is more an extension of the run game for Miami.
Bush has typically received fewer than five receptions each week, but he can move along the sidelines and make the most of them.
This past week, Bears running back Matt Forte broke a reception for 45 yards against the Titans. Against Tennessee in Week 1, New England Patriots young running back Stevan Ridley earned 27 yards on two receptions. He has just five receptions as a running back this year, suggesting there might be a blueprint for moving backs underneath the Titan's defense.
From traditional receivers, Miami's wideouts have made a negligible impact this season. Behind Brian Hartline and Devon Bess, Bush and tight end Anthony Fasano account for the lion's share of the pass receptions.
Bush presents a good safety valve for rookie QB Ryan Tannehill. Underneath, Tannehill can dump off the ball to Bush to gain pseudo-rush yards, both by design and under pressure.
Bush at Home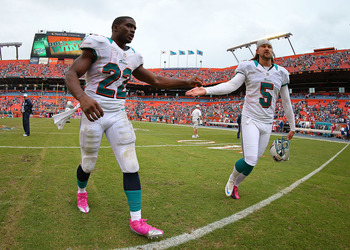 Mike Ehrmann/Getty Images
The Dolphins have played the better part of their schedule on the road in the first half of the season, but that has not diminished Bush's impact in South Florida.
Despite playing just three home games so far, Reggie Bush has still nearly matched his production at home and on the road.
On the road, Bush has gained 284 rushing yards on 74 carries, as compared to 250 home rushing yards on just 48 carries.
Although a large chunk of those yards came against Oakland, Miami has hosted above-average defenses including the New York Jets and St. Louis Rams.
Tennessee and the Jets pair well together, both having allowed an average of 4.4 yards per attempt this year. Bush averaged 6.1 yards per carry against the Jets when they traveled to Florida, and he will try to do so again this week.
Regardless of their shortcomings, each of these defenses has been more productive than Tennessee. Bush was able to exploit those teams and will try to replicate those performances against the Titans on Sunday.
Keep Reading

Miami Dolphins: Like this team?