NBA: 8 Players Who Will Regress This Season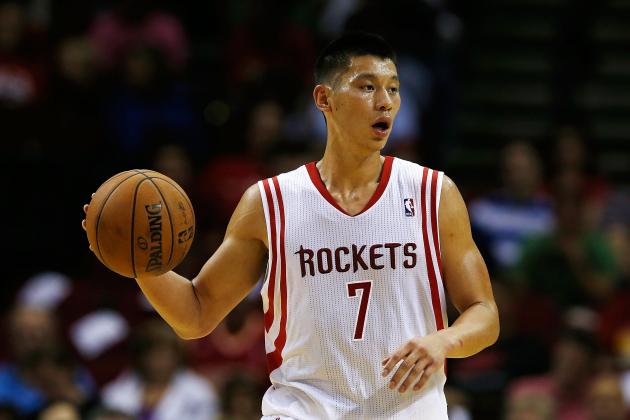 Scott Halleran/Getty Images
Will Jeremy Lin regress this season?
In any sport, we as fans go into every season with gaudy expectations for many players. We predict breakouts from under-the-radar types and we try to anticipate the arrival of the league's next superstar player.
What we don't anticipate, however, is which players will disappoint us. Who will be the guy that was overpaid, overly relied on and couldn't come through to take our team to the promised land?
Ahead is a list of eight players who should experience regression in some degree this season from last season.
Begin Slideshow

»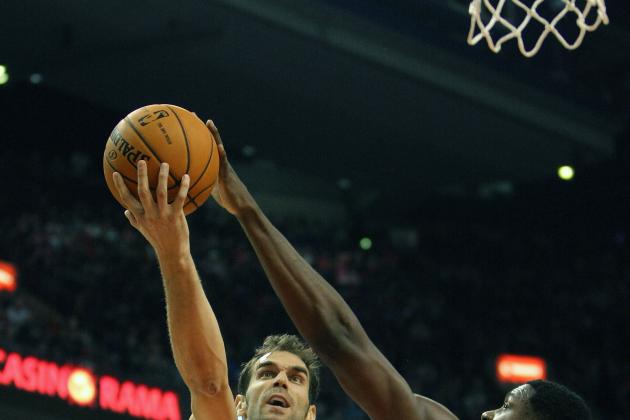 Dave Sandford/Getty Images
Jose Calderon will make the move from starter to the bench this season
The Toronto Raptors biggest free agent acquisition this offseason was point guard Kyle Lowry. Lowry has become one of the centerpieces of the Raptors rebuilding effort and has effectively displaced former starting point guard Jose Calderon in Toronto's starting five.
Some would suggest that the talented Calderon start at the two guard position, but budding-star and high-flying guard Demar DeRozan, who has been a very good one-on-one scorer, will occupy that spot.
Calderon was fourth in the league last year in assists with 8.8 per game and is unlikely to produce such gaudy numbers this season. He has flown under the radar the past two seasons averaging over 8.8 assists per game and has turned into one of the league's best passers.
Calderon's skill set hasn't regressed as much as his playing time will. Under the current circumstances, he cannot be expected to produce at the levels he has been over the past two seasons.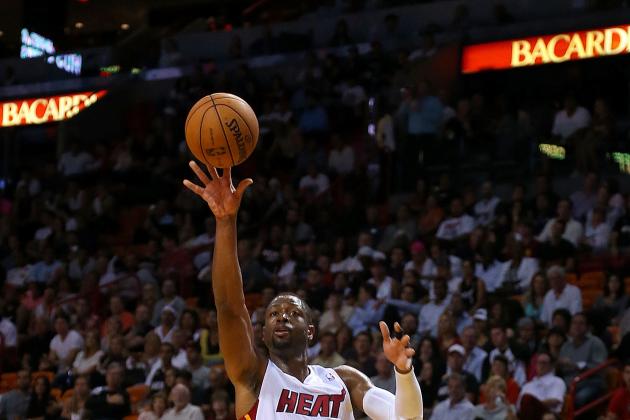 Mike Ehrmann/Getty Images
Dwayne Wade's days as a superstar in the NBA aren't over, but could start waning
Wade is still an All-Star in this league and his 22 points per game average last season shows that he can still play despite an injury history and his decreasing role as a leader alongside LeBron James.
Although he clearly has (at least publicly) taken a back seat to King James, he is clearly the second best player on the defending champion Miami Heat squad.
However, this past offseason, things have really changed in Miami.
After LeBron's first championship and his dominance in leading Team USA in the Olympics, he will clearly take over and dominate each game as his elevated confidence in his own abilities will be the only thing that can lead the Heat to multiple championships.
Also, they signed the all-time three-point leader, Ray Allen, who will take even more shots away from Wade.
It doesn't help that Wade is coming off knee surgery that made him miss the Olympics. As he gets his legs back and adjusts to LeBron's even more dominant role, Wade won't be as quick penetrating the lane—one of his greatest strengths—and having Allen taking valuable minutes at shooting guard will also detract from his overall value.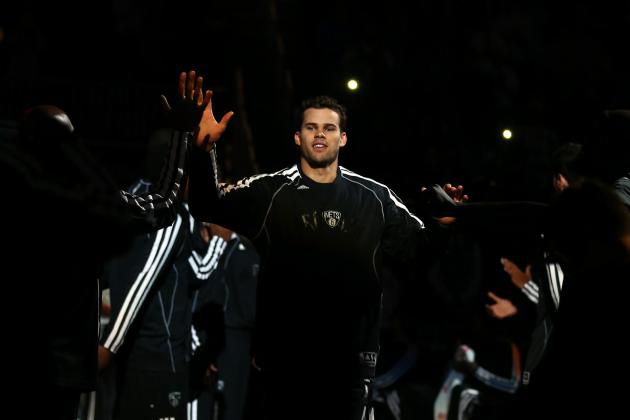 Elsa/Getty Images
Has Humphries worn out his welcome in Brooklyn like he did with Kim Kardashian?
Humphries plays very hard on a game-to-game basis and often flies under the radar in terms of the value that he can provide a team. Humphries averaged 11 rebounds per game last season—good for fourth in the league.
Humphries was able to average double digit rebounds on top of setting career-highs in scoring and blocks per game in a career-high 35 minutes per game. The second most average minutes in his career was 28, two seasons ago.
After a subpar 22-44 season, the Nets moved to Brooklyn and picked up front-court value players Andre Blatche and Reggie Evans and will also bring back a healthy Brook Lopez for (hopefully) a full season. Also, a trade with the Portland Trailblazers netted them forward Gerald Wallace late last season.
Humphries has a definite role on this team and his skills are valuable ones, but with the added depth at forward and center, it is unlikely that Humphries will average the 35 minutes per game he did last season, nor will he attain double-digit rebounds.
It is also safe to say that the addition of Joe Johnson on top of the new members of the front court will detract from his 13.8 points per game last season.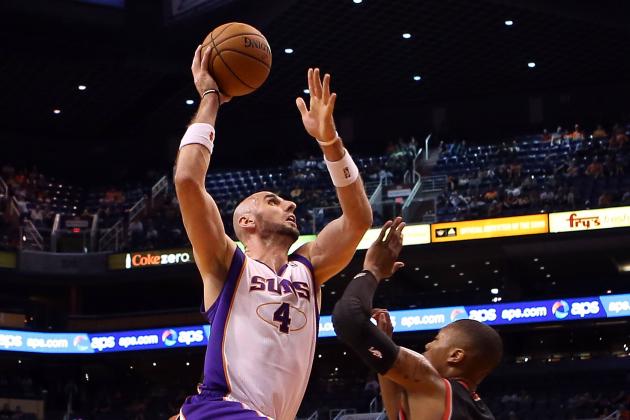 Christian Petersen/Getty Images
Can Gortat continue his ascent among centers in the NBA?
Gortat, after backing up Dwight Howard in Orlando, finally got his chance to be a full-time starter in Orlando. His numbers reflected how much he deserved the role, averaging a double-double in two seasons as a starter and just under a double-double in the previous season in which he was a part-time starter.
Gortat is a good scorer who can step out of the paint to knock down the open jumper or display solid moves with his back to the basket. However, as is the case with most Phoenix Suns big men, Gortat benefited heavily from Steve Nash's savvy in running the pick and roll as well as creating for his teammates.
The face of the Suns franchise departed for Los Angeles in the offseason, leaving Gortatm and the Suns, with a gaping hole at point guard. Replacement Goran Dragic—a good, young point guard—will be sufficient for Gortat to "get his," for the most part.
Dragic will be adjusting to a new role as a starting point guard and the heavy minutes are sure to wear on him. If Dragic can't keep up consistent play, then Gortat's numbers are likely to dip as well.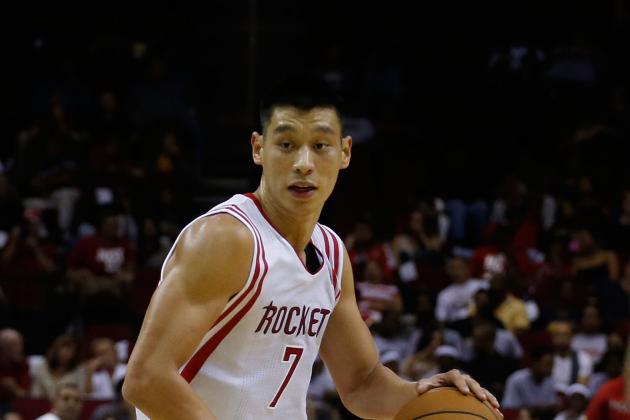 Scott Halleran/Getty Images
Linsanity feels like it was ages ago as Jeremy Lin suits up in a Houston Rockets uniform
Don't we all miss Linsanity? Well, Linsanity is long gone. Jeremy Lin, a Harvard graduate, was smart and cashed in on his 35-game explosion starting last February.
Jeremy Lin is not a special player. I repeat: Jeremy Lin is NOT a special player. What Jeremy Lin is, however, is a good point guard who is smart and quick enough to lead his team and create for his teammates.
That's a great asset to have, except for when you are paying an average of over eight million dollars per year to get it.
Lin is being paid for the 18.2 points per game and 7.7 assists per game he averaged as a starter last season. In reality, he is being paid more for the eight game stretch, now known as "Linsanity," in which he averaged over 20 points per game and over eight assists.
After February, Lin's statistics noticeably dropped off. Many will attribute that to the return of ball-stopper Carmelo Anthony, but I will attribute it to a statistical concept that I call regression to the mean.
Regression to the mean in layman's terms basically says that in a large enough sample size, all averages (batting averages in baseball, most per game numbers in basketball, etc.) will return to what their natural, sensible value should be.
Lin's skill set and body did not dictate that over 82 games, he could average 20 points and almost 10 assists. He is not Chris Paul or Deron Williams. Lin will average somewhere in the range of 15 points and seven assists per game, which is what his expectations should have been. That is far from the superstar everyone expects Jeremy Lin to become.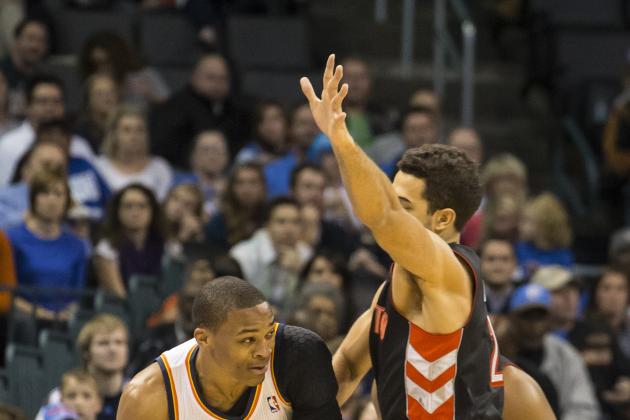 Shane Bevel/Getty Images
Westbrook will have to step up his game this season to replace James Harden
Many people like to blame a lot of the Thunders troubles on Westbrook. Westbrook embodies the new-age point guard. He is long, athletic, strong, is a high-flyer and can finish at the rim with the best scorers in the league Like Derrick Rose, Rajon Rondo and John Wall, among others, he has helped redefine the position.
At times, Westbrook can get a little out of control and will force shots or passes when he should be more patient and let the game come to him.
However, the way the Thunder came together as a team and meshed helped make up for those deficiencies as teammates James Harden and Kevin Durant always seemed to pick up the high-tempo guard when he would slip up.
Now, Harden is gone, traded to the Rockets for the one-dimensional Kevin Martin, some other role players and draft picks.
With the loss of Harden and the increased competition in the West, specifically in Los Angeles where the Lakers and the Clippers have grown stronger, Westbrook will need to do a better job of controlling the game flow and letting the game come to him.
Durant can't play 48 minutes every night, so there will be times when Westbrook is asked to carry the team on his shoulders while the league's scoring champion rests.
Westbrook's ascent to the league's elite players is inevitable, but I expect the loss of an elite player like Harden to slow him down at least at first, while he adjusts to being the unquestioned best player on the floor for stretches throughout every game.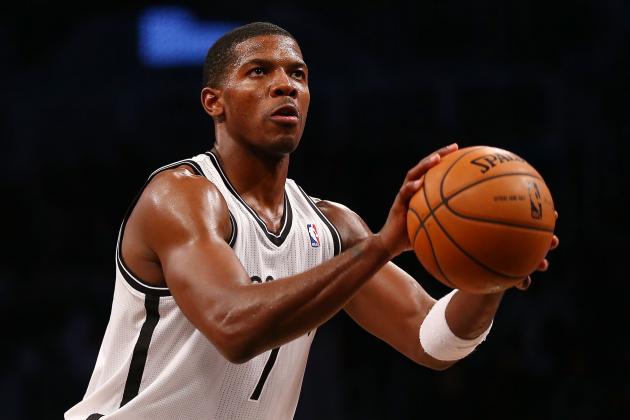 Alex Trautwig/Getty Images
Joe Johnson will be asked to be a role player in his first season in Brooklyn
The Hawks finally were able to rid themselves of the worst max-contract in the game. Johnson was moved to Brooklyn to play alongside All-Star point guard Deron Williams for the 2012-2013 season and help bring the Nets back to relevance.
Johnson isn't the player he used to be, but hes still a good scorer and shooter. If anything, Johnson is consistent—averaging between 18.2 and 21.7 points per game in every season since 2005-2006 with the exception of one 25 point per game season.
However, this was all while he was "the guy" with the Atlanta Hawks. He was brought in on a max-contract to become the leading scoring option and bring the Hawks towards the league's elite.
In former head coach Mike Woodson's "iso-Joe" offense, Johnson was given the ball with the option to take his defender one-on-one or to give the ball to a teammate with a better look. It was pretty conducive to Johnson scoring when and where he wanted.
Now, Johnson is at least the second and arguably the third scoring option in the starting five. Deron Williams, for all of his passing prowess, will be the go-to guy with the clock running down in the fourth quarter and is not only the team's best facilitator, but also their best scorer.
Center Brook Lopez may be soft and struggle on the boards and defending the paint, but his post moves are smooth and natural allowing him to average 17.5 points per game over his career.
Johnson's scoring numbers will probably take a hit because of the multitude of other options around him who are as good or better. He will be asked to knock down the open jump shot, let Deron Williams create for him—as opposed to him creating for himself in "iso-Joe"—and facilitate from the wing for the other players in the offense.
This role suits Johnson better as he ages and he will surely be a regular contributor on the court, but his days of averaging 20 points per game and making the All-Star team are waning if not gone.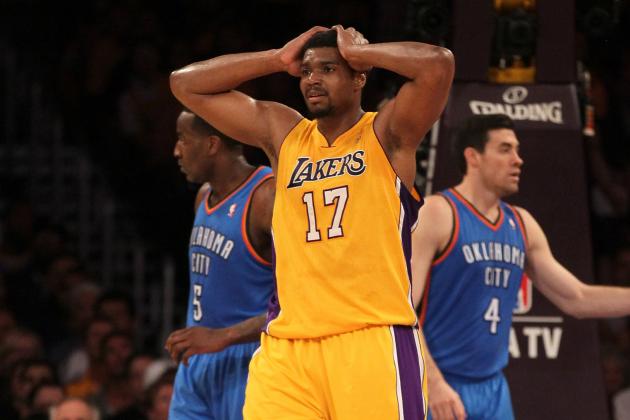 Stephen Dunn/Getty Images
Andrew Bynum will be the focal point of his new team in Philadelphia
Andrew Bynum is widely considered one of the best centers in the NBA. Until last season, he had always under-performed his talent and was on the verge of becoming a "bust" in Los Angeles. Luckily for the Lakers, he improved his play just in time to get him out of town and bring in the more consistent and reliable Dwight Howard.
Bynum can do it all on the court. He can defend, rebound and score. He can impact a game like few other players in the league. His issue has been effort and maturity.
In Los Angeles, Bynum was able to take on the responsibility that he felt was fit for him as he could always defer to Kobe Bryant or Pau Gasol. Now Bynum is in a new city with a worse team and players nowhere near the level of Kobe or Gasol.
Bynum's team is no longer a shoe-in for the playoffs nor can he pick and chose when he wants to try. He will be the focal point of the 76ers offense and my opinion is that at least at first, his immaturity will rise as he will be unable to handle his team losing at a higher rate than he is used to.
While Bynum remains as one of the league's top centers, he will definitely regress from last season.