Boston Red Sox: 5 Realistic Moves the Red Sox Should Consider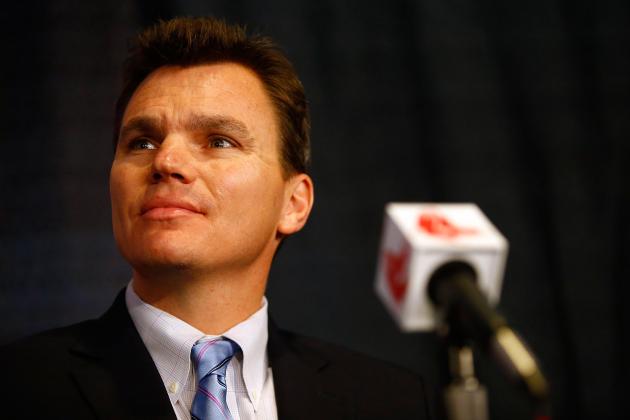 Jared Wickerham/Getty Images
Ben's got some work to do
The Boston Red Sox have finally turned the page, at least they hope so, and are now looking forward to next season.
With the Winter meetings coming up, General Manager Ben Cherington will have an opportunity to gauge the free agent and trade markets, and asses what his next move will be.
Not coincidentally, this is every fan's favorite time of year. The time when they get to put on their couch-GM uniforms and choose who are the best players that their team should pursue.
We follow the team for all 162 games plus playoffs, and we know every minute detail about the team including the every top prospect.
We think we do, anyway.
Regardless, we do often feel overqualified in our ability to pinpoint exactly what our team's needs are, and we'll let our opinions be heard; whether anyone wants to hear them or not.
I'm no different and I'm going to tell you exactly what I think. I do, however, hope to keep these moves realistic.
Contrary to popular belief, teams don't want to trade their top players for middling prospects. Shocking, isn't it? I thought so too.
Begin Slideshow

»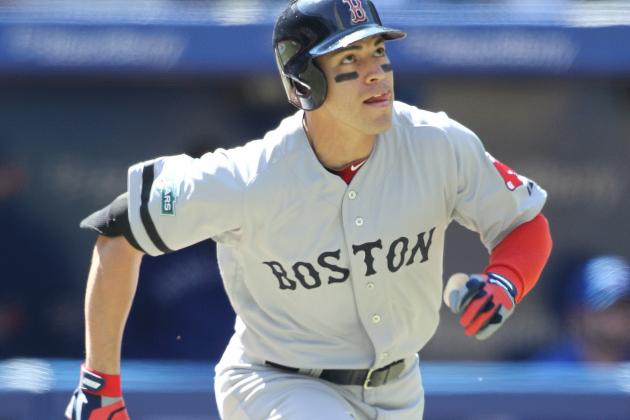 Claus Andersen/Getty Images
Ellsbury has an abundance of talent, but is no longer a fit
Trading Jacoby Ellsbury has been an idea that has seemingly been thrown around every offseason since he burst onto the scene back in 2007.
Ironically enough, that was the last year the Red Sox were true World Series contenders. They made the playoffs in other seasons, but it was never likely that they'd win it all.
As the Red Sox struggled in the years after the 2007 season, there were some calls to trade Ellsbury to improve other areas of need. It made sense, too, given the abundance of outfield prospects they had at the time.
The Red Sox never pulled the trigger. In the past couple of years, though, we've seen that vocal group start to become louder.
The whole injury debacle in 2010, a massive miscommunication between everyone involved, has soured a lot of fans on Ellsbury.
The air may have been cleared, and Ellsbury bounced back with a strong 2011 and 2012, but I think it's time to cut ties.
With Scott Boras as his agent, he's going to want more money than the Red Sox are willing to give him, and I just haven't seen the right attitude.
Do we ever hear the whole story? No, but, as far as I'm concerned, we don't need to keep paying guys who don't want to give the right effort here.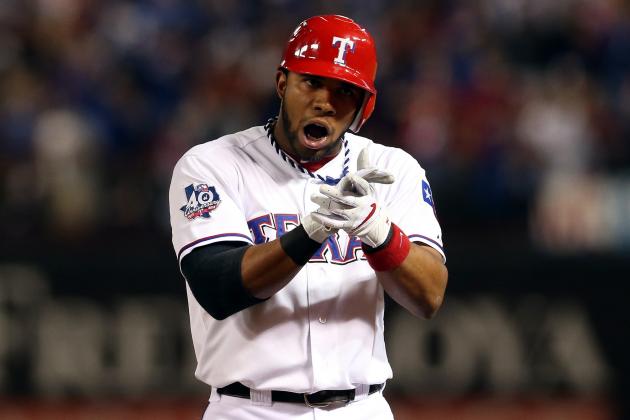 Ronald Martinez/Getty Images
The true answer to the shortstop problem
I'm including acquiring Elvis Andrus because it will come as a direct result of trading Jacoby Ellsbury. Like I said, I'm all for trading Ellsbury, and I'm all for acquiring Elvis Andrus.
The Red Sox have yet to have a steady shortstop since trading away Nomar Garciaparra (still pains me to write that), though the case could be made that they missed their chance by letting Orlando Cabrera go after 2004.
The Rangers, with Josh Hamilton likely moving on, are in need of a center fielder. What do you know, the Red Sox have one of those available.
Seems like a great fit. So much so, that I'm not even the only person to think of the trade, but that only speaks to how much this makes sense as a rumor.
Not all rumors, or proposed even trades, work out in the end, but that's a chance the Red Sox need to take.
Jose Iglesias has been the "shortstop of the future" for years, but has still yet to show that he can handle hitting at a high level of baseball.
Elvis Andrus is not the defensive wiz that Iglesias is, but he's a much more complete player. He'll give serviceable defense while providing the other things, like hitting, all at a relatively cheap cost.
If it's Ellsbury, great. If they'd rather have prospects, that's cool too as long as it isn't Rubby De La Rosa.
Just get Elvis Andrus.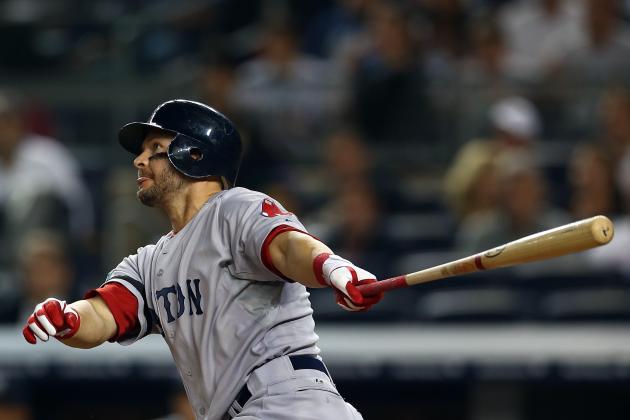 Elsa/Getty Images
Cody Ross is a good fit for Boston
If the Red Sox trade away Jacoby Ellsbury, or even if they don't, they should bring back Cody Ross.
It may not have been pretty, but Cody Ross was a quality player for Boston and one of the few whose contribution was actually felt.
Hindsight is always 20/20, but Ben Cherington made a miscalculation by trading away Josh Reddick. Reddick had all the skills to be a star in this league, yet, never really got his chance in Boston.
Ross became Reddick's replacement, but let's not mix up what his role was expected to be. Yes, he literally replaced Josh Reddick, but he was not meant to replace the potential upside that Reddick had.
Ross was going to be a quality one-year guy to allow Ryan Kalish, or another prospect, the time they needed in Pawtucket before they were ready for the show.
Kalish suffered another injury setback this past season, and, while he could still be ready to take over, the Red Sox could be needing another outfielder.
Ross was looking for a contract similar to Josh Willingham's in Minnesota, but it seems as though the Sox weren't willing to do that.
Ross is not the best defensively, but he plays with the grittiness that once defined the Red Sox. His swing is also tailor-made for Fenway.
Besides, there's not much else on the market. Why not stick with what you know will work?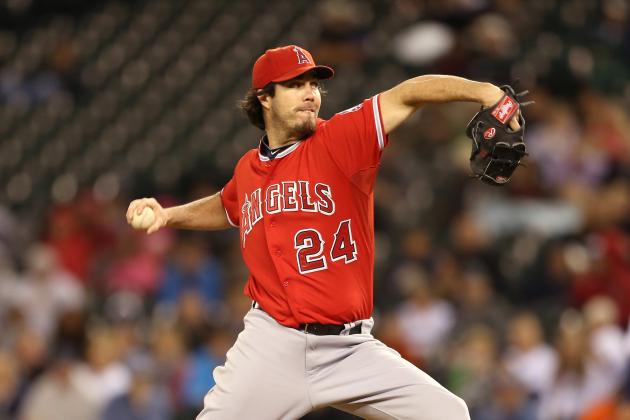 Otto Greule Jr/Getty Images
Haren is the perfect low-risk/high-reward move
Low-risk/high-reward moves were quintessential to the Theo Epstein era in Boston. Obviously, some pan out (Adrian Beltre) and some don't (Julio Lugo, John Smoltz), but on the whole they are a general manager's best friend.
There's no doubt Cherington picked up on this style from Epstein (re: Cody Ross), and signing Dan Haren would be another perfect example of this strategy.
Haren's name was definitely on Boston's radar, but Cherington noted that they were never really close to a trade.
That does not mean, however, the interest has waned. In fact, now that the Angels declined Haren's option, it could be even higher.
The Red Sox currently have four pitchers—Jon Lester, Clay Buchholz, John Lackey, and Felix Doubront—that are guaranteed spots in the rotation. The fifth spot would have, presumably, gone to a prospect or veteran on a minor league deal.
Haren solves that dilemma right away. Lackey can be a middle of the rotation guy, but, with his current track record and recently coming off major surgery, he should be at the back-end of the rotation.
Giving Haren an incentive-heavy contract, ala Adrian Beltre's, would allow Boston to slide him right in behind Lester and Buchholz.
If he's in form, you can resign him. If not, cut him loose at the end of the season and try again.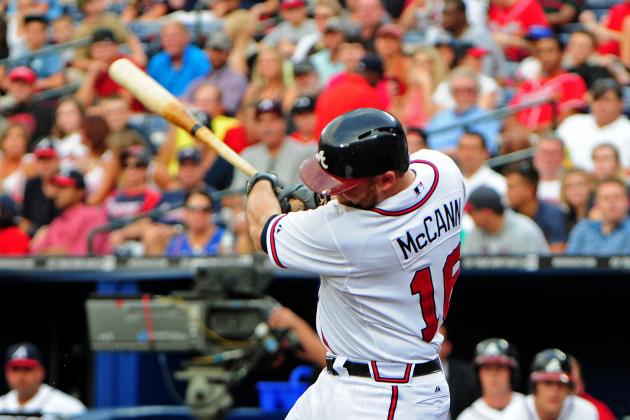 Scott Cunningham/Getty Images
Boston can take on McCann's salary if Atlanta is looking to unload it
This isn't a "move" per-say, but, rather, a thought to keep in mind.
Obviously, you should not overdo it, that's what got us into trouble the last time, but they can still use the new-found payroll flexibility to take on a contract in a trade, or pay a little more above market value for a free agent.
The fact of the matter is that this is the Boston Red Sox. Apologies to any small-market fans, but there's a reason they can spend a bit frivolously.
They just need to be smart about it.
I'm not saying that they need to go out and sign Zach Grienke, but if they flexed the wallets a bit to get Torii Hunter or Mike Napoli, I wouldn't be upset.
They could even call up Atlanta and see if they still want to move Brian McCann's contract. They just need to be smart about it.
Spend the money on players that fill needs rather than signing players just for the heck of it. Hunter, Napoli, or McCann play positions that have open spots on the Red Sox.
Severely reducing payroll does not automatically fix this team's problems. Luckily for them, much to the chagrin of other teams, the Red Sox can afford to fix this problem.