Georgia vs. Auburn: Complete Game Preview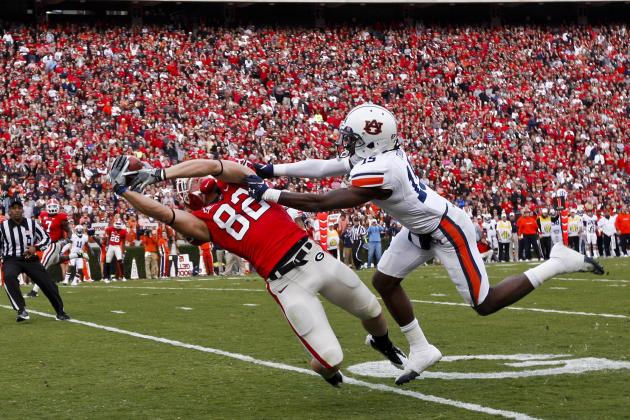 Daniel Shirey-US PRESSWIRE

It's the beginning of November, which means the Georgia Bulldogs and the Auburn Tigers are set to do battle.
This rivalry series is very close because both teams, and their cities, are very similar. However, the Bulldogs are ranked in the Top Five and are looking to clinch the SEC East. The Tigers are have had a rough season to say the least, and they are still looking for their first SEC win.
Regardless of the records and the difference in talent for both teams, Jordan-Hare Stadium will be on fire Saturday night.
Who: Georgia vs. Auburn
When: Saturday, 7:00 p.m.
Where: Jordan-Hare Stadium (87,451)
TV: ESPN
Radio: Sirius 92, XM 196
Internet: GTV at georgiadogs.com
Begin Slideshow

»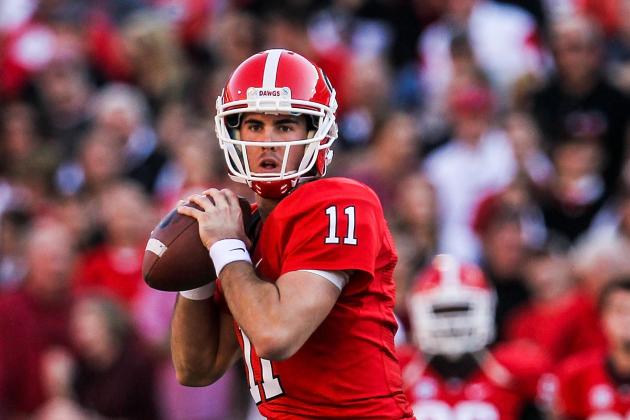 Daniel Shirey-US PRESSWIRE

QB: Aaron Murray, Hutson Mason, Christian LeMay
RB: Todd Gurley, Keith Marshall, Ken Malcome
FB: Alexander Ogletree, Quayvon Hicks
FLK: Tavarres King, Rantavious Wooten, Chris Conley
SE: Malcolm Mitchell, Rhett McGowan
TE: Arthur Lynch, Jay Rome
LT: Kenarious Gates, Mark Beard, Austin Long
LG: Dallas Lee, Ben Reynolds
C: David Andrews, Chris Burnette
RG: Chris Burnette, Greg Pyke
RT: John Theus, Watts Danztler
DE: Garrison Smith, John Jenkins
NT: John Jenkins Kwame Geathers
DE: Cornelius Washington, Ray Drew, Mike Thornton
OLB: Jordan Jenkins, Josh Dawson
OLB: Jarvis Jones, Jordan Jenkins, T.J. Stripling
ILB: Amarlo Herrera, Michael Gilliard
ILB: Alec Ogletree, Christian Robinson
CB: Sanders Commings, Malcolm Mitchell, Devin Bowman
CB: Damian Swann, Branden Smith
SS: Shawn Williams, Corey Moore, Josh Harvey Clemons
FS: Bacarri Rambo, Sanders Commings, Connor Norman
P: Colin Barber, Adam Erickson
PK: Marshall Morgan, Jamie Lindley
PR: Rhett McGowan, Damian Swann
KR: Malcolm Mitchell, Todd Gurley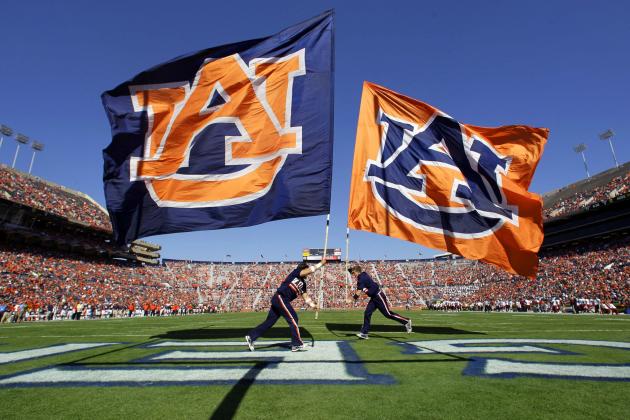 John Reed-US PRESSWIRE

QB: Jonathan Wallace, Clint Moseley, Kiehl Frazier
RB: Tre Mason, Onterio McCalebb, Mike Blakely
FB: Jay Porsch, Blake Burgess
WR: Emory Blake, Sammie Coates, Ricardo Louis
WR: Travante Stallworth, Jaylon Denson
WR: Jaylon Denson, Quan Bray, Trovon Reed
TE: Brandon Fulse, C.J. Uzomah
LT: Greg Robinson, Shon Coleman
LG: John Sullen, Alex Kozan
C: Resse Dsimukes, Tunde Fariyike
RG: Chad Slade, Christian Wsterman
RT: Patrick Miller, Shon Coleman
DE: Nosa Eguae, Dee Forde
DT: Angelo Blackson, Kenneth Carter, Devaunte Sigler
DT: Gabe Wright, Jeffrey Whitaker
DE: Corey Lemonier, LaDarius Owens
SLB: Jonathan Evans, Justin Garrett
MLB: Jake Holland, Cassanova McKinzy, Ashton Richardson
WLB: Darren Bates, Kris Frost
CB: Jonathon Mincy, Joshua Holsey
FS: Demetruce McNeal, Erique Florence
SS: Jermaine Whitehead, Ryan Smith
CB: T'Sharvan Bell, Chris Davis, Jonathan Jones
PK: Cody Parkey, Alex Kviklys
P: Steven Clark, J.D. Strawbridge
KR: Onterio McCalebb, Tre Mason
PR: Quan Bray, Trovon Reed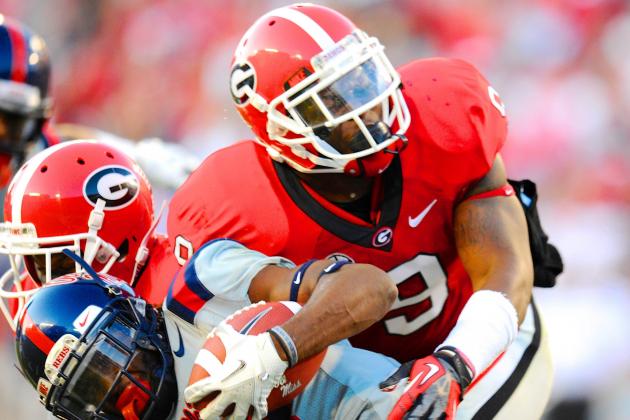 Dale Zanine-US PRESSWIRE

It was a not a great start for the Bulldogs, as they were down to the Ole Miss Rebels 10-0 midway through the second quarter. But they got it together and went on a 37-0 run en route to a 37-10 win.
Aaron Murray had a bounce-back game, completing 21 of his 28 passes for 384 yards and four touchdowns. Todd Gulrey rushed for 117 yards on 18 carries and Marlon Brown, who went down with an ACL injury, led all receivers with three catches for 113 yards and one touchdowns.
Alec Ogletree was the standout player for the Bulldogs on defense, recording 11 tackles, one sack and one interception. Damian Swann also had a big night on defense, tallying three tackles, one sack and two fumble recoveries.
The win improved the Bulldogs' record to 8-1, 6-1 in conference play.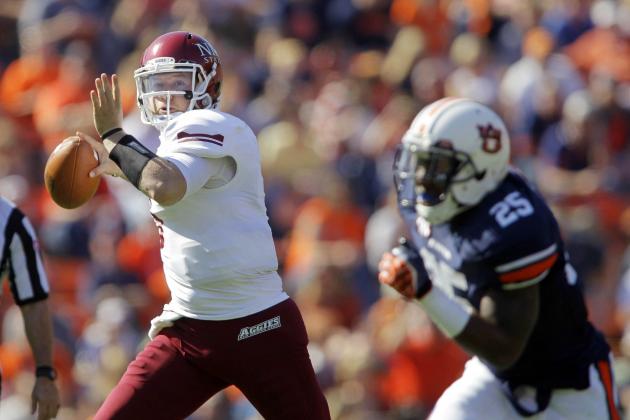 John Reed-US PRESSWIRE

After losing five consecutive games, the Tigers finally got back in the win column with a 42-7 thumping of New Mexico State.
Tre Mason and Onterio McCalebb rushed for a combined 265 yards and three touchdowns. Mason carried 22 times for a career-high 152 yards and one touchdown, while McCalebb rushed for 113 yards on eight carries and two touchdowns.
Freshman quarterback Jonathan Wallace made his first career start, completing 9-of-16 attempts for 164 yards, one touchdown and one interception.
The Tigers out-gained New Mexico State 475-305 including a 311-83 advantage on the ground.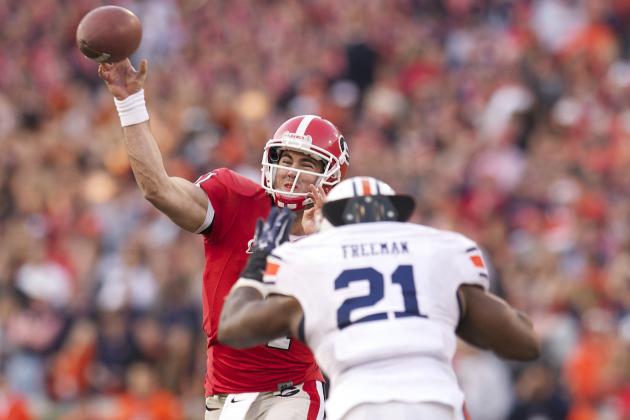 Dale Zanine-US PRESSWIRE

Because it's the Deep South's Oldest Rivalry, this game always has a great meaning for both teams.
However, Georgia has to have this game to clinch the SEC East title for the second consecutive year. After the humiliating loss to South Carolina, many thought Georgia would not be out in this situation. But with hard work and little help from Florida and LSU, the Bulldogs can make their way to the Georgia Dome with a win on Saturday night.
For the Tigers, they need to win this in order to gain back some respect. They have yet to win a conference game this year, and if they get a win against the Bulldogs it will give fans a good taste in their mouths after the constant disappointing losses this year.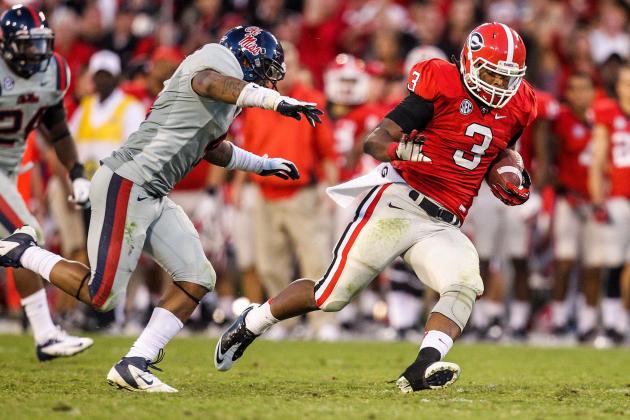 Daniel Shirey-US PRESSWIRE

Todd Gurley should have a very strong game against a struggling Auburn rush defense, which ranks last in the SEC.
Gurley has rushed for 857 yards and 10 touchdowns, which put him second in the conference in both categories. Auburn's rush defense, on the other hand, has surrendered 199 rushing yards per game and 17 touchdowns.
So expect the Bulldogs to go with Gurley early and often, which will lead to more opportunities for Aaron Murray to make plays on the outside.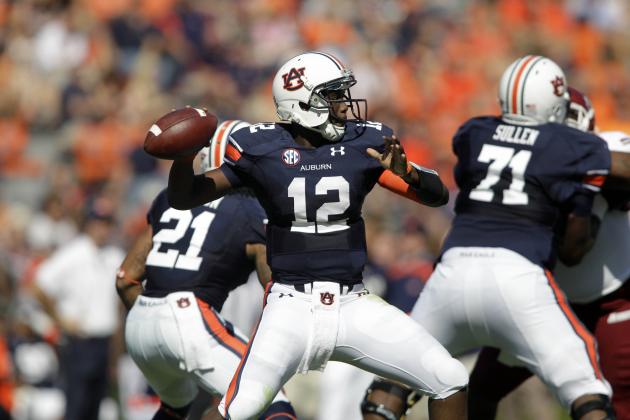 John Reed-US PRESSWIRE

It has been reported that Wallace will make the start against Georgia on Saturday. While his numbers weren't that impressive, he did give the Tigers a little spark on offense. The Tigers hope that he can give them more of a spark on offense against an improving Bulldogs defense.
The one thing Wallace has to do is play loose and have fun. If he can do that, he will have a chance to make plays and give the Tigers a fighting chance against the Bulldogs.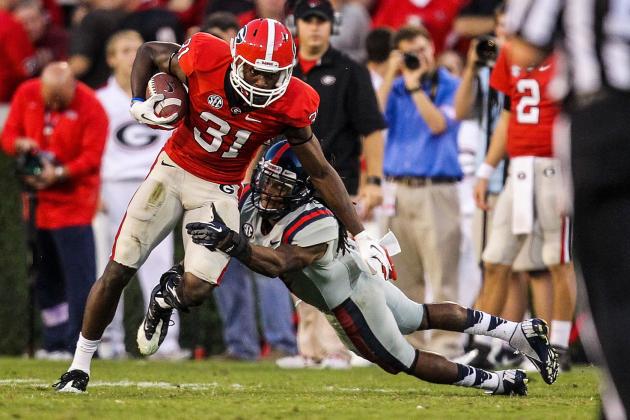 Daniel Shirey-US PRESSWIRE

The Bulldogs will win if they continue to have balance on offense and be aggressive on defense.
The Tigers have struggled on both side of the ball, so what the Bulldogs have to do is do the same thing they did against Ole Miss, which was pressure the quarterback, run the football and make the pass plays off play-action.
That sounds easy, but that has been the formula to beat Auburn all season.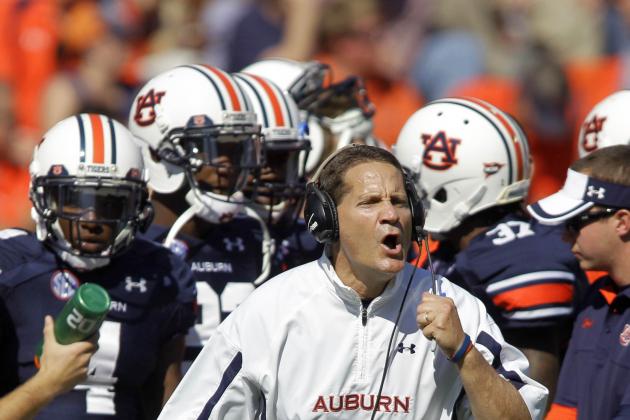 John Reed-US PRESSWIRE

The Tigers will win if Georgia hands them the game. The Bulldogs have struggled protecting the football in the last few games, but lucky for them, the defense has been able to bail them out.
The Tigers are not great on offense, but if you give a guy like Wallace a short field, it will give him as well as the rest of the team confidence to take advantage of the mistakes made by Georgia.
Also, with this game being a huge rivalry, the Tigers will be more amped up for this game than normal, no matter what their record or what Georgia's record is coming into the game.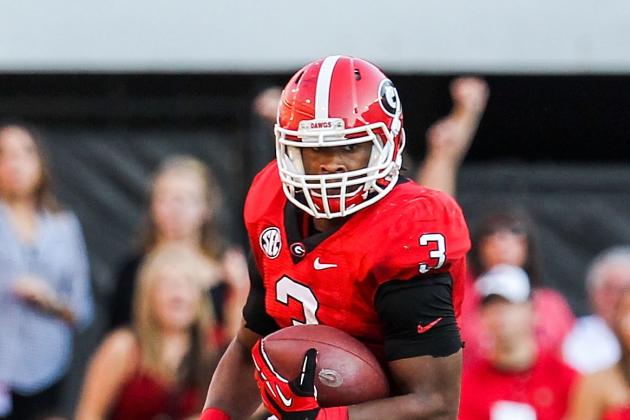 Daniel Shirey-US PRESSWIRE

When push comes to shove, Auburn is not a good football team. It has issues on both sides of the ball and its only good performance came last week against New Mexico State.
Now it has to face a Georgia team that has playmakers on offense and defense. Then add the fact that the Bulldogs have to have this game in order to clinch the SEC East and it becomes even harder to win.
Auburn will make it a game at the beginning because emotions will be riding high. But once both teams settle down, the Bulldogs will play their game and it will be too much for the Tigers.
FINAL SCORE: Georgia 42, Auburn 10