Which Formation Gets the Best out of the Current Arsenal Squad?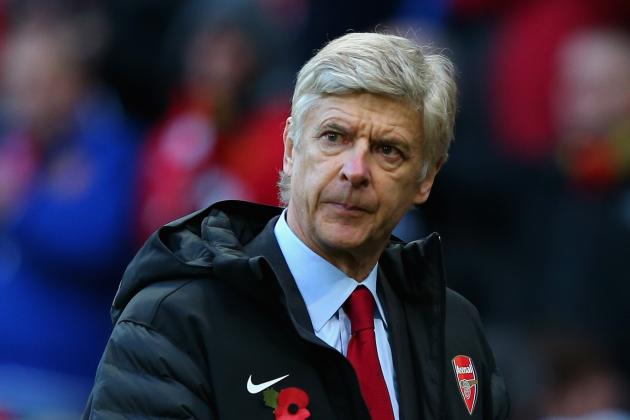 Alex Livesey/Getty Images

Arsenal gets plenty of stick for not having the right sort of players, but it could just be the formation that is the problem.
Since his time at Arsenal, Arsene Wenger has used three different formations with his various squads. First there was 4-4-2. Then, for a short period, 4-3-3 and now 4-2-3-1.
The players during the 4-4-2 era fit the formation well, and Arsenal had its most successful period under Wenger's tutelage. If you want to be specific, that formation was actually a 4-4-1-1 and could be seen as a more defensive version of the current 4-2-3-1 setup.
Arsene Wenger seems to want his side to go back to the quicker passing style of the "Invincibles" squad rather than the more possession-based side he tried to create when he first changed to 4-3-3.
So which formation suits this current squad the best? The formation should enable the squad to be quick on the counter but also enable them to dominate the midfield with possession and have a stable defensive setup.
One major problem is the club's lack of a true winger, like Antonio Valencia or Jesus Navas.
If the club could find a formation that gets the majority of the squad playing in their most natural positions while enabling them to play the Arsenal way, they may become more successful.
Lets take a look at a few options for the current squad. Feel free to add your own preferences for formations, lineup etc. in the comments.
Begin Slideshow

»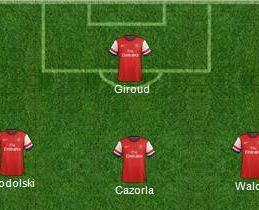 Photo courtesy of footballuser.com
Let's take a look at the current formation, shall we? The personnel above would seem to be Arsene Wenger's ideal lineup for this formation, but there are a few problems there.
Arsenal does have the personnel to fit into all these positions, but some of them aren't playing in their best position, or more favoured, position.
Lukas Podolski is a prime example, as he should be playing centrally to provide the clinical finisher the squad needs. He can certainly play on the left flank, but that is not his best position.
Theo Walcott, by his own admission and preference, would rather play centrally than on right flank (via Daily Mirror).
Formation Summary: Arsenal can get a lot of players into attacking positions with this formation, as Jack Wilshere shuttles back and forth between offensive and defensive duties.
The current players in the Arsenal squad who are positioned out wide like to drift inside, and that decreases the amount of width in the clubs attack. While the fullbacks are expected to come up and provide that width, that does not always happen for fear of leaving too much space at the back.
One major problem, which began with the Norwich game, is that if opponents concentrate their efforts on shutting down Santi Cazorla, they have a good chance of nullifying much of Arsenal's attacking threat.
The forward can also get isolated if Cazorla comes too deep to get the ball, and that would make things much easier for the opposition defense.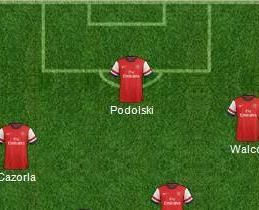 Photo courtesy of footballuser.com
Formation Summary: The 4-3-3 has some of the same problems as the 4-2-3-1 in terms of width and an isolated forward, but there are bonuses.
From out wide, Theo Walcott could make penetrative, angled runs inside to apply finishes to that final pass knowing that there is no central playmaker in the area.
Santi Cazorla could also drift inside, though more for possession than penetration, but he is also capable of staying out wide as an outlet and to whip in crosses.
In this setup, the team is now not reliant on one central playmaker and has three players, Santi Cazorla, Jack Wilshere and Mikel Arteta, providing influence in different parts of the pitch.
The other bonus, though it is almost a catch-22 considering the player involved, is the use of a dedicated defensive midfielder to shield the defense and almost create a back three when the team is in possession and fullbacks push up.
Francis Coquelin and Emmanuel Frimpong would be the players to fill that role and asked to play it simply. Their experience would hinder the squad, but if a player like Yann M'vila were brought in that would rectify the problem and probably make this formation the best for Arsenal.
Elsewhere, the defensive selection is easy, but the team has plenty of depth. But some players wouldn't be playing their best positions. In the midfield, Aaron Ramsey, Tomas Rosicky, Abou Diaby are options.
Out wide and up top, the club would have Olivier Giroud, Alex Oxlade-Chamberlain, Gervinho, Marouane Chamakh and Andrei Arshavin in reserve.
Rosicky and Arshavin would prefer more attacking midfield roles, and we already know that Theo Walcott would like a central striker role.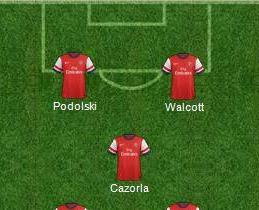 Photo courtesy of footballuser.com
Formation Summary: This is the most narrow formation that Arsenal could employ, and it would see the club revert to two strikers.
A narrow 4-1-2-1-2 would allow Arsenal more possession with Santi Cazorla, Jack Wilshere and Mikel Arteta all close to each other.
Though Cazorla wouldn't necessarily be the primary playmaker, he would be tasked with making the majority of final passes. Teams would not be able to shut him down as effectively, however, with two forwards to deal with and two other creators closer to him.
The quick passing would still be there, but this side may be less of a counterattacking one. Width, to bring up a topic of contention, would come from the fullbacks and even the forwards could drift wide and allow Cazorla more space to work.
Other than that, the other issue would be Francis Coquelin being the dedicated defensive midfielder.
In terms of team selection, the defense speaks for itself as always and there really isn't much of a problem in the midfield or attack either.
Emmanuel Frimpong would be the next in line defensively, while, of course, Mikel Arteta could trump the two youngsters if necessary.
Abou Diaby, Aaron Ramsey and Alex Oxlade-Chamberlain would all fill in the two central spots, and Tomas Rosicky is capable of playing there as well.
Rosicky would be first in line behind Cazorla, and Andrei Arshavin would provide depth there as well.
The club has no shortage of strikers with the two starters backed up by Olivier Giroud and the forgotten man Marouane Chamakh. Gervinho could become a more permanent fixture in this position as well.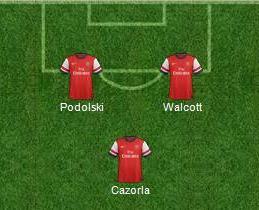 Photo courtesy of footballuser.com
Formation Summary: The 4-3-1-2 may not offer the same width as a 4-3-3 or 4-2-3-1 but isn't as narrow as the 4-1-2-1-2.
The central playmaker is there but is still more effective than the 4-2-3-1 because of the midfield players behind him and the two forwards in front of him.
This allows for more fluidity between the three central midfield players, as each one would share defensive and offensive duties.
While Mikel Arteta would likely start as the most central of the three, and therefore be a bit more defensive in the process, both Jack Wilshere and Abou Diaby could take that role.
The width could be provide by a variety of players with one of the forwards, wider midfielders or the fullback on either side of the ball would do that job.
Beyond the starting lineups, these positions could be filled pretty easily, especially in the defensive third.
In midfield Aaron Ramsey, Alex-Oxlade Chamberlain, Emmanuel Frimpong, Francis Coquelin and Tomas Rosicky could fill the three central roles.
Andrei Arshavin, Rosicky and Oxlade-Chamberlain could slot in the attacking midfield role. The forward line would also have good depth with Olivier Giroud, Marouane Chamakh and Gervinho next in line.
Shaun Botterill/Getty Images

So which formation would get the best out of this Arsenal squad?
Arsenal does have versatile enough players to play all these formations, but only the first two have been used. From looking at and analyzing these formations, a 4-3-1-2 looks like the way to go.
In all the formations, the squad could do with a more natural defensive midfielder with experience, but the 4-2-3-1 and 4-3-1-2 are formations that least require such a player.
The 4-3-1-2 is a better bet because it is not easy for opponents to shut down Santi Cazorla, and there is decent width and balance if the players perform as they should.
Players, like Lukas Podolski, could play in positions where they will be more effective, and there is a great amount of depth for all positions.
While this author's personal preference is a 4-3-3, it may not be the best for this exact squad. The lack of an experienced defensive midfielder would create problems defensively, and a lack of width would hamper the attack, not to mention the possible isolation of the lone forward.
A 3-5-2 formation also came to mind, but this team is by no means suited to that. Such a formation is okay on FIFA or Football Manager when you can buy the necessary players, but in real life Arsenal would suffer in that setup.
The current 4-2-3-1 setup looks the best on paper, as Arsenal can get as many of its best attacking players on the pitch at once. The problems are similar to those in the 4-2-3-1 with a forward isolated, a central playmaker who can easily be stifled and a possible lack of width.
When set up narrowly, the 4-1-2-1-2 does provide more of an attacking threat with two forwards and has the majority of the squad playing in their preferred central position.
It would allow Arsenal to make good use of the central areas with four players combining in that area and allow the club to dominate games. Width would be the major problem with that formation.