Champions League 2012: Complete Guide to Wednesday's Group-Stage Matches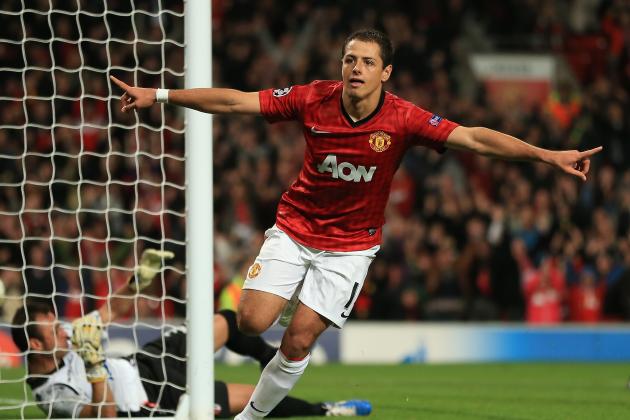 Richard Heathcote/Getty Images

After some fascinating results in the UEFA Champions League Tuesday, we look forward in eager anticipation to what is still to come this week.
With the likes of Chelsea, Barcelona, Manchester United and and Bayern Munich all set to grace the stage, we're no doubt in for some fantastic football and brilliant matchups.
Can United continue their unbeaten streak in the Champions League? Will Chelsea survive the Shakhtar Donetsk invasion that's coming for Stamford Bridge?
Read on for a complete guide for Wednesday's group-stage action.
Begin Slideshow

»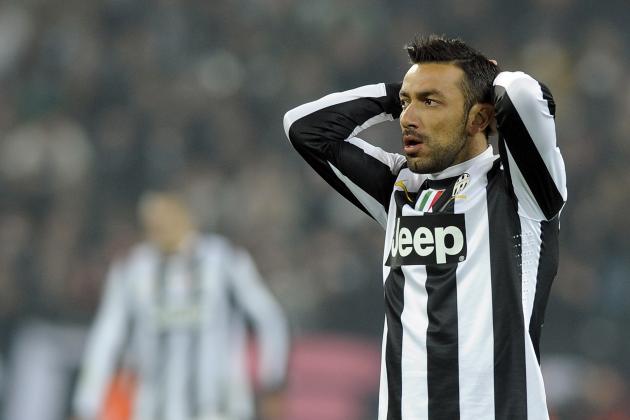 Claudio Villa/Getty Images

Wednesday, 7th November, 2:45 p.m. ET at Juventus Stadium, Turin, Italy
Juventus will welcome Champions League newcomers Nordsjaelland to Turin when the two sides meet this week, with both yet to record a win in the competition this season.
The Italian champions were strong picking up a draw away to Chelsea and would have been satisfied with a 1-1 result at home to Shakhtar Donetsk, but they dropped points last week away to Nordsjaelland and now find themselves third in the group with only three matches remaining.
You'd have to think that Juventus will be too strong at home here, especially given that Chelsea have a tough fixture against Shakhtar and could drop points (and second place in the group), but Nordsjaelland have been a revelation this year and could surprise a few fans in this one.
They held Juventus to a draw in their last match—a result that few predicted—so it's more than possible that they could do so again in this one.
You just think that at home, the Italian giants have too much to play for and too much Champions League experience to let this one slip through their fingers. They should walk away with a comfortable victory, and they will.
Juventus 2, Nordsjaelland 0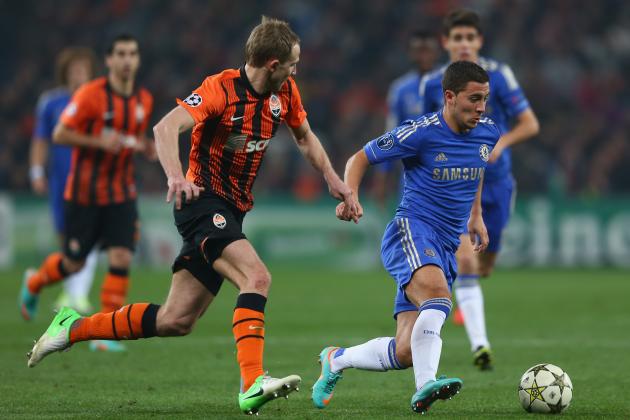 Michael Steele/Getty Images

Wednesday, 7th November, 2:45 p.m. ET at Stamford Bridge, London, England
The other match in Group E sees a fascinating fixture between reigning champions Chelsea and current group leaders Shakhtar Donetsk, who are arguably one of the hottest teams in world football right now.
Shakhtar picked up all three points against the Blues when they last met—dominating the match from start to finish—and will be looking to do the same again when they travel to Stamford Bridge, a venue where Chelsea are yet to win in the competition this year.
We know that the West London club have the ability and talent to thrive in the Champions League; they simply haven't quite put it together against a top team yet—something they'll have to do against the Ukrainian giants in this one.
Chelsea may be without their best player, Juan Mata, who is still recovering from a hamstring injury, and his presence was clearly missed in the Blues' 1-1 draw with Swansea City over the weekend. There is no doubting how big of a loss Mata would be for the reigning European champions.
No defending champion has ever been eliminated in the group stages of the competition, and Chelsea manager Robert Di Matteo will no doubt be letting his players know of the significance that this fixture holds for their future in the competition—particularly given they have an away trip to Juventus to come next week.
But is that enough to get them the win? Maybe not.
Chelsea 1, Shakhtar Donetsk 1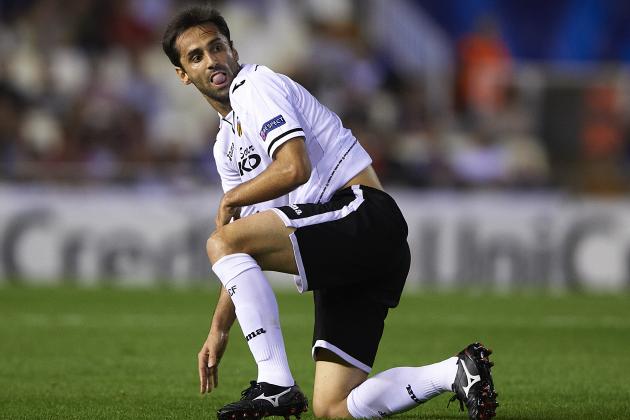 Manuel Queimadelos Alonso/Getty Images

Wednesday, 7th November, 2:45 p.m. ET at Estadi de Mestalla, Valencia, Spain
Valencia and BATE Borisov find themselves tied on six points at the top of Group F, with the Spanish side clearly the better placed heading into their return fixtures in the group stage.
They take on Belarusian side BATE Borisov here, whom they beat 3-0 away from home a fortnight ago in the competition, and know that with a win they could move to the top of the group table heading into their final two group-stage matches.
Valencia were perhaps unlucky against Bayern Munich away from home in the opening week and with strong performances since then have proven themselves to be the team to watch out for in Group F, though BATE Borisov can certainly put up a good fight.
The Belarus-based club have progressed through the competition since the second qualifying round—playing six matches just to make the group stages—and showed against Bayern and Lille that they are capable of competing against the best teams in Europe.
They were handed a footballing lesson by Valencia two weeks back, and that no doubt remains fresh in their memories as they make the long trip to Spain.
But if they were handed a footballing lesson at home by Valencia, you'd have to think that the Spanish giants are more than capable of repeating the process now that they're on the road. Very hard to see anything but a Valencia victory here.
Valencia 3, BATE Borisov 1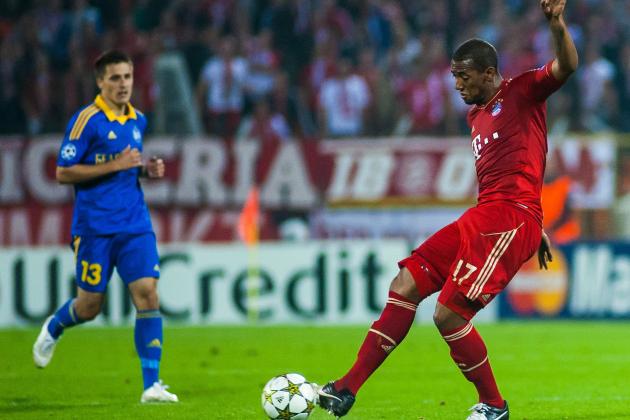 EuroFootball/Getty Images

Wednesday, 7th November, 2:45 p.m. ET at Fußball Arena München, Munich, Germany
With Valencia playing BATE Borisov, German giants Bayern Munich know that a win against Lille would place them in the top two of their group heading into the final group-stage matches of the competition and in an excellent place for qualification to the knockout rounds.
Runners-up in the German Bundesliga, the German Cup and the UEFA Champions League last year, Bayern will be looking to go one better this year and have already shown they can handle themselves in the competition so far despite one slip-up away from home to BATE Borisov.
They defeated Lille on the road and Valencia at home, and whilst their remaining two fixtures will be difficult for the German side, it's hard to see this match being anything other than a simple formality for Jupp Heynckes' men.
Lille are simply not the side they were last year. Perhaps that has something to do with Eden Hazard, who left for Chelsea over the summer transfer window. They are yet to bag a point in the competition and have only netted the one goal through three matches.
I can't see either of those improving after this match.
Bayern Munich 4, Lille 0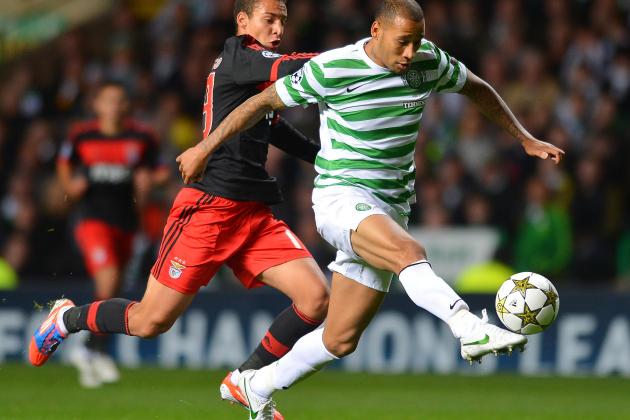 EuroFootball/Getty Images

Wednesday, 7th November, 2:45 p.m. ET at Estádio do Sport Lisboa e Benfica, Lisbon, Portugal
Benfica come into this match with just one goal and one point to speak of from their opening three group-stage matches.
Granted, they played well against Celtic and solid against Barcelona, but their recent 2-1 loss away from home to Spartak Moscow could well be the result that ended their chances at Champions League qualification this year—unless they can get a result here, that is.
They will play the Russian side once more, but this time on Portuguese soil, as they seek to keep their chances for European glory alive this year.
Yet their biggest problem, it seems, will be keeping Spartak Moscow's attack at bay—a unit that's scored two goals in every match so far this year, including two goals at Camp Nou against Barcelona, a feat few teams in world football could say they have done.
With Celtic having to play Barcelona, Moscow know that a win would most likely put them in the top two of the group and set them in good stead for when they have to play away from home against the Scottish side in their final Champions League group-stage match.
Benfica appear to be lagging, whilst Spartak Moscow are playing for the chance to compete in the knockout stages of the tournament. They've already beaten their Portuguese opponents and, for mine, will do so again this week.
Benfica 0, Spartak Moscow 2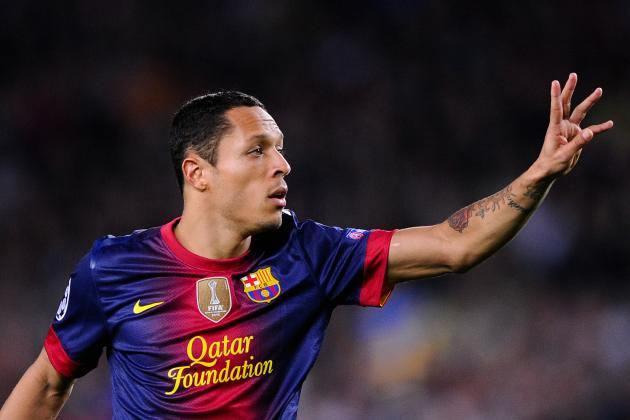 David Ramos/Getty Images

Wednesday, 7th November, 2:45 p.m. ET at Celtic Park, Glasgow, Scotland
Few could believe their eyes when these two sides met a fortnight ago and Celtic came within a kick of the football of picking up a draw against Barcelona—at Camp Nou as well.
Jordi Alba's late goal gave the home side a 2-1 victory, and it's hard to see anything but victory for the Catalan side this week as well despite the fact they're playing at Celtic Park.
Celtic might well have played their "grand final," if you like, last week, and after walking away with nothing to show for it, they could well be a little daunted about the task ahead of them this week—taking on the Spanish giants again.
They used up all their luck, all their talent and all their resolve last time they played, yet Barcelona still walked away with the win. The La Liga giants are simply one of the best teams in world football and, in the eyes of many teams like Celtic, are unstoppable at the moment.
Regardless of where, or how, they play.
Celtic 0, Barcelona 3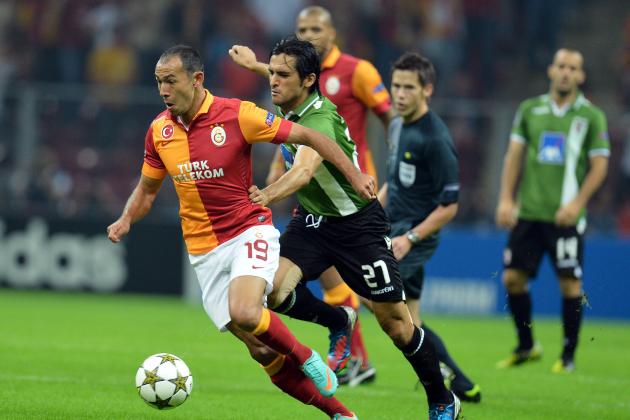 EuroFootball/Getty Images

Wednesday, 7th November, 2:45 p.m. ET at Stadionul Dr. Constantin Rădulescu, Cluj-Napoca, Romania
With Manchester United pulling away at the top of Group H, it seems that CFR Cluj, Sporting Braga and Galatasaray will be battling it out for the other qualification place up for grabs—meaning that the result of this one has the utmost importance for both teams.
The home side currently lead the Turkish giants by three points on the competition table, but in light of the 1-1 draw they played a fortnight ago, this one could genuinely go either way.
Both sides were strong against Manchester United, though only Galatasaray played them at Old Trafford, whilst CFR Cluj also managed to get a result against Sporting Braga—a big one considering that they played in Portugal away from home.
Neither Portugal nor Turkey is an easy trip to make in the Champions League, and Cluj have walked away from both of those fixtures with a total of four points and second place in their Champions League group—an excellent result all up.
Because of that, you have to think they'll be too good at home in this one. Galatasaray are playing for their survival in the tournament and will no doubt put up a fight, but in the end, the home side will progress through and create some serious distance between themselves and the remainder of the group chasing for a qualification position.
CFR Cluj 2, Galatasaray 1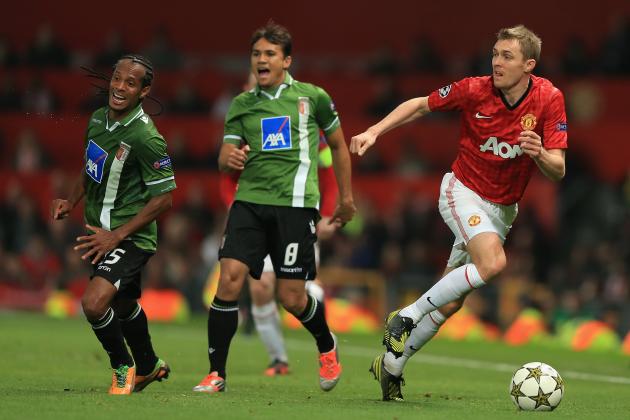 Richard Heathcote/Getty Images

Wednesday, 7th November, 2:45 p.m. ET at Estádio Municipal de Braga, Braga, Portugal
Manchester United come into this Champions League fixture after one of their biggest weeks in memory, including a 5-4 loss in the Capital One Cup as well as wins over league rivals Chelsea and Arsenal in the EPL.
Thus, traveling to Portugal to take on Sporting Braga must seem like a very different fixture altogether, which it most certainly is for the Red Devils. They'll likely name a vastly different squad to what they showed against Arsenal, but will the result be any different for Sir Alex Ferguson's men?
Braga took a 2-0 lead at Old Trafford against United two weeks back but were ultimately run down by the class and skill of Javier Hernandez and the Red Devils attack. They would have been devastated at the loss and throwing away a golden opportunity but will take heart in knowing that they can score and potentially even beat United on their home ground.
A win would make it four straight for the Premier League giants in the tournament this year—a far cry from last year, when they were sensationally eliminated in the group stages. You get the feeling that this United is much stronger and much more focused than they have been in previous years, and the results are flowing because of it.
In light of that, it's hard to see United failing to come away from Portugal with at least a draw, if not a win, considering the talent they have on hand at the moment.
Braga will put up a fight and could well take the lead on United once more, but Ferguson simply knows how to get results from matches—regardless of how his team is playing. A late winner for Manchester United will seal victory in this one.
Sporting Braga 1, Manchester United 2
Any predictions or thoughts for Wednesday's Champions League matches?
Comment below or hit me up on Twitter: Follow @dantalintyre