Reasons Cam Newton Won't Break out of His Sophomore Slump by Season's End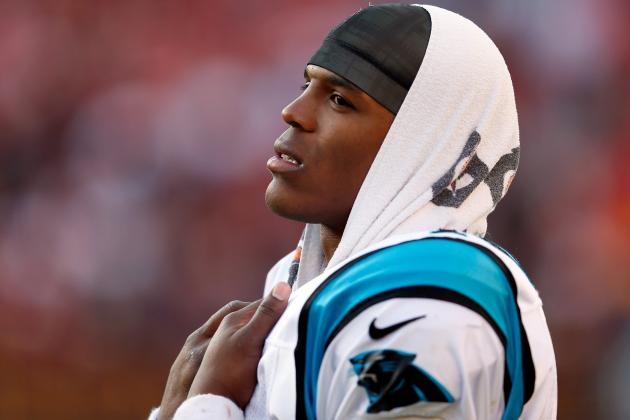 Rob Carr/Getty Images
Cam Newton's sophomore slump has people around the league talking
Cam Newton's sophomore slump this season has been more pronounced due to the quarterback's great play during his rookie season. Panthers fans should not expect the young star to shake off his sophomore slump anytime soon.
Newton has struggled so far this season, leading the Panthers to a 2-6 start. The road does not get any easier for the Panthers and their young star as Newton will face off against Peyton Manning's Denver Broncos this coming week.
As the season continues so will Newton's sophomore slump. While Newton is a good young quarterback who will be successful for many years to come, he will not be able to break out of his sophomore slump by the time this season is over with.
Begin Slideshow

»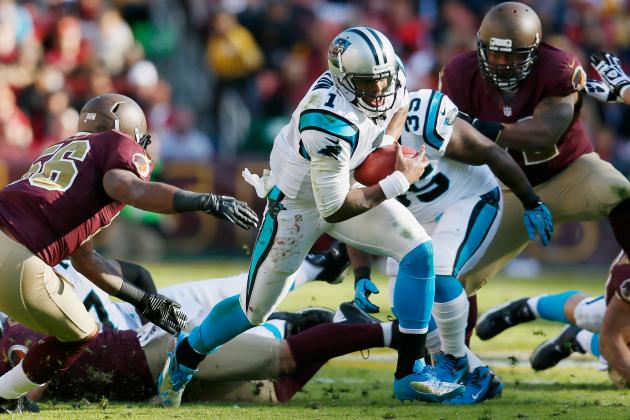 Rob Carr/Getty Images
The Panthers are trying to cut down on the amount of hits that Newton takes this season
During his rookie season Cam Newton racked up a total of 706 rushing yards. Newton, who has always been a quarterback known for his ability to run, has been trying to stay in the pocket more this season.
While this will protect Newton from vicious hits and help prolong his career, it will not help him break out of his slump. The newfound emphasis on pocket presence has forced Newton to spend more time going through his progressions trying to find the open man. For some the new emphasis on pocket presence would be welcomed, but for an athlete like Newton, who is in a slump, it is a hindrance.
Newton built his game on his ability to scramble and not spending extra time in the pocket, both of which he is not doing this season. Having never been a true pocket passer, the new emphasis on pocket presence is hurting Newton's confidence and adding to his struggles.
In order to get back to his rookie form the Panthers need to allow Newton to return to the style of play that served him so well last season.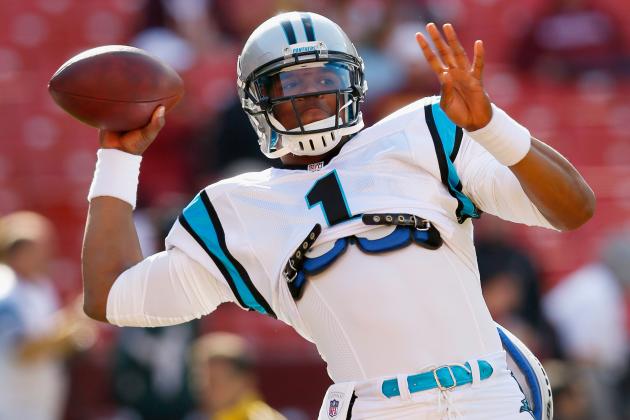 Rob Carr/Getty Images
Newton has been forcing lots of balls downfield this season
The dip in Newton's completion percentage from last season to this season can be attributed in part to one big factor. Newton is trying too hard and too often to make deep throws into coverage.
Instead of focusing his attention on just moving the chains and picking up small chunks of yardage, Newton is getting flustered when the Panthers trail opponents and tries to make the home run throw. He is putting too much pressure on himself to make the big play to get the Panthers back into the game immediately. This pressure often leads to a bad decision, which has led to an interception several times this season.
While Newton is averaging more yards per attempt than he was last season, the increase comes at the price of accuracy and touchdowns. Newton has struggled to find the end zone this season. He has only thrown six touchdown passes this season, while having three games without a touchdown pass at all.
Most NFL quarterbacks cannot consistently put the deep ball exactly where they want it to be. This causes it to be less accurate as well as more risky to throw. The extended amount of deep throws by the Panthers signal-caller has helped contribute to his sophomore slump so far this season.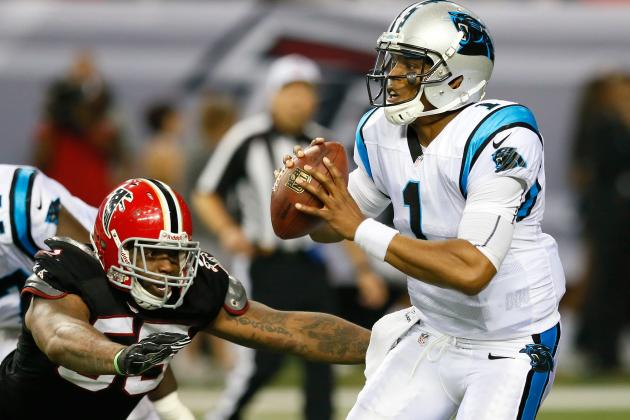 Kevin C. Cox/Getty Images
Newton is still learning to read coverages and defenses on the NFL level
While quarterbacks learn to read defenses as soon as they start playing the position, it takes time to learn to read defenses at the NFL level. As the Panthers have asked more of Newton as a passing quarterback, more pressure has been put on the young star to read coverages and quickly.
The Panthers have installed a zone-read offense this season that puts more responsibility in Newton's hands. In the new zone-read offense Newton has the ability to choose between a run or pass depending on what he sees in the defense. While this offense may be good for Newton's development into a top NFL quarterback down the road, he is a young player who still has a lot to learn.
Putting this kind of pressure and responsibility on a young player adds lots of stress as a player tries to make clutch plays to get his team back into the game.
It takes a while for any quarterback to learn to accurately and consistently pick apart defenses like Peyton Manning does. Newton will need some more time to learn and grow before he can start to consistently make good, solid reads.
Streeter Lecka/Getty Images
Newton's body language has spoken volumes during his tenure in the NFL
If someone wants to know whether or not Cam Newton is frustrated you have to look no further than Newton himself. Newton's body language has spoken loudly and clearly about how he is feeling on a consistent basis this season.
The quarterback, who at times has been seen with a towel draped over his sulking head, needs to fix his body language and attitude if he wants any shot at turning his season around. Despite being called out by veteran receiver Steve Smith during the team's blowout loss to the Giants, Newton's body language has still been terrible this season.
On the sidelines, as well as in interviews with the media, Newton has allowed the media and what people say about him and his play affect his attitude. This is not the sign of a quarterback who is doing everything he can to turn his season around. Any chance Newton has at saving himself from diving deeper into a slump has to start with his attitude.
He has not shown the ability to act more like a grown man than Steve Smith's children (whom the veteran receiver compared him to) so far in his NFL career.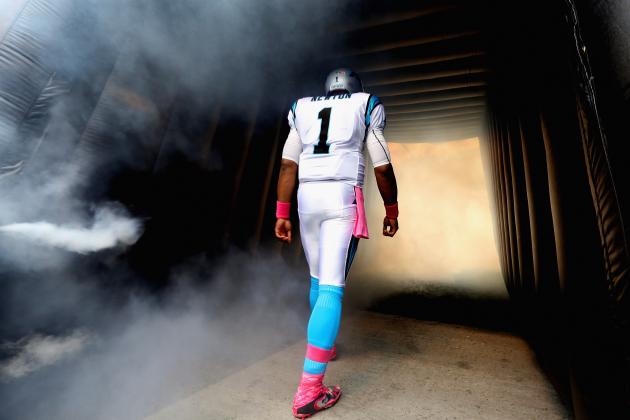 Streeter Lecka/Getty Images
Newton expects to win and be successful and gets frustrated when he does not perform
As a player who has dominated at every level he has played at, Newton has come to expect that he will win and dominate every time he touches the gridiron. This is not always the case in the NFL.
Having been drafted to a struggling Panthers team, Newton was already at a disadvantage for completing the expectations he set for himself. The type of player who is not as mentally strong as others, Newton and his inability to help the Panthers pull a complete 180 in the past year has frustrated him greatly. Those frustrations have translated this season to Newton's struggles on the field.
Anytime a player, who is used to reaching his goals, sets expectations for himself that are unrealistically high is bad news. Newton's stellar rookie season set the bar high for this season in the media as well as in his own mind. As soon as he started to struggle Newton became frustrated and let it affect his game.
The mental aspect of the game is an important factor in playing successful football and so far this season Newton cannot control the mental aspect of football.