3 Changes Perry Fewell Must Make to Fix the Giants' Run Defense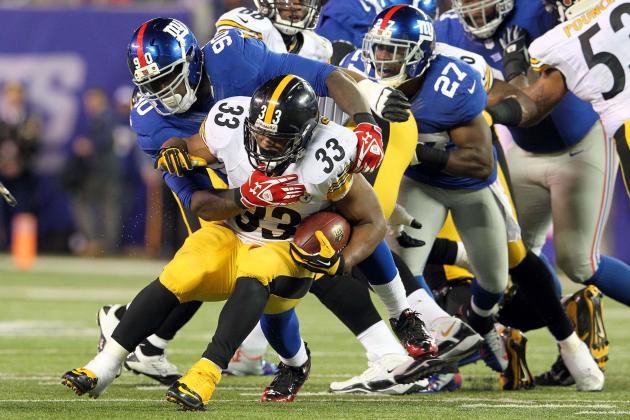 Brad Penner-US PRESSWIRE

The last few weeks have seen the beginning of large cracks in the run defense for the New York Giants.
Over the last six games, the Giants have allowed 780 yards on the ground—including games of 248 (Washington Redskins), 191 (Philadelphia Eagles) and 158 (Sunday vs. Pittsburgh Steelers).
The Giants are still a respectable 19th in the NFL in rushing yards allowed per game (118.0), but there's no doubting that this unit is trending down the past few weeks.
How can defensive coordinator Perry Fewell get the Giants' run defense turned back around? In the following slides, we give three ways.
Begin Slideshow

»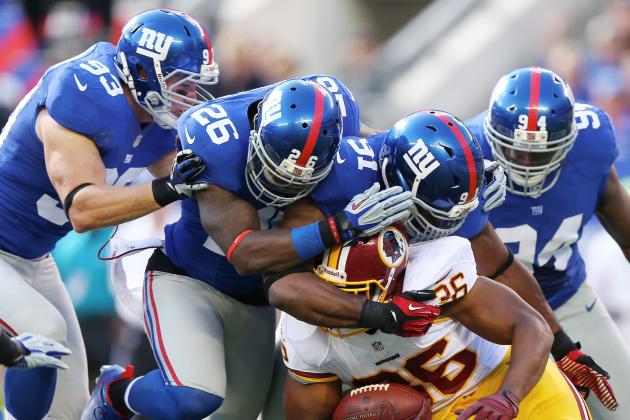 Elsa/Getty Images

When asked if losing starting middle linebacker Chase Blackburn hurt his run defense Sunday against the Steelers, head coach Tom Coughlin responded with "definitely," according to Tom Rock of Newsday.
Blackburn missed Sunday's game after hurting his hamstring against the Dallas Cowboys in Week 8. His absence in the middle of the Giants defense was certainly felt as Mark Herzlich struggled in his place against the Steelers.
The Giants are hoping to get their leading tackler back as soon as possible, and Blackburn is optimistic it could be this week.
Blackburn told the Giants' official website that he's attempting to get back and healthy for Week 11.
We're going to continue to push it and hopefully it will continue to progress and I can be out there. We haven't tested it at 100 percent yet. When you have your high hamstring and you want to give it time to rest before you really try to push it, because if you push it and it doesn't work then it becomes a longer issue. We're going to have to test it at some point. So we'll determine when that point is whenever they tell me and we'll test it and give it a go and hopefully it will be ready this week.
The sooner Blackburn gets back to his mike linebacker spot, the faster the Giants will get back to being a strong run defense.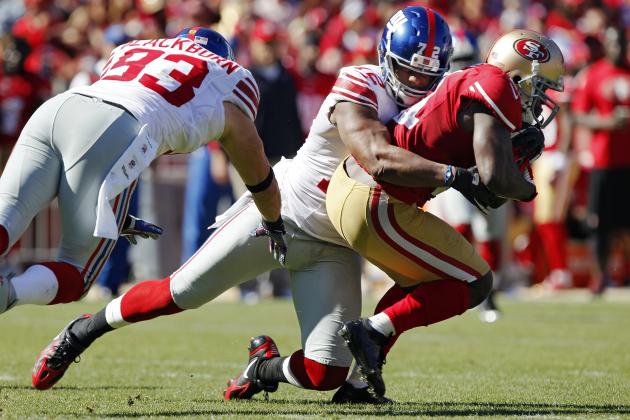 Brian Bahr/Getty Images

Coughlin said after Sunday's game that his defense missed 12 tackles, a number far too high for any defense—no matter how talented—to be good at stopping the run.
Blackburn echoed that sentiment from the sidelines, according to the previously linked article from the Giants official site:
We had some poor tackling, I think. Even the runs that were hit for three or four yard gains, we hit them at minus-one or one yard or at the line of scrimmage and they just continued to roll forward for a little bit. For a bigger back like that, we've got to get him by his legs and stop them churning. He did a good job of working his feet, continuing to drive and we've just got to get his feet out from under him so that we can get them in second-and-long and third-and-long instead of giving them manageable downs.
Pro Football Focus, a site that grades and analyzes every play of every week, gave the Giants a more conservative missed-tackle count of eight against the Steelers. Still, eight is an eye-catching number for just one week of football.
If Fewell gets the Giants back to the fundamentals—and they aren't far off, considering the Giants missed just two tackles against the Cowboys—New York's defense will have a better chance at stopping the run in the coming weeks.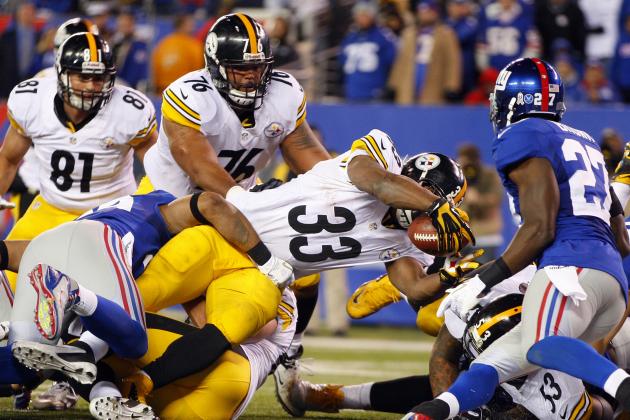 Rich Schultz/Getty Images

The difference in the run game sometimes isn't technique or scheme or personnel. A certain toughness, combined with an ability to finish plays, can turn an average run defense into a very good one.
Coughlin and Giants defensive end Justin Tuck obviously didn't feel New York's defense was either on Sunday.
"We got mushed a little bit up front," Coughlin told Rock of Newsday. "Their big bodies knocked us back."
Continued Tuck:
They just mushed us a little bit...[they] played the play longer than we did, and give Redman a lot of credit. He's one of those backs that just kept his feet churning and turned 1-yard gains into 6-yard gains.
Fewell and the Giants need to reestablish that toughness edge in the running game. Losing personnel didn't help the defense in that regard on Sunday, but effort, hustle and toughness should never be something in question when defending the run.