Real Madrid vs. Borussia Dortmund: 7 Lessons Learned from Group D Blockbuster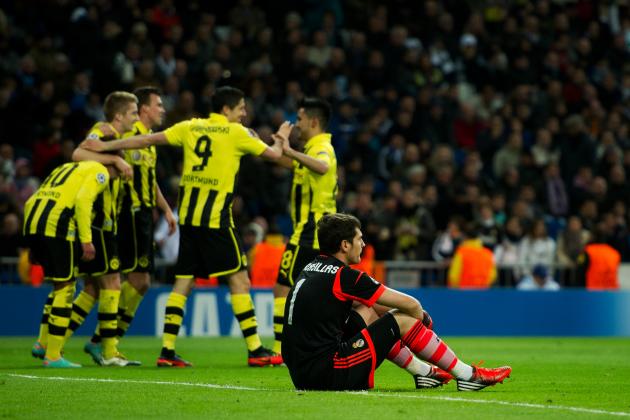 Jasper Juinen/Getty Images

We still have two more matches to play, but this year's Champions League Group D matches are already proving to be some of the most exciting the competition has ever produced.
With another dramatic, late equalizer, Real Madrid proved that while they may not be the better team in 90 minutes against the other domestic champions of Europe, they can never be counted out.
This time it was Mesut Ozil who would score from a free kick. Before that, Marco Reus and Mario Goetze were the two best German midfielders on the pitch.
While Los Merengues won a point in the end, Jose Mourinho will certainly not be happy with the match or the result.
Playing at home and with a stronger team, a win was always the goal for the Spanish champions. Unfortunately, nearly every individual on the team had a poor match and were outplayed for large stretches of the game.
Jurgen Klopp will definitely enjoy the result. Getting any points from the Santiago Bernabeu is a tough task.
However, he will also regret letting the full three points slip through his fingers at the very end.
In this piece I will discuss the play from both sets of players and the decisions from their managers that decided yet another exciting Group D matchup.
Begin Slideshow

»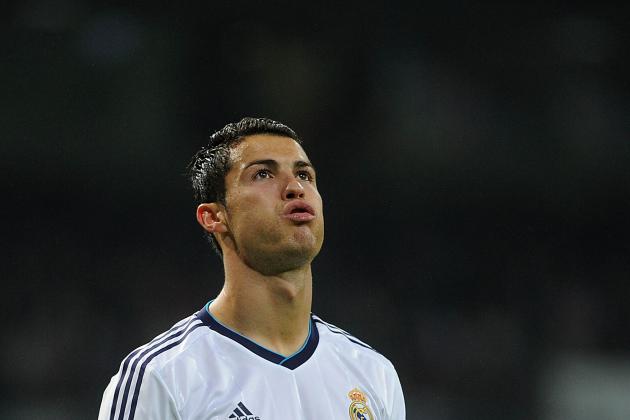 Gonzalo Arroyo Moreno/Getty Images

Over the last 18 months, Cristiano Ronaldo has been one of the game's best big-game players.
From scoring a hat trick in the Madrid Derby to scoring in every Clasico and then scoring the dramatic late goal to draw Manchester City, he has been clutch every time his team has needed him.
With Madrid down a goal to Borussia Dortmund, it is usually these games where the Portuguese man steps up for his team.
Magic not found
Unfortunately, Ronaldo gave his second straight poor performance on Tuesday, just as he did against Zaragoza over the weekend.
His passing was poor, he rarely put himself in position to score and chose instead to waste shots from distance, and was rather anonymous for the first hour.
When Real won a free kick just minutes before extra time, it seemed as though CR7 would once again waste the chance to level.
Instead, it was Mesut Ozil who stepped up to score take the free kick and the decision proved right when his perfect effort saved a point for the hosts.
The absence of Marcelo is really hurting him as he doesn't have the same confidence in his cover or freedom to run. But Ronaldo often goes stretches without getting involved so injuries to his teammates cannot be used as an excuse and I imagine he wouldn't say they are.
Good sign for Los Merengues
Ronaldo is having his second stretch of poor form of the season, but unlike what happened in the first part of this season, his teammate was there to make a big play when he wasn't.
The greatness and competitiveness of CR7 makes it almost certain that he will soon snap out of this disappointing slump and get back to his usual best.
However, with Barcelona far ahead in La Liga and Dortmund still in front in the Champions League, it was and is vital for his teammates to step up when he fails to do so.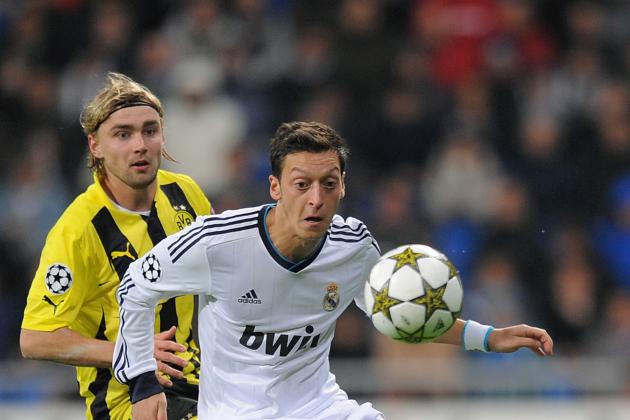 Denis Doyle/Getty Images

After such a great season last year where he led all of Europe in assists, Mezut Ozil was finally rated as one of the world's elite midfielders.
Some people even prematurely rated him the best at this position, above the likes of Andres Iniesta.
After a disappointing showing from Germany at the Euros and a fading performance from Ozil, people started to re-think that idea. Now that Ozil is having his worst season in La Liga, that premature talk has almost universally ended.
Against Borussia Dortmund, Real Madrid's No. 10 finally stepped up when he was needed and scored a gorgeous free kick that might send his team through to the tournament.
However, that one great moment from Ozil saved not only his team, but perhaps himself. Before the free kick, the midfielder was rather pedestrian, especially in the first half.
It was his teammate Xabi Alonso who was the best player in white for most of the match, providing key passes, putting people in scoring position, and doing the most against the great German midfield.
This match did not see Madrid's No. 10 at his best, but it could be a big step in his getting back to that level, a level which he has not really been at all season.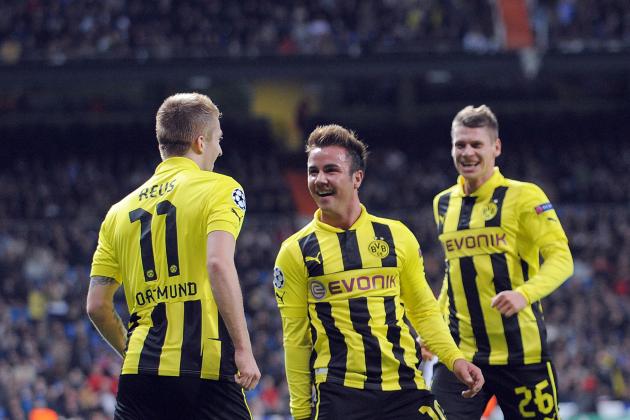 Denis Doyle/Getty Images

Ozil was not only outplayed by his club teammate Xabi Alonso, he was really outplayed by his national teammates as well.
In this match, just as they have done in the past couple of seasons, Marco Reus and Mario Goetze once again mocked analysts and fans who continue to hype players like Neymar and Oscar.
The pair of midfielders gave Real Madrid a lesson in counterattacking football, something the Spanish giants are rather elite at themselves.
Worst season in Spain
Last season he made huge strides as a player by learning to take on a greater role and performing better in big matches. He proved to be one of the best passers in Europe and had more assists than anyone else on the continent.
However, as I said in my previous slide I pointed out that Mesut Ozil is having his worst season in La Liga right now.
In a way, his stats from last season masked a greater problem for him—teammates who are simply not as smart as him.
Ozil too smart for Real Madrid
As great as Angel di Maria and Cristiano Ronaldo are, they are nowhere near being elite midfielders.
Di Maria has taken great leaps as a winger, but is still far too selfish and inconsistent. He still does not contribute enough in attack and is only supremely useful in the final third.
Ronaldo is one of the best players of his generation. He is a finisher, an elite goal-scorer with power and speed to beat anyone and any team.
But CR7 is not a midfielder and certainly not a creative genius. In his usual wide position, he is not a supremely technically gifted player. Instead he relies on strength and ace more often. Nor is he an extremely creative player and goes large parts of most matches without making much of an impact.
A personal problem
While this does not negatively affect Real Madrid, it does hold their No. 10 back. Ozil is just being asked to do too much for his team and needs better support around him.
He has more than enough players to feed the ball to and has elite cover and direction from his deeper midfield, but he needs more to play his best football.
To be more specific, he needs guys like Marco Reus and Mario Goetze—smart players who know how to attack, but also take up all the normal duties of a midfielder.
Stuck on the wrong team?
In a way, Madrid's No. 10 is actually better suited for their great rivals Barcelona. He is extremely creative, intelligent, and has tremendous vision and decision-making.
Ozil does not have break-neck speed or great stamina and is not a great finisher like Reus and Goetze, but perhaps his greatest flaw is that he cannot yet take over games the way someone like Andres Iniesta or Xavi can.
The issue is not just that he doesn't know how to impact games that much, it is that he does not have creative or smart enough teammates best utilize his strengths.
Ozil is obviously not about to transfer to Barcelona and he will likely not end up playing in Dortmund, but he would possibly be an even better midfielder if he did.
For now, he will just have to wait until Los Merengues bring in someone more tailored to his style of football or start building the formation around his strengths while he grows as a player in the current system.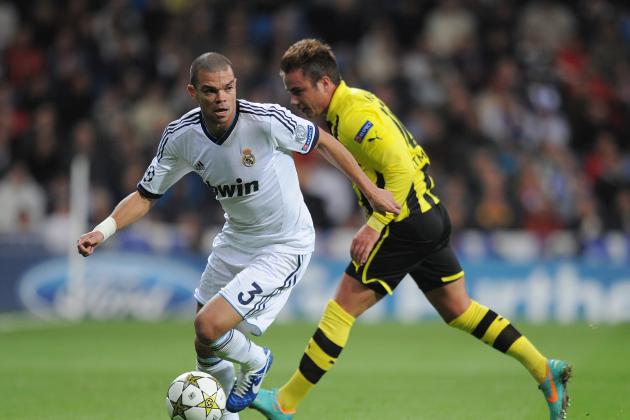 Denis Doyle/Getty Images

Real Madrid were without their two starting left backs in this match and it certainly hurt them as Alvaro Arbeloa was simply no match for the German counterattack, as was the case with Michael Essien before.
However, injuries can't be used as an excuse for a pretty dreadful performance from Real Madrid's back line, especially since many of these problems predate those losses.
First of all, if the entire team was fit, chances are that Jose Mourinho would have gone with Marcelo at left back. While the Brazilian is a fabulous attacking fullback, he is certainly not superior to Arbeloa on the defensive end.
Arbeloa not alone
The left flank was not the only trouble spot for Los Merengues either. Collectively individually, the entire defense was poor.
Sergio Ramos was awful in the first half and was lucky not to let his team go down two goals in the first half hour when he let three different players—one defender—by him with a chance to score.
Pepe did well on his goal, but that was the best play he made all night as he was once again poor defensively.
He was slow, caught out of position and too far out wide, left too much space between himself and the midfield, and even left Raphael Varane—who also made a couple of mistakes in one-on-ones—alone far too often.
No excuses
Real Madrid certainly miss their left backs and Sami Khedira, but to say that is the reason they struggled in consecutive games against Borussia Dortmund would be false. It did play a role, of course, but the problems are greater.
It used to be only on set pieces and against pacy wingers, but this season the Spanish defense has looked out of sorts far too often and proving to be a liability in big games.
Mourinho has to figure out a way to fix this back line or he could go without both of the major trophies this season.
Perhaps he could take notes from the superior back line that Jurgen Klopp brought to Spain, especially the elite Neven Subotic and Mats Hummels.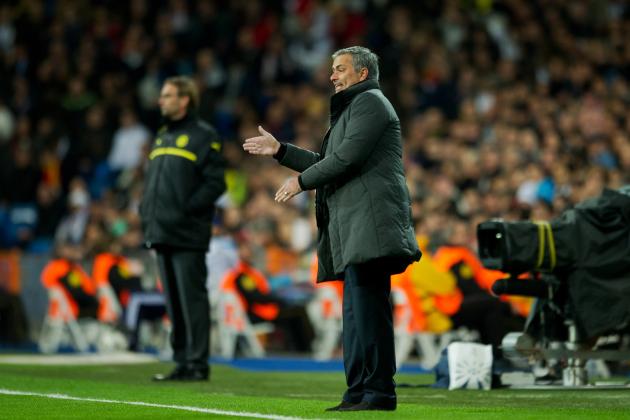 Jasper Juinen/Getty Images

The battle between managers was won by Jurgen Klopp for most of this match, just like the first leg.
Despite having much less depth and a weaker squad, the German coach had his team more prepared for battle than his Portuguese counterpart.
Round 1: Klopp
Dortmund knew they had arguably the best attack in the world to stop and shut them out for really the entire match. The first goal came from a defender on a cross and the second from a free kick,
Gonzalo Higuain and Cristiano Ronaldo were shut down after some outstanding play from Hummels, Subotic and Dortmund's two defensive midfielders—and later Sven Bender.
The general strategy worked perfectly. Klopp trusted his great defense without completely shutting down the attack and had his midfield perfectly set up to beat Los Merengues on the counter.
Die Borussen showed the Spaniards how to execute a counter and really embarrassed the fullbacks for most of the night.
For the first half, Mourinho got it wrong. He allowed Madrid to open up far too much and left the game far too narrow going forward—this was as much because of the poor showings from Angel di Maria and Ronaldo.
Round 2: Mourinho
In the second half, momentum completely switched.
Real didn't come out much more aggressively than in the first half, but Klopp appeared less concerned with clinching the win with another goal.
The pressure from Dortmund's midfield was far less prevalent and they were content to just soak up Madrid's attack.
The first 10 minutes after the break were almost all Madrid and the Germans rarely even touched the ball.
This was not a great strategy from Klopp, but the big shift came in the last 15 minutes when Mourinho decided to take a big risk.
With the attack stalling and Dortmund playing less aggressively and less direct, the Portuguese manager made a change that could have been a disaster.
He took Arbeloa off for Kaka, leaving the left flank—which had been destroyed by Reus all night—wide open with only Essien shifted that direction for extra cover.
Decisive Round: Mourinho
In the end, the move proved brilliant as Madrid were attacking almost non-stop in the last 10 minutes while Klopp was fine with just closing up shop and trying to see the game out.
Instead, Klopp perhaps should have tried attacking more or at least getting more possession.
Since he didn't, the few times Dormtund did venture forward saw Madrid looking very threatening on the counter despite usually having fewer numbers.
This relentless attack caused some nervousness at the back for Dortmund which led to too many fouls behind given. It was one of those fouls that ended up leading to Ozil's equalizer.
By the time Die Borussen did start attacking more often, it was just minutes from the final whistle and too late.
What's worse is that even that final bit of attack nearly proved fruitful as the Germans continued to beat Ramos out wide and almost got the winner in extra time.
If Klopp had just kept that attack up more consistently, the rather awful Madrid defense was likely to concede again.
Instead, it was Mourinho's aggressive changes and late tactics that won out.
Jasper Juinen/Getty Images

For years fans and analysts alike have debated who the best keeper in football is.
While the likes of Manuel Neuer and Petr Cech have been mentioned at various times, the most common consensus has been that Iker Casillas and Gianluigi remain the standard of their position.
However, after another poor outing from the Spanish shot-stopper, it has to be said that Saint Iker is no longer deserving of being labeled the best in football.
No new revelation
Before I get accused of being premature, it has to be said that this point is being made not just from this game, but from the past two seasons.
Even Real Madrid fans have to admit their their legendary keeper has not been his usual self over the last two seasons.
Last year he was not the best keeper in Spain, much less the world. Vicente Guaita and arguably Gorka Iraizoz both outplayed Casillas in La Liga.
Now this season, we have seen Los Merengues' number one nowhere near his best.
His positioning has been poor one-on-one, his set piece defending and positioning has been dreadful, his reactions have slowed, and he has even lost focused on occasion.
Another poor outing
We saw many of these poor qualities against the German champs—poor positioning, confuion on set pieces, slow reactions when players on in the box, and a near mistake when taking a pass from his defense.
Both goals were definitely preventable, but the first one was an especially disappointing effort from the Spanish keeper.
Marco Reus deserves loads of credit for sending a fantastic shot through, but there is just no way that a world class keeper like Casillas should lose his own post like that.
And while the chip from Goetze—and Arbeloa—was not exactly a mistake, the picture on this slide shows that the keeper certainly could have been in better position to stop the shot.
Still elite
Now, in no way am I saying that Casillas is no longer great or even that he is declining for good.
What I am saying is that the last two seasons—and certainly this match—have proven that the great Iker Casillas is not worthy of being called the best keeper in football, at least not right now.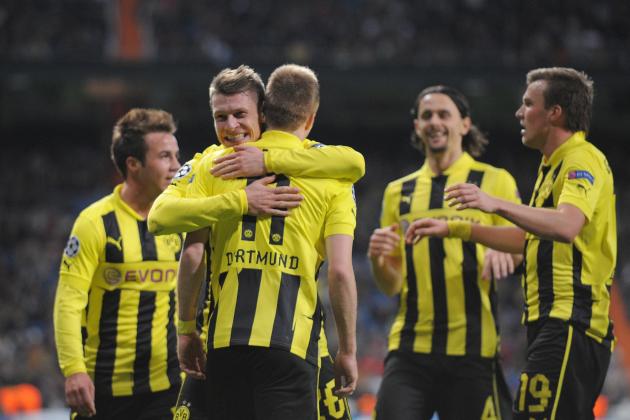 Denis Doyle/Getty Images

Coming into the season, Real Madrid were billed as one of the top contenders to win the Champions League.
They won La Liga in record fashion, were a penalty shootout away from the Champions League final and have more elite players than Jose Mourinho knows what to do with.
Over the last two weeks, we've seen that perhaps we had the wrong domestic champions in mind all along—or at least should have looked in Germany as much as Spain.
Fool me once...
For the second time in a row, Borussia Dortmund were better than the Spanish champions for much of the match and lost a point mostly because of poor decision-making from their coach in the last 30 minutes.
The German champions outscored and at times dominated a team some rate as the best in the world.
Die Borussen have proven that they are not only legitimate title contenders, but a better team than Real Madrid to this point in the competition.
Going into the Santiago Bernabeu and getting any result is quite a feat, even for a team of Dortmund's caliber.
Not only did they get a point, they dominated large portions of this match and were literally seconds away from sweeping the reigning champions of Spain in Group D.
Dortmund demand respect
Unfortunately, we live in a time where the media and simple exposure generally dictates fans' opinions.
Great teams in Germany too often go underrated compared to their Spanish and especially English counterparts.
Despite having two of the world's best midfielders—Reus and Goetze—probably the best central defensive pairing in football, and one of the elite coaches in Europe, the German champions rarely get the respect they deserve.
After dominating the champions of both Spain and England for nearly three full matches, people have to realize that Borussia Dormtund are as good as any team in Europe right now and better than Real Madrid at the moment.