Oregon vs. California: Complete Game Preview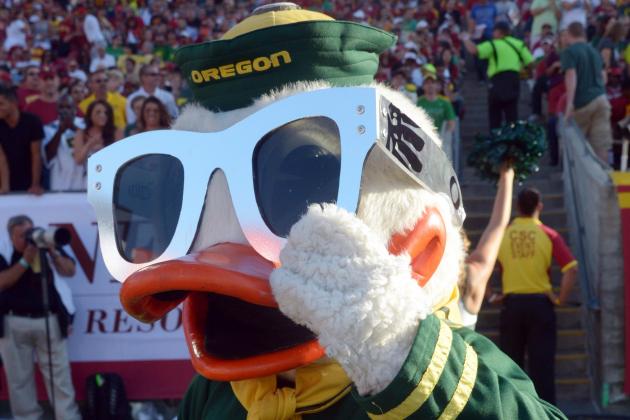 US PRESSWIRE

The Oregon Ducks will travel back to the state of California again this weekend for their date with the California Bears.
This trip will likely be less stressful than the visit to the L.A. Coliseum and the big matchup with the USC Trojans last Saturday.
The Ducks are a big betting favorite; not surprising since the Bears are reeling and some are questioning if they have packed in it for the year. While Chip Kelly is starring in a new UPS commercial, Jeff Tedford is pondering his future.
All signs point to a big Ducks victory, but stranger things have happened. Let's look at the threat scale for this meeting in Berkeley.
Begin Slideshow

»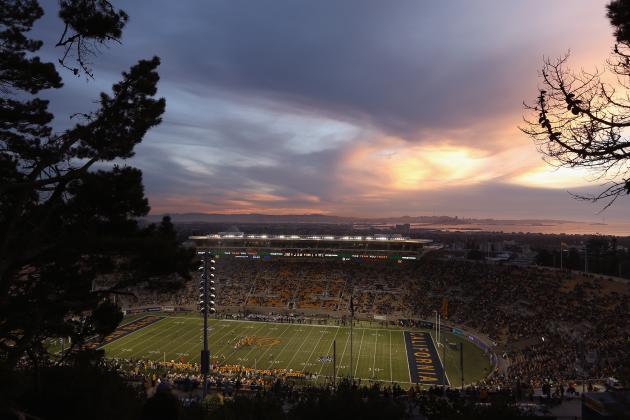 Ezra Shaw/Getty Images

Who: Oregon (9-0, 6-0 Pac-12) at California (3-7, 2-5 Pac-12)—Game No. 10
When: Saturday, Nov. 10, 2012, 7:30 pm (PST)
Where: Berkeley, CA
Stadium: Memorial Stadium
National Rankings: Oregon, BCS No. 3; California, not rated
National TV: ESPN, Joe Tessitore (pxp), Matt Millen (Analyst), Samantha Steele (Sideline Reporter)
Satellite Radio: Sirius and XM 85
Local Radio: IMG Cal and Oregon radio networks
Tickets: Available—$65
Spread: Oregon by 27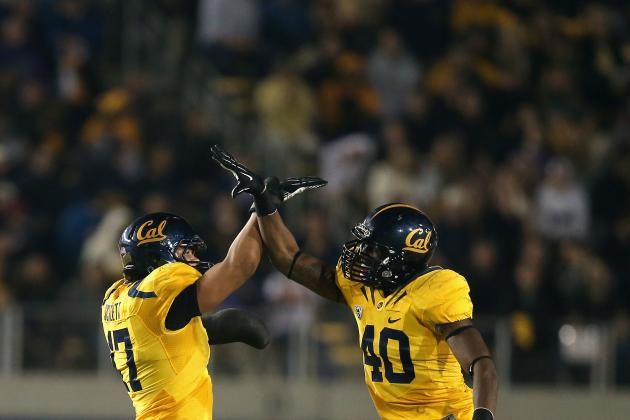 Ezra Shaw/Getty Images

Offense
WR: 6 Chris Harper — 3 Maurice Harris
LT: 77 Tyler Rigsbee — Freddie Tagaloa
LG: 73 Jordan Rigsbee — 71 Alejandro Crosthwaite
C: 57 Brian Schwenke — 58 Chris Adcock
RG: 58 Chris Adcock — 70 Geoffrey Gibson
RT: 75 Matt Summers-Gavin — 79 Bill Tyndall
TE: 11 Richard Rodgers — 84 Jacob Wark
WR: 1 Bryce Treggs — 10 Darius Powe
QB: 15 Zach Maynard — 16 Allan Bridgford
FB: 48 Eric Stevens — 26 Kameron Krebs
TB: 20 Isi Sofele OR 9 C.J. Anderson
Defense
DE: 96 Kendrick Payne — 41 Todd Barr
NG: 50 Aaron Tipoti — 55 Viliami Moala
DE: 91 Deandre Coleman — 41 Todd Barr
OLB: 40 Chris McCain — 43 Dan Camporeale
ILB: 11 Nick Forbes — 34 J.P. Hurrell
ILB: 37 Robert Mullins — 34 J.P. Hurrell
OLB: 17 Brennan Scarlett — 22 Nathan Broussard
CB: 2 Marc Anthony — 3 Kameron Jackson
S: 23 Josh Hill — 5 Michael Lowe
S: 5 Michael Lowe — 4 Avery Sebastian
CB: 1 Steve Williams — 3 Kameron Jackson
Specialists
P: 16 Cole Leininger — 40 Steffan Mos
PK/KO: 13 Vincenzo D'Amato
SNAP: 69 John Sheperdson — 86 Brandon Madueno
HLD: 28 Jackson Bouze — 40 Steffan Mos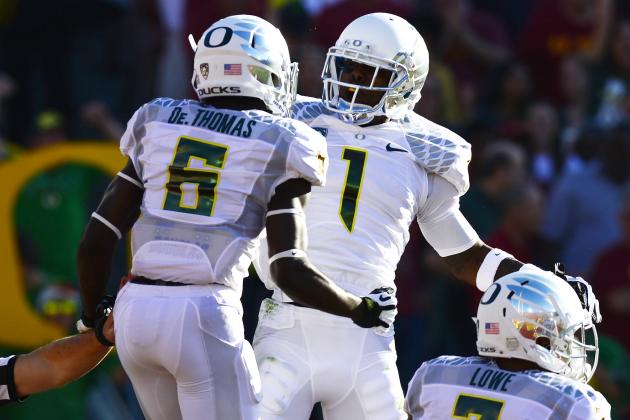 Robert Laberge/Getty Images

Offense
WR: 16 Daryle Hawkins — 11 Bralon Addison
LT: 64 Tyler Johnstone — 74 Kyle Long
LG: 74 Kyle Long — 54 Hamani Stevens
C: 55 Hroniss Grasu — 78 Karrington Armstrong
RG: 60 Ryan Clanton — 61 Nick Cody
RT: 75 Jake Fisher — 71 Everett Benyard III
TE: 15 Colt Lyerla — 80 Koa Ka'ai OR 85 Pharaoh Brown
WR: 1 Josh Huff — 19 Eric Dungy OR Dwayne Stanford
WR: 7 Keanon Lowe — 89 Will Murphy
QB: 8 Marcus Mariota — 2 Bryan Bennett
RB: 24 Kenjon Barner — 6 De'Anthony Thomas
Defense
DE: 66 Taylor Hart — 44 DeForest Buckner
DT: 65 Isaac Remington — 9 Arik Armstead
DT: 92 Wade Keliikipi — 90 Ricky Heimuli
DE: 96 Dion Jordan — 91 Tony Washington
MLB: 47 Kiko Alonso — 34 Rahim Cassell
WLB: 46 Michael Clay — 22 Derrick Malone
SLB: 24 Boseko Lokombo — 33 Tyson Coleman
CB: 27 Terrance Mitchell — 3 Dior Mathis
FS: 21 Avery Patterson — 4 Erick Dargan
SS: 12 Brian Jackson — 4 Erick Dargan
CB: 14 Ifo Ekpre-Olomu — 13 Troy Hill
Specialists
PK: 93 Rob Beard — 41 Alejandro Maldonado
KO: 41 Alejandro Maldonado — 93 Rob Beard
P: 49 Jackson Rice — 41 Alejandro Maldonado
KR: 6 De'Anthony Thomas — 7 Keanon Lowe
PR: 6 De'Anthony Thomas — 11 Bralon Addison
LS: 39 Drew Howell (punts) — 59 Jeff Palmer (PAT/FG)
HLD: 49 Jackson Rice — 2 Bryan Bennett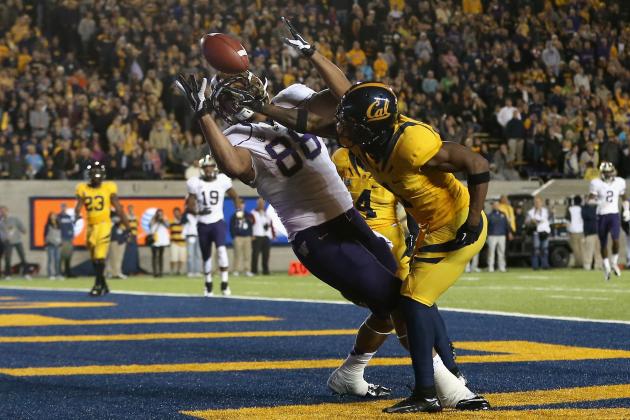 Ezra Shaw/Getty Images

The Cal Bears lost at home on Friday, Nov. 2, to the Washington Huskies, their fifth Pac-12 Conference loss this season. The loss against the Huskies guaranteed that the Bears will not be invited to a bowl game this year, and it was their fourth home loss out of six games at newly-renovated Memorial Stadium.
Washington's Bishop Sankey ran for a career-high 189 yards and two touchdowns against Cal. Do you suppose that Oregon's Kenjon Barner is drooling at the prospect of this game?
Oh, yeah.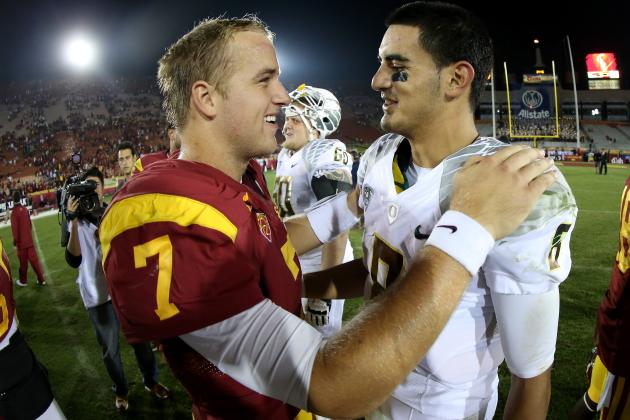 Stephen Dunn/Getty Images

The Oregon Ducks hung 62 points on the USC Trojans in the L.A. Coliseum last Saturday in a gun-slinging battle for the ages. At times it seemed that whoever had the ball last would win, but Oregon always kept its nose in front. The game was not as close as the 62-51 would indicate, especially considering USC's last touchdown with one second remaining on the clock.
Oregon's offense and Kenjon Barner's individual performance both set Coliseum records and left the Trojans gasping for air and scratching their heads. The Ducks also left USC with three big, fat conference losses.
It's also worth noting that when the Cal Bears played USC at the Coliseum in September, they scored nine points on the Trojans. Hmmm.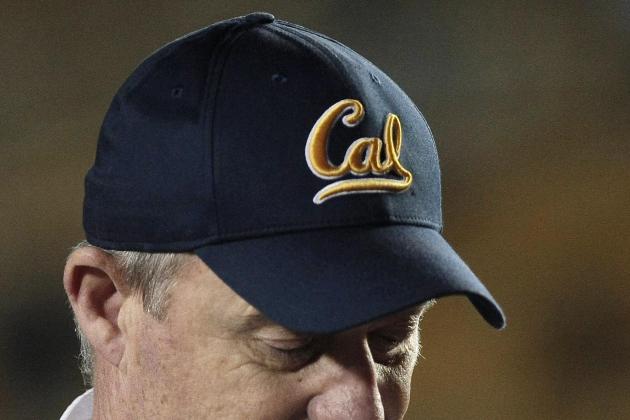 Kelley L Cox-US PRESSWIRE

First, a mea culpa from your writer: In early October I predicted that Cal head coach Jeff Tedford would be fired prior to the Oregon game. Unless something dramatic happens in the next three days, I was wrong.
However, having said that, Tedford is soooo toast. The only possibility—and I do mean only—for Tedford to save his job is to beat the No. 3 team in the country.
Saving their coach's job is really the only thing the Bears have to play for, other than personal pride, of course. They can't become bowl-eligible this season, and they can't even have a winning record in their home stadium.
Cal's only hope to finish their sad season with some degree of respectability is to knock off the two ranked teams from the state of Oregon. Good luck on that one.
What does this game mean to Oregon? I think we all know the answer to that question. The Ducks have one goal this season—their unfinished business, if you will.
Anything short of the BCS National Championship Game will be a disappointment. In fact, the tide (Tide?) is turning this week into anything short of winning the Natty will be a disappointment. To get there, the Ducks need to keep their unbeaten streak alive.
Cal is in the way. That's what it means to Oregon.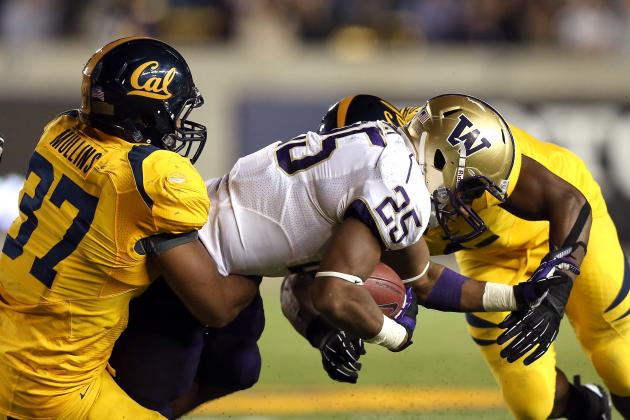 Ezra Shaw/Getty Images

If Cal is to have any chance at all in this game with the Ducks, it must stop Oregon's running game and Kenjon Barner. Therefore, the Bears' linebackers are probably the key player in this one.
If inside linebackers Nick Forbes and Robert Mullins, in particular, can do their job and put a halt to Oregon's vaunted ground game, it will force QB Marcus Mariota to get a little more creative. If the Ducks run right through Cal's front defense, it will get major ugly in a major hurry.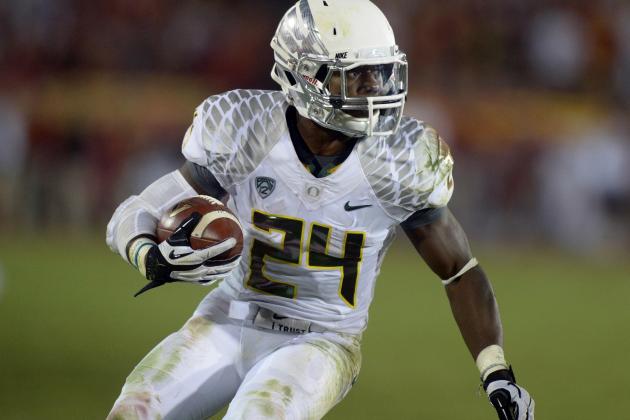 US PRESSWIRE

You may have noticed: Kenjon Barner is fairly competent at running the football.
He will do that against Cal, starting with play No. 2. Not the first play, because that would be too predictable and you-know-who hates to be predictable. But for many, many plays after that Barner will take the handoff from Mariota and do his thing.
The only question regarding key Oregon player Barner is will he get to play in the second half.
Most likely not.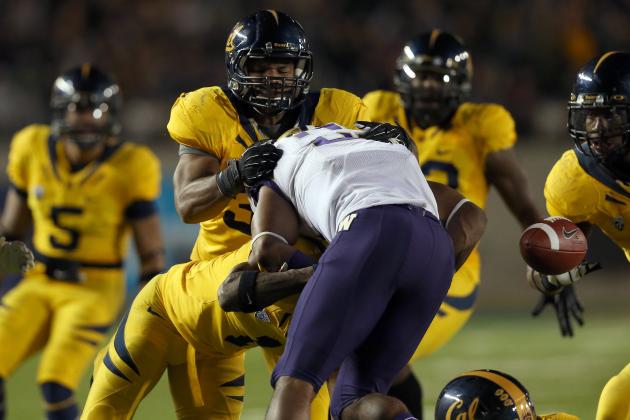 Ezra Shaw/Getty Images

...it can stop the Oregon running game. If Kenjon Barner punishes the Bear defense, this game will be over before it starts.
The Bears' other chance is if they make fewer mistakes, have fewer costly penalties than the Ducks and can somehow find their confidence.
In other words, play a perfect game, Cal, and you might pull it out.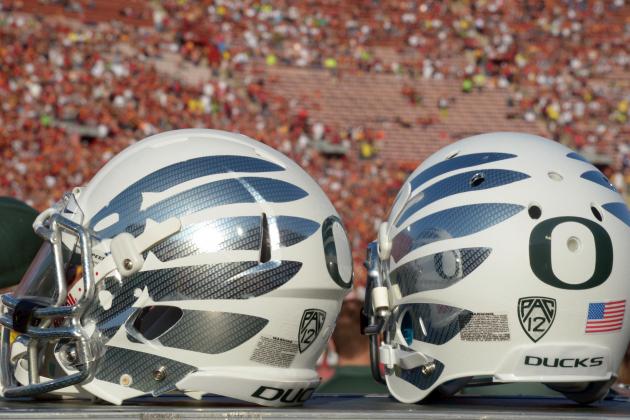 US PRESSWIRE

...it doesn't have a massive letdown after last week's thriller in the Coliseum. The atmosphere in L.A. for that big-stage game was incredible. One could almost cut the excitement with a knife; it was that palpable. You half-expected Bruce Springsteen to play the halftime show.
It's likely that the Ducks are still on a high from the big win. Oregon's coaches do a terrific job of bringing their kids back down to earth, but it's just human nature to want to relive the good times.
On the other hand, these Ducks seem to have bought into "Win The Day" lock, stock and barrel. And, they seem incredibly focused on their singular goal of making it to Miami in January.
So, unless the Ducks forget to pack their helmets, they will beat the Bears.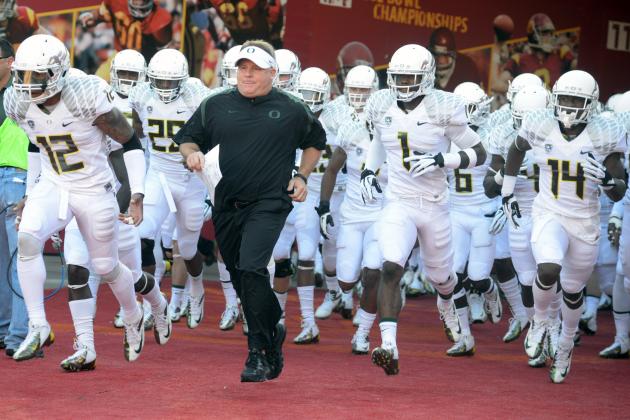 US PRESSWIRE

The truth is simple. Oregon is the best college football team in America right now, and nothing or no one is going to slow it down.
Oh, really?, you say.
Yep, 'fraid so, Crimson Tide dudes.
Cal will be the Ducks' next victim and the next entry on their resume.
PREDICTION: Oregon 63 — California 14
Kay Jennings is a member of the Football Writers Association of America