Kansas Basketball: Full Preview, Predictions and Storylines for 2012-13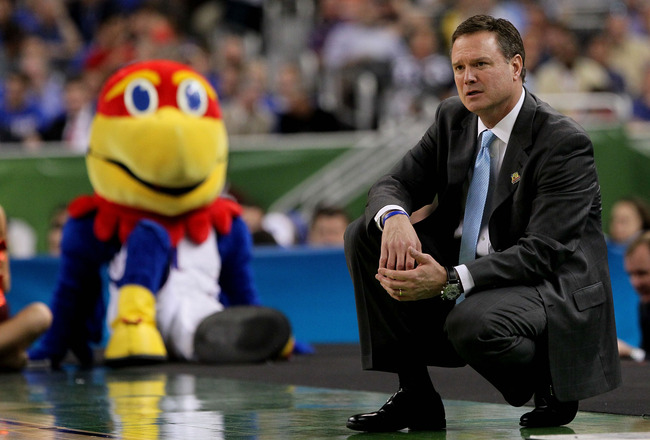 Chris Graythen/Getty Images
Welcome to yet another "rebuilding" year for Bill Self and the Kansas Jayhawks.
Although, the word "rebuild" has a little bit of a different definition in Lawrence than it does for other college basketball programs.
After winning the national title in 2008, the Jayhawks entered the next season with no impact seniors and Sherron Collins as the only true leader. Naturally, they still made it to the Sweet 16, blowing away expectations.
Oddly enough, the next season, they were ranked No. 1 for most of the year and ended up bowing out in the second round of the NCAA tournament.
But when the word "rebuild" worked its way back around to the Phog Allen Fieldhouse, the Jayhawks once again proved everyone wrong, making it to the Elite Eight in 2011 and to the national championship last year.
With the Jayhawks entering this season at No. 7 despite the loss of Thomas Robinson and Tyshawn Taylor, coupled with a ton of youth, it would appear that pundits have finally figured out the secret.
Bill Self and his staff don't rebuild.
Let's take a look at what's in store for Kansas this season.
Impact Newcomers

Redshirt freshman Ben McLemore could be in store for a huge season. Or, at the very least, a season full of high-flying dunks like this one.

Rio Adams (Freshman)
Perry Ellis (Freshman)
Landen Lucas (Freshman)
Ben McLemore (Redshirt Freshman)
Zach Peters (Freshman)
Jamari Traylor (Redshirt Freshman)
Andrew White (Freshman)
We'll get to Kansas' incoming class, which includes five commits, two ESPN Top 100 players and a No. 13 ranking by ESPN, in a second. But first, all attention is on redshirt freshman Ben McLemore.
The St. Louis native was ranked No. 49 overall in the 2011 class by ESPN, but he was still fairly raw and had a slender frame, so redshirting made sense. You know, and the fact that he was academically ineligible
Now it's time for Bill Self to finally reap the benefits of the top recruit.
According to Kansas' website, the 6'5" McLemore is up to 195 pounds, which means he's added about 10 pounds of muscle. If he continues to add a little bit of bulk and strength, he screams NBA talent.
Not only does he have the stroke to be an elite outside shooter, but he has the quickness to take defenders off the bounce and the gaudy athleticism to finish at the rim. You aren't going to to mistake him for a point guard, but that won't really matter as you're drooling over his natural scoring ability.
Self's incoming class doesn't have any can't-miss prospects, but as always, there is tremendous potential.
The most notable impact true freshman is the hometown boy, Perry Ellis, who hails from Wichita.
The 6'8", 225-pound power forward has the unfortunate task of making people forget about Thomas Robinson, but he's a versatile forward who can score away from the basket and create mismatches on offense. He's not Robinson, but he's going to be effective in his own right as a stretch four with plenty of muscle.
Then you have the West Coast guys.
Rio Adams, who hails from the same high school in Seattle that Doug Christie, Jamal Crawford, Terrence Williams and Nate Robinson are from, is a lighting-quick combo guard who, according to Self, can "handle it like a one and he can score like a two."
Landen Lucas, a skilled 6'10", 240-pound big man, is the top recruit from Oregon. He's still a little raw, but he can play both post positions and gives the Jayhawks some depth down low.
Finally, Andrew White also has the skills to find solid playing time coming off the bench. He's athletic and has a good shot that extends to the three-point line. He should log minutes behind both McLemore and Travis Releford at the wing positions.
Key Losses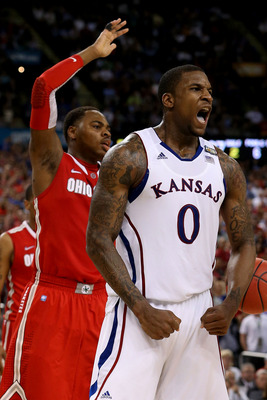 Jeff Gross/Getty Images
Thomas Robinson (Draft): 17.7 ppg, 11.9 rpg, 1.8 apg, 1.1 spg, 0.9 bpg, 31.8 mpg
Tyshawn Taylor (Graduation/Draft): 16.6 ppg, 4.8 apg, 1.3 spg, .382 3P%, 33.4 mpg
Conner Teahan (Graduation): 5.5 ppg, 2.1 rpg, 1.3 3PM, 21.0 mpg
How exactly do you replace someone like Thomas Robinson?
Here's a hint: You can't.
Yes, Robinson's production of a double-double per game was obviously elite, and yes, his combination of athleticism, strength and god-given natural ability was drool-worthy.
But that's not what makes him irreplaceable.
Night in and night out, Robinson brought energy, toughness and a willingness to win that was essentially unmatched by anyone else in the country. He single-handedly carried what many believed was an over-achieving Kansas team to multiple victories.
Don't overlook the loss of Taylor either.
Not only did he give the Jayhawks that important element of having a senior point guard leader, but there were stretches when he was unstoppable. He could get into the lane with ease, he could knock down the big three, he could set up his teammates, he could do it all on offense.
Inconsistency and decision-making were often a problem with Taylor, as evidenced by his shooting in the NCAA Tournament (0-of-20 from long range up until the national championship), but the savvy point guard will be missed in Lawrence.
Projected Starting Lineup and Depth Chart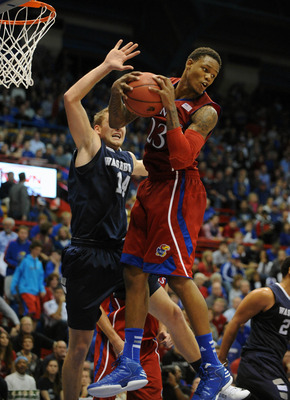 John Rieger-US PRESSWIRE
Seniors Elijah Johnson and Jeff Withey are no-brainers in the starting lineup. Freshman Perry Ellis isn't quite as much of a lock, but Self would be a little crazy to keep the versatile, talented, athletic big man off the court.
On the wing, things become just a little more cloudy.
The likely choices are Ben McLemore and Travis Releford. McLemore is a unique talent who can score in a hurry, while Releford is an ideal glue player. He's an athletic senior who can run the court and will, more often than not, guard the opposing team's best offensive player.
However, Bill Self often likes to have two players who can handle the ball, and neither McLemore nor Releford do that very well.
There's always the chance he puts in Naadir Tharpe, a true point guard, or Rio Adams, a scorer who has the ball-handling of a point guard, next to Johnson, just to start games off. If he does that, McLemore would likely come off the bench and make for a dangerous sixth man.
The bench rotation is still a little up in the air.
Andrew White, a top recruit with a scorer's skill set, will likely get a lot of time off the bench on the wings.
Senior Kevin Young played the energy-off-the-bench role last year, and should play it again in his final season, but redshirt freshman Jamari Traylor and junior Justin Wesley, both play a similar role and will challenge him for minutes.
Down low, it's unclear how ready young guns Zach Peters and Landen Lucas are for the collegiate level, but they are all Self has after Ellis and Withey.
| | | |
| --- | --- | --- |
| Position | Starter | Backup |
| Point Guard | Elijah Johnson | Naadir Tharpe/Rio Adams |
| Shooting Guard | Ben McLemore | Andrew White/Rio Adams |
| Small Forward | Travis Releford | Kevin Young/Jamari Traylor/Justin Wesley |
| Power Forward | Perry Ellis | Zach Peters |
| Center | Jeff Withey | Landen Lucas |
Strengths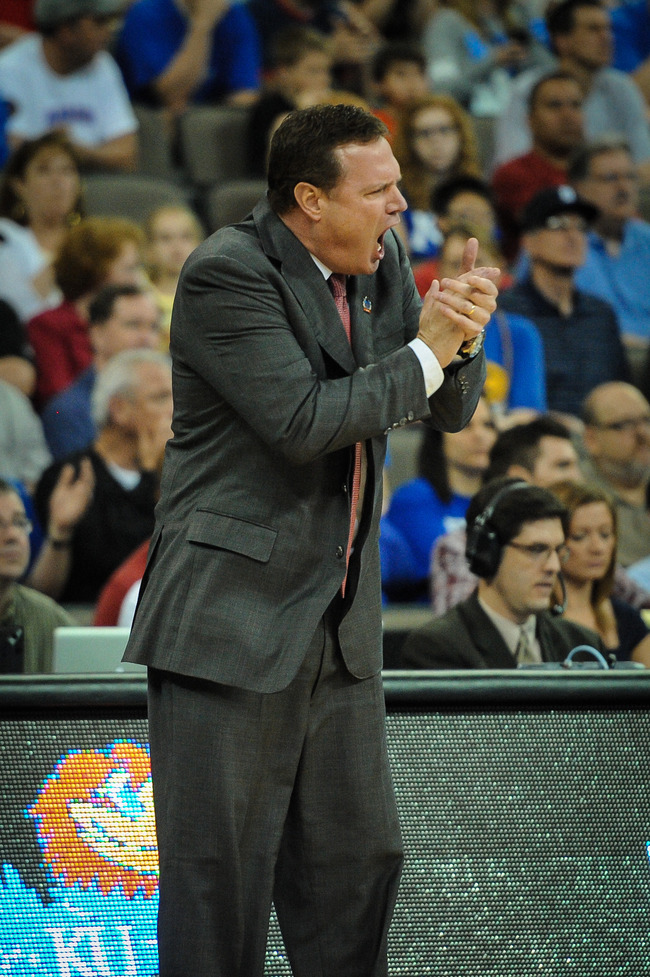 Eric Francis/Getty Images
Believe in Your Self
Horrible puns aside, there's a reason why Kansas has exceeded expectations multiple times over the past decade, and that reason is the one constant during that time: head coach Bill Self.
No matter who Self has to work with, he knows how to make it work. He does a fantastic job of putting his personnel in the right position to succeed. He gets his players to buy into the system, and he teaches a culture of toughness and energy.
Self is similar to Tom Izzo in that way. You could give them five 1-star recruits and they'd still probably find a way to win 20 games.
Despite up-and-down expectations over the years, Self is nine-for-nine in leading his Kansas teams to the Big Dance. Expect that to continue with ease.
Young Players, Same Old Defense
The worry regarding Kansas is that with the exception of Jeff Withey, Elijah Johnson, Travis Releford and Kevin Young, it is an extremely young team with little-to-no experience.
That could certainly turn out to be a problem, especially early in the season, but it won't matter on the defensive end.
As mentioned earlier, Self constantly gets his players to buy into his system, and that system involves hard-nosed defense and the willingness to get into your man and lock him down.
Led by Travis Releford, an excellent on-ball defender on the perimeter, and Jeff Withey, one of the best shot-blockers in the nation who swatted a ridiculous 5.17 blocks per game in the NCAA tourney last year, the Jayhawks will once again make it incredibly difficult for opposing teams to score.
Throw in the added athleticism of guys like Ben McLemore and Perry Ellis with the energy and size of the entire bench, and it wouldn't be surprising to see Kansas finish at the top of the nation in defensive efficiency.
For all of the same reasons, the Jayhawks will also once again keep other teams off the glass.
Weaknesses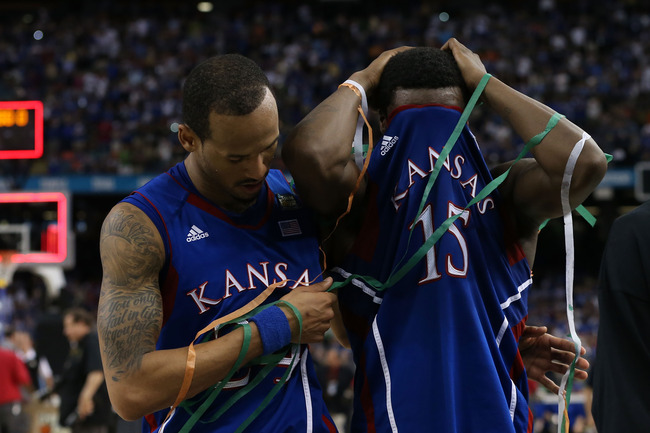 Jeff Gross/Getty Images
Offensive Identity
Losing Thomas Robinson and Tyshawn Taylor, who at times absolutely carried Kansas on the offensive end last season, is going to hurt the biggest in this regard.
The Jayhawks' leading returning scorer is Elijah Johnson, who poured in 10.2 points per game last season. He's as steady as they come—1.8 turnovers in 32.2 minutes per game—but how will he do as the primary ball-handler and go-to guy on the offensive end?
Yes, he averaged double-figure scoring last year, but considering how inefficient it was (43 percent from the field, 34 percent from long range on 5.2 attempts per game, got to the line just 1.2 times per game), it's a long shot that he becomes an elite scorer.
There's no question that Ben McLemore, who oozes NBA talent, can be that guy, but he's yet to play a single minute of college basketball, so relying on him this early could be dangerous. Same goes with Perry Ellis, who has the talent to be an unstoppable stretch four in a fast-paced offense.
After that, who is there? Jeff Withey and Travis Releford have shown promise at scoring from their position, but neither is an ideal No. 1 option. They are both there mainly because of their defense and anergy.
This team is super talented, but don't be surprised if it goes through plenty of scoring droughts, especially during pre-conference play.
Youth and Frontcourt Depth
Three seniors in the starting lineup is tough to beat, but there's a steep dropoff after that.
Bill Self will likely roll the dice with two freshmen in the starting lineup, not to mention possibly four more first-year players and a sophomore who could log important minutes.
As the saying goes, but not really, this was the oldest of teams, it was the youngest of teams.
Additionally, the jury is still out on true freshmen Zach Peters and Landen Lucas. If they don't turn out to be all they're cracked up to be, that's going to put a lot of pressure on Ellis and Withey (a major shot blocker and gambler) staying out of foul trouble and logging major minutes.
Storylines to Watch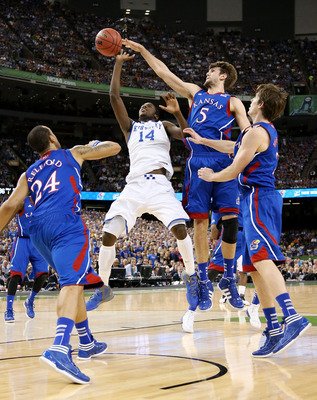 Ronald Martinez/Getty Images
Jeff Withey...a Record Holder?
Last season, Jeff Withey averaged just 24.8 minutes per game, but he still managed to swat 3.6 shots per contest. With a lack of depth, a lack of Thomas Robinson and better conditioning, the big center should get, at the very least, 30 minutes per game this year.
If you extrapolate those numbers, that would give him 4.4 blocks per game, which would have given him a total of about 170 swatted shots. That's still a ways away from David Robinson's record of 207, but stay with me here.
In six games in the NCAA tourney last year, Withey averaged 28.5 minutes per game and blocked 5.2 shots. Now extrapolate those numbers over a full season, and you're up to 203.
It's certainly more of a daydream than anything right now, but the seven-footer is in line to put up some gaudy, national-attention-grabbing, defensive numbers.
Another Big 12 Title?
After doing the unthinkable and failing to win the regular season Big 12 title (and then, of course, still making it to the Elite 8) in his first year as head coach with Kansas, Bill Self has reeled off eight straight titles.
Furthermore, in the last 22 years, the Jayhawks have won the conference a ridiculous 17 times.
No matter what you think of this team in particular, and no matter how good Texas, Kansas State and Baylor will undoubtedly be, you would have to be in the possession of certain bath salts to predict any other school to win the conference.
Don't be surprised if Self finds a way to make it nine titles in a row. If not, he'll clearly be on the hot seat.
Best-Case Scenario
Gregory Shamus/Getty Images
As always in Lawrence, it's national championship or bust for the Kansas Jayhawks.
And just because of a little case of the Thomas Robinson blues and inexperience, don't think that's not possible.
Having a smart senior leader at the point will go a long way for Kansas' success. While I don't think Elijah Johnson will necessarily turn into some scoring machine, he'll protect the ball, play high-IQ basketball and distribute to the athletes around him.
That's going to be a breath of fresh air for Kansas fans.
Those athletes, led by Ben McLemore, Andrew White, Travis Releford and Perry Ellis, will make Kansas an exciting team capable of running the floor, slashing into the lane and getting to the line with consistency, making irrelevant the fact that the outside shooting, outside of McLemore, could struggle.
Throw in solid—albeit inexperienced—bench depth, one of the best defenses in the nation and an elite head coach, and Kansas' ceiling is the Georiga Dome and the Final Four.
Worst-Case Scenario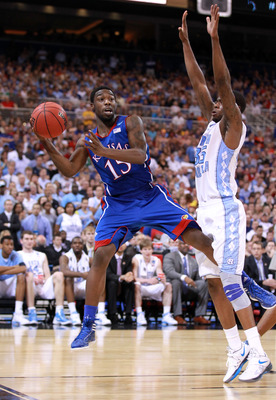 Andy Lyons/Getty Images
I still worry about where the offense will come from.
If freshmen Ben McLemore and Perry Ellis struggle to get their collegiate careers started in a positive direction, then what happens?
Elijah Johnson suddenly becomes the No. 1 option on offense. He's going to protect the ball and play much smarter than Tyshawn Taylor, but last year, he was generally a spot-up shooter. If that continues to be the case, he's better served as the No. 2 or 3 scorer in the offense.
Travis Releford has top-level talent, but he's proven in the past to be simply a slasher and athletic monster. He's never been the focal point of the offense. Instead, he's scored on offensive rebound put-backs and transition buckets.
Finally, you have Jeff Withey, who isn't someone you want to repeatedly feed in the post.
There are some players off the bench, such as Rio Adams, who are capable of scoring in a hurry, but Bill Self doesn't want to have to rely on them.
Again, this is all a worst-case scenario, but if the offense becomes stagnant, an early upset in the NCAA tournament isn't out of the question.
Regular Season Prediction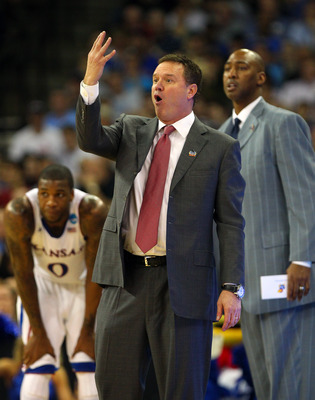 Doug Pensinger/Getty Images
25-6 (15-3 in Big 12), First in Big 12
Considering the inexperience and the talent that has departed from this team, I've got Kansas struggling a little bit early on.
On paper, only Michigan State in the Champions Classic and Ohio State in Columbus stand out as the early tests. But a potential matchup with St. Louis (although the injury to Kwamain Mitchell is killer for that squad) in the CBE Classic, Oregon State, Colorado and Belmont are all going to be tough matchups for the Jayhawks.
A surprising three losses before Big 12 play is very possible.
Once the Jayhawks get into the flow of things and Bill Self has his team's identity figured out, however, don't be surprised if Kansas rolls through the top-notch conference.
There are about five legitimate teams covered with talent that could easily win the Big 12, but once Self gets what he wants out of his team, and that will happen, Kansas will be a well-oiled machine.
Just like it always is in a rebuilding year.
Keep Reading

Kansas Jayhawks Basketball: Like this team?