5 Plays Rockets Must Take from Thunder for James Harden and Jeremy Lin to Thrive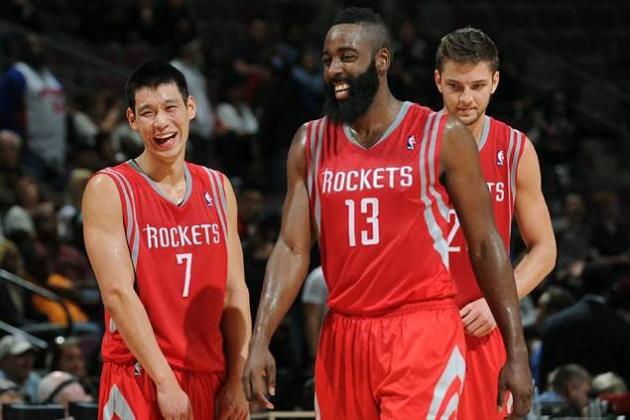 Photo via nydailynews.com.
I don't condone plagiarism.
Unless it comes in the form of James Harden and Jeremy Lin stealing plays out of the Oklahoma City Thunder's Harden-era playbook.
Let's face it, Harden was dealt to the Houston Rockets as the NBA regular season was set to tip off, and practice time or not, he and Lin are wearing thin on time together.
So, until these two can have time over the offseason to concoct some unique basketball stylings of their own, why not attempt win using plays that have already proven to help win?
Don't laugh, because I'm serious.
Some will undoubtedly consider this tactic worthy of being discussed with New England Patriots head coach Bill Belichick over dinner and a healthy dose of scheming.
I, however, will call it what it actually is: Clever.
Begin Slideshow

»
Stop me if you've seen this one before.
Zach Lowe of ESPN's Grantland brought us a play that has already been somewhat stolen from James Harden's days with the Thunder.
Here throws a cross-court pass from the weak side to a traipsing Carlos Delfino.
Such a maneuver works because Harden and Lin begin to drift off to the left, drawing the defense with them.
Throw in a surprise back screen from Omer Asik and this leaves Delfino free to set up shop near what you must now refer to as The Witch's Nipple, where he drills a three.
It's a subtle play, but effective nonetheless. It's also one Harden has utilized before while in Oklahoma City.
And it's one both he and Lin should continue to use moving forward.
Here's a personal favorite of mine.
While in Oklahoma City, James Harden would often remain stationary in the strong side corner. Russell Westbrook would have the ball at the top of the three-point line and go left, dumping the rock off to a slicing Kevin Durant.
What this does is confuse the defenses.
Westbrook is going left, so the defense follows, but then Durant cuts right, as if he's going to attack the rim, forcing any opponents on the right side to close in on him.
The result? A wide-open baseline for Harden, who sprints toward the basket and capitalizes off a beautifully placed lob from Durant.
So simple, yet so effective.
Better yet, it's one that Jeremy Lin and Harden can run as well.
Just substitute Westbrook for a Chandler Parsons, Carlos Delfino or Toney Douglas, have Lin play the part of Durant and Harden will be at the rim before you know it.
And that's never a bad thing.
Not to belittle the pick-and-roll, but this butchered rendition works much better.
Jeremy Lin isn't as big as Kevin Durant, nor is he as likely to slash toward the basket off the ball—which makes this play perfect.
Watch how Durant serenely walks through the "screen" he sets. Such a gentle approach looks weak to the defender on the ball, so he stays with James Harden.
Durant's man, however, sees him meandering into traffic and immediately thinks he should switch, also setting his sights on Harden.
This frees up Durant to take an open three.
Now, for the Rockets, the beauty of this is that it works both ways. Both Lin and Harden are known penetrators, so respect must be given on the ball.
That said, it's a much more intriguing option with Lin playing the part of Durant, because he's not known for his off-ball "screens" or rolls.
Regardless, sometimes a true pick-and-roll can be overrated. This is one of those times.
Now this one requires two things: A point guard who is both at home navigating the paint and also a threat to finish at the rim.
Luckily for James Harden, Jeremy Lin can do both.
Once again we have Harden stationary in the right corner behind the three-point line. We also have a slight screen near the elbow by Serge Ibaka to help create space for Russell Westbrook.
From there, though, instead of Westbrook coming over the top like Kevin Durant does in the Baseline- Alley-Oop set, the ball-handler goes under the screen to attack the rim.
The key here is keeping your eyes fixated on the rim. By doing just that, Westbrook draws the defense inward even before he takes flight.
This, once again, allows Harden move unimpeded toward the basket. Then, once Westbrook—or in Houston's case, Lin—gets off the ground, he can softball pitch it to a cutting Harden for the easy two.
Now, we all know Lin has had problems going left, so this will take some take some dexterity on his part, or the Rockets can just mirror the set up on the right side.
Either way, this one is a staple in Oklahoma City's playbook and should become one in Houston's as well.
James Harden has a cannon for an arm.
Though the full-court pass doesn't appear to be a play right out of the book, there is plenty of calculation behind it.
For one, you have to trust that your team is a good rebounding team. This particular play requires a floater, who sprints down the court, leaving his team a man down on the glass.
Can the Rockets handle that? Considering they're currently second in the league in rebounds per contest, I think so.
From there it just takes an Aaron Rodgers-like arm and Peyton Manning-esque precision, which Harden apparently has.
The essential part of this one is Jeremy Lin getting an early enough jump, which shouldn't be a problem. With a monster like Omer Asik by the rim, Lin can charter his course downcourt upon the ball leaving the shooter's hands.
Then, once an Asik or a Marcus Morris grabs the board, they hand it off to a waiting Harden on the left side, who heaves it downcourt to a sprinting Lin for an easy two.
Both the Miami Heat and Oklahoma City Thunder do this all the time.
Not so coincidentally, they are also the two teams that appeared in last year's NBA Finals.
Just saying.