WWE Super SmackDown Live Results, Analysis and Review for Nov, 6 2012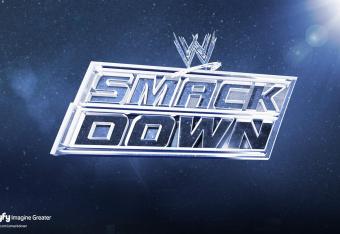 Photo: SyFy.com

That is right, folks. You did not read the headline wrong. Tonight is a special, live Tuesday edition of SmackDown, and this is the Bleacher Report's live coverage for the event.
It will be interesting to see how tonight's crowd compares to the outstanding one that showed up for Raw in Birmingham, England.
SmackDown will likely deal with two major storylines: The World title feud between Sheamus and Big Show and the angle involving Eve and the other divas.
Sheamus and Big Show are building to their rematch at Survivor Series, so rest assured that one of them will be there to talk about it.
Booker T had Natalya come in and ask to fill in for Eve last week while she was away. That could lead to the evil diva thinking Natalya was trying to steal her job.
With the way Raw ended last night, it will be very intriguing to see if John Cena or Ryback show up on SmackDown at all.
Since this is a "Super" SmackDown, we could get to see a lot of the top talent that usually only appears on Raw.
During these live blogs, readers like to discuss and debate things in the comments section. If you are not a member of Bleacher Report, make sure to sign up, or just use you Facebook, to join in on the fun.
Make sure to bookmark this page and check back at the start of the show for live coverage of all the action as it unfolds.
Follow me on Twitter @BR_Doctor
The end of the main event was a cool way for Orton to win what ended up being a great falls count anywhere match.
Overall the show was above average, but nothing less should be expected from a show in England where WWE does there best to impress the people who get to see them so few times throughout the year.
Seeing any William Regal match is a treat, but it would have been nice for him to get the win and not take the loss for his team.
The SinSterio/PTP feud might be over after a decisive win from the dancing duo.
WWE's new Fandangoo character only had one "O" in it, but it could have been a mistake. Either way I do not think this gimmick will last long.
What did you guys think of the show?
Orton vs Del Rio Part 3
When we return Ricky and Del Rio are moving the big part of the steel steps into the ring. Del Rio grabs Orton and runs him into the barricade for a two count.
As Orton gets the advantage on the ramp Ricky jumps on his back only to get thrown off onto the ground by Orton.
Orton puts Ricky in the prop phone booth they have on the stage that they use to remind us they are in England.
Orton grabs Del Rio and throws him in the ring and takes him down with the two clotheslines into powerslam combo.
Orton throws Del Rio head-first into a chair wedged in the turnbuckle and he picks up the chair and hits Del Rio one good time for a near fall.
Del Rio hits a back stabber out of nowhere and gets a near fall on Orton. Del Rio grabs Del Rio on the apron and goes to suplex him through a table but Del Rio kicks him through the table instead.
Del Rio covers Orton for a two count while he is still in the rubble from the table. Del Rio picks up Orton and puts him back in the ring.
ADR grabs the mic and tells Orton he is the new Apex Predator in WWE. Del Rio then puts the Cross Arm Breaker on Orton.
Orton grabs the mic with his good arm and hits Del Rio in the head with it to break out of the hold. Del Rio ends up running Orton's shoulder into the ring post.
This has been a pretty entertaining match so far. Del Rio pulls Orton through the ropes to do his DDT on the steps but Orton gets out.
Del Rio tries to smash Orton's head against the steps with a chair and Orton moves and RKOs Del Rio into the steps for the pin and the win.
Winner: Randy Orton
Orton vs Del Rio Part 2
We return to see them still fighting in the back and Orton steps on Del Rio's head for a near fall.
Orton and Del Rio fight back into the arena and Orton almost DDTs Del Rio on the concrete.
Ricky hands Del Rio a chair after Del Rio hits a big back kick to Orton and he gets a near fall after a few shots to Orton.
We go to another commercial as Del Rio mocks Orton with his own pose.
Randy Orton vs Alberto Del Rio Part 1
How can WWE use the name Fandango when a well-known movie website uses it?
Josh Matthews covers up the fact that Del Rio's driver seat is on the opposite side by saying he owns cars and keeps them all over the world.
I've driven and English car with the steering wheel on the other side once, but it was in the U.S. so it was really weird to be in the same lane but on the other side of the car. It really makes you look a lot closer at how you drive.
The bell rings and Orton goedsright after Del Rio. Del Rio gets Orton in the corner and hits a series of kicks ending with one nasty kick to the face.
Del Rio's kicks always look and sound realistic from the right angle. Orton stops Del Rio from ramming him into a chair set up in the turnbuckle and Del Rio tries to escape through the crowd.
Orton catches hm at the barrier and hits Del Rio's head into the table and the ring apron. Orton grabs Del Rio for a suplex but Del Rio escapes.
Orton gives chase through the crowd and they slug it out when he catches up. Del Rio gets thrown into some of WWE's travel crates a few times.
They keep moving to the back until they end up in a public area as we head to break.
After the break we get a video package for Brad Maddox from Raw last night.
After the video we see Striker interview Randy Orton backstage about his match with Del Rio that is coming up tonight.
Orton says they will get sick and twisted during the falls count anywhere match and Orton loves this type of match.
Orton comes out right after the interview for his match.
I have to say I am shocked no one has commented on the Nick Offerman video I put up. It is classic.
Matt Striker talks to Alberto Del Rio about his upcoming match against Orton. Del Rio says he was attacked from behind and that is the only reason he got the better of him.
Rosa walks up and wishes Del Rio luck. It looks like they will have some kind of storyline going forward with Del Rio and Rosa.
Regal and Sheamus vs. Big Show and Barrett Part 2
After the break we see Show still dominating Regal. Show tags in Barrett who gets a near fall on Regal before putting on a front facelock.
Regal ends up suplexing Barrett across the ring and then explodes out of the corner with a running elbow. JBL puts over Regal as he makes the tag to Sheamus, who goes to work on Show.
He gets Show with a high kne lift and a running axe handle to knock Show off his feet. Sheamus goes up top and hits the battering ram to take him down again.
Barrett distracts Sheamus just long enough to let Big Show hit a spear to Sheamus. Regal hits a running knee to the face of Show and Show turns around and hits the WMD for the pin and the win.
Winners: Big Show and Wade Barrett
I am a little surprised that Regal and Sheamus did not get the win given that they are in England.
That was a decent match, but Regal took too much of a beating and did not get in as much offense as I would have hoped for.
Big Show and Wade Barrett vs. Sheamus and William Regal Part 1
After the break we see just how tall Barrett is next to Big Show. Regal gets a pop during his entrance as he walks to the ring all business.
Sheamus is out right away after him and they rush the ring and start fighting before the bell.
Regal takes care of Barrett and then they team up on Big Show. JBL loves the action before the bell.
Regal looks like he is ready to go pacing around the ring like he does while Wade and Big Show regroup on the outside.
Sheamus starts off with Barrett after Show tags out right away. Barrett starts off with a hard kick and punches to Sheamus in the corner.
Sheamus comes out with some strikes of his own and then he whips Barrett down with a side headlock.
I love how JBL tries to call Big Show's attack a two on one situation. Great heel commentating right there.
Regal tags in and works over Barrett a little before tagging Sheamus back in. Sheamus gets a near fall after a short clothesline to Barrett.
Did JBL really just call Josh Matthews Mr. Drummond?
Sheamus and Regal keep on Barrett as Big Show tells the ref to start letting them double team. Regal tags in again and Barrett starts to fight back.
He shoves Regal to his corner and then clothesline Regal down before tagging in Show, who picks up Regal and slams him to the mat before hitting a running elbow drop.
Show walks over Regal's chest and then puts him int he corner for a huge chop. Barrett gets in some cheap shots to Regal while the ref keeps Sheamus from coming in the ring.
Sheamus ends up running around the ring to stop Barrett from kneeing Regal in the face a bunch of times.
Regal fights back a bit but Show runs him over with a shoulder block. Big Show starts working over the shoulder of Regal as the crowd tries to get behind him.
After the break we see a relay of Raw when Vickie confronted Cena with the ridiculous footage.
JBL seems to think this proves something about John Cena. Josh Matthews says Vickie tweeted about having new footage.
We go backstage to Teddy Long and Booker talking about the tag team match they will have next. Booker asks if Vickie could have come up with the match and Teddy says she might.
Booker asks if he is not original. Teddy changes his tune and sucks up and Booker calls him on it. Is Booker really asking if making tag team matches every week makes him unoriginal?
Booker says he was just kidding and plays buddy-buddy with Long. That was an awkward segment.
Barrett is out for the tag team match.
SinSterio vs. Prime Time Players
Sin Cara is out first after the break and WWE uses his entrance as an opportunity to plug their Hulu partnership.
They use Rye Mysterio's entrance to plug Erkel's show on SyFy.
PTP get the jobber's entrance for this one. The bell rings and Darren Young goes right for Sin Cara. Cara uses his speed to get the advantage until he gets Stun Gunned on the top rope.
Young ends up getting a DDT from Sin Cara from the middle rope. Young makes the tag and Titus tries to stop Sin Cara from tagging Rey but he gets an enziguri to the head.
Rey comes in hot and he avoids Titus a few times in the corner before hitting some mounted punches. Rey kicks Young off the apron and then he goes up and hits a seated senton on Titus.
He kicks Titus onto the ropes and Young tries to grab Rey's feet causing a distraction. He ends up running into a bug spinebuster from Titus for the pin and the win.
Winners: Prime Time Players
Quick match but it had a quick pace and a few entertaining spots.
After the match Matt Striker tries to ask them a question but they grab the mic away from him. Where the hell did Titus get that whistle from? He has on trunks with no pockets.
Never mind. I don't want to know where he kept it.
Titus asks Striker what he thinks of when he sees them and he whispers to Striker to say millions of dollars.
PTP want Striker to dance with them and he messe sit up so they tell him to leave the ring. Striker is growing a Movember moustache and they make fun of it.
I liked that match and I think it will lead to something down the line with the attempt to show respect by Miz. I would not be surprised at all if he mentions that the next time he has a mic in his hands.
This feud has given me a new appreciation for both of these guys. They have not had a bad match in their series of four thus far. Miz is especially showing more versatility than ever before.
Kofi vs. Miz IC title match Part 2
After the break we return to see Miz punishing the leg of Kofi with what amounts to a DDT to his foot.
Jbl claims he used to be able to fly like Kofi when he was young as Miz continues to hit more offense to the knee of Kofi.
Kofi gets a surprise roll up but Miz kicks out and keeps on the pressure. Miz applies what I will call a standing figure four since I don't know if it has a different name.
Miz drops down to the ground and kofi hits him in the face with his good leg several times to break away. After Miz misses Kofi on the ropes Kofi tackles and him and hits a few punches.
Kofi gets hot and does most of his signatures to Miz. Kofi drops the boom and calls for the Trouble in Paradise.
He misses and Miz tries for a SKull Crushing Finale but Kofi rolles him up and they trade near falls. Miz ends up locking in a half Boston crab on Kofi.
Kofi crawls to the ropes to break the hold. Kofi ends up getting crotched on the top rope and Miz climbs up. He tries for a superplex and Kofi holds onto the top rope.
Kofi shoves him off the top but MIz runs right back over to him and keeps punching him as he crawls up a second time.
The trade shots on the middle rope until Kofi gets the advantage and knocks Miz down. He hits a big Cross body for a pin and a win.
Winner: Kofi Kingston
I love when someone wins wth something that is not their finisher and not a roll up. Having people win after big moves they don't always win with makes things less predictable.
Kofi celebrates after the match with his title as Miz watches him. Miz circles Kofi in the ring before holding out his hand for a shake.
Kofi dropkicks him out of the ring. Dammit! That could have been a face turn or Miz and Kofi cheap-shotted him. JBL agrees with me.
Kofi Kingston vs. Miz for the IC Championship Part 1
Miz and Kofi make their way to the ring for the match. JBL puts Miz over big time before the bell.
They lock up after the bell and Miz locks in a side headlock, which Kofi reverses. After a bit more of this Kofi ends up monkey flipping Miz before sending him over the top rope.
Kofi misses a sliding dropkick and Miz lifts him up onto the barrier while trying to send him over the barricade. Kofi walks the railing and hits Miz.
They get back in the ring and Miz drops Kofi onto the top rope and Kofi grabs his knee right away when he goes down.
It sounds like the crowd is chanting "This is awesome" but I didn't think the match had enough time to get a chant like that going.
After the break we see Booker find Barrett and call him a coward for backing down from a fight.
Booker proposes Sheamus and Regal take on Barrett and Big Show. Wade puts his arms around Booker and says thank you before walking of.
I love JBL's enthusiasm as he hypes the match for later. The IC title match between Miz and Kofi Kingston is up next.
The show opens with another video being narrated like this is Dateline.
Michael Cole is in the ring an he brings out Sheamus to a huge ovation from the crowd. Cole brings up how Big Show attacked William Regal and Sheamus at a pub last night.
They show the attack on a cell phone video, which makes the beating look much more chaotic than it really was.
Sheamus says he understand why Big Show did what he did, but he can't understand why Show would cheap shot Regal.
Sheamus invites Big Show to the ring to finish what he started. Big Show comes on the big screen and calls Sheamus an ungrateful ginger. The crowd laughs a bit.
Show says he held back during the attack just so Sheamus could make it to Survivor Series. That was nice of him.
Sheamus tries to get Show to come out but Wade Barrett comes out instead and he gets a nice welcome from the crowd.
Barrett says Sheamus is stupid for looking for a fight since he is already facing Barrett on Main Event this week. Barrett starts to go to the ring but then he changes his mind and walks away.
The segment ends with Sheamus in the ring posing for the crowd.
From what I understand there is already spoilers for the show since it was taped in a different country from the United States, but for those watching live or who would like more detailed play by play stay tuned. I still plan on covering the event.
This article is
What is the duplicate article?
Why is this article offensive?
Where is this article plagiarized from?
Why is this article poorly edited?