Week 9 Rookie QB Recap: Luck Leads the Pack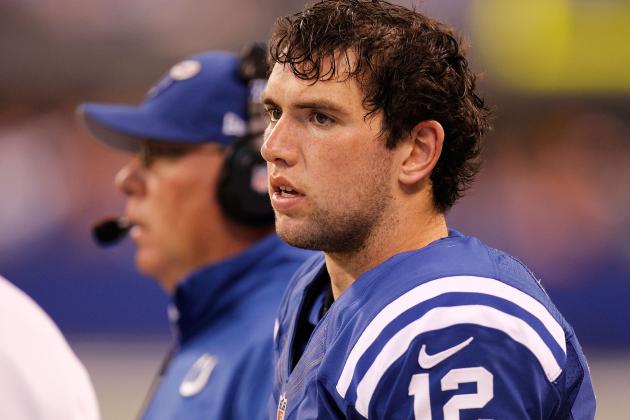 Gregory Shamus/Getty Images

Another week, another recap on the rookie quarterbacks.
As Week 9 comes to a close, we are now getting a very good sense of how the quarterbacks play. They are at the stage where we can tell how the rest of the season will be for them and how they will develop.
While some of these quarterbacks' performances were overshadowed by bigger stories, such as Doug Martin's incredible game, they still deserve some recognition.
Here is the recap on the rookie class of quarterbacks for Week 9.
Begin Slideshow

»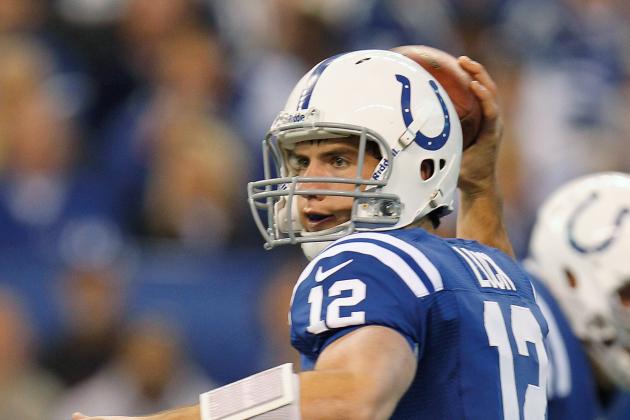 Gregory Shamus/Getty Images

30-of-48, 433 yards, two touchdowns
Andrew Luck is now in the lead in the Rookie of the Year award chase after his incredible performance this week.
Luck broke the rookie record for passing yards this week, a record previously held by Cam Newton. Luck is now tied for fourth in passing yards this season with none other than Peyton Manning.
The comparisons between Luck and Manning will keep coming for the next few years. At this point, Luck is performing better than Manning did in his rookie season.
Luck has helped turned the Colts around. After finishing last year with an incredibly disappointing record of 2-14, they are now 5-3 at the halfway point. Luck is putting the offense on his back and helping the team late in the game.
His two most surprising traits are his ability to avoid being sacked and his ability to lead important drives late in the game. He always seems to find ways to shake off defenders, even if they are wrapping him up. With several games coming down to the final few possessions, Luck is also becoming a clutch player.
We are seeing why Indianapolis chose Luck with the first pick, and he is continuing to excel and improve each week.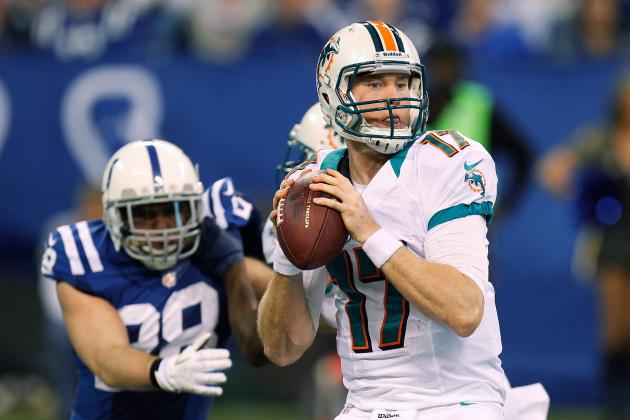 Gregory Shamus/Getty Images

22 of 38, 290 yards, touchdown
Critics have been hating on Ryan Tannehill since he was drafted by Miami in the first round. He is doing his best to shut those critics up.
Although the Dolphins lost a close game this week against the Colts, they are still 4-4, which is better than many expected at the halfway point. Tannehill has understood that he doesn't have to do everything, and uses his running game well.
Tannehill's performance this week would be considered slightly above average for him. While he didn't have the best completion percentage, he was able to throw for a touchdown and didn't turn the ball over.
As Tannehill continues to play, we should see more and more improvement each week.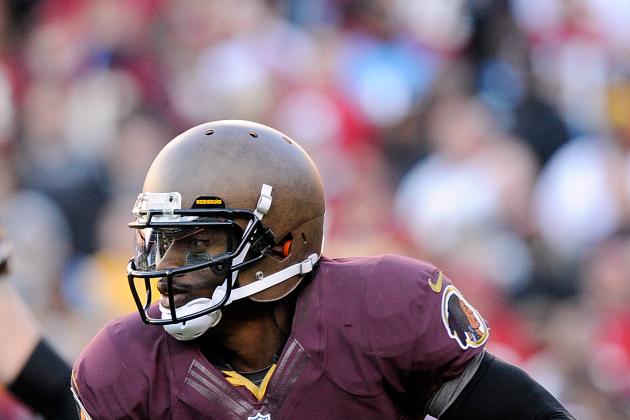 Patrick McDermott/Getty Images

23 of 39, 215 yards
It's been a tough few weeks for Robert Griffin III, who has now lost three straight games.
Griffin was the hands down favorite for the Rookie of the Year award, but after the past few games his chances are beginning to fall a bit
His team is now 3-6, and their playoff chances are slipping away. While his legs are still a threat, he is continuing to get hit a lot. His health will become a concern in the long term, just like it has been for Michael Vick.
Griffin is still one of the most talented players in the NFL, but he is struggling to lead his team to wins. While the game against the Giants was crushing for the Redskins, Griffin needs to help this team get out of the funk they are currently in.
Expect Griffin to have a big game after his bye week, where his team plays the Eagles. It will be a good opportunity for him to show everyone he is still one of the best rookies to enter the league in recent memory.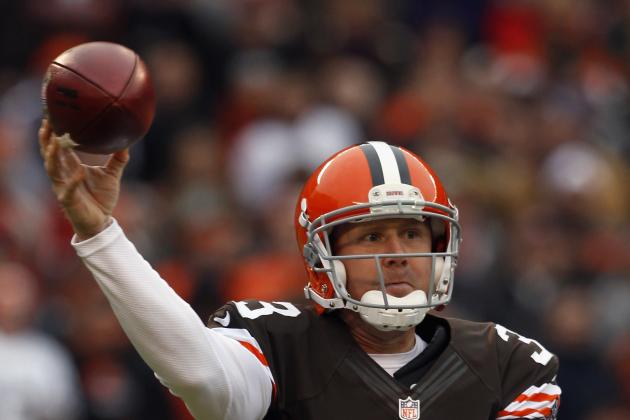 Matt Sullivan/Getty Images

20 of 37, 176 yards, two interceptions
Brandon Weeden failed to find the end zone for the second straight week, and his team ended up with a loss to the Ravens, giving them a record of 2-7.
Weeden is starting to show that he is inconsistent as an NFL quarterback. After a couple of good games against the Colts and Bengals, he has struggled the past two games.
The expectations for Weeden are a bit higher than most quarterbacks, but only because of his age. The Browns expect Weeden to learn a lot more quickly than most rookies.
Weeden has a pretty short leash with this team. With his age, his NFL career will be much shorter than most, so the Browns expect him to be at his best very soon.
If Weeden doesn't play well consistently, the Browns might be looking for another quarterback.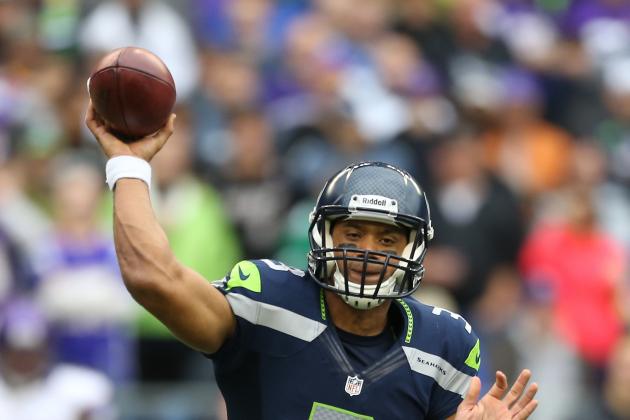 Otto Greule Jr/Getty Images

16 of 24, 173 yards, three touchdowns
Russell Wilson quietly had one of his best performances of the year, next to his upset against the Patriots.
Wilson had a passer rating of 127.3 this week, which was good enough for third in the league next to Drew Brees and Jay Cutler. His performance was over 20 points higher than Luck's record breaking game.
WIlson helped lead his team to another win, giving his team a record of 5-4. Wilson, who wasn't originally intended to be the starter, is helping this team win games. The Seahawks weren't projected to do much this season, but Wilson is making sure that people know about them.
Wilson is developing very nicely as a quarterback. His decision making is improving each week, and he is learning to not be afraid to use his legs to escape the pressure. If he can continue this development, he could be a long term starter for Seattle.