NFL Week 10 Predictions: Latest Odds and Picks Against the Spread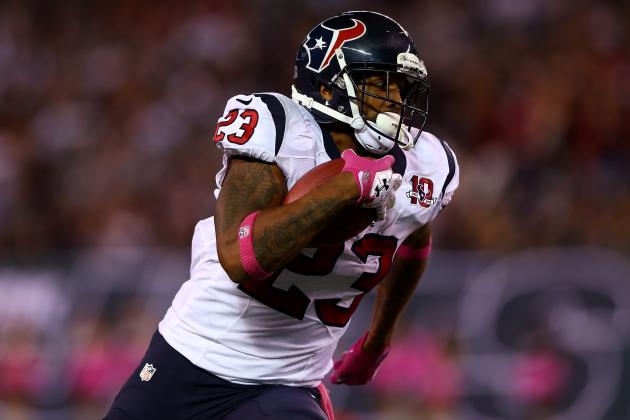 Elsa/Getty Images

Another NFL week is approaching, and, as always, it's time to start preparing your bets. It's no secret that a large part of the NFL's success comes from gambling, and it's clearly a concern of many.
In Week 10, we are looking at some potential blowouts (cough, Buffalo/New England, cough) and some potential great games between conference powerhouses (looking at you, Houston/Chicago). Often, these games are the most difficult to predict.
So, with another action-packed week approaching, let's try to get a handle on just what teams you should put your faith—and your money—in.
*All spreads are courtesy of footballlocks.com
Begin Slideshow

»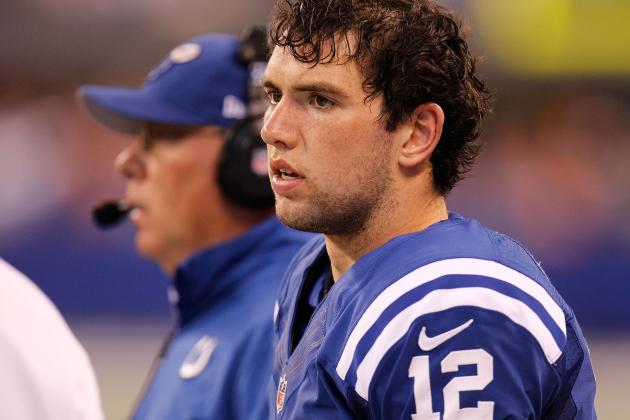 Gregory Shamus/Getty Images

Through nine weeks, the Jaguars have been truly horrific, while the Colts have been surprisingly decent. Jacksonville ranks among the league's worst in both offense and defense, so it's no surprise that it enters with a 1-7 record.
Rookie sensation Andrew Luck has been just as advertised for Indianapolis, as he has led the team to the majority of its victories. The Colts have some weaknesses, but they are easy to cover up against Jacksonville.
Indianapolis is the clear favorite here, playing against such a terrible team. The three-point spread isn't enough to make a difference.
Pick: Indianapolis Colts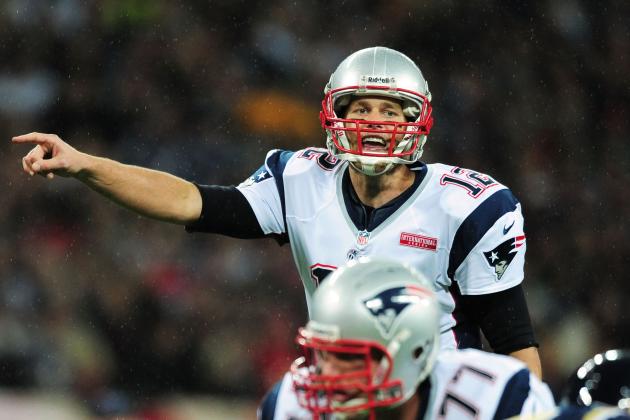 Jamie McDonald/Getty Images

This is one of the more one-sided matchups we've seen this year. The Patriots are, per the usual, one of the league's best teams, and the Bills are, again, as usual, one of the league's worst teams.
For the first time in years, New England utilizes a well-rounded offense, and Buffalo is awful against both the run and the pass. With the No. 1 ranked offense, the Patriots should be able to score.
The Bills' offense, ranked 21st in the NFL, isn't nearly effective enough to counter this either.
This game reeks of blowout. Don't be tempted to side with the large spread. It's there for a reason.
Pick: New England Patriots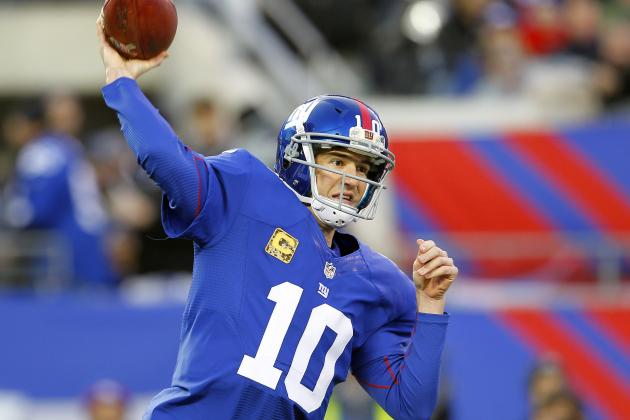 Rich Schultz/Getty Images

This is a trickier pick than the first two. Both New York and Cincinnati have been decent teams in 2012, though the Bengals' record falls short of expectations.
Though the two teams rank compare somewhat decently, the Giants do have one distinct advantage.
Pass rush.
New York's pass rush is, as usual, deadly. And if there's one thing the Bengals' quarterback struggles with, it's pressure.
Playing under heat, Dalton could be forced into some mistakes and bad throws. Unfortunately for him, the run game won't be there to bail him out either.
This game could still be close, but the Giants are the overall better team and match up well against the Bengals.
Pick: New York Giants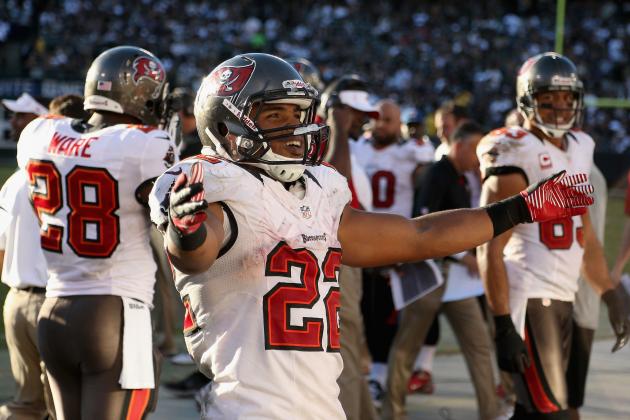 Ezra Shaw/Getty Images

Right now, the Buccaneers seem to be putting things together. Doug Martin is racking up incredible numbers, and the entire Tampa Bay team is rolling.
Meanwhile, the Chargers have struggled immensely. San Diego's excellent run defense should be able to limit Martin somewhat, but the fact remains that San Diego simply hasn't been that good in 2012.
This game could go a number of directions, but, right now, the Buccaneers are the better team. Three points isn't a big enough spread to affect the decision here.
Pick: Tampa Bay Buccaneers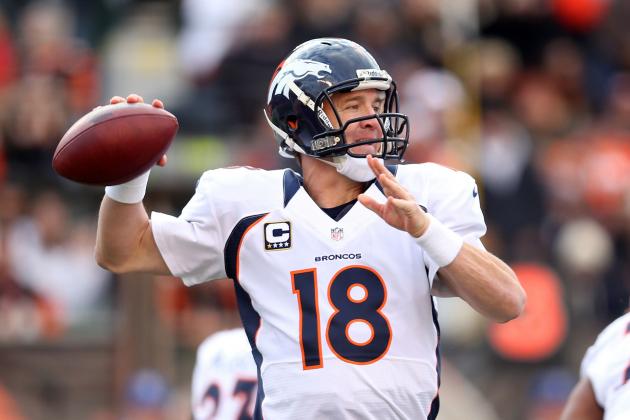 Andy Lyons/Getty Images

There has been a huge gap between the play of Denver and Carolina in 2012, with the Broncos coming in as the far superior team. It's a wonder as to why this is just a 3.5-point spread.
Though Carolina's defense has been pretty good in 2012, it seems unlikely to even slow down Peyton Manning, who has simply been incredible. Denver's defense, on the other hand, should be able to contain Cam Newton and the Panthers.
Simply put, the Broncos are the far better team here. Ride with Peyton.
Pick: Denver Broncos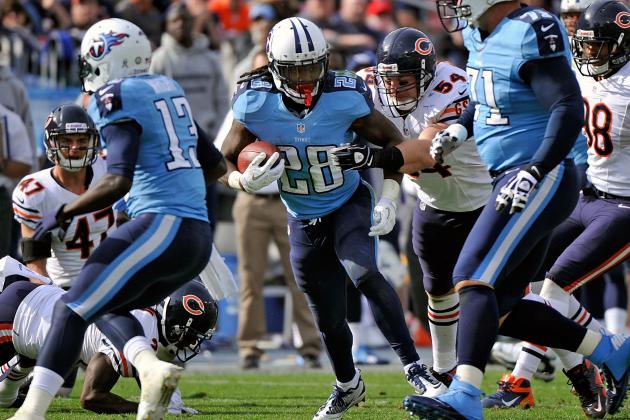 Frederick Breedon/Getty Images

With a good run defense, Miami seems capable of shutting down Chris Johnson, and, in effect, the entire Tennessee offense. And, going against an awful Titans defense, the Dolphins should be able to score.
Rookie quarterback Ryan Tannehill has exceeded everyone's expectations, leading Miami to a surprising 4-4 record. Meanwhile, the Titans have struggled and currently stand at 3-6.
The spread here is a bit concerning, but Miami remains the preferred option. They are at least six points better than Tennessee.
Pick: Miami Dolphins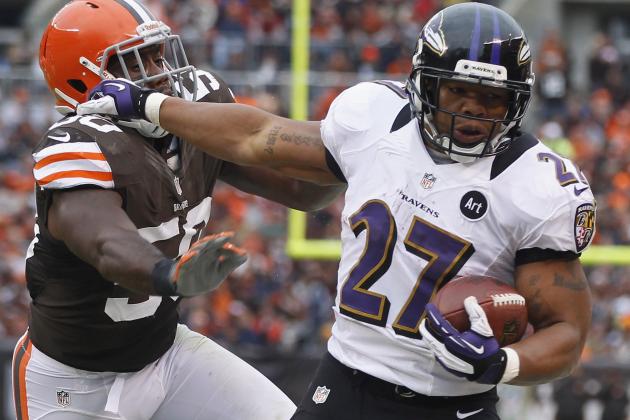 Matt Sullivan/Getty Images

The likely absence of Darren McFadden could be disastrous for the Raiders. Baltimore stands at 6-2, but it's hard to find a worse team with such a good record.
As they showed in Week 9 against the Browns, Baltimore is capable of losing to lesser teams. The team's defense isn't that good, and it's offense is merely above-average.
Oakland will probably have to pass without McFadden, which will allow the Ravens to focus on Carson Palmer.
Though Baltimore will probably win the game, the 7.5-point spread is too much. Roll with the Raiders.
Pick: Oakland Raiders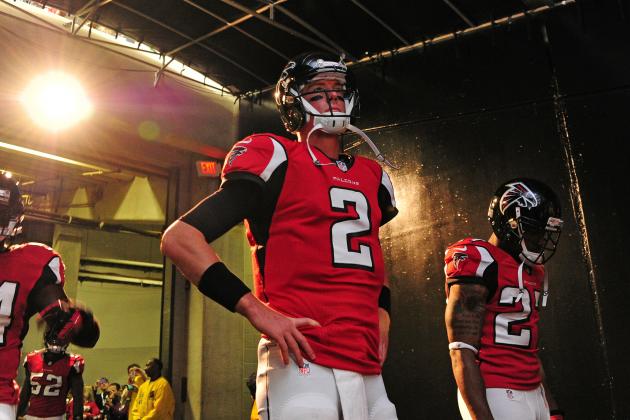 Scott Cunningham/Getty Images

New Orleans has made a bit of a turnaround lately, but the Falcons still stand at 8-0. Because of that, it's tough to take any team—much less the 3-5 Saints—over Atlanta.
Both teams primarily rely on their passing offense, and the Falcons have a significantly better pass defense than do the Saints, who fall near the bottom of the league in that category. In fact, Atlanta's entire defense is significantly better than New Orleans'.
The Saints' explosive offense has a chance to upset Atlanta, but, on paper at least, the Falcons are better.
Pick: Atlanta Falcons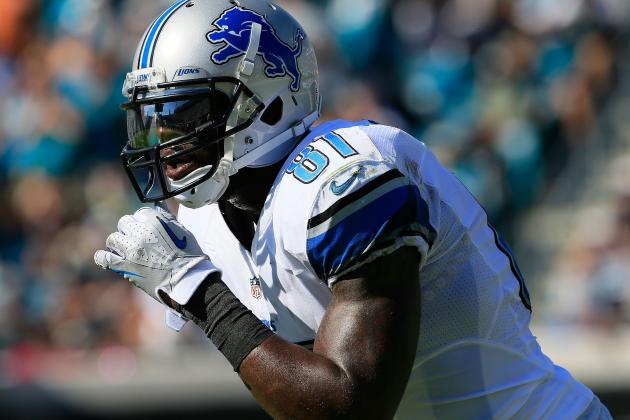 Sam Greenwood/Getty Images

The Vikings and Lions are comparable in 2012, standing with 5-4 and 4-4 records respectively. And with such a small point spread, you can't rely on that to help with your decision.
Detroit has been on a bit of a roll lately and currently stands with the NFL's top-ranked pass offense. Minnesota matches up well, but the Lions have been playing quite well lately.
It's possible Adrian Peterson could go off and propel the Vikings to victory, or Christian Ponder could carry the team. This game could go either way, but the Lions are more talented and stand as the favorites.
Pick: Detroit Lions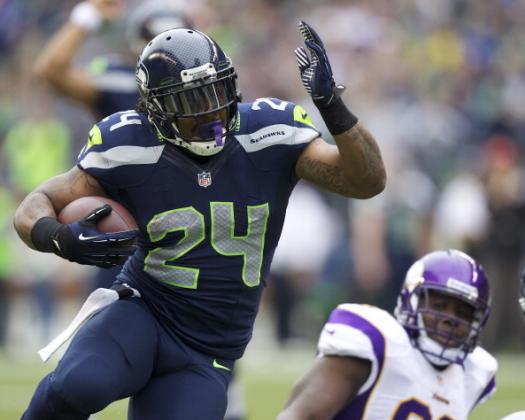 Stephen Brashear/Getty Images

Thus far in 2012, Marshawn Lynch has been fantastic, racking up the yards with ease. And for once, New York's run defense is awful, ranked 29th in the NFL.
The Jets simply aren't a good team. They are good at defending the pass, but they struggle across offense and against the run.
While Seattle's offense has some issues, its defense is excellent. The Seahawks have fewer weaknesses and are a far more complete team than the Jets are.
Pick: Seattle Seahawks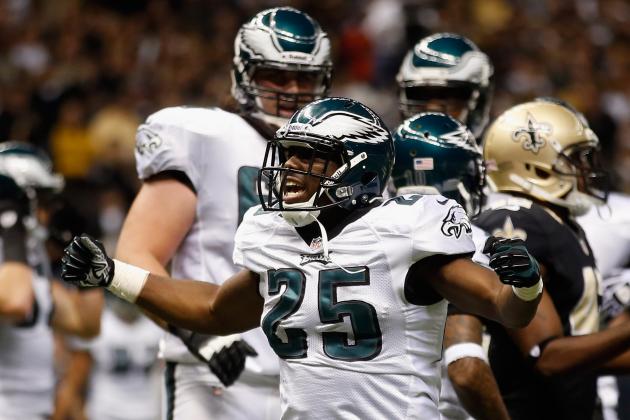 Chris Graythen/Getty Images

Things aren't getting any better for the Eagles. Both Dallas and Philadelphia have struggled, but the Eagles have been especially awful, looking clueless on both sides of the ball.
The Philadelphia offensive line has been dreadful, and Mike Vick has struggled throwing the ball. Dallas' No. 5 pass defense should be able to take care of that unit.
The Cowboys aren't amazing by any means, but they are decent and should be able to attack the Eagles' average-at-best defense.
With just a one-point spread, pick the team you think will win.
Pick: Dallas Cowboys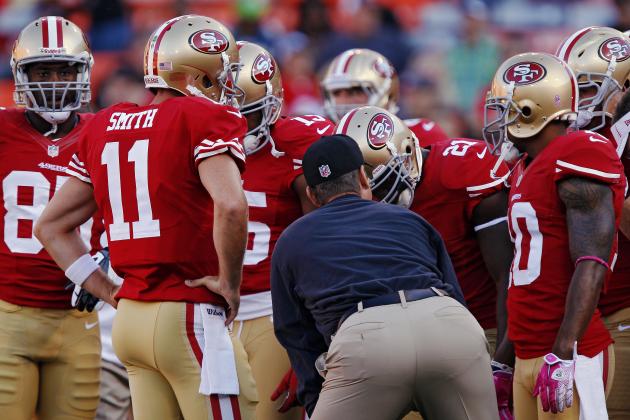 Brian Bahr/Getty Images

Just like in 2011, the 49ers stand as one of the NFL's top teams while St. Louis feeds of the bottom of the league. This is a game that shouldn't be close.
Sam Bradford and the Rams offense seems likely to struggle against San Francisco's premier defense and pass rush. On the other side of the ball, though, Alex Smith should be able to lead the 49ers downfield to score some points.
Despite the huge spread here, the 49ers are the better pick. They are clearly better than St. Louis, and the Rams seem unlikely to score at all.
Pick: San Francisco 49ers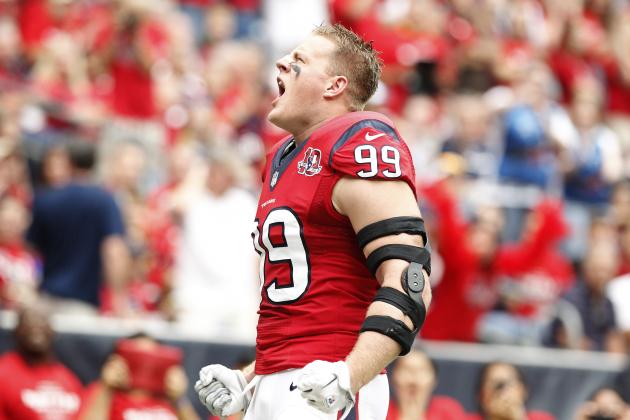 Thomas B. Shea/Getty Images

This is as tight as it gets. The NFL's only 7-1 teams both offer elite defenses to go with good enough offenses, though Houston wins out in this area.
The Texans' offensive advantage over Chicago could be huge. Houston can handle Chicago's pass rush, but the Bears seem wholly unprepared for the Texans' turn.
At this point, Houston is the slightly more well-rounded team. The game is close enough that it could boe either way, but the Texans' offensive strength should make the difference.
Pick: Houston Texans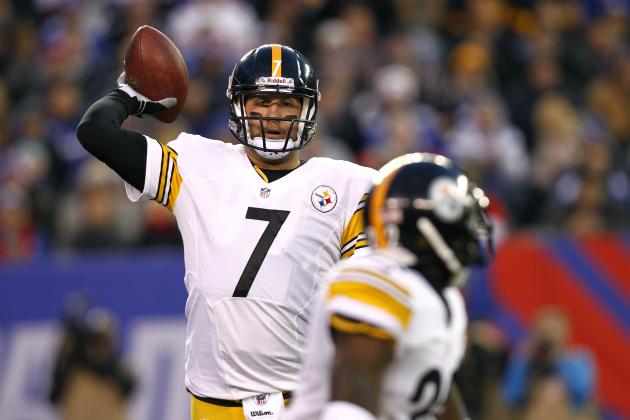 Jeff Zelevansky/Getty Images

There is no underestimating just how bad Kansas City is. The Chiefs continue to get annihilated week in, week out and have rarely offered any resistance.
Pittsburgh hasn't been as good as usual in 2012, but it is still a potential playoff team, and more importantly, far better than Kansas City. The Chiefs are doing nothing right at this point.
This is an enormous point spread, but the Chargers pulled it off last week against Kansas City. Pittsburgh is better than San Diego is, so the same should happen in Week 10.
Pick: Pittsburgh Steelers