Notorious NBA Floppers Who Must Change Their Game with New Flopping Rules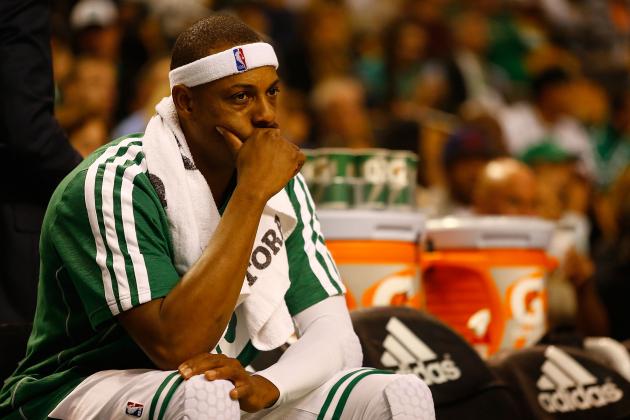 Jared Wickerham/Getty Images

During the offseason, the NBA announced that it was finally going to go after the floppers (via Kelly Dwyer of Yahoo! Sports).
Just a week into the season, two players have already received warnings—J.J. Barea of the Minnesota Timberwolves and Donald Sloan of the Cleveland Cavaliers. This should serve as a wake-up call to all of the game's notorious floppers that the NBA is serious about stamping it out and that the way they play needs to change...fast.
Regarding the new flopping penalties, what starts with a warning turns into fines that grow higher and higher each time, which ultimately turns into a suspension. Here is where certain floppers should start sweating.
So many of them, such as Paul Pierce of the Boston Celtics or Manu Ginobili of the San Antonio Spurs, rely on dramatically falling to the ground for most of their defense, and with these no-flopping rules in place, they have to suddenly adjust their games—not easy to do your 30s.
Of course, Pierce and Ginobili aren't the only ones who need to change their games in order to avoid opening their checkbooks for the league office. Unless some of their fellow men make the same changes, the NBA is going to see a great influx of revenue this year, and not exactly from ticket sales and TV deals.
Begin Slideshow

»
We all love Blake Griffin, as he is a double-double machine and can throw down some tremendous dunks. However, despite having good size at 6'10", 251 pounds, his defensive game is borderline nonexistent.
The worst of it all is that while most floppers will at least make sure they're near a player before falling to the floor, Griffin clearly didn't get that memo. The man must watch a lot of soccer because he's mastered the art of taking a hit from a ghost with no men around him.
That said, if this kind of flop happens again, forget the warning. Make him pay up on principle!
J.J. Barea is one of the NBA's smallest players at a generously listed 6'0", 175 pounds, so he's naturally going to get tossed around like a rag doll every once in a while. Still, he should save falling to the floor for when someone much larger is on him.
I'm sorry, but pulling something like this against the 6'2", 195-pound Jimmer Fredette is just desperate. The former BYU star doesn't have nearly enough power to knock Barea to the ground in such a fashion, and the fact that Barea got warned for this very incident shows that the system is working.
He had better learn how to pick and choose his battles, because if he's trying to sell a foul against someone like Fredette, the league will recognize his scam and make him write a check accordingly.
This is truly tragic, as Dwyane Wade is one of the league's best players and doesn't need to flop in order to give his team an advantage. He's so talented by himself and can take control in an instant, so why cheat?
Either way, this season should serve as a wake-up call for Wade. Though he is a superstar, he is not untouchable, and flopping around like a fish out of water is no longer going to fly.
He certainly has what it takes to make the necessary adjustments to avoid flopping in the future. The only question is, will he?
As another one of the NBA's best, Paul Pierce has no reason to flop. Though known as a scorer, he was once a fine pest on the defensive end of the floor and holds a career average of 1.5 steals per game. Now that he's 35, he's starting to slow down with age and has lost some of his toughness.
As a result, the former Kansas Jayhawk has resorted to becoming an actor on the court. Just the slightest touch and he'll act as though he received a stinger to the chest.
Given how it's what he's used to, chances are that Pierce will receive his fair share of fines this season. Celtics fans can only hope that he finds the right formula for true defense so that the team is not without its star player for a game or two down the stretch.
Long considered one of the best pests in the NBA, Manu Ginobili's flopping is almost legendary. That said, is he really that good of a defender if he resorts to flying around the floor to get calls? Sure, he's averaged 1.5 steals per game for his career, but it's still a legitimate theory.
The saddest part of it all is that Ginobili still has not fully mastered the art of flopping, having been injury-prone throughout his career. This season, the league will surely be on to him given his reputation.
Unless he can learn how to keep his feet on the ground and not fly through the air, his "defense" is going to hurt the Spurs more than it helps them.
Anderson Varejao has great size for a big man at 6'11", 260 pounds, so him just standing in the paint and waiting for his man to make a move should be enough. Instead, while covering the opposition, he feels the needs to give himself an extra advantage.
As a result, we get some flopping and flying on the court that would make some Cirque du Soleil acrobats go "DAMN!"
Either way, with the Cavaliers slowly inching toward contention again, Varejao is of no use to the team if he's constantly being fined and/or suspended. His body is too valuable on the inside, and more importantly, he's putting up great numbers early in the season to the tune of 14 points and 15 rebounds per game.
Thus, the man owes it not just to his teammates, but to himself, to stop the flopping. He's finally starting to look like a great player, and to throw it all away by remaining a flopper would just be foolish.