Oregon Ducks Football: How Does Oregon Spring Kenjon Barner for Big Games?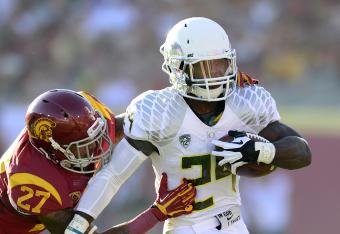 Robert Laberge/Getty Images
Kenjon Barner is enjoying a spectacular season amassing 1,295 rushing yards and 19 touchdowns so far this season. Every defensive coordinator in the Pac-12 knows how Barner can gash a defense. Every defensive coordinator in the Pac-12 is well aware of Barner's speed.
Yet every defensive coordinator in the Pac-12 has failed to come up with a plan to stop Barner. Can Barner be stopped? Probably not, but he can be slowed down. Against Arizona, Barner carried the ball 20 times but only rushed for 86 yards.
And that really encapsulates everything you need to know about Barner—if you keep him under 100 rushing yards it's a moral victory. Still, you have to admire the Ducks' game plan and their ability to make defenses look downright silly. Barner rushed for 321 yards and five touchdowns against USC last Saturday.
How do the Ducks spring him?
First and foremost, the Ducks' spread attack is lethal because of the speed of their running backs. When an offensive line spreads out, the gaps between the center, the guard and the tackle are bigger. If you have a speedster in the backfield, he hits those holes fast before the defensive linemen have a chance to close the gaps. See the video at the :57 mark for an example of this taking notice how Barner shows patience with the field offers him.
But Barner is not only fast, he's a very patient runner.
He starts up the middle, causing the defense to collapse around the middle of the line—once that happens, Barner uses his speed to go outside and catch the linebackers out of position. See the 3:12 mark in the video below.
Oregon's use of misdirection also confuse defenses. Quarterback Marcus Mariota is a dual threat and hence, anytime he runs a keeper—or fakes a keeper—defensive backs key on him. Mariota will fake a keeper running in one direction while handing off to Barner who runs in the other direction. Check out what happens at the 3:40 mark in the video below, keeping your eye on Washington State's No. 13 on the left outside.
Inside linebacker Darryl Monroe (No. 13) bit on Mariota running left and by the time he realized it was a fake, Barner was off to the races on the right.
Finally, Oregon's use of screen passes tends to tire a front seven's defense. In one particular series of plays against Arkansas State, Mariota called two consecutive screen plays. At the 2:00 mark in the video below, Mariota throws a screen pass and after the play is over, count the number of Arkansas State defenders with their hands on their hips. They're gassed.
Another screen pass is called. Then a pass out in the flat. At one point, six defenders have their hands on their hips. Barner then runs through the middle and weaves outside to out run the exhausted linemen for a touchdown.
Beside chasing Ducks all over the field, the defenders have no time to catch their breath and that's how Kenjon Barner gets sprung by the Ducks' offense: A combination of speed, patience, excellent field awareness and wearing out the defense with a fast-paced offense.
This article is
What is the duplicate article?
Why is this article offensive?
Where is this article plagiarized from?
Why is this article poorly edited?

Oregon Ducks Football: Like this team?