The Top 5 Fantasy Football Waiver Wire Adds at Every Position for NFL Week 10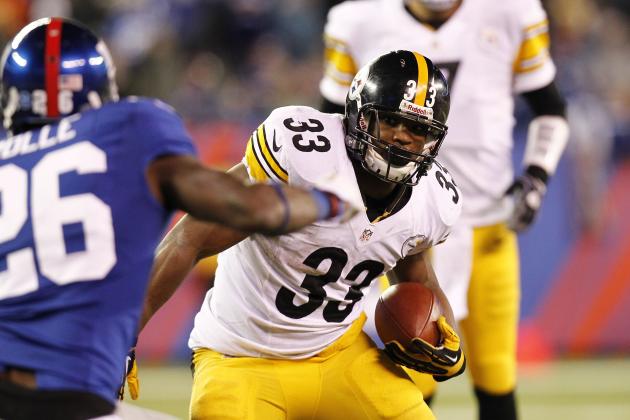 Jeff Zelevansky/Getty Images

With each week of the NFL season that passes, the opportunities to improve you roster through waiver-wire additions become less and less.
While there are a handful of players on the waiver wire for Week 10 that could become weekly starters, there aren't many, so you better hope you have top priorities in your league this week. With players like Brandon Myers, Issac Redman and Russell Wilson, here are the top-waiver wire additions at each position for Week 10.
Begin Slideshow

»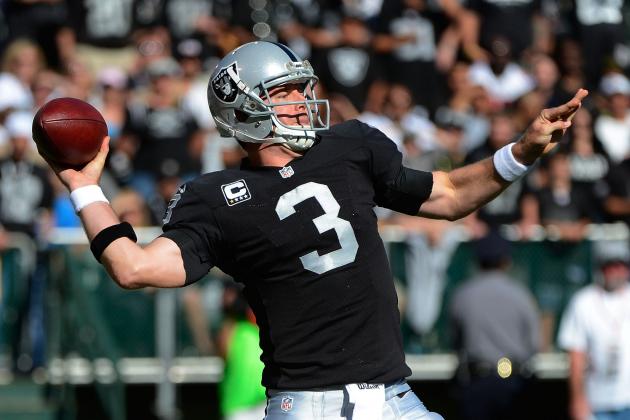 Thearon W. Henderson/Getty Images

1. Carson Palmer, Oakland Raiders
With Darren McFadden expected to miss some time, Palmer becomes the catalyst behind the Raiders offense for the foreseeable future.
In Week 9, Palmer attempted 61 passes and threw for four touchdowns. While it is unlikely he'll throw that many times again, you can be certain that Oakland will have no problem relying on Palmer to lead their offense.
His matchup in Week 10 against Baltimore isn't a great one, but with teams like the New Orleans Saints, Cleveland Browns and Kansas City Chiefs still on the schedule, Palmer could finish the season very strong.
2. Russell Wilson, Seattle Seahawks
When Wilson is playing at the top of his game, he can really be something special. Last week, we saw him throw for three touchdowns against a stingy Minnesota Vikings defense, which was rather impressive.
The biggest problem with Wilson this season has been consistently putting up solid numbers week after week. However, in his last four weeks, he's thrown for eight touchdowns and only two interceptions.
As long as he can keep his current streak of outstanding play going, Wilson will be a great pickup this week off the waiver wire.
3. Alex Smith, San Francisco 49ers
Smith is coming off a bye last week, so people may have forgotten how badly he picked apart the Arizona Cardinals defense in Week 8. He threw for 232 yards, three touchdowns and only had one incompletion in that game.
What makes Smith a little risky as a pickup this week is his matchups for the next few weeks. He plays the St. Louis Rams twice and the Chicago Bears over the next four weeks.
However, with his schedule being more favorable once the fantasy football playoffs roll around, he is definitely worth picking up this week.
4. Blaine Gabbert, Jacksonville Jagaurs
As crazy as this may sound, this is now the third straight week that Gabbert is a top pickup off the waiver wire.
In his past two games, Gabbert has thrown for 523 yards and three touchdowns. This week will be the last week he is worth risking a start for due to his matchup against the Indianapolis Colts.
After this week, it will be back to the free-agent pool for Gabbert.
5. Christian Ponder, Minnesota Vikings
You may be asking yourself how you could possibly start a quarterback that threw for only 63 yards last week. Well, for starters, that quarterback gets the Detroit Lions at home this week.
Ponder has certainly cooled down in recent weeks, but with Percy Harvin, Jerome Simpson and Kyle Rudolph to throw to, he is always capable of having a solid outing in fantasy football.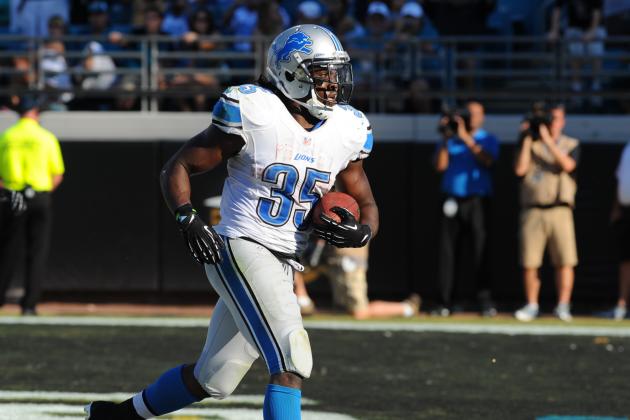 Al Messerschmidt/Getty Images

1. Isaac Redman, Pittsburgh Steelers
This is about as big of a no-brainer as you can get this week. If Redman is available in your league, grab him now.
He torched the New York Giants last week to the tune of 147 rushing yards and a touchdown. Redman also had two targets in the passing game, and while they didn't produce many yards (only four), the fact that he is getting looks is always a good thing.
The only issue surrounding Redman is the possible return of Jonathan Dwyer. However, even if Dwyer does return this week, Redman should get the majority of the carries for Pittsburgh and be a solid start in Week 10.
2. Vick Ballard, Indianapolis Colts
Despite Delone Carter and Donald Brown returning last week, Ballard still saw the majority of the carries for Indianapolis. He was also targeted another six times as a receiver and caught three passes for 38 yards.
Ballard's only problem the past few games has been finding the end zone. He's only done it once in the last four games, and that came off a reception.
If Ballard can start finding his way into the end zone, he could become quite the starter heading into the playoffs.
3. Joique Bell, Detroit Lions
While Bell isn't going to be the primary ball-carrier in Detroit, he still has plenty of upside for fantasy football.
Last week, he saw three less carries than Mikel Leshoure, but still managed 73 rushing yards and a touchdown. He also added another 36 yards through the air on four receptions.
Bell might not be worth starting at your running back position this week, but as long as he continues to get touches he should be a great option at the flex position.
4. LaRod Stephens-Howling, Arizona Cardinals
With Beanie Wells still expected to miss a few more weeks, Stephens-Howling continues to have his grasp on the starting job in Arizona.
Against the Green Bay Packers in Week 9, Stephens-Howling carried the ball 17 times for 51 yards and a touchdown. While those aren't incredible numbers, you have to take into account that Arizona was playing from behind and couldn't afford to run the ball much in the second half.
Once the Cardinals return from their bye after Week 10, Stephens-Howling should have a few more quality starts left in him.
5. Alex Green, Green Bay Packers
While the Packers went to more of a running-back-by-committee approach last week, Green was still the most impressive looking back on the roster.
He had six fewer carries than James Starks, but still managed 53 rushing yards and a 4.8 yards per carry average. He also added two receptions and 25 yards to give him more total yards Starks on the day.
As long as Green Bay stays committed to some type of run game, Green could become a rather consistent performer for the next few weeks.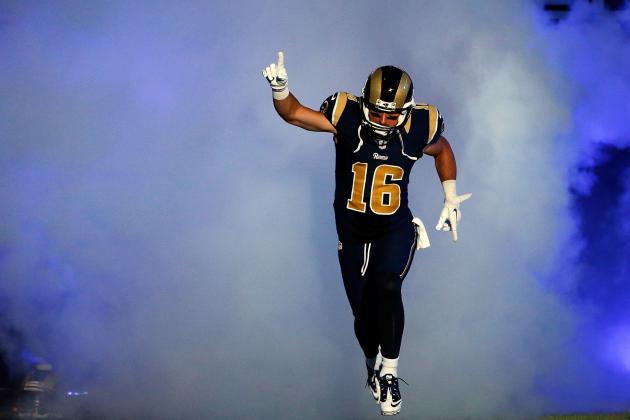 Jamie Squire/Getty Images

1. Danny Amendola, St. Louis Rams
Amendola got an extra week to rest in Week 9 and should be back to full health for Week 10.
That means he should get back to being Sam Bradford's No. 1 target in little to no time. While the Rams have an extremely tough matchup with the San Francisco 49ers this week, Amendola still has plenty of potential for the remainder of the season.
As long as he can get things going with Bradford, he could end up being the best waiver-wire addition late in the season.
2. Darrius Heyward-Bey, Oakland Raiders
After a slow start to the season, Heyward-Bey has started to put everything together over the past three weeks. Over that span of time, he has 10 receptions, 191 yards and a touchdown.
While those aren't great numbers, they should increase in the coming weeks with Darren McFadden injured. The Raiders will have to pass the ball quite often to stand a chance without Run DMC, which means Heyward-Bey has the potential to become quite the late-season player for fantasy football leagues.
3. T.Y. Hilton, Indianapolis Colts
It has been an up-and-down season for the rookie Hilton, but he showed in Week 9 just how big of an impact he can have moving forward. Last week, he had six receptions, 102 yards and a touchdown.
With Andrew Luck looking more and more like an MVP player, Hilton should continue to get plenty of looks his way in the coming weeks. If he can break a few receptions for huge gains, he will be a great flex player for the remaining of the season.
4. Golden Tate, Seattle Seahawks
With Russell Wilson becoming a top addition at quarterback this week, Tate needs to get some consideration for the receiver position also.
He hasn't been consistent at all this year, but his five touchdown receptions this season prove that he is one of Wilson's favorite targets in the red zone. While he may not rack up a ton of yards from week to week, he could definitely have a few more multiple-touchdown games before the season is over.
5. Kevin Ogletree, Dallas Cowboys
No player was as hot after Week 1 than Ogletree, but unfortunately his production dropped dramatically for the next seven weeks.
However, in Week 9, Ogletree put together his best game since Week 1 to the tune of 96 receiving yards and a touchdown. With things beginning to implode in Dallas with Tony Romo, Dez Bryant and Miles Austin, look for Ogletree to get back into a more consistent role with the offense.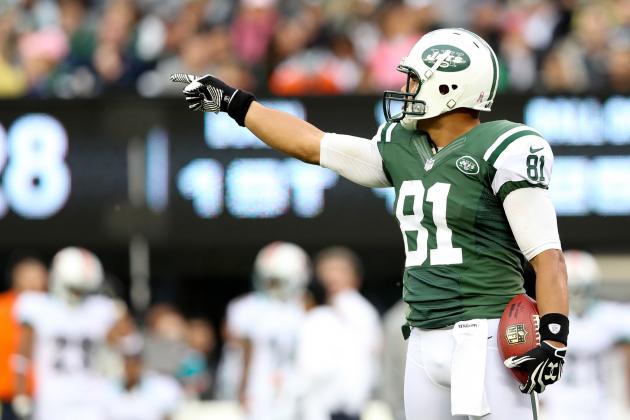 Debby Wong-US PRESSWIRE

1. Brandon Myers, Oakland Raiders
We've been waiting for weeks to see Myers find the end zone, and he finally did it on Sunday. In fact, he did it twice on Sunday and combined it with a season-high eight receptions.
With Darren McFadden missing time, the Raiders will need Carson Palmer to throw for a ton of yards to be competitive. That means Myers should continue to get plenty of targets and opportunities to perform in the coming weeks.
As long as he can continue to thrive in the red zone, Myers has the potential to be a top-10 tight end in terms of fantasy football by the end of the season. Grab him now if you can.
2. Dustin Keller, New York Jets
Despite the shakiness of Mark Sanchez, Keller is still a must-have player off the waiver wire this week.
Before his bye in Week 9, Keller had posted back-to-back games with seven receptions. In those games, he amassed 160 receiving yards and a touchdown. He's clearly the target that Sanchez is most comfortable with and should continue to put up points for your team.
3. Joel Dreessen, Denver Broncos
Dreessen is never going to wow you with a huge game, but he has been a rather consistent performer this year in terms of fantasy football.
He has 14 receptions in his last four games, and he's recorded a touchdown in four of his last six games. He may never be the top-scoring tight end in a week, but his consistent play could certainly help as we move closer and closer to the playoffs.
4. Marcedes Lewis, Jacksonville Jaguars
Let me start by saying if you decide to grab Lewis this week off the waiver wire, make sure you drop him before Week 11. This is the last week that Blaine Gabbert could have a good game, which means it is also the last week for Lewis.
Lewis has been a major disappointment this year, but he still has enough upside to warrant some consideration if you have a number of tight ends on a bye week.
5. Anthony Fasano, Miami Dolphins
Without many other options left on the waiver wire this week for tight ends, Fasono grabs our last spot on the waiver-wire addition list this week.
While he started the season out well, Fasano has struggled to produce in recent weeks. He's had back-to-back games with only one reception.
However, he has shown to have some chemistry with Ryan Tannehill, and if the young quarterback starts looking his way again, he could put some points on the board.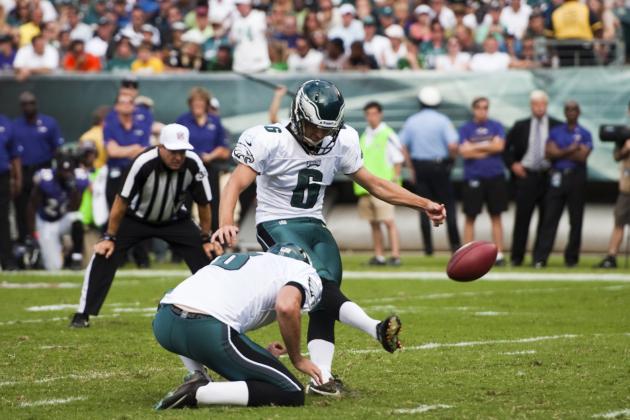 Howard Smith-US PRESSWIRE

1. Shaun Suisham, Pittsburgh Steelers
Suisham has been very good for the Steelers this year. He has hit all but one of his field goals, including all six of his attempts from between 40 and 49 yards.
With the Kansas City Chiefs on the schedule this week, the Steelers should have no trouble putting points on the board. That means Suisham could easily end up being the top-scoring kicker this week.
2. Matt Prater, Denver Broncos
As long as Peyton Manning continues to play like an MVP, Prater will have value in fantasy football. The Broncos have scored at least 30 points during their three-game winning streak, and they don't play a quality defense in the next five weeks.
Look for Prater to put together some great performances for fantasy football as the Broncos continue their run towards the playoffs.
3. Adam Vinatieri, Indianapolis Colts
Everything seems to be clicking in Indianapolis at the moment. Andrew Luck is breaking records, and the rest of the team is clearly riding their star quarterback to victories.
As for Vinatieri, his field-goal percentage is down some this year, but as long as the Colts are scoring points, he should have opportunities to put up points for your team.
4. Alex Henery, Philadelphia Eagles
It is hard to trust anything coming out of Philadelphia right now, but Henery has been rather consistent this year. He's only missed one field goal this year, hitting 93.3 percent of his kicks.
The biggest issue with Henery is the fact that his team can't hold on to the football long enough to get him into field-goal range. However, the Eagles always have the potential to put up points in a hurry, and that makes Henery a worthwhile pickup off the waiver wire.
5. Connor Barth, Tampa Bay Buccaneers
I'm not a big fan of Tampa Bay's matchup with the San Diego Chargers this week, but when you have Doug Martin and Josh Freeman playing like they have been in recent weeks, anything is possible for the Buccaneers.
If those two players continue playing at an All-Pro level, Barth could be in for another huge week in terms of fantasy football.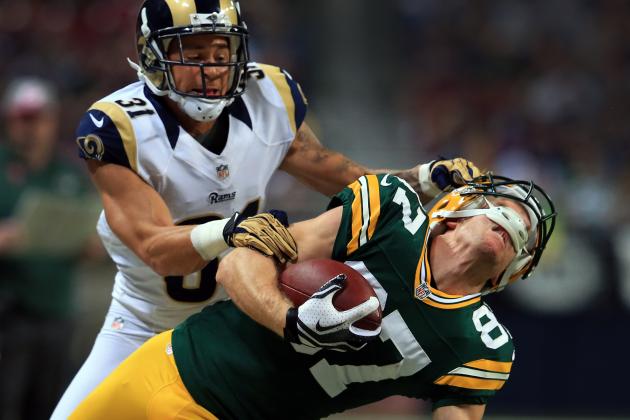 Doug Pensinger/Getty Images

1. Miami Dolphins
Miami gets the golden matchup with the Tennessee Titans this week. While their defense isn't quite as stout as the Chicago Bears, this should still be a huge week for Miami in terms of fantasy football.
Look for them to completely shut down Chris Johnson and force Matt Hasselbeck to make numerous poor throws.
2. Indianapolis Colts
While the Jacksonville Jaguars have looked a little better offensively the past two weeks, they are far from being an elite, or even good, offense.
The Colts should have little difficulty slowing down Jacksonville, especially if Andrew Luck and Co. can jump out to an early lead.
3. New York Jets
Despite struggling at times defensively this year, the Jets have been pretty good against rookie quarterbacks. They were able to effectively slow down both Ryan Tannehill and Andrew Luck this year, and Russell Wilson of the Seattle Seahawks could be next.
This is basically a must-win game for New York, so look for them to come out inspired as they attempt to get their season back on track in Seattle.
4. St. Louis Rams
Without many defenses left on the waiver wire, the Rams become an interesting waiver-wire addition if your regular defense has a bye this week.
They play the San Francisco 49ers this week, a matchup that could actually favor them. If Janoris Jenkins and Cortland Finnegan can get physical with the 49ers receivers, they could have some success this week.
Throw in the fact that Alex Smith still has some tendencies to struggle, and the Rams could be a sleeper pick as a top-scoring defense this week.
5. Tampa Bay Buccaneers
We're really reaching for straws with with out No. 5 pickup at the defensive position, but Tampa Bay plays the San Diego Chargers this week, and you simply can't trust Philip Rivers to bring his best stuff to the field.
If the Buccaneers can jump out to an early lead and put pressure on Rivers, they might be able to force some turnovers and put some defensive points on the board.