WWE Power Rankings: Breaking Down WWE's Top 25 Superstars for Week of Nov. 4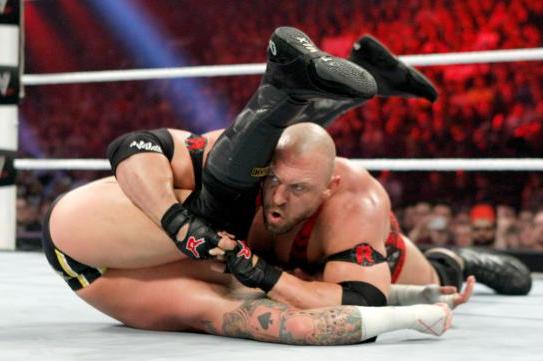 Photo courtesy of WWE.com
Things change as quickly as a blink of an eye in the wrestling business, and that became abundantly clear this week on Raw. CM Punk was originally scheduled to captain a team at Survivor Series against a team led by Mick Foley, but WWE chairman Vince McMahon had other plans, as he announced that Punk would defend his WWE championship against Ryback and John Cena instead.
Not only does this totally shake up the Survivor Series card as a whole, but it has a major impact on this week's power rankings as well. Cena competed in his first match in seven weeks since undergoing elbow surgery, so he surged up the list, but was it enough to unseat Ryback or the defending WWE Champion?
Also, I combined every regular tag team this week in order to make room for some new superstars in the rankings. WWE generally doesn't have a lot of diversity when it comes to the number of wrestlers it uses, but the England tour certainly allowed some seldom-utilized superstars to get extra air time.
Here are the top WWE 25 superstars for the week beginning on Nov. 4. Keep in mind that the rankings are based solely on entertainment value and overall effectiveness rather than kayfabe factors such as wins and losses.
Begin Slideshow

»
Last Week's Ranking: NR
He hasn't yet debuted on WWE programming, but it is certainly worth mentioning Fandangoo in these rankings. Apparently, Johnny Curtis has adopted a tango dancer gimmick on the house-show scene, and Monday's vignette for Fandangoo is a good indication that he'll likely be transitioning to television over the next few weeks.
The WWE certainly has an affinity for dancing gimmicks, as evidenced by Brodus Clay already being on the roster, so adding Fandangoo into the mix seems like overkill. Curtis is a fairly talented guy with personality, though, so he may be able to make this character work. I haven't the slightest clue what the plans are for him, but color me interested at the very least.
Last Week's Ranking: NR
The Great Khali made his return a couple weeks ago from surgery to remove a tumor from his pituitary gland, but he didn't appear on television until this past episode of Smackdown. General manager Booker T was annoyed with David Otunga's incessant jabbering, so he put him in an obligatory match with Khali, which the Indian star won with ease.
I'm certainly not a fan of Khali's, and I doubt that he has many fans outside of India, but I do believe he has a place in the company. Even though he is nearly immobile, Khali's size makes him valuable in terms of putting him up against heels who need a rub. Also, since Khali has some international appeal, he probably makes the WWE a bit of money. Khali may be the worst pure wrestler in WWE history, but I'm glad that he has made a full recovery.
Last Week's Ranking: 25
Santino Marella has been used sparingly since losing the United States Championship to Antonio Cesaro back at SummerSlam, but he still wrestles every week for the most part, so he retains a spot on this list. Santino had been jobbing to 3MB recently, but he finally picked up a win on Raw, as he teamed with Zack Ryder to defeat Primo and Epico.
I don't hate Santino's comedic gimmick as much as most people since I understand that it has a place within the product, but I believe it is much better suited for the lower mid-card. Not everyone can be a main-eventer regardless of their character, so I feel like Santino is most definitely in an ideal spot right now, as he isn't vying for a title, but he hasn't been totally forgotten about either.
Last Week's Ranking: 24
It truly is amazing how Brodus Clay has fallen since he first debuted the Funkasaurus gimmick several months ago. Clay was once on a major roll, but the WWE never figured out how to capitalize on it and allowed him to lose a match to Big Show. Since that loss, Clay hasn't been the same, and he has basically turned into a jobber who puts over the upper mid-card heels.
I'm not saying that Clay should be in world title contention or anything like that, but he could easily be a mid-card champion or at least a challenger for one of those titles. Clay would have been a good feud for Antonio Cesaro, but he was beaten by the United States Champion unceremoniously a few weeks ago. I just hope that Clay has a renaissance in the near future because he has plenty of talent.
Last Week's Ranking: 21
If nothing else, at least Justin Gabriel has been putting on some really entertaining matches over the past month. He usually comes out on the losing end, but he does his job quite well. Gabriel did upend United States Champion Antonio Cesaro a couple weeks back and earned a title shot at Hell in a Cell. Cesaro won the match, but it was nice to see Gabriel in the mix for once.
Gabriel lost to R-Truth on Smackdown, so that would seem to suggest that his pursuit of the U.S. title is over. but hopefully, he can remain relevant. A lack of charisma is going to be the main thing that holds Gabriel back over the course of his career, but he's good enough in the ring to be a solid mid-carder for a long time.
Last Week's Ranking: 22
If this list took into account proper utilization, then Zack Ryder would be nowhere to be found, but the fact that he has the ability to excel if given the ball by the creative team allows him to register at No. 20. Ryder is probably the most obvious case on the roster of a guy who could be something special, but simply isn't being afforded the opportunity.
He was the hottest thing going in the WWE about a year ago, and it ultimately led to him beating Dolph Ziggler for the United States Championship at TLC, but his reign was idiotically ended prematurely so that he could get involved in the feud between John Cena and Kane. The Ryder chants have all but disappeared through no fault of Ryder's, but I have no doubt that they would reappear if he was used correctly as a top mid-card face.
Last Week's Ranking: 20
Although 3MB is far from the best thing going in WWE right now, I have to give the writers credit for putting a bit of time into Heath Slater, Jinder Mahal and Drew McIntyre. All of them were scuffling prior to the group forming, and while I'm not convinced that their partnership is going to launch any of them to superstardom, it's better than having them job to every Tom, Dick and Harry on the roster.
The basis of their gimmick is that they're a band, but they clearly have no musical talent, and I can definitely see the humor in that. Even if 3MB is nothing more than a lower mid-card act, it helps three guys who were previously lost by giving them something to grasp onto. The worst-case scenario is that it adds another tag team to the WWE's revitalized division.
Last Week's Ranking: 23
After he and Kofi Kingston dropped the Tag Team Championships to Team Hell No, R-Truth seemed to go on hiatus for a couple weeks. Truth and Kofi parted ways amicably, but apparently, the writers couldn't figure out what direction to take R-Truth in. Truth made his return last week, though, as he saved his former partner from an attack at the hands of United States Champion Antonio Cesaro and The Miz.
Since The Miz is still somewhat caught up with Kingston, having Truth feud with Cesaro over the U.S. title makes perfect sense. I still contend that Cesaro would be best off feuding with a pro-American face, but beggars can't be choosers. Truth has thrived in the mid-card in the past, and he would be a suitable rival for Cesaro for the time being.
Last Week's Ranking: 19
The Prime Time Players are currently No. 4 in the WWE's tag-team pecking order, but they continue to impress and add depth to the up-and-coming division. Darren Young and Titus O'Neil have loosely been feuding with Rey Mysterio and Sin Cara, and while nothing big has come from their rivalry, it's pretty great to see two different tag-team feuds going on at the same time.
As long as Team Hell No and Team Rhodes Scholars are dominating the tag scene, The Prime Time Players won't be capturing the titles. Kane, Daniel Bryan, Cody Rhodes and Damien Sandow are all singles competitors at heart, though, and are going to revert to that status at some point. When they do, Young and O'Neil may be ready to take over the reins and become a dominant team in the WWE.
Last Week's Ranking: NR
Disgraced referee Brad Maddox may not be a WWE superstar quite yet, but he'll have an opportunity to become one next week, as he'll face Ryback with a contract on the line. Maddox explained his reasoning for screwing over Ryback in favor of CM Punk at Hell in a Cell, and he maintained that he acted alone. He said that he wanted to be a WWE superstar more than anything and that he wanted to do something big in order to get noticed.
Vince McMahon accepted Maddox's proposal and said that he would give Maddox a million-dollar contract if he can beat Ryback. Maddox wasn't bad on the mic, and while I've only seen videos of him as a wrestler, he seems to have some skill. I still believe that Maddox was working with Punk, Paul Heyman and perhaps a host of others, and that will be revealed eventually, but in the meantime, I'm interested to see where this storyline goes.
Last Week's Ranking: 15
The WWE continues to try and make the fans care about Alberto Del Rio, but nothing he does is helping him at this point. His match with Randy Orton at Hell in a Cell was great, but the angle itself has really been lacking. Del Rio seemed to have all the makings of a top heel when he debuted and he looked to be well on his way to greatness; however, he has gotten stale along the way, and he either needs a new feud or an altered gimmick.
With that said, I have a feeling that we'll see Del Rio and Ricardo Rodriguez feud soon enough. Rodriguez has been competing as a masked luchador named El Local on Saturday Morning Slam and Del Rio ran into Rosa Mendes backstage on Raw, so I anticipate him dumping Ricardo in favor of Rosa. This will lead to Ricardo returning as El Local and feuding with Del Rio until his true identity is revealed.
Last Week's Ranking: 16
To say that Randy Orton is stuck in a rut would be an understatement. Orton was one of the top guys in the company for years, but he has barely been in the World Heavyweight Championship picture over the past year, and he hasn't actually held the title since he dropped it to Mark Henry at Night of Champions last year. Orton has run the gamut in terms of mid-card feuds and even served a suspension for violating the wellness policy, so it's time for him to become involved in a more substantial angle.
Whatever he's doing with Alberto Del Rio right now simply isn't landing, so perhaps a heel turn is in order. Orton's face run has been fruitful, but he was always better and more entertaining as a heel. If he turns, then Orton could potentially feud with Sheamus, John Cena or even The Miz if he turns face in his own right. There simply isn't anything left for Orton to do in his current role.
Last Week's Ranking: 13
Antonio Cesaro is a classic case of a wrestler who has all the talent in the world, but needs some direction from the creative team. Cesaro beat Santino Marella for the United States Championship nearly three months ago, yet he still hasn't engaged in an actual feud. He continues to put on wonderful matches against all his opponents and his character is much more refined since dropping Aksana and the five languages gimmick, but he's in desperate need of a true rival.
It appears as though Cesaro will be feuding with R-Truth, but with only a couple weeks until Survivor Series, I'm not sure how much traction they can actually gain. It's better than nothing, though, and perhaps feuding with a WWE veteran like Truth will be good for Cesaro.
After that, however, I would really like to see Jack Swagger return as a pro-American face because he could have a great program with the arrogant European in Cesaro.
Last Week's Ranking: Mysterio (17) and Sin Cara (18) as individuals
Although Rey Mysterio and Sin Cara still wrestle singles matches on occasion, they are now very much a team. Mysterio and Sin Cara have tagged together for the past couple months, and they have been very impressive during that time. Mysterio was coming off a knee injury and Sin Cara had lost his way, so putting the luchadores was a logical move that has paid big dividends for all involved, including the tag-team division as a whole.
Not only does Mysterio seem revitalized, but I have a feeling that the veteran's presence has been great for Sin Cara. His wrestling has been much cleaner and he suddenly has some purpose, so I don't have a bad thing to say about this partnership. They may only be third in line right now, but as soon as Team Hell No and Team Rhodes Scholars are broken up, Mysterio and Sin Cara will be in position for an entertaining Tag Team Championship run.
Last Week's Ranking: 12
If nothing else, you always know what you're going to get from Kofi Kingston. Kofi became a four-time Intercontinental Champion when he beat The Miz for the strap a couple weeks ago, and while he may not be the most exciting choice, he's safe to say the least. Kofi was being wasted during the months leading up to his IC title win, as he was primarily a tag-team wrestler with Evan Bourne and R-Truth. Kofi was one half of the Tag Team Champions for much of that time, but the tag division was essentially a ghost town.
Kofi is now back in the spotlight, though, and he should do a great job holding down the upper mid-card. Kofi's in-ring work suggests that he could become a main-eventer at some point, but his lack of mic skills holds him back in that regard and prevents him from being higher on this list. Even if Kingston has reached his ceiling, though, he's still a very valuable commodity for the WWE.
Last Week's Ranking: Rhodes (14) and Sandow (10) as individuals
Both Cody Rhodes and Damien Sandow appear to have what it takes to win a world championship in the future, but the formation of Team Rhodes Scholars has been really beneficial for both of them. Rhodes was scuffling after losing the Intercontinental Championship and Sandow didn't have anyone to feud with at the mid-card level, so they are much better off challenging for the Tag Team Championships than toiling in obscurity.
Rhodes is the better in-ring worker of the two, while Sandow is better on the mic, so their abilities really mesh well. Even though they'll be broken up eventually, I believe that a Tag Team Championship run is on the horizon. The dissension between Kane and Daniel Bryan will hurt them eventually, and when it does, Team Rhodes Scholars will be there to capitalize.
Last Week's Ranking: 8
Big Show may not be the ideal choice for World Heavyweight Champion, but at least the title picture seems fresh for the first time since WrestleMania. Sheamus didn't appear as though he could be stopped; however, Big Show hit him with two KO Punches and took the title at Hell in a Cell. Big Show's feud with Sheamus will continue until Survivor Series at the very least, but I get the feeling that he'll beat The Great White yet again and move on to something else.
I view Big Show as a transitional champion more than anything so that the title can go from Sheamus to another face such as Randy Orton or perhaps The Miz if his turn happens. With that said, Big Show has done a good job, as he truly appears to be a dominant force. He was even good on commentary on Monday, so while I'm not much of a Big Show fan, I have to give him credit.
Last Week's Ranking: 11
It only took a couple months, but the WWE finally appears to be setting the wheels in motion for a Wade Barrett push. The WWE could have made Barrett relevant immediately upon his return from injury, but he simply squashed Yoshi Tatsu and went on to squash several other jobbers before being put in random matches with Sheamus and Randy Orton. Barrett was added to the traditional elimination match at Survivor Series, though, and Paul Heyman now owes him a favor, so there's a lot of intrigue surrounding the Brit.
I'm guessing that Barrett will eventually be part of a heel stable led by Heyman, but until then, he'll need to feud with someone. Whether Sheamus wins or loses at Survivor Series, he would seem to be the ideal candidate. Barrett and Sheamus have had several excellent matches against each other and will do battle on Main Event this week as well. Going over Sheamus would be a huge step in the right direction for the Barrett Barrage.
Last Week's Ranking: 6
Dolph Ziggler has been a victim of bad booking ever since he won Money in the Bank, and it seems as though that continues to be the case. Since Ziggler got involved in the affair angle between John Cena and A.J., it looked like he and Cena would wrestle at Survivor Series. Even if Ziggler would have lost that match, it would have been huge for him as far as exposure goes. Cena was put in a match for the WWE Championship instead, though, so Ziggler is now captaining his own Survivor Series team.
Although Ziggler did have a little run-in with Mick Foley prior to last year's Royal Rumble, it doesn't make a ton of sense for his team to face a Foley-led team, but at least it could lead to Ziggler finally getting a pay-per-view victory. I don't see anyone else in the match who needs a win more than Ziggler right now, so I'm hopeful that the creative team will do the right thing when it comes to him.
Last Week's Ranking: 5
Perhaps Sheamus' World Heavyweight Championship run wasn't all it could have been, but he still deserves a lot of credit. No matter who he faces, Sheamus always manages to put on a fantastic match. I feel like he gets overlooked since he's a lot bigger and bulkier than guys like CM Punk, Daniel Bryan and Dolph Ziggler, and while he isn't as technically sound as those guys, he has a style that meshes well with almost anyone.
His match with Big Show at Hell in a Cell was wonderful, and it definitely exceeded my expectations. Even his match against The Miz on RAW was great, so he definitely brings his "A" game every time he steps in the ring. I blame the stagnancy of his world title reign on a lack of interesting opponents, and I have no doubt that he'll excel regardless of who he feuds with next.
Last Week's Ranking: Kane (4) and Daniel Bryan (3) as individuals
I had been ranking Kane and Daniel Bryan as individuals in these power rankings for several weeks, and while they are technically individuals more than they are a true team, I thought I would combine them in order to open things up a bit. Team Hell No hasn't been featured as much in recent weeks as they were when they first became an item, but that hasn't necessarily been a bad thing as the WWE risked overexposing them and burning out the fans.
It's very interesting to me what is being done with Team Hell No right now because Kane is being painted as they strength of the team, while Bryan has been made to look like the weak link. I don't necessarily think it will hurt Bryan in the long run, but I do think it will be their downfall. I expect Kane and Bryan to remain together through WrestleMania since there isn't a logical feud out there for either of them, but I can definitely see a double turn where Kane snaps and turns heel out of frustration, leading to Bryan becoming a sympathetic face.
Last Week's Ranking: 9
The Miz has been misused badly since returning from his brief hiatus to shoot a movie, but it looks like he may finally be on the right path. His Intercontinental Championship win was promising initially; however, Miz was booked to lose non-title matches at an alarming clip, and he never could gain traction. Miz losing the belt to Kofi Kingston was initially disconcerting, but he couldn't afford to be weighed down by the title any longer.
It's far from a guarantee, but a face turn now seems very possible for The Miz. He decided to leave CM Punk's Survivor Series team since Punk walked out on the team during a brawl, and his match with Sheamus on Raw really made him look strong despite a loss. I expect Big Show to do something that pushes Miz over the edge and forces him to turn, and then he can feud with Big Show over the World Heavyweight Championship. Miz has all the tools to be a top face in the company, so I hope it happens.
Last Week's Ranking: 2
Ryback continued his run of dominance on Monday as he teamed with John Cena to defeat WWE Champion CM Punk and Dolph Ziggler. Ryback scored the pinfall victory over Punk and then stared down Cena as he chanted "feed me more" to end the show. Ryback was put into a triple-threat match for the WWE Championship at Survivor Series, as he will face both Punk and Cena. While Cena's return to action overshadowed Ryback to some degree, he still stood tall on Raw.
The crowd support is still there when it comes to Ryback, but I don't consider him a true threat to win the WWE Championship. He still hasn't shown the ability to cut a promo, and he isn't going to face The Rock at Royal Rumble, so it would be silly to put the belt on him even if it's just for a month until TLC. Ryback isn't one of my favorites by any means, but I recognize how over he is and dropped him only one spot in the wake of Cena's return to action.
Last Week's Ranking: 7
John Cena hadn't competed in seven weeks due to elbow surgery, but he finally made his in-ring return on Monday, as he teamed with Ryback against CM Punk and Dolph Ziggler. Cena looked good and didn't appear to have much rust, but Ryback stole the show by pinning Punk.
Cena's placement in a WWE Championship match at Survivor Series is interesting, to say the least, when you consider the fact that he is involved in an alleged affair with A.J., so it would have made more sense for him to face Ziggler.
I suppose the WWE has a plan of some kind, but I struggle to understand what it is. The WWE seemed to have thing figured out with Cena, as he could have challenged Punk for the WWE Championship at TLC and lost, but now, he may have to put Punk over twice in the next two months. Cena could conceivably face The Rock at Royal Rumble, but I just don't anticipate that being the case.
Last Week's Ranking: 1
CM Punk remains atop the power rankings yet again, but I really don't like the way thing transpired on Monday. Punk was supposed to lead a team against Mick Foley's team at Survivor Series, but he was removed from that match by Vince McMahon and put in a triple threat against John Cena and Ryback. It's possible that this was the plan from the beginning, but then why announce the traditional elimination match in the first place? I just don't understand the point of having Punk defend the title at the upcoming pay-per-view when he doesn't have to.
Conventional wisdom says that Punk should hold the title until the Royal Rumble and face The Rock with a 400-plus day reign intact, but I wonder if the creative team has other plans in mind. Whatever the case, Punk continues to be the best all-around performer in the company. He wasn't a huge part of Raw, but he was solid in the ring and his promo beforehand was great as well, so I see no reason to move Punk down at the moment.
Follow @MikeChiari on Twitter and listen to him on Ring Rust Radio.