Real Madrid versus Borussia Dortmund is the most anticipated game on the Matchday 4 schedule, and no fan of world football should miss it.
There are a number of good matches to watch on Tuesday, but none of them will be as exciting as the showdown in Spain where two of the best clubs in European football will square off.
Let's take a look at the most important players who will decide the outcome of this match at the Santiago Bernabéu.
Robert Lewandowski, Borussia Dortmund
The Polish striker is a crucial part of the Dortmund attack, and this was evident in the first meeting between these two teams when he scored a fantastic goal that was perfectly placed past Madrid goalkeeper Iker Casillas to give the German club the important first goal.
Lewandowski is the only player to score more than once in the Champions League for Dortmund this season, but world-class players such as Marco Reus and Mario Gotze are always a threat to score.
Scoring the first goal will be a priority for Dortmund because the Bernabéu is a difficult place to play, and Lewandowski will need to play well for his team to earn a positive result.
Cristiano Ronaldo, Real Madrid
This is the kind of match where your superstar players must dominate, and for Jose Mourinho's men to take three points from this game, star forward Cristiano Ronaldo must play well.
He had a pretty good performance in the previous match, including an important equalizing goal just after Dortmund had opened the scoring.
When Ronaldo's playing well, he makes it very difficult for defenders to focus on Madrid's other attacking threats such as Karim Benzema and Angel Di Maria.
If Madrid are going to earn a huge victory on Tuesday, they need their top scorer during Champions League play to have another fantastic performance.
Michael Essien, Real Madrid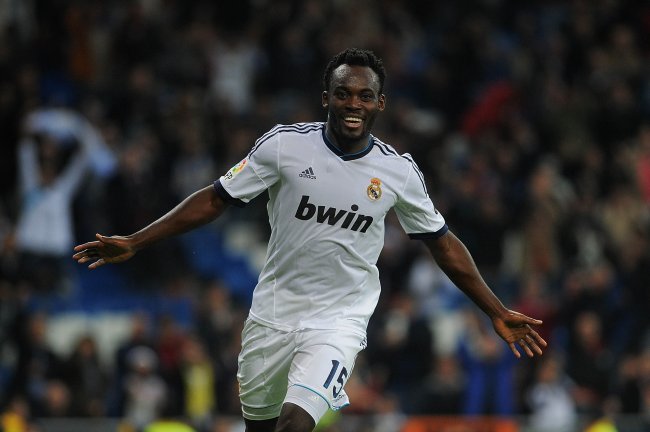 Gonzalo Arroyo Moreno/Getty Images
The former Chelsea star now plays an important role in the midfield for Madrid as a defensive specialist who can also go forward and join the attack.
He got on the score sheet in the final minutes of his club's 4-0 victory against Real Zaragoza this past weekend, and will once again be an import part of Mourinho's squad.
Since Dortmund have so much attacking talent, Essien will need to shine defensively to prevent the German club from dominating at the Bernabéu.
Expect Essien to play 90 minutes on Tuesday and make a difference all over the pitch.