UFC on Fuel 6: Info and Predictions for Rich Franklin vs Cung Le Main Card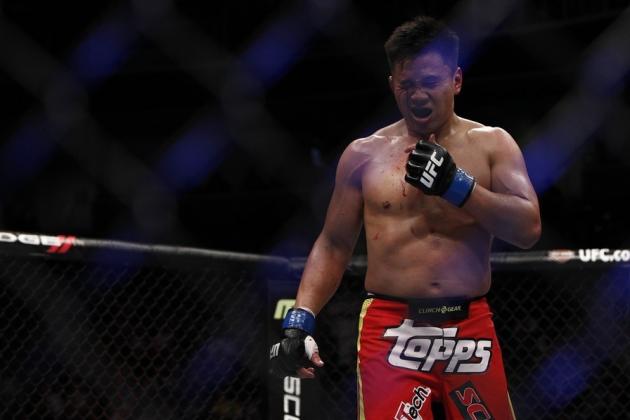 Photo Credit: Esther Lin/MMA Fighting
After holding events everywhere from Sweden to Japan over the course of 2012, the UFC makes another first time stop this weekend, breaking into China for the UFC on Fuel TV 6 fight card.
With the main card kicking off Saturday November 10th at 9 a.m. ET, only the most committed of UFC fans will likely catch the card live, but those that do should find the missing hours of sleep worth it.
While the card isn't exactly stacked from top to bottom, it features some particularly intriguing fights, especially on the main card, headlined by a middleweight clash between Rich Franklin and Cung Le.
With other notables such as Thiago Silva, Takanori Gomi and Mac Danzig competing on the card, this has the feel of one of those underrated events that will deliver in action what it lacks in big time bouts.
Begin Slideshow

»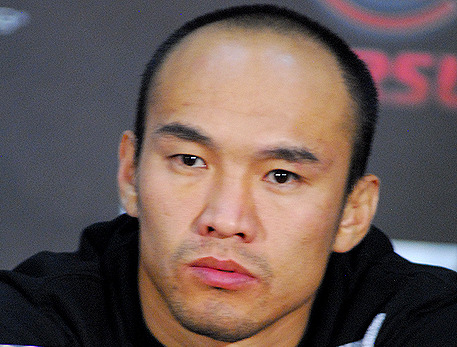 Photo Credit: April Pishna/MMA Weekly
After dropping his last two bouts in the Octagon, this has to be considered a must-win situation for Tiequan Zhang.
Zhang hasn't looked like a UFC-caliber fighter in his losses to Darren Elkins and Issei Tamura, but the UFC is giving him one last shot to prove he belongs in the sport's premier organization. He'll need to be impressive against Jon Tuck in order to keep his job.
Earning a win over Tuck won't come easy, however, as the Brazilian prospect has been a finishing machine throughout his six-fight MMA career, having won all of his professional bouts by first round stoppage.
While I don't expect Tuck's streak of finishes to continue here, he should be able to make life difficult for Zhang on the feet, and he'll likely batter the Chinese fighter in front of his fellow countrymen, earning Tuck his first UFC win and Zhang a one-way ticket out of the UFC.
Prediction: Jon Tuck by Unanimous Decision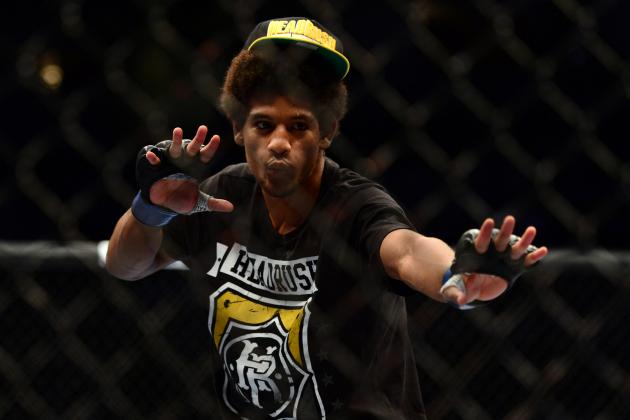 Kyle Terada-US PRESSWIRE

When his original opponent, Kyung Ho Kang, was forced out of a scheduled bout with Alex Caceres just over a week before fight time, there was a very real possibility that Caceres would be pulled from the card.
However, UFC matchmakers Joe Silva and Sean Shelby worked their magic and saved a main card bout by finding a suitable opponent in Motonobu Tezuka, a Pancrase veteran that enters the Octagon with an impressive 19-4-4 record.
Despite his solid record, there isn't much on Tezuka's resume that makes me feel confident about his chances against a fighter with the amount of Octagon experience that Caceres has. Tezuka's tendency to let fights go to decision makes the pick here even easier.
Since dropping to bantamweight last year, Caceres has looked like he has the potential to become a pretty solid fighter, and there's no reason to expect his momentum to come to a halt here.
Look for Caceres to find his range early on the feet, and when he lands a shot that gets Tezuka hurt, he'll jump on his fallen opponent and lock in a submission before the opening frame ends.
Prediction: Alex Caceres by First Round Submission (Rear Naked Choke)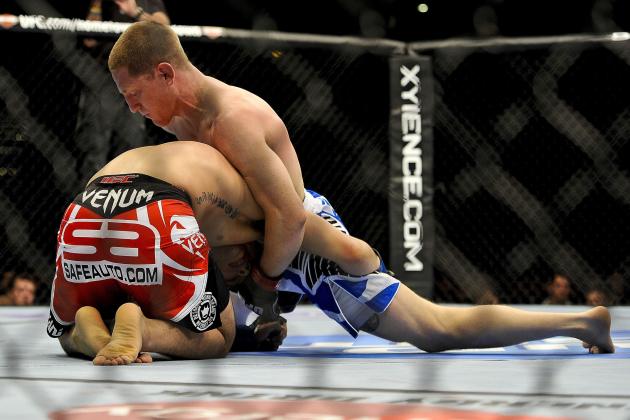 Paul Abell-US PRESSWIRE

If either Takanori Gomi or Mac Danzig wants to get anywhere near UFC title contention, this fight is a must-win.
After years at the top of the sport fighting in Pride, "The Fireball Kid" has largely disappointed in his UFC career thus far, going 2-3 with his best win a couple of years ago against a rapidly declining Tyson Griffin. Losses to Kenny Florian, Clay Guida and Nate Diaz have pushed him far away from title contention at 155lbs. While he did find a way to win in his last bout against Issei Tamura, that isn't exactly a resume booster.
If Gomi wants to get back into the mix at 155, he's going to have to find a way to stop the constant pressure and wrestling skills of Danzig, who is in an equally pressing position on Saturday.
Danzig has been slowly proving his worth in the lightweight division, having earned wins over fellow Ultimate Fighter winners Joe Stevenson and Efrain Escudero over the last two years. Those wins sandwiched a close decision loss to rising contender Matt Wiman, and Danzig seems poised to make one last run to get back into title contention.
Gomi's Achilles' heel has always been his ground game, and for that reason Danzig is going to earn the win here. It won't be easy, and expect Gomi to land a few solid shots on the feet, but Danzig's overwhelming top control will be the difference.
Prediction: Mac Danzig by Unanimous Decision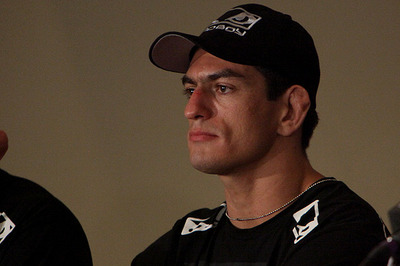 Photo Credit: Sherdog.com
This might be the most competitive fight on the card, and it's a crucial bout in the welterweight division.
Dong Hyun Kim has consistently struggled against top competition in his UFC career. If he loses against Paulo Thiago this weekend, it will likely signal the end of his time as a contender.
Losses to Carlos Condit and Demian Maia have set Kim back in his quest to the top of the division, and his lack of big-name wins is keeping him among the fringe contenders at 170.
He'll have a chance to earn one of the best wins of his career against Thiago, but the Brazilian has proven to be an extremely tough out in the welterweight division and Kim could have his hands full.
Thiago's wins early in his UFC career over Josh Koscheck and Mike Swick turned him into an instant contender, but his inability to go on a consistent win streak since 2010 has forced him back into the middle of the pack.
This fight is nearly even on the ground and neither fighter has shown good enough striking defense on the feet in order to make this a three-round slugfest. So I'm taking the fighter more likely to end this one with strikes: Thiago.
This could go either way, but I eventually see Thiago landing a big shot or two and catapulting himself back towards title contention with a second-round finish.
Prediction: Paulo Thiago by Second Round TKO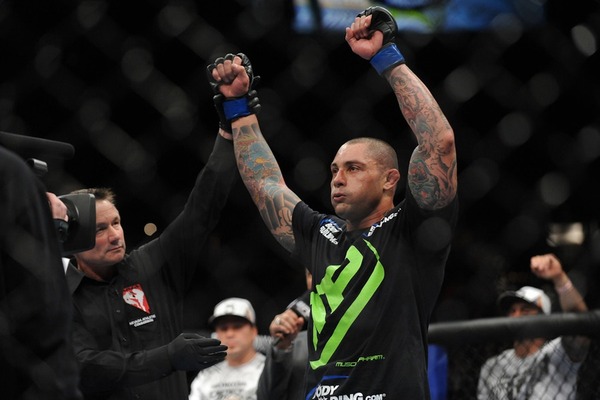 Photo Credit: Esther Lin/MMA Fighting
It's not the best co-main event we've seen this year on Fuel TV, but the matchup between Thiago Silva and Stanislav Nedkov still has some serious intrigue behind it.
Over the last few years, Silva has struggled to earn a win inside the Octagon. If he falls to Nedkov on Saturday he'll have gone winless in his last four Octagon appearances, so the pressure is on "Pitbull" to get his career back on track.
To do that, he'll need to get past the undefeated Nedkov, who is looking for the biggest win of his career against Silva.
Nedkov impressed a lot of people in his UFC debut win over Luis Cane at UFC 134, but his long layoff has left him as a largely forgotten prospect in the light heavyweight division. He needs a win over a big name like Silva to join guys like Glover Teixeira and Jimi Manuwa as a serious up-and-comer in the division.
Nedkov is well-rounded and will be able to hang with a longtime UFC veteran in Silva no matter where the fight goes, but he'll have a tough time gaining the upper hand unless he gets this fight to the mat.
Unfortunately for Nedkov, I can't see him having his way with Silva, as the the Brazilian is just too tough and will be too motivated heading into this one.
The Bulgarian fighter could start strong and steal a round, but eventually Silva will find his range on the feet and from there he'll take over.
Prediction: Thiago Silva by Second Round Knockout
Photo Credit: Esther Lin/MMA Fighting
There's no doubt about it: Rich Franklin vs. Cung Le is the biggest fight to ever air live on Fuel TV.
The former UFC middleweight champion taking on a former Strikeforce middleweight champion is interesting in its own right, but when you have two fighters with the popularity and experience that these two possess, you know you're going to see a battle.
Franklin has never been shy to get into wars and put on fight-of-the-night caliber performances, and Le's crowd-pleasing style is going to make this one of the more fun fights we get to see in the closing months of the year.
If this fight turns into a straight striking battle, Franklin could get himself into trouble, but "Ace" has long been considered one of the smartest fighters in the game. It would be surprising to see him play into Le's hands, no matter how much confidence he has in his striking.
On the flip side, Le is going to have to work hard not just to keep himself upright, but also to stay out of danger when in the clinch with Franklin. Franklin is actually an excellent fighter when it comes to dirty boxing; he just got schooled by Anderson Silva so badly that it made fans forget.
This one will come down to whether or not Le can keep the fight at his desired range and fire off his trademark kicks. I don't think he can, and eventually Franklin is going to get his hands on Le and do some damage.
Franklin earns the decision here, but this one could result in a better fight than we could have anticipated.
Prediction: Rich Franklin by Unanimous Decision