Borussia Dortmund 2-2 Real Madrid: Ozil Saves Point for Spanish Champions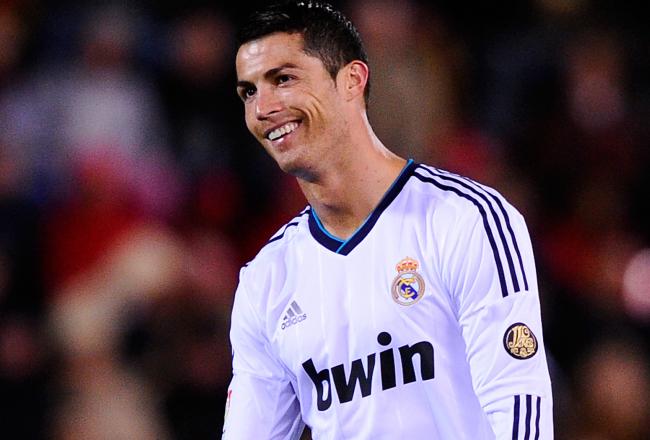 David Ramos/Getty Images
Who—Real Madrid vs. Borussia Dortmund
What—Champions League Group D
When—November 6, 2012, 2:45 p.m. ET
Where—Santiago Bernabeu, Madrid, Spain
Post match review
Here is my review piece looking at 6 Lessons Learned from the Group D Blockbuster.
Final Score
Real Madrid 2-2 Borussia Dortmund
Goals
Reus—28'
Assist: Lewandowski
Pepe—34'
Assist: Ozil
Arbeloa (OG)—45'
Ozil—89'
Starting XIs
Real Madrid: Casillas; Ramos, Varane, Pepe, Arbeloa; Alonso, Modric, Özil, Ronaldo, Di Maria; Higuaín
Bench: Adán, Kaká, Carvalho, Essien, Albiol, Callejón, Nacho
Borussia Dortmund: Weidenfeller; Piszczek, Subotic, Hummels, Schmelzer; Kehl, Gündogan, Götze, Reus, Grosskreutz; Lewandowski
Bench: Langerak, Löwe, Santana, Bender, Leitner, Perisic, Schieber
Signing off
That will do it for me.
Thank you all for following the action here live.
Please keep an eye out for my post-match comments to come later.
Full time!
The Germans try a couple of late runs here at the end, but nothing comes of it and the ref blows the final whistle.
90'—Near winner for Dortmund
The Germans win a corner near the final whistle and the ball actually beats Real Madrid, but goes just beyond Subotic at the back of the net.
2-2 in Madrid! Özil sneaks a free kick in at the near post. Placement rather than power.

— AS English (@English_AS) November 6, 2012
More on the goal
Dortmund conceded yet another foul within distance and the German midfielder makes them pay with an absolutely stunning free kick that beats Weidenfeller on his own post.
88'—Madrid relentless.
The Spaniards are setting up for a dramatic late draw here as they continue to attack Dortmund in the final third and are only staying out of net due to some world class defending.
Good effort from Madrid, effective defending from Dortmund. Madrid seem to be getting a bit desperate.

— Sidonie Blaugrana (@SidonieM10) November 6, 2012
85'—Ronaldo goes down in box again.
CR7 again ends up on the ground inside the area, but Subotic makes another great palay to save the day.
Great match from Subotic so far.
78' UEFA decided to change the scorer of Borussia's second goal. It's now Arbeloa, own goal.

— Real Madrid C.F. (@realmadriden) November 6, 2012
82'—Di Maria almost levels.
Ronaldo takes a cross from Kaka and heads a fine ball to Di Maria, but the ball is just too hard for the winger to control and deflects out of bounds.
The Argentinian looked offside anyway.
Madrid very nearly with the equalizer and then very nearly with a penalty. Incredible scenes at the Bernabeau. #ChampionsLeague

— Dan Talintyre (@dantalintyre) November 6, 2012
78'—Big save from Weidenfeller!
Ronaldo is sent through by a brilliant pass and in perfect position to score, but the Dortmund keeper makes a big save to keep the lead.
Kaka was the man creating there and went down, but the penalty claim is rightly denied.
I rarely say this, but the ref has been excellent and consistent in this one.
76'—Real Madrid sub
Alvaro Arbeloa, who has had a poor match, is subbed off for Kaka.
Mourinho is now out of subs with just under 15 minutes to play.
75'—Immediate impact from Bender.
He only just came onto the pitch and already the midfielder is making his presence known.
Dortmund had a free kick cleared away and Ronaldo found himself running at goal with Callejon streaking on the other side of the pitch.
The Portuguese man tried sending a pass through, but Bender make a great tackle to save the chance.
73'—Dortmund sub
Bender comes on for Reus who had a fabulous match. Klopp might be looking to close this one out with just over 15 minutes to play.
65'—Ronaldo earns free kick
CR7 makes a nice run down the middle and gets fouled before he is able to pass the ball off to Callejon on his left.
This one is definitely in range, but Ramos uses his arms to jump and wastes the chance in the box.
Subotic putting on an incredible performance. Real having trouble staying onside with some shots.

— Matthew Buening (@MatthewBuening) November 6, 2012
Ozil has been so poor this game that Mourinho is actually tempted to use his third sub already.
55' Kaka warming up #realmadrid #halamadrid

— Real Madrid C.F. (@realmadriden) November 6, 2012
58'—Multiple injuries of free kick
Ramos wins a free kick near midfield and receives the ball in the box, but the fullback sends his head straight into Pepe and both players stay down for a minute before getting up.
57'—Huge challenge from Subotic.
Ronaldo gets more involved here and sends a nice ball in for Di Maria, but the Dortmund defender makes a brilliant, saving tackle in the box. Perfect play.
54'—Ronaldo kills potential chance
Angel di Maria and Ronaldo are running with two men on them, but Ronaldo runs offside before the Argentinian can do anything with it.
Both players have been very poor today.
This article is
What is the duplicate article?
Why is this article offensive?
Where is this article plagiarized from?
Why is this article poorly edited?