Major League Baseball Prospects Who Will Make Names for Themselves Next Season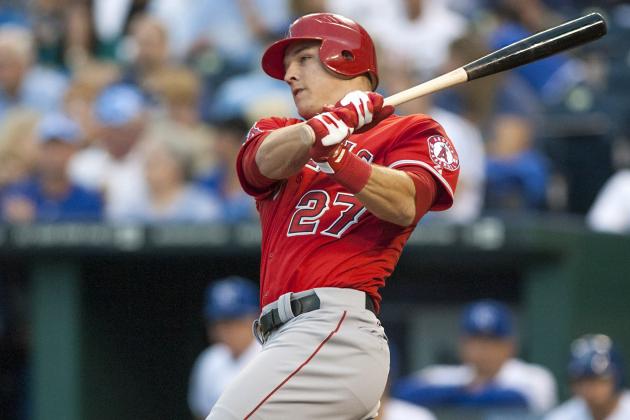 Tim Umphrey/Getty Images
Mike Trout exploded on the scene in 2012 and is considered a strong MVP candidate
In today's MLB, most teams can't spend with the Yankees, Red Sox and Dodgers. While the big spenders are signing monster contracts of over $100 million for five or more years, small-market teams like the Tampa Bay Rays have figured out how to compete with their main talent coming straight from their farm system.
Every year, players such as Mike Trout or Bryce Harper burst on the scene and not only make huge impacts for their respective teams, but are also cost-controlled. For example, Tim Lincecum won two Cy Young awards before he was eligible for free agency.
More and more teams have put a greater focus on their farm systems and the game has gotten younger with more top prospects coming up every season. Here is a list of the top prospects most likely to burst on the scene in 2013.
Begin Slideshow

»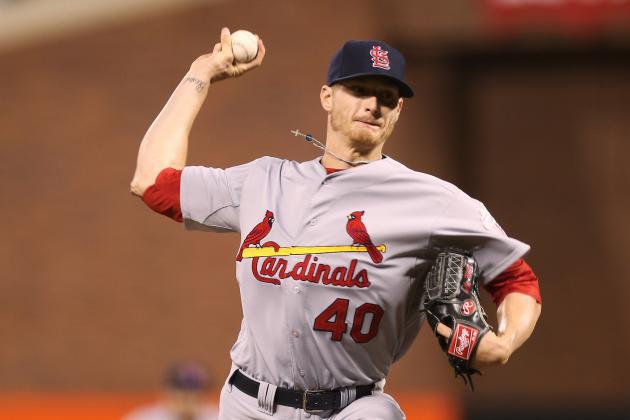 Christian Petersen/Getty Images
Shelby Miller helped the Cardinals down the stretch last season.
The Cardinals had a very formidable rotation in 2012, and that was more due to a completeness from the front of the rotation through the fifth starter than it was due to a dominant ace. However, Kyle Lohse, a key cog after going 16-3 with a 2.86 ERA, is a free agent, and the Cardinals do not expect him to return.
St. Louis can more than afford the loss because of the presence of Shelby Miller. The 22-year-old right-hander struggled a bit in Triple-A for most of the year, but that was mainly because of the steep learning curve any 21-year-old player faces while playing against older and more experienced competition.
Eventually, Miller figured it all out and then performed beautifully in his 13.2 big league innings at the end of the year. He compiled 16 strikeouts to only four walks while only allowing two earned runs in his first trip to the show.
Miller is a dark-horse National League Rookie of the Year candidate in 2013, as he should get his opportunity to crack the Cardinals' rotation right out of spring training.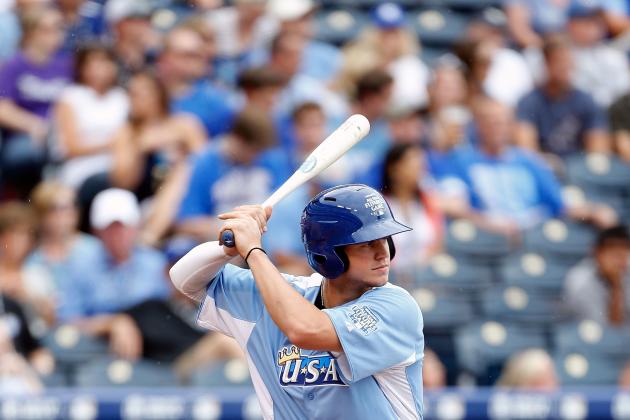 Jamie Squire/Getty Images
Myers was arguably the best player in the minor leagues last year.
How Myers went through the full season without getting a call to help out the 72-90 Royals is beyond me. Kansas City scored only 676 runs and could have used a productive outfield bat to help them out.
Myers split his time across Double-A and Triple-A last season, spending about 75 percent of his time in Triple-A. Across the two levels, he hit .314 with 37 home runs, 109 RBI, 98 runs scored and a .987 OPS in 134 games.
Those numbers scream major-league ready, especially in Kansas City, where Jeff Francoeur is currently the starting right fielder.
Myers will turn 22 in December and will surprise people who have never heard of him next season as he proves to be one of the better young outfield bats in the game.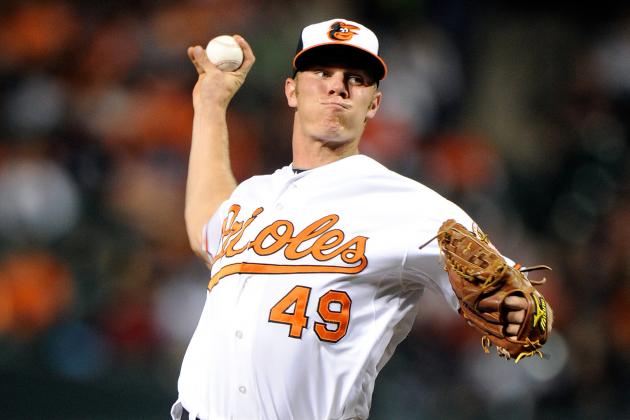 Greg Fiume/Getty Images
Bundy is only 19 years old, but pitches well beyond his years.
At the bold age of 19, Orioles top- prospect Dylan Bundy tore through the minor leagues to reach the Show for a cup of coffee in September. The only question for him is after skipping Triple-A, will he start next season in Baltimore or will he have to wait a month or so before being recalled?
Across three levels last year, ending with three starts in Double-A, Bundy struck out 119 batters in 103.2 innings while walking only 28. He also had an astonishing .186 batting average against and a 0.92 WHIP.
Those aren't statistics of a kid with dominating stuff who overpowers young hitters. Those are numbers of a complete pitcher who knows how to harness that stuff and use it in any count to beat hitters with his head on top of beating them with his arm.
Bundy's fastball is above average; he is able to maintain his velocity deep into games and throws plus breaking pitches (a curveball and slider) and a plus changeup as well.
Bundy should be in Baltimore starting every five days by June at the latest next season.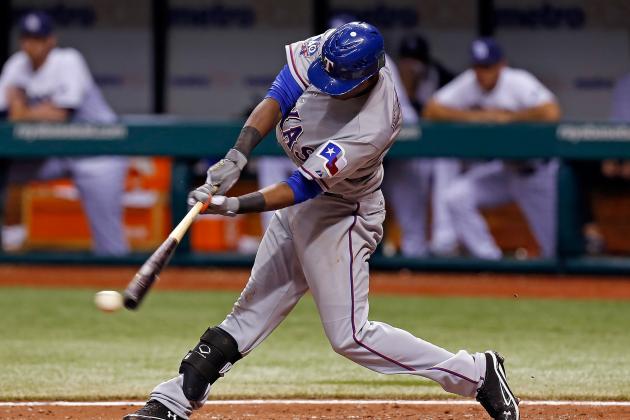 J. Meric/Getty Images
Profar has a chance to be one of the all-time great middle infielders.
I debated whether or not to put Profar on this list, but it wasn't at all because of his talent level. In fact, he may have more pure talent than any prospect in the game, period. However, the infield logjam in Texas makes it difficult to see how and where he will fit in next season.
Nonetheless, talent always will find its way onto the baseball field. If that means Ian Kinsler moving to the outfield, then so be it. Profar is a great defender up the middle either at second base or shortstop, but many feel his plus arm would be wasted at second base.
He will hit for a good average and will display some power (like he did in his first at-bat) which is due not only to his elite bat skills but also to his advanced approach and patience for a 19-year-old.
Profar will make an impact when he gets his chance; the only questions are when and where will that chance be?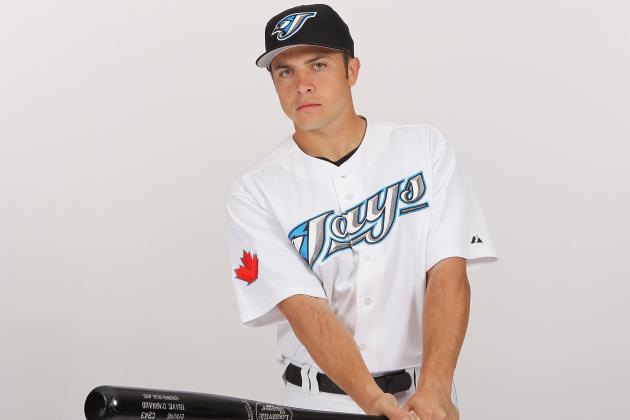 Nick Laham/Getty Images
D'Arnaud is ready to take over behind the plate in Toronto.
The Blue Jays' marriage to JP Arencibia will be ending soon as the third-year catcher turned in his second straight disappointing season. He fails to hit for average, hits for only mediocre power and is an average receiver at best behind the dish.
Enter Travis d'Arnaud.
The 23-year-old receiver is extremely athletic, allowing him to block at an above-average rate. He also has a very good arm to neutralize runners on the basepaths. Overall, his catching skill set is leaps and bounds better than Arencibia's and is one of the best and most complete skill sets of any young catcher in baseball.
Not only is he a great catcher, but he is also a great hitter as well. In Triple-A last season, d'Arnaud hit .333 with 16 home runs and a .975 OPS in half of a season. His second half was cut short by a knee injury that sidelined him for the season.
Due to that injury, d'Arnaud will likely start the year in Triple-A (barring a monster spring) just so he can get back in the swing of things. It won't be long before the Blue Jays deploy their prized prospect and torment AL East pitchers for years to come.