Iowa State vs. Texas: Complete Game Preview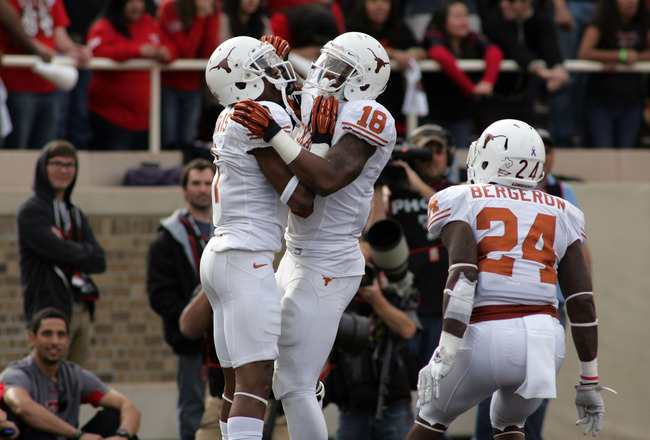 Michael C. Johnson-US PRESSWIRE
Who: Iowa State vs. Texas
When: Saturday, Nov. 10, 2012 at 11 a.m. CST
Where: Austin, Texas
Stadium: Darrell K. Royal Texas Memorial Stadium
TV: Longhorn Network (LHN)
In the Big 12's first game to be broadcast on Texas' Longhorn Network, No. 17 Texas (7-2, 4-2) and Iowa State (5-4, 2-4) should provide quite the spectacle.
The Cyclones come into the contest looking for bowl eligibility after failing to reach the six-win plateau last weekend against the Sooners.
The Longhorns and riding some confidence after travelling to Lubbock and snatching their third straight win against the Red Raiders.
Although the matchup pits a Big 12 giant and a follower, there is no question that Texas will have to defend its home turf accordingly.
Iowa State Depth Chart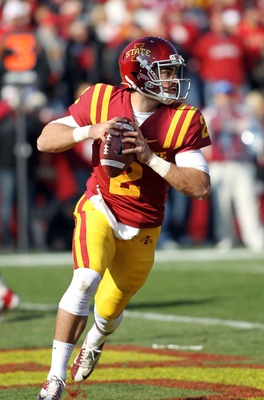 Matt Ryerson-US PRESSWIRE
Offense
QB: Steele Jantz, Jared Barnett
RB: Shontrelle Johnson, James White
WR: Chris Young, Quenton Bundrage
WR: Aaron Horn, Albert Gary
WR: Josh Lenz, Jerome Tiller
TE: Ricky Howard, Kurt Hammerschmidt
LT: Carter Bykowski, Brock Dagel
LG: Ethan Tuftee, Bob Graham
C: Tom Farniok, Sam Tautolo
RG: Kyle Lichtenberg, Jacob Gannon
RT: Brayden Burris, Jamison Lalk
Defense
DE: Willie Scott, David Irving
DE: Roosevelt Maggitt, Nick Kron
DT: Cleyon Laing, Brandon Jensen
NT: Jake McDonough, Henry Simon
LB: Deon Broomfield, C.J. Morgan
LB: Jake Knott, Jevohn Miller
LB: A.J. Klein, Jeremiah George
CB: Jeremy Reeves, Sam Richardson
FS: Durrell Givens, Jared Brackens
SS: Jacques Washington, Deon Broomfield
CB: Jansen Watson, Kenneth Lynn
Special Teams
PK: Edwin Arceo, Cole Netten
P: Kirby Van Der Kamp, Brett Bueker
Texas Depth Chart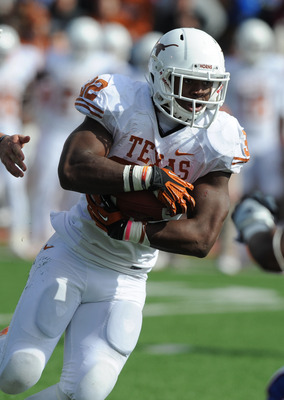 John Rieger-US PRESSWIRE
Offense
QB: David Ash, Case McCoy
RB: Johnathan Gray, Joe Bergeron
WR: Jaxon Shipley, Bryant Jackson
WR: Mike Davis, Kendall Sanders
WR: Marquise Goodwin, D.J. Monroe
TE: D.J. Grant OR Greg Daniels, Barrett Matthews
LT: Josh Cochran, Donald Hawkins
LG: Trey Hopkins, Sedrick Flowers
C: Dom Espinosa, Garrett Porter
RG: Mason Walters, Thomas Ashcraft
RT: Luke Poehlmann, Garrett Greenlea
Defense
DE (Buck): Cedric Reed OR Reggie Wilson
DE (Strong): Alex Okafor, Shiro Davis
DT: Brandon Moore, Ashton Dorsey OR Chris Whaley
DT: Desmond Jackson, Malcom Brown
SLB: Demarco Cobbs, Tevin Jackson
MLB: Steve Edmond, Dalton Santos
WLB: Kendall Thompson, Jordan Hicks
CB: Quandre Diggs, Duke Thomas
FS: Kenny Vaccaro, Josh Turner
SS: Adrian Phillips, Mykkele Thompson
CB: Carrington Byndom, Leroy Scott
Special Teams
PK: Anthony Fera, Nick Jordan
P: Alex King, William Russ
What Happened to Iowa State Last Week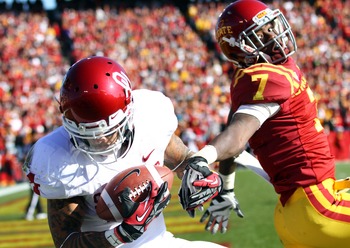 Matt Ryerson-US PRESSWIRE
Iowa State actually held the game close to the vest early on, going into the second quarter with a 14-6 deficit, but the Cyclones' offense just could not muster much against a good Oklahoma defense as the home side lost, 35-20.
With Landry Jones throwing for four touchdowns, the game was completely out of reach early in the fourth quarter.
Running back Shontrelle Johnson earned a consolatory touchdown late in the game, but it was a mere dent in the Sooners' lead.
Quarterback Steele Jantz completed just 20 of his 40 attempts for 191 and an interception, as the Iowa State offense amassed 290 total yards.
What Happened to Texas Last Week
Michael C. Johnson-US PRESSWIRE
The Longhorns answered their bell with a vengeance, responding from lackluster victory against Kansas with one of their strongest performances of the season, snatching a win in Lubbock 31-22 over Texas Tech.
Behind quarterback David Ash's 11-for-19 night offensively, which came with three touchdowns and no interceptions, the Longhorns were able to field a good defense that stretched the Tech offense as far as it could go.
Running back Johnathan Gray rushed for 106 yards, his second straight 100-yard game, and Texas picked up a total of 427 yards of offense to go with no turnovers.
In a game that had Texas fans scratching their heads about where this team was going, they got some answers over the weekend.
What It Means to Both Teams
Reese Strickland-US PRESSWIRE
For Iowa State, bowl eligibility is on the line once again. After taking care of Baylor at home, the Cyclones had their shot against the Sooners, but came up short. They will go on the road to Austin to see if they call pull an upset.
For Texas, the quest for continued momentum is on the line. At 7-2 and 4-2 in the Big 12, there is still every reason to try and run the table for the best possible finish. And with a season finale against Kansas State, which should be ranked very high, the Longhorns have a big target ahead of them that could send a big message, one way or another, in the rankings.
Key Player for Iowa State: Steele Jantz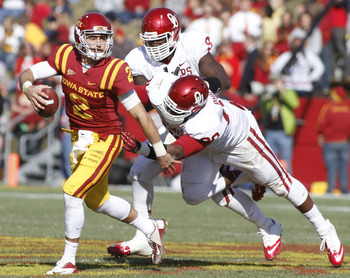 Matthew Holst/Getty Images
It is pretty simple for Iowa State. When quarterback Steele Jantz plays up to par, the Cyclones have a great chance at winning.
In the Cyclones' five wins so far, Jantz, who recorded passing statistics in four of them, has thrown for 1,112 yards, 11 touchdowns and five interceptions with a 69.8 completion completion.
But in the four losses, with Jantz appearing in three of them, the senior quarterback has put up 298 yards, one touchdown, four interceptions with just a 49.3 completion percentage.
The writing is on the walls, and Iowa State needs Jantz to have a great game before the Cyclones have a chance to win.
Key Player for Texas: Mike Davis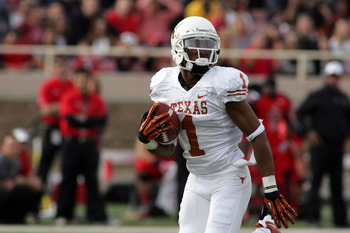 Michael C. Johnson-US PRESSWIRE
With Iowa State fielding the 109th-ranked pass defense, you would think that receiver Mike Davis would welcome the opportunity.
After putting up career numbers against the Red Raiders with 165 yards and two touchdowns and four catches, the junior wide out is the stretch in Texas' offense.
No doubt that Texas will have its strong running attack, but Davis will be the one that makes the offense click.
If Davis has a big day, expect the Longhorns to do the same.
The Cyclones Will Win If...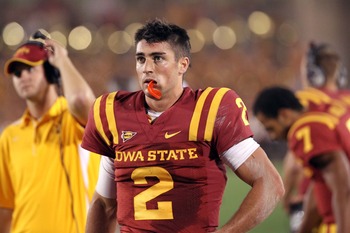 Reese Strickland-US PRESSWIRE
Iowa State wins if it punches Texas in the mouth right from the get-go.
The stadium will be loud, and the Cyclones will need every advantage they can get, or perhaps every advantage they can take away from Texas.
Early stops and turnovers on defense and clean execution on offense is the recipe to getting a jump on the Longhorns, who still suffer from defensive shortcomings.
If Iowa State can take advantage and accumulate some big plays, it will have done the groundwork to securing the upset.
The Longhorns Will Win If...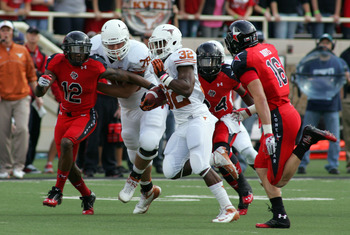 Michael C. Johnson-US PRESSWIRE
Texas wins if it shows up with a fire.
The Longhorns should win every time on paper, and if they execute like they did against the Red Raiders, everything will be golden in Austin.
Failure to execute, sloppy defense and careless penalties will create a rough afternoon for the entire program, but with a running game that looks better each week, the Longhorns have plenty of firepower on offense to handle the defensive lapses.
Prediction: 37-24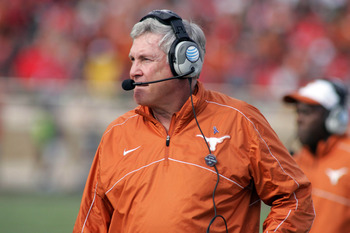 Michael C. Johnson-US PRESSWIRE
Iowa State will not lay down for this one, and the Cyclones will definitely come to fight.
Texas will be ready, but some defensive woes will haunt the Longhorns throughout the game, creating a much closer game than many would want.
The Longhorns will own the lead all day, but Iowa State will make it a game before Texas runs away late.
Keep Reading