Alabama Football: 5 Reasons Tide Isn't as Good as Most Think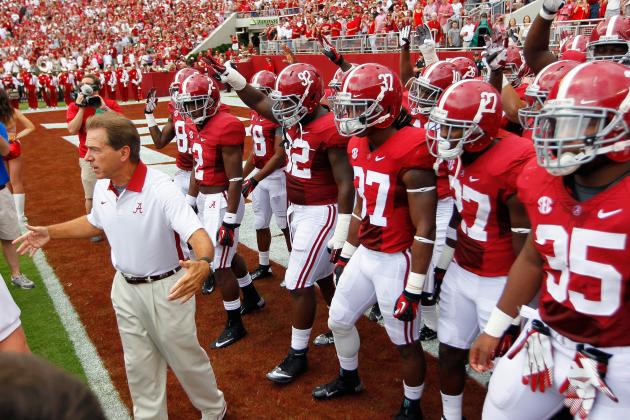 Kevin C. Cox/Getty Images

The Alabama Crimson Tide has been the top dog this season in college football for majority of the year.
After breezing by the competition in front of them and the fall of teams such as LSU and USC, pollsters believe this Alabama team is by far the best in the country. It has received every first-place vote in the latest AP Poll and is convincingly the No. 1 team in the BCS rankings.
But before everybody pinpoints this as the greatest football team of all-time, Alabama still has work to do, and there are teams that could give this squad a run for the national title. Of course, this isn't saying that Nick Saban's troops aren't a terrific football team, but there are chinks in the armor and this SEC powerhouse could suffer a loss at some point in the remaining months.
Here are a few reasons why Alabama isn't as good as you may think they are.
Begin Slideshow

»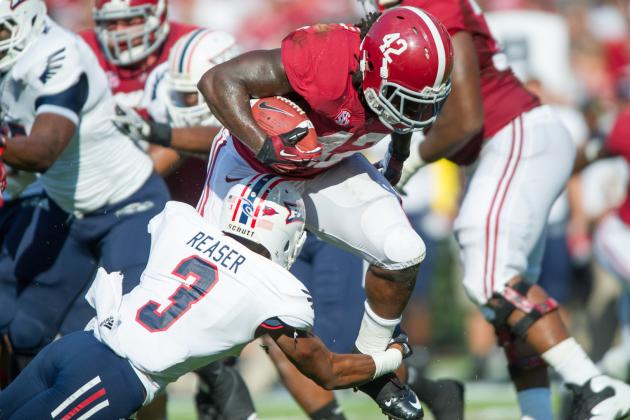 Michael Chang/Getty Images

I'm not going to take away the road trip to Death Valley, but the LSU Tigers have arguably the best home-field advantage in college football and the Crimson Tide went in there and found a way to win.
But besides the win against Les Miles and company, who exactly has Alabama beaten this year?
You can throw Michigan out of the window, as the Wolverines are struggling just as bad as the rest of the Big Ten. Arkansas has fallen off the face of the earth and will likely miss a bowl game for the first time since the 2008 season. Mississippi State didn't play one ranked team until playing Alabama and then recently was annihilated by Texas A&M the very next week.
We certainly can't complain about the schedule of Alabama, as many of these teams were supposed to be good before the season started. However, many are acting as if the Crimson Tide have had the LSU schedule from a year ago and are straight up beating teams into the ground.
That is certainly not the case and you would like to see Alabama earn at least one marquee victory (besides LSU) before we hand over the crown once again to the Crimson Tide.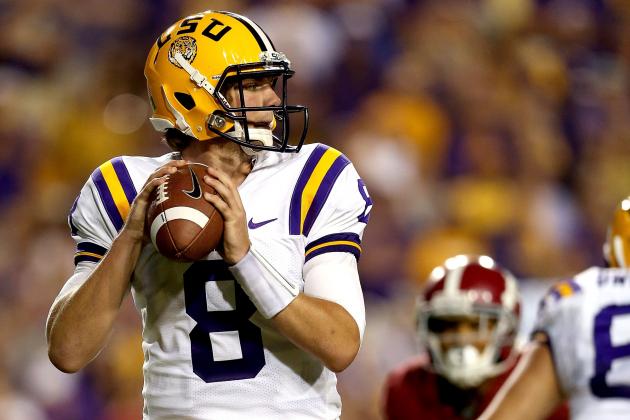 Matthew Stockman/Getty Images

We all know how wonderful this Alabama defense truly is. It is currently ranked second in the country in total defense, second in rushing defense, first in scoring defense and has only allowed eight touchdowns on 17 red-zone trips.
However, the game against LSU did show a few signs that this defense could be taken advantage of.
Quarterback Zach Mettenberger had the game of his career, completing nearly 69 percent of his passes for 298 yards and a touchdown. He wasn't the game manager he has been throughout the season; Les Miles actually opened up the playbook, let his first-year starting quarterback throw the ball and Mettenberger delivered against one of the top defenses in the country.
Wide receivers were running around wide open all night long, which is a cause for concern if you are Jeremy Pruitt and responsible for the secondary.
Freshman running back Jeremy Hill also had a big day, as he rushed for 107 yards a score. Alabama hadn't allowed a 100-yard performance by a team since November 19 of last season, and Hill was able to accomplish that feat by himself last weekend.
The last time the Crimson Tide allowed over 400 total yards to one team was against LSU in the 2010 meeting when wide receiver Rueben Randle had 105 receiving yards on just three receptions.
I still wouldn't pick a defense over this unit, but if LSU was able to do so much damage on the offensive side of the ball, what could a team like Oregon possibly do?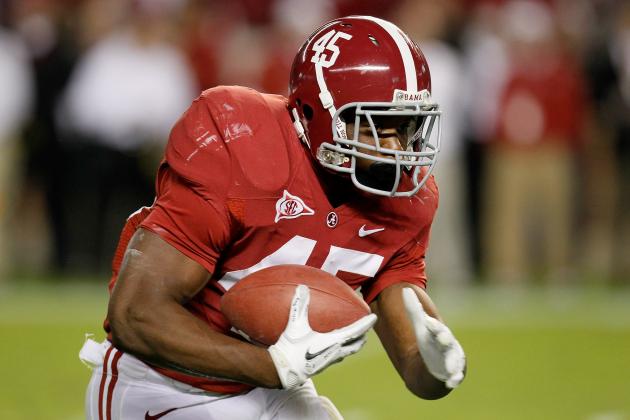 Kevin C. Cox/Getty Images

Depth hasn't been an issue yet, but Alabama does have a few players out for the year that could eventually catch up with this program. I'm mainly talking about the running back position, as players such as Jalston Fowler and Dee Hart are both out for the year with knee injuries.
Of course, players such as Eddie Lacy and T.J. Yeldon are more than capable of carrying the load, but that is a lot to ask from a true freshman and a guy that can never stay healthy. Lacy has had a few issues with injuries himself throughout his career, and according to USA Today, he suffered a leg injury in the game against LSU.
Although quarterback A.J. McCarron has been terrific this season and still has yet to throw an interception, the running game is still a key part of this Alabama football team. After all, the Crimson Tide has run the ball 356 times compared to just 211 times throwing the football.
It hasn't become a problem yet, but with the running back position remaining that thin, it has to be a cause for concern if you are the coaching staff.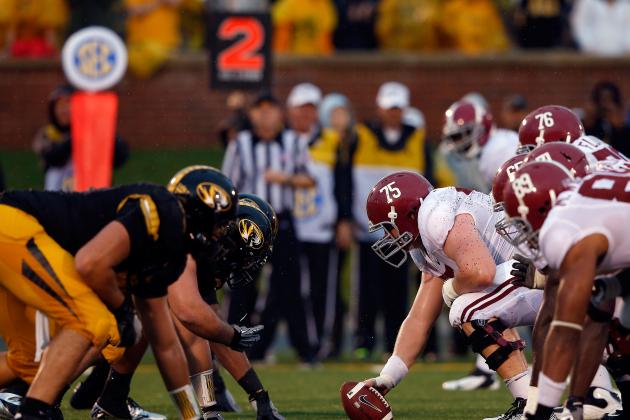 Jamie Squire/Getty Images

The offensive line was supposed to be the strength of this football team. Led by versatile player Barrett Jones and future first-round pick Chance Warmack, Alabama wasn't just physical up front, but also had one of the more talented and experienced units in the country.
That still remains the case for the Crimson Tide, but the offensive line hasn't dominated the way we all thought it would. A total of seven sacks were allowed to Western Kentucky earlier in the year and the team is allowing up to two sacks a game on average. There have been a total of 18 sacks allowed on the season through nine games, which is one more than all of last season (13 sacks).
There have been many times where this unit has been beaten by a defensive front, and it is showing up on tape, according to Mike Herndon of AL.com.
I've also seen some times where guys got to the quarterback, some guys made some big plays. LSU defensive end Sam Montgomery said. It's just that, with the physical caliber of Alabama, not a lot of people can keep up with that for four quarters.
That does seem to be a problem against Alabama, but with the games getting tougher as the season goes on, the Tide will run into a few teams that could keep it going for all four quarters. The offensive line better protect, or there could be a problem in the next few weeks.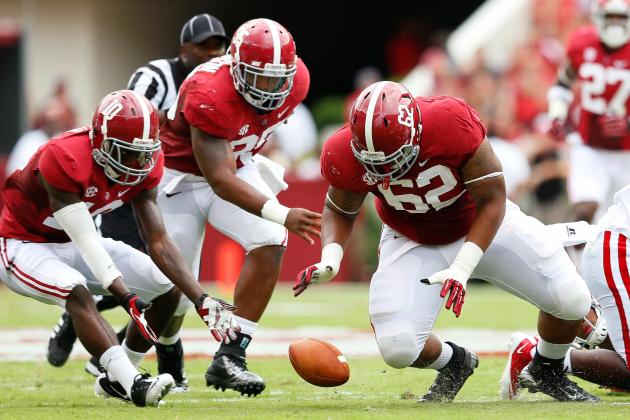 Kevin C. Cox/Getty Images

Nick Saban-coached teams are usually well disciplined and avoid penalties and turnovers at all costs. There has yet to be an interception thrown from an Alabama player and the Crimson Tide are first in the SEC with eight turnovers and tied for seventh with the fewest in the country.
The problem is that all eight turnovers have been fumbles, which is starting to turn into a trend for this offense. In six of the first nine games, there has been at least one fumble, and in two of those games, a player has coughed the ball up twice.
Head coach Nick Saban believes that one fumble is too much, according to Mark Edwards of The Montgomery Advertiser.
"If we have one fumble, I'm concerned. OK?" Saban said.
He said that after there were three fumbles in the first five games, but things have gotten worse, as there have been five fumbles since then, including two last week against LSU.
"The ball has been on the ground too many times, and that's one of the things we worked on last week," Saban said. "It's something we need to continue to work on. Ball security is very, very important."
The players must do better job of holding onto the football, or it could cost them in a big way if they aren't careful.