Best and Worst NBA Rookie Performances from Week 1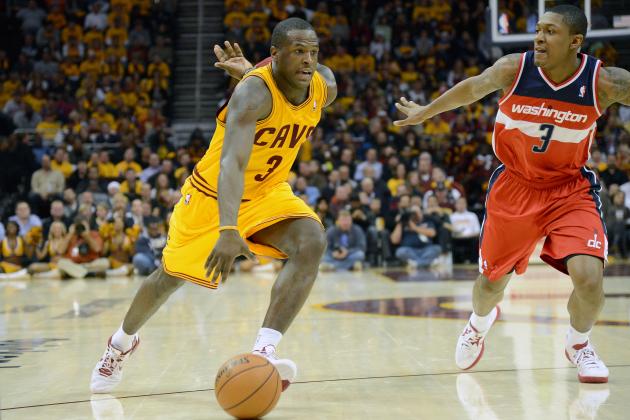 Jason Miller/Getty Images

We've gone through a week (kind of) of NBA basketball, so it's time to take a look back at the young fellows who just came into the league and see who's rising up above the rest.
It's a bit early to predict how each guy's rookie season is going to go, but some special rookies are already showing dominant-player potential right out of the gate (hint: Their names rhyme with Blamphony Schmavis and Tamian Willard).
In order to get a full picture of what's going on, we've got to take a look at the good with the bad. Some players have shown us a little bit of both already in this young season.
Ahead, we'll pick out the best and worst games from the NBA rookies so far. So you don't finish reading with a bad taste in your mouth, we might as well kick it off with the worst.
Edit: After the fervor it seems like I've got to add Dion Waiters to the list. He didn't technically play in the first calendar week of the season, but it was in the first seven days so I'll crumble. What can I say, I'm weak.
Begin Slideshow

»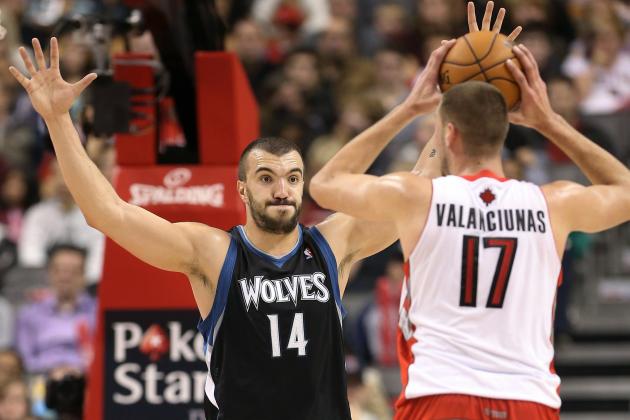 Tom Szczerbowski-US PRESSWIRE

Stat Line: 23 minutes, 4 points, 4 rebounds, 2 assists, a block and a turnover
Jonas Valanciunas started out his Raptors career with a stellar game, putting up the first rookie double-double of the season, but his next two games weren't quite as good.
At first glance, this doesn't seem like too bad a stat line, but what he did in 23 minutes was bumble around the offensive side of the court and miss more shots than he would make—a lot more.
Valanciunas finished this one shooting just 2-of-8 from the floor to go along with his turnover and three fouls.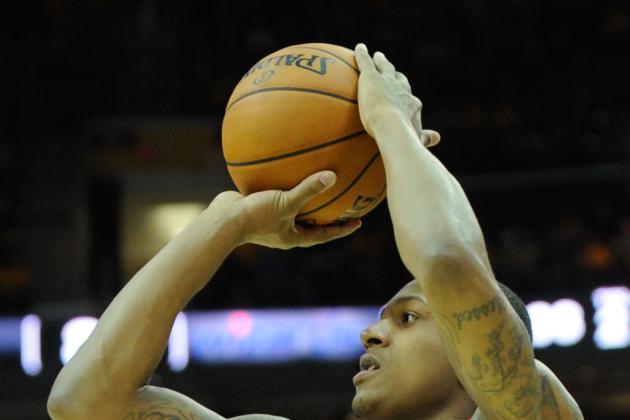 David Richard-US PRESSWIRE

Stat Line: 22 minutes, 2 points, 1 rebound, 1 assist
Bradley Beal didn't have the premiere he would have liked with just eight points against Cleveland, but he really didn't want the game he had when Washington welcomed Boston into its arena.
Not only did Beal score just two points in 22 whole minutes, he missed all five shots he took, including two three-pointers.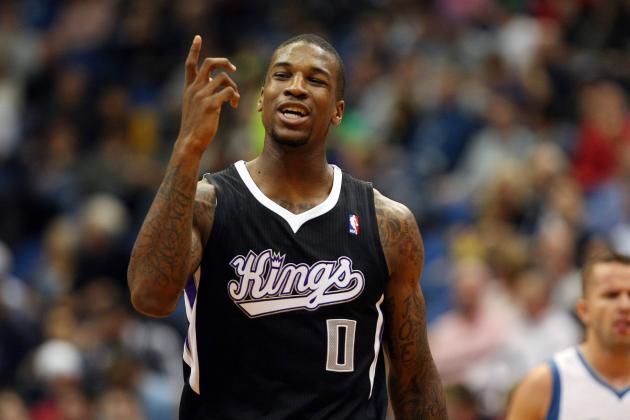 Brace Hemmelgarn-US PRESSWIRE

Stat Line: 22 minutes, 3 points, 3 rebounds, 3 turnovers
In a game of threes, Robinson had three points, three rebounds, three turnovers and three bad plays every three minutes.
Robinson just wasn't on in his NBA debut, but that was a theme around the league for the most part.
His three points came on 1-of-5 shooting, although I guess he can take some solace in that he made half his free throws—half of two, that is.
He's gotten progressively better since his debut, so there shouldn't be too much cause for concern.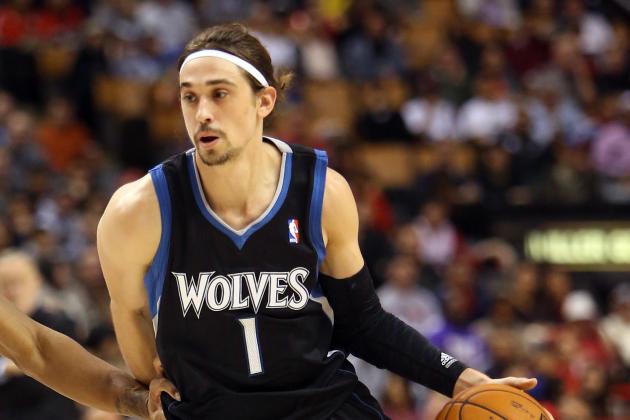 Tom Szczerbowski-US PRESSWIRE

Stat Line: 15 minutes, 0 points, 1 rebound, 1 block
Aside from the terrible goatee, the extremely European headband and the horrendous game, Alexey Shved looked pretty good in his NBA debut.
His zero points didn't come from a lack of trying, he missed three shots, two of which were three-pointers.
The good news is that he did come back the next game and have a half-decent performance against the Raptors.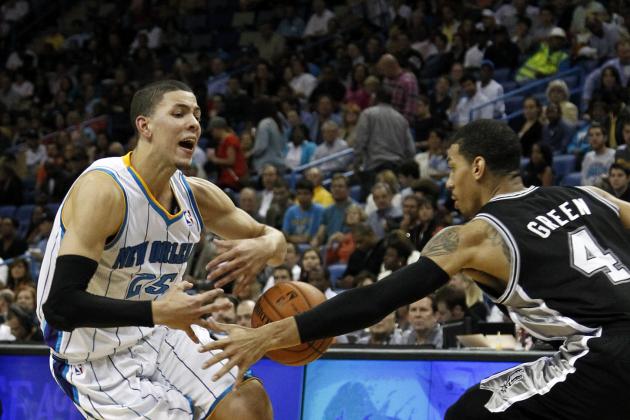 Derick E. Hingle-US PRESSWIRE

Stat Line: 24 minutes, 7 points, 1 rebound, 2 assists, 3 turnovers
In the same game that Anthony Davis showed the basketball world that he is going to be the real deal, Austin Rivers reaffirmed every doubt held by his skeptics.
Rivers was able to put up seven points, but he did so over the course of 24 minutes while making just one field goal on nine attempts.
On top of that, he was lost as a playmaker, passing low, passing high and eventually committing three big turnovers.
Let's just say that he has a bit of room to grow.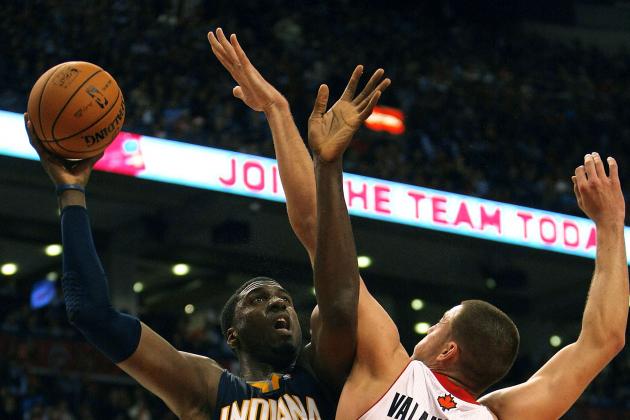 Dave Sandford/Getty Images

Stat Line: 23 minutes, 12 points, 10 rebounds (six offensive) and a block
Jonas Valanciunas was one of two rookies to register a double-double in the first week of the season. Against the Pacers in his debut, he came out and absolutely dominated the glass, with 10 rebounds in just 23 minutes.
He wasn't terribly efficient, scoring 12 points on 15 shots, but Toronto didn't bring him in to put up huge offensive numbers. The Big Volcano was great defensively, and that's what mattered.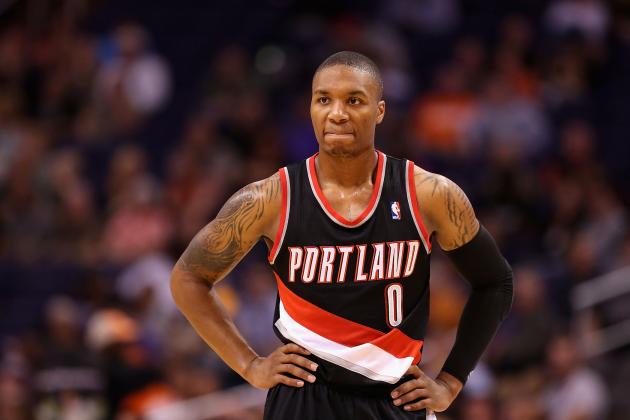 Christian Petersen/Getty Images

Stat Line: 35 minutes, 23 points, 11 assists, 3 rebounds, 1 steal
Damian Lillard started his NBA season with a bang, showcasing an excellent performance against the reeling Los Angeles Lakers.
Lillard's 23 points and his 11 assists are both tops by a rookie so far this season.
He was borderline inefficient in his opener, making seven of his 17 shots and going 1-of-4 from deep, but I can't pick too many nits with this one.
The fact is, Lillard came out and just ran past every attempt L.A. made at defending him.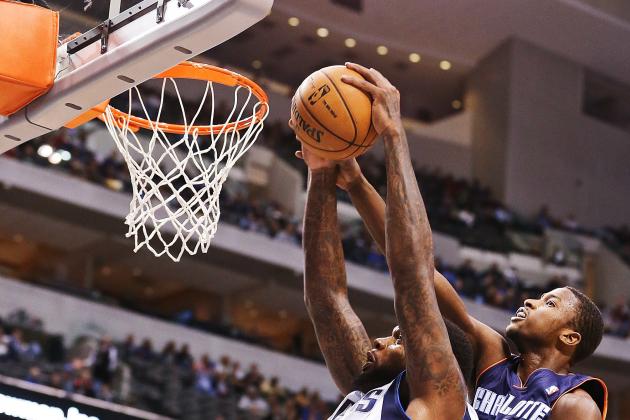 Kevin Jairaj-US PRESSWIRE

Stat Line: 27 minutes, 13 points, 5 rebounds, 2 assists, 5 steals, 1 block
After his disappointing start debut against the Pacers (which the Bobcats won), Michael Kidd-Gilchrist came back and put together a terrific all-around game the next day against Dallas.
It wasn't a game the Bobcats ever really had a chance of winning, but it was one in which Kidd-Gilchrist was constantly active.
His five steals are the most by a rookie so far this season. He also had an efficient shooting night, scoring 13 points on 4-of-8 shooting. He was also 5-of-9 from the foul line.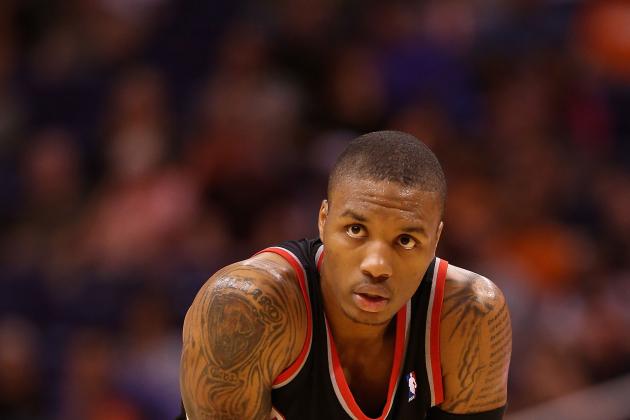 Christian Petersen/Getty Images

Stat Line: 42 minutes, 20 points, 9 assists, 6 rebounds
Damian Lillard is the only rookie to make it onto the list twice (though, if not for his concussion, Anthony Davis would likely be here multiple times).
On the surface, it looks like Lillard's game against Los Angeles was better, but his 20 points here came on 8-of-15 shooting, including 3-of-6 from beyond the arc.
Lillard's game against the Lakers may have been more of a statement with slightly higher peaks, but this was his best all-around game of the week.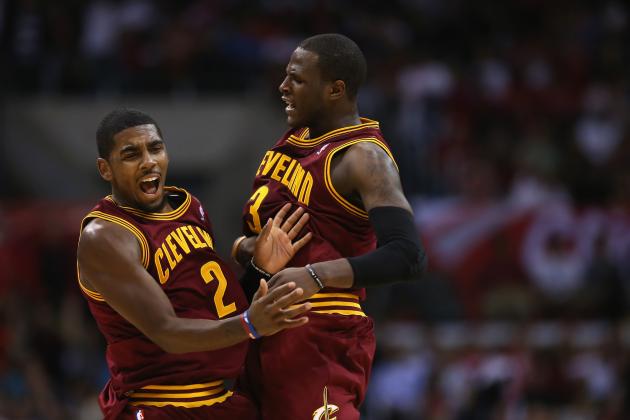 Jeff Gross/Getty Images

Stat Line: 28 points, 3 rebounds, 1 assist
I'm not sure what this game meant overall for the future of Dion Waiters or how much it changes the idea of whether or not the Cavs made the right pick in the draft, but I do know that because of Dion Waiters the Cavs game against the Clippers on Monday night was the most exciting game of the season so far.
Waiters 28-point outburst is the highest-scoring game by a rookie so far this year, and he did it making seven three pointers out of just 11 chucked up.
It might give us a little bit of insight into who he is as a player, because watching him definitely showed off a little Jamal Crawford mentality. Waiters kept shooting, and shooting, and shooting, and shooting, and for the most part it worked. Of course, there was a point in which he took a three-pointer from about four feet behind the line with a man on him that completely missed everything. Byron Scott was not happy.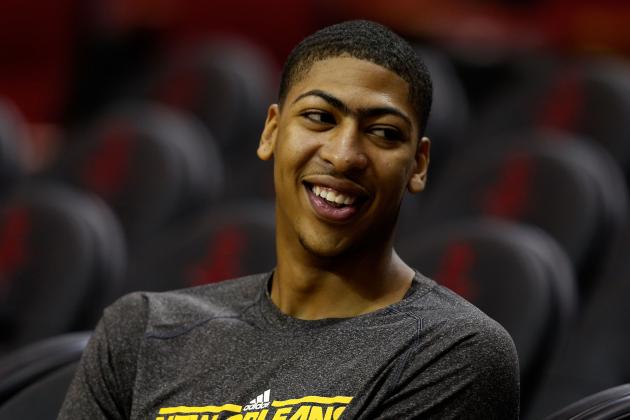 Scott Halleran/Getty Images

Stat Line: 29 minutes, 21 points, 7 rebounds, 1 steal, 1 block
Damian Lillard's game against the Houston may have looked like the best game so far by a rookie, but what Anthony Davis did in his first game of the year against the Spurs was more than just a good game—it was a statement.
Davis took on Tim Duncan mano-a-mano, and he hung with him every step of the way. Sometimes Duncan had the upper hand, but there were plenty of moments in which Davis won the individual battle.
As far as moral victories go, this was a pretty big one. It wasn't just Davis scoring 21 points in his first game (including a perfect 9-for-9 from the free-throw line), it was him taking all the pressure from the offseason and completely tossing it out the window.
This was Davis telling the Hornets fans that the hype was for real.