Indiana Pacers vs. San Antonio Spurs: Postgame Grades and Analysis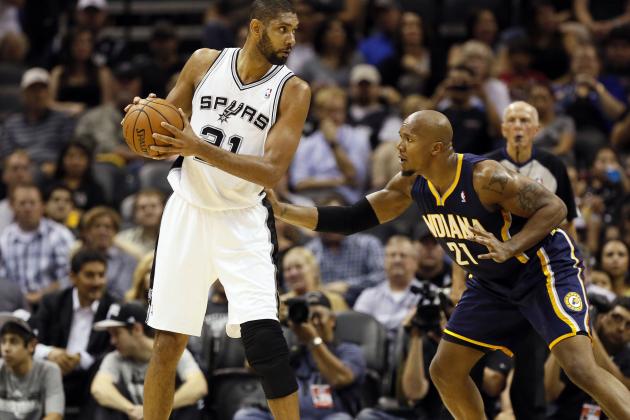 Soobum Im-US PRESSWIRE

The San Antonio Spurs continue to be one of the elite teams in the league, and perhaps more importantly, one of the few unbeaten teams left.
The Indiana Pacers on the other hand have started the season in disappointing fashion after being ranked in the pre-season as one of the better teams in the East.
Let's review the Spurs' 101-79 win tonight.
Begin Slideshow

»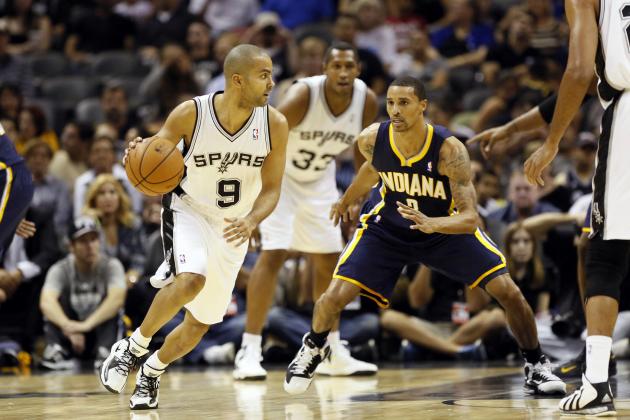 Soobum Im-US PRESSWIRE

Tony Parker, PG, Spurs, A
Tony Parker did not have a great game, but he was active throughout and had a strong all-around performance.
Parker was able to get plenty of rest during the game, as the Spurs jumped out to a large lead in the first quarter and were able to sustain it without relying on the point guard's playing ability.
Parker did not shoot that great from the field, but it didn't matter as his seven assists and four rebounds show how he had his fingers in all aspects of the game. Finishing the game at a +13 PER is nothing to sneeze at, so Parker gets an A.
George Hill, PG, Pacers, B+
George Hill really did try tonight. You could tell he wanted to have a good game in front of his old team, but it just didn't work out the way he wanted to. Hill was the only Pacer on the floor that showed any real enthusiasm, but, his play did not match his enthusiasm. Shooting 5-of-15 from the field and not running the Pacers' offense like he is capable of doing hurt the Pacers.
Good job, good effort for Hill. B+.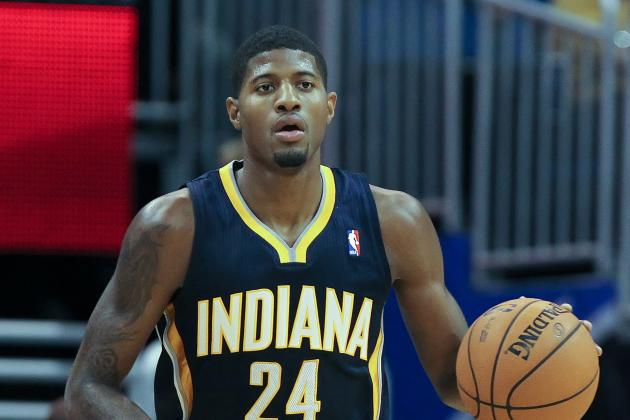 Kim Klement-US PRESSWIRE

Danny Green, SG, Spurs, B+
It has been a lot of fun watching Danny Green develop into a solid NBA player. He had a tough matchup tonight with the athletic Paul George, but Green held his own. The Spurs rely on Green's three point shooting and his two threes (Green finished 2-of-3 from behind the arc) proved to be clutch in the beginning of the game.
Green didn't do anything spectacular but was solid throughout so he earns a B+.
Paul George, SG, Pacers, C
Paul George played for a little over 40 minutes tonight, but I only really remember him being there for at least ten of them. This is supposed to be a breakout year for George as an All-Star spot is well within his reach. But tonight was just a horrible night for George. Fantasy owners that may have been salivating for his matchup against Green are left shaking their heads as George finished with a -20 +/-!
This could be an anomaly from George, but it is not promising for his young career that he has games like this.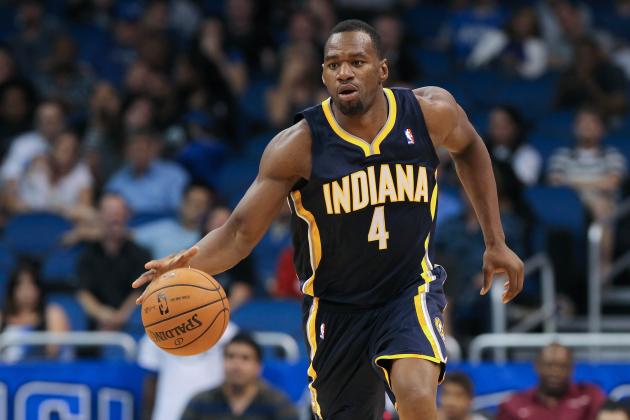 Kim Klement-US PRESSWIRE

Kawhi Leonard, SF, Spurs, B
Kawhi Leonard seemed to have a quiet game tonight, as I can't remember him doing anything outstanding offensively. But Leonard is one of the top Spurs' defenders, and his strong defense (especially in the first quarter) prevented the Pacers from establishing any real rhythm.
Sam Young, SF, Pacers, D
Not sure why Coach Frank Vogel started Sam Young, as he ended up playing only 16 minutes. Young could be a solid bench player in limited minutes, as that is more of his role.
The D grade may be harsh for Young since he barely played, but the grade is more about the Pacers' lack of depth at the small forward position. Pacers fans are definitely counting down the days until Danny Granger returns from his injury.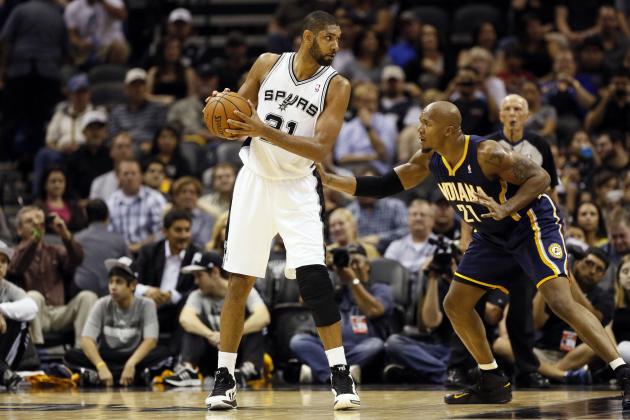 Soobum Im-US PRESSWIRE

Tim Duncan, PF, Spurs, A+
It seems like Tim Duncan has been doing this forever.
Another unbelievably strong game from Duncan, who continues to impress this season.
David West is one of the better power forwards in the game, but proved to be no real opposition for Duncan tonight.
David West, PF, Pacers, C
As is the common theme with the majority of the Pacers, there was no sense of urgency. West's trademarked jumper and aggressive drives to the basket were nowhere to be found.
West did grab a team-high 11 rebounds, but his overall play left a lot to be desired.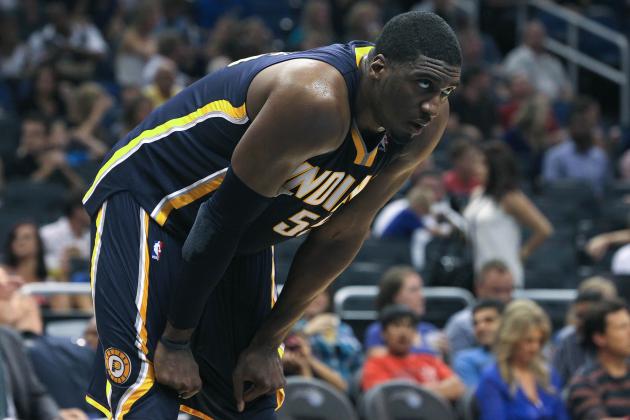 Kim Klement-US PRESSWIRE

Boris Diaw, Center, Spurs, C
Since joining the Spurs midseason last year, Diaw has proven to be a solid contributer. Tonight was no different as Diaw's playmaking abilities helped the Spurs get the win.
Quite surprisingly, Diaw did not grab a single rebound tonight, so for that he gets a C.
Roy Hibbert, Center, Pacers, D
Roy Hibbert was an All-Star last season but seems to have regressed this season. There were large portions of this game where I had no idea Hibbert was even in the game, as the Spurs kept driving to the hoop or getting offensive rebounds with ease. Hibbert's defensive presence was nowhere to be found tonight. Since the Pacers rely on Hibbert's shot blocking abilities, he gets a D.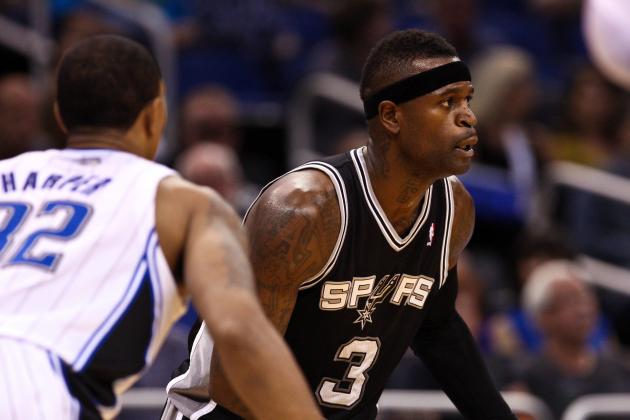 Rob Foldy-US PRESSWIRE

Stephen Jackson, SG, Spurs, B
What more could Spurs fans want from Stephen Jackson? He comes off the bench and contributes every night, relishing the opportunity to play the role of the sixth man.
Jackson had a solid game, going to the free throw line and hitting threes to go along with his frenetic defense.
Jackson will not be in the running for the Sixth Man of the Year, but Spurs fans would not want anyone else to be their Sixth Man.
Gerald Green, SG, Pacers, B
Gerald Green always seems to have a big dunk in every game, and he did not disappoint this one. Unfortunately for him, the Pacers could not feed off his energy off the bench. Green finished with a solid stat line of nine points and eight rebounds.
The Pacers need him to keep providing the highlights along with the all-around play throughout the rest of the season if they want to not only make the playoffs but finish with a high seed.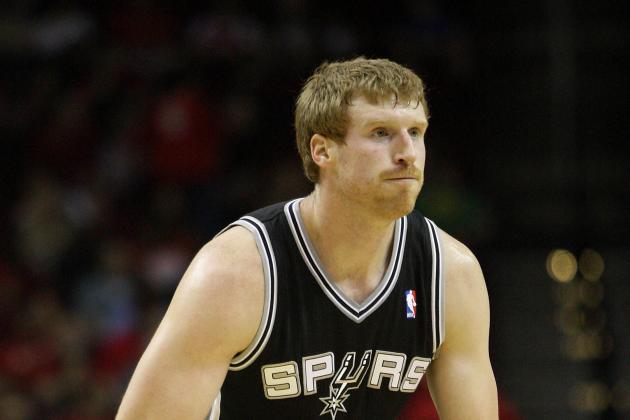 Troy Taormina-US PRESSWIRE

San Antonio Spurs Bench, A
Gary Neal, 17 points
Stephen Jackson, 12 points
Dejuan Blair, 14 points
The Spurs got the contributions they needed off their bench, and the starters were able to rest for most of the game.
What more could Gregg Popovich want?
Indiana Pacers Bench, C
The Pacers' bench was terrible.
Lance Stephenson did not even score a single point but did record two turnovers.
Tyler Hansbrough shot 1-of-7 from the field but did manage to go to the free throw line nine times.
Sixth man Gerald Green was solid but not spectacular.
The Pacers lacked a spark tonight and couldn't even get one off the bench.