Oregon Football: 6 Reasons Why This Team Is Different from 2010's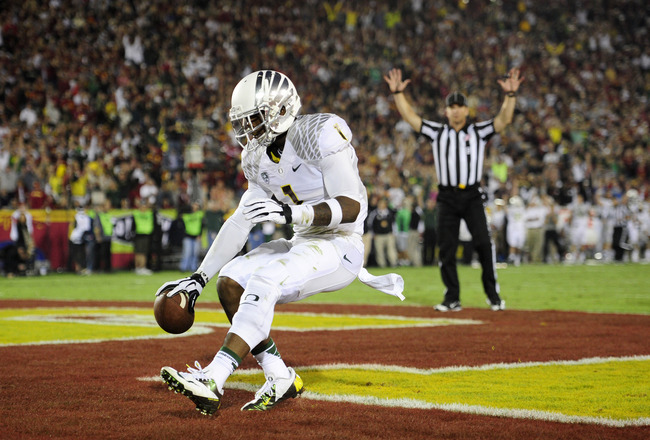 Robert Laberge/Getty Images
It seems every media outlet is saying the same thing.
Oregon will be the team to beat for the No. 2 spot in the BCS standings come seasons end.
After a 730 yard, 62 point performance against No. 17 USC in Los Angeles, Oregon leap-frogged Notre Dame to take the No. 3 BCS ranking, and are now predicted to be the No. 2 team in the country by the time bowl season comes around.
If Alabama continues to roll then it would be an Oregon-Crimson Tide match-up to decide the 2013 National Championship.
This time around, Oregon has the tools to play better than they did against their past two SEC opponents.
Dynamic Passing Game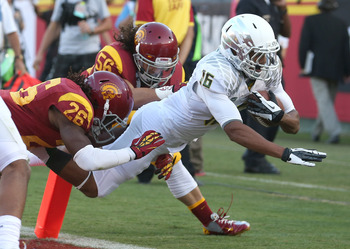 Stephen Dunn/Getty Images
Flashback to the 2011 National Championship Game against Auburn and you see that Oregon got flat out beat up front by the Tigers SEC defense.
However, I see a huge difference between Oregon's play calling in the passing game between then and now.
In 2011 the Ducks took more deep shots with the combo of Darron Thomas and Jeff Maehl, whereas now they seem to attempt shorter bubble screens when they choose to pass the ball.
Kelly is using the talents of Marcus Mariota, and receivers like Bralon Addison, De'Anthony Thomas, and Josh Huff, who all have amazing straight end speed and acceleration, to get plays off quickly before the pass rush has a chance to get to Mariota.
This is going to be a huge boost against the Crimson Tide defense that could stop NFL teams according to Steve Spurrier.
Dual-Threat Quarterback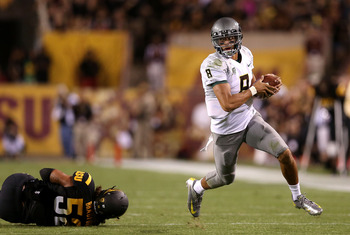 Christian Petersen/Getty Images
With all due respect to Darron Thomas, he was not the most athletic quarterback in the running game.
Thomas did not possess the speed and explosiveness exhibited by previous quarterbacks such as Dennis Dixon and Jeremiah Masoli, and even current starter Marcus Mariota.
Mariota has exhibited phenomenal presence under pressure, and can avoid the rush to get the ball off, or even take off and use his legs to gain big chunks of yards.
If Mariota can get the edge on Alabama rushers, and use his speed to make plays up field, Oregon could have a good chance at beating the Crimson Tide.
Pass Rush
Christian Petersen/Getty Images
There's no debating it, Oregon can make putting pressure on the quarterback look easier than cutting butter with a hot knife.
With experienced players like Dion Jordan, Issac Remington and Michael Clay, plus freshmen Arik Armstead and DeForest Buckner, who are both seeing the field early on, the Ducks would be a nice challenge for AJ McCarron and the backfield tandem of TJ Yeldon and Eddie Lacy.
Oregon needs the talents of these players and the experience and depth along the defensive line to compete with the size and talent that Alabama has on it's offensive line.
Oppurtunistic Defense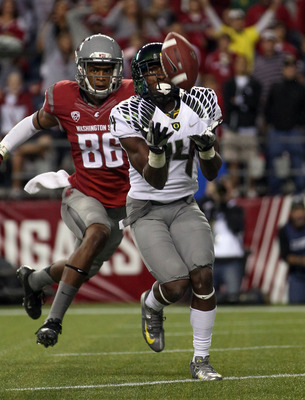 Otto Greule Jr/Getty Images
Week in and week out, the Oregon defense has been able to consistently do one thing: force turnovers and make some of the best quarterbacks in the nation look like they still belong on the bench.
The Ducks have succeeded in forcing 16 interceptions on the season, and have played their best when it matters most, in the red zone.
Against Arizona, the Wildcats made seven trips into the red zone, but they walked away with no points.
Even against USC, the Ducks were able to make two key stops in the red zone, which could have been the difference maker.
Depth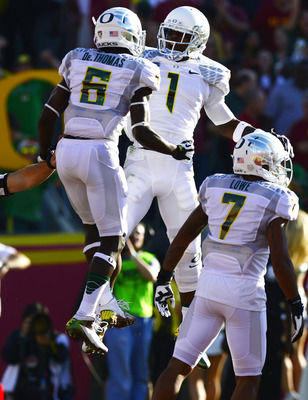 Robert Laberge/Getty Images
Good luck finding a team that is deeper than the Ducks are this season.
Mariota, a quarterback who could start at most schools and can be used in multiple schemes, has an arsenal of weapons that rivals the U.S. at the height of the Cold War.
With three other members that can run the ball effectively, not including himself, and seven receivers that are within 10 receptions of one another, Oregon has so many numbers they can call, that trying to eliminate one man would not work.
Even on the defensive side of the ball, Oregon is stacked from top to bottom. With so many players being cycled in because opponents own time of possession, a majority of the Ducks roster sees the field on any given day.
Chip Kelly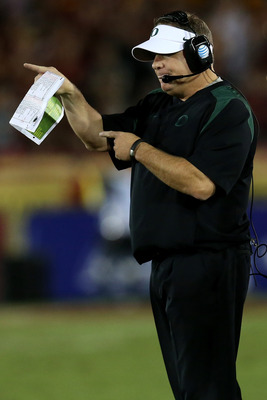 Stephen Dunn/Getty Images
There's a reason why Kelly is being linked to so many possible NFL head coaching gigs.
In my mind, there are no better program managers than Chip Kelly and Nick Saban.
Kelly's X's and O's knowledge is tough to match, but the mentality he has instilled in his players, and the way he runs practice, is the reason why Oregon went from being an average team to competing for national titles every year.
I suggest you all read this story by Tim Livingston of ThePostGame on Chip Kelly. You'll easily see why he is such a big difference-maker for the Ducks.
Keep Reading

Oregon Ducks Football: Like this team?