1 Lesson Every NBA Team Must Learn to Reach Its Ceiling in 2012-13
Mike Ehrmann/Getty Images

Every NBA team has a lesson it must learn to maximize the most of its 2012-13 season.
The NBA season is young, so most problems won't be identified until more games are played. But whether a team has played three games or four, some issues are easily identified.
The lessons range from playing one player more to improving team defense. Continue on to find the lesson your team needs to learn in order to have a more successful season.
Begin Slideshow

»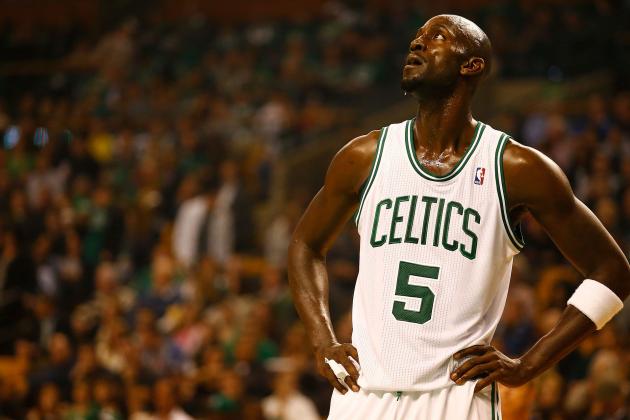 Jared Wickerham/Getty Images

Lesson: Figure Out the Bench
No one questions the player Rajon Rondo is. He's as good of a point guard as there is in this league. The same goes for Kevin Garnett and Paul Pierce. These two guys are future first-ballot Hall of Famers. Give them time, and eventually they will figure it out.
As for the Boston Celtics' bench, many thought it would be better. It's early in the season, so almost every reaction at this point is an overreaction. But there's no refuting the facts three games into the season—the Celtics' reserves have been outscored 131-87.
The Celtics thought their bench issues were behind them after adding Jason Terry, Leandro Barbosa, Jeff Green and Jared Sullinger. Instead, three games in, the Celtics' reserves are only marginally better than last season's.
The bench's slow start is likely due to change. With so many new guys on the Celtics, it will take time to learn to play with one another. This will take some lineup tinkering from coach Doc Rivers. Once he figures out a reliable rotation, the Celtics will be fine.
Elsa/Getty Images

Lesson: Find a New Mascot
Obviously this lesson has nothing to do with the Brooklyn Nets' on-court production, but man, how silly does their new mascot look? Someone actually thought it would be cool to make a comic book themed mascot for the Nets?
The great folks over at Marvel Comics helped out with the Mascot. On the mascots origin:
According to the team, "He is equipped to handle almost any threat with a protective metal B on his chest, metal knee, elbow, and face coverings, defined muscles, including a six-pack, and a multi-functional cape." [...]

"As a Brooklynite and a hardcore hoops fan, for me to get the opportunity to help create a Super Hero for my home borough's new team was a dream come true," said Axel Alonso, Editor in Chief, Marvel Entertainment. "Working with the Nets staff, we have created a team Super Hero that is unlike anything the NBA has ever seen; a timeless character who can stand shoulder to shoulder with icons like Spider-Man, Captain America, Wolverine, and Thor. Let's go, Nets!" [...]

"Forged from the blood, sweat and tears of Brooklyn itself — always ready to defend his home and defeat any challenger — all hail the BrooklyKnight!" exclaimed Bill Rosemann, Editor, Marvel Custom Solutions. "When Nets fans meet their guardian, they will immediately know that the House of Ideas has once again unleashed a hero who will soon be known all over the world for his nobility, grit, and strength. Brooklyn, your champion is here!"
What the Nets did with BrooklyKnight is reminiscent of the time the Oregon Ducks tried to change their mascot into an "intimidating" Duck. Instead they ended up looking stupid and trying too hard.
The Nets are going to be an above-average Eastern Conference team, but if they want anyone to take them seriously they need to get a new mascot. Maybe even drop the mascot all together.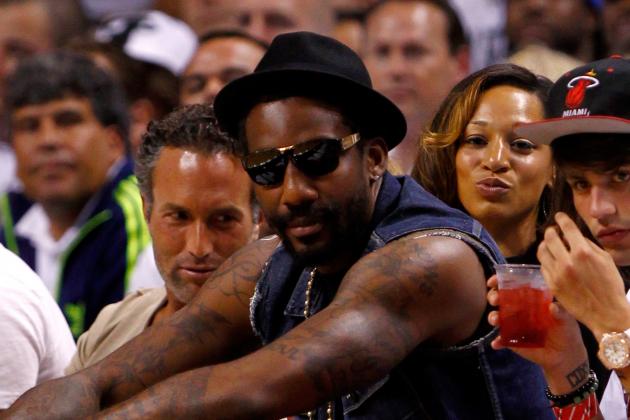 Mike Ehrmann/Getty Images

Lesson: When Stoudemire Returns, Bring Him off the Bench
The return of Amar'e Stoudemire is going to be much longer than originally anticipated. Is it weird that may be a good thing? The New York Knicks, albeit three games into the season, look the best they've been since the first half of 2010-11 season.
In two convincing wins over the Philadelphia 76ers, the Knicks started Carmelo Anthony at the power forward position. They seem to be clicking on all cylinders early.
When Stoudemire does return to the Knicks' lineup, it may be a smart decision to bring him off the bench for several reasons.
Stoudemire isn't the same impact player anymore, even when he's healthy.
Anthony is playing well at the 4.
You don't always have to start your five best players. Sometimes it's smarter too stagger your lineups, like the Oklahoma City Thunder used to do with James Harden.
Stoudemire is going to have to swallow his pride in order to make this work. When he first came to New York, he was a rock star. Unfortunately due to injuries, Stoudemire isn't the same player anymore. If he wants to help the Knicks, it would be wise to come off the bench.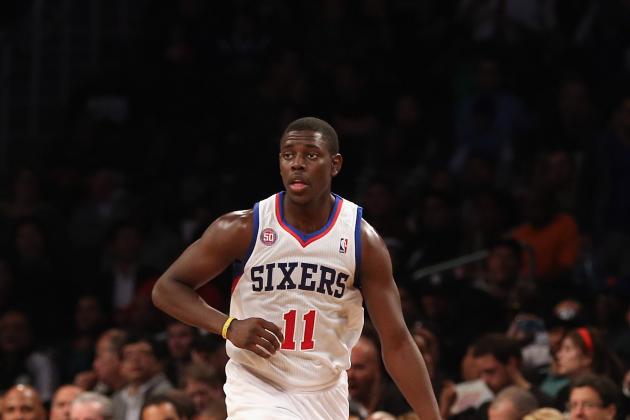 Bruce Bennett/Getty Images

Lesson: Improve Offensive Efficiency
Like so many other NBA teams, it's hard to judge the Philadelphia 76ers until they're at full strength. Three games in, and the 76ers have still yet to play with their sexy offseason acquisition Andrew Bynum.
But through three games, it's clear the 76ers offense is a problem. They rank near the bottom in the NBA in both points per game and assists per game. That could all change if Bynum returns and puts up dominating numbers, but who knows when that will be. His return has no timetable.
Until Bynum returns, the 76ers desperately need to establish a rotation and improve their offensive efficiency. Spencer Hawes minutes have flipped-flopped in every game. This is a player they need to play well.
Playing without your best player is difficult, yet unfortunately that doesn't mean the season stops. If the 76ers continue to score under 90 points per game, they'll be in a huge hole by the time Bynum returns.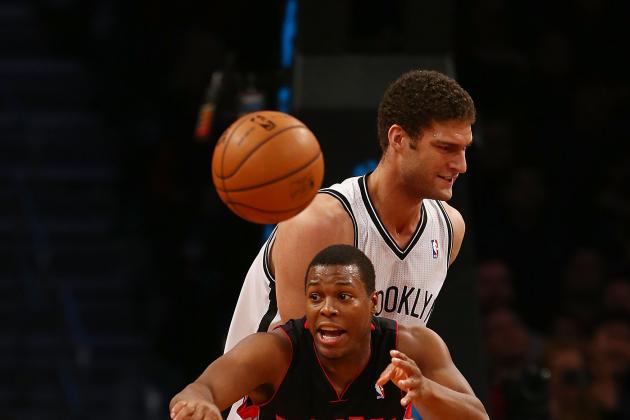 Alex Trautwig/Getty Images

Lesson: More Kyle Lowry
The Toronto Raptors may be this season's jump team. The reason: the addition of Kyle Lowry.
People forget just how good Lowry was last season for the Houston Rockets. He was a borderline All-Star player until he missed some time due to a bacterial infection.
Lowry is leading the Raptors in points, rebounds, assists and steals. It's not a coincidence they look like a better team this season, despite what their record says. Lowry injured his ankle against the Oklahoma City Thunder Tuesday night. If he doesn't return soon, the Raptors will be in trouble.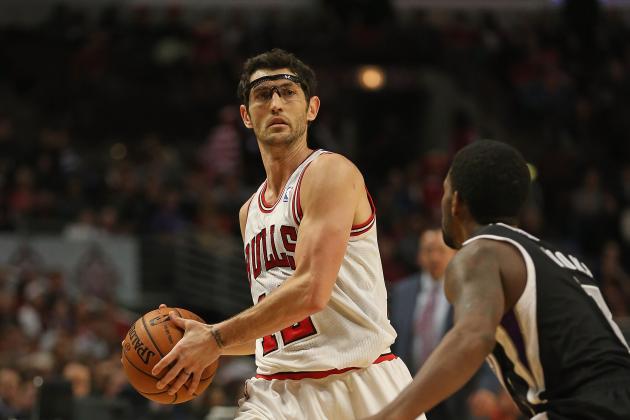 Jonathan Daniel/Getty Images

Lesson: Hold Tight Until Derrick Rose Gets Back
Nobody expected much from the Chicago Bulls this season, but once again they are playing solid team basketball and winning games.
No one is sure when Derrick Rose will return to the court. The Bulls aren't as talented as they have been in year's past, yet their suffocating defense is still there. Their defense will always make them a strong team.
As long as the Bulls can stay committed to the defensive end of the floor, they will be fine by the time Rose returns from his injury. If Rose is as good as he expects to be, the Bulls could be legitimate title contenders come May.
Jason Miller/Getty Images

Lesson: More Dion Waiters Is a Good Thing
Dion Waiters has been good for the Cleveland Cavaliers.
Really good.
In fact, in the Cavaliers' two victories, Waiters averaged 22.5 points per game. In two losses, Waiters averaged only 10 points.
Waiters has shown flashes of becoming a huge scoring threat. It's still early, but Waiters and point guard Kyrie Irving could become one of the best backcourts in the NBA in the next few years.
Many scoffed at the Cavaliers for reaching for Waiters in the draft. So far, it's the Cavaliers who look like the smart ones.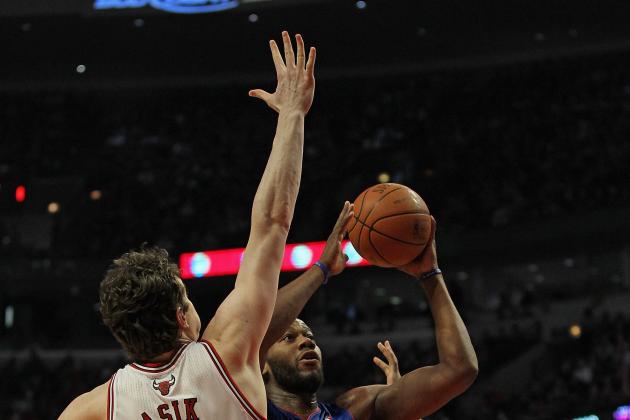 Jonathan Daniel/Getty Images

Lesson: Improve Everything
The Detroit Pistons are a terrible basketball team. They have been blown out by the Los Angeles Lakers and lost by more than nine to both the Houston Rockets and the Denver Nuggets. The Pistons' closest game was a loss to the pitiful Phoenix Suns.
The Pistons will be a candidate for one of the top draft picks. It's still early, but the Pistons need to improve on just about everything. They are a bad rebounding team, a bad offensive team and a bad defensive team.
There's no easy solution to solve what is wrong with the Pistons. All they can do is play their young players and become more efficient on both ends of the floor.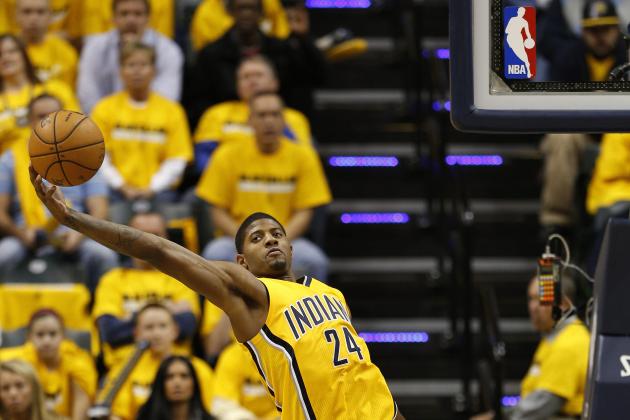 Joe Robbins/Getty Images

Lesson: More Paul George
Danny Granger is hurt, but what happened to Paul George? Isn't he a player who was expected to make a leap? Maybe George is just an average, athletic shooting guard.
The Indiana Pacers do not look like a good basketball team right now. Through four games, the Pacers barely beat the Sacramento Kings and the Toronto Raptors, and then lost to the Charlotte Bobcats and the San Antonio Spurs. The Pacers could very well be 0-4.
Roy Hibbert has been disappointing, and a lot of the weight is falling on a past his prime David West. West is still a solid player, yet if the Pacers are going to be an above-average team, they need George to step up. His ceiling is too high to only average 14 points with Granger out.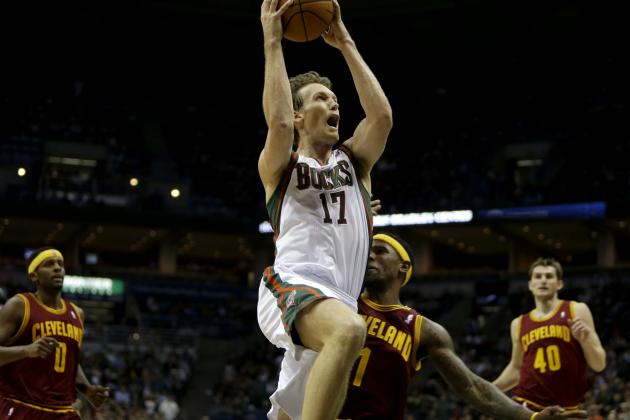 Mike McGinnis/Getty Images

Lesson: Continue To Get Production from the Bench
Who would've guessed that the Milwaukee Bucks would have one of the deepest rosters in the NBA through the first week? Obviously it could be a mirage, but the 2-0 Bucks are currently getting about 50 points per game from their reserves.
One player who has stuck out is Mike Dunleavy, who is playing like it's 2007 when he averaged 19 points per game for the Indiana Pacers. Who knows how long Dunleavy can produce at this rate, but at the moment, the Bucks will take whatever they can get.
If the Bucks' bench continues this production, they could finish the season with a low Eastern Conference playoff seed.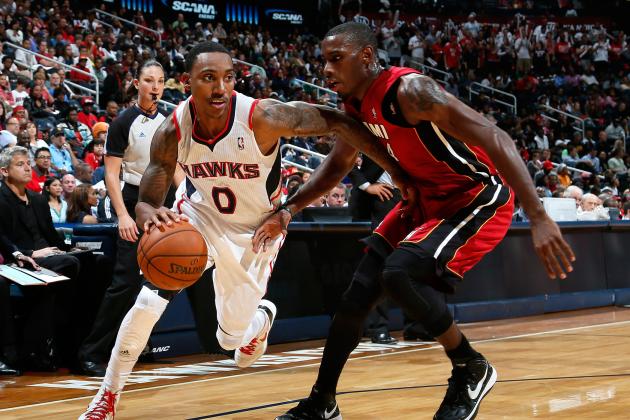 Kevin C. Cox/Getty Images

Lesson: Play Every Game Like They Know They Are Going To Win
The Atlanta Hawks are a very good team. They can beat any team in the NBA, as they proved Sunday when they beat the Thunder handily in Oklahoma City.
The loss of Joe Johnson may have helped the Hawks. They are a much deeper team than they've been in years past, and they still possess two of the best players in the Eastern Conference. They may not win the 2012-13 NBA title, but they will make noise in the playoffs similar to the way the Indiana Pacers did a season ago.
This isn't the same Hawks team who traditionally exits the playoffs in the first or second round. This team is really good and they need to carry themselves like they can beat anyone in the league.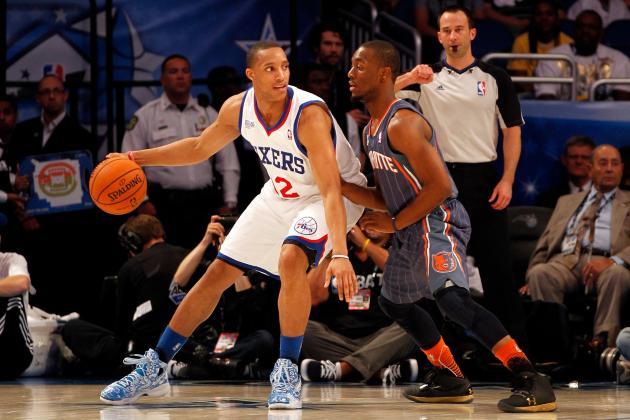 Mike Ehrmann/Getty Images

Lesson: Continue To Develop Kemba Walker
It's still very early, but Kemba Walker has looked impressive in the Charlotte Bobcats' two games.
Walker has always been a trooper, overcoming obstacles everywhere he's played. It was easy to count him out last season after a poor rookie campaign, yet it looks as if he may have finally found his way.
An impactful season by Walker could make the Bobcats one of the NBA's surprising teams. With Michael Kidd-Gilchrist looking good as well, maybe the Bobcats have finally found two players they can build around.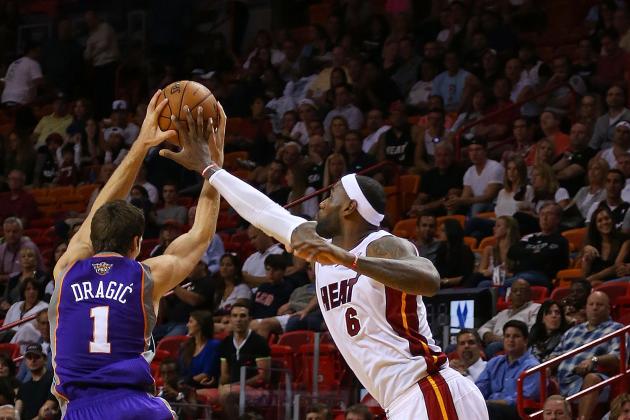 Mike Ehrmann/Getty Images

Lesson: Stifle the Defense
The Miami Heat are the NBA's most explosive offensive team, yet they need to get back to their stifling defense they are accustomed to. Through four games, the Heat have allowed over 100 points in three of them. In the Heat's most recent game against the Phoenix Suns, they allowed 99 points, which is basically 100.
Size could be a concern in the regular season. Usually it's the postseason where size matters, but the Heat have proven they are capable of playing dominant small ball in a best-of-seven series.
If the Heat can defend the rim better than they have, then you could be looking at your 2012-13 NBA champions.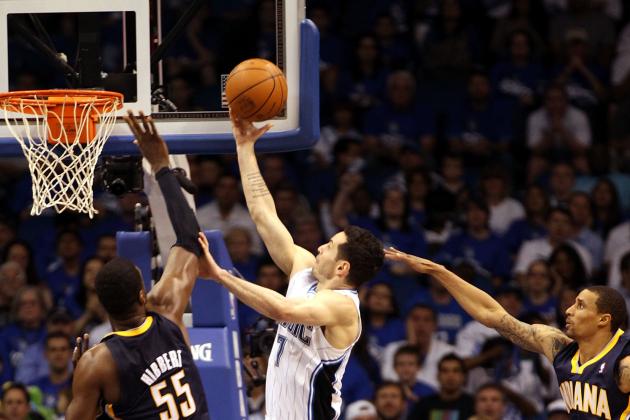 Marc Serota/Getty Images

Lesson: Trade J.J. Redick
J.J. Redick has done a lot to establish his NBA game. Coming out of college, many expected Redick to become the stereotype dominant college player who can't translate his game to the pros. In seven NBA seasons, Redick is anything but a Jimmer Fredette or a Tyler Hansbrough. He's a serious scoring threat who can change the outcome of a game.
Redick is also a free agent at season's end. Obviously Redick's impending free agency won't be like last year's Dwight Howard saga, but one has to wonder what the Magic will do with him. Why would Redick return to Orlando?
A contender could really use Redick. He's going to be a valuable trade asset, so expect the Magic to explore all options.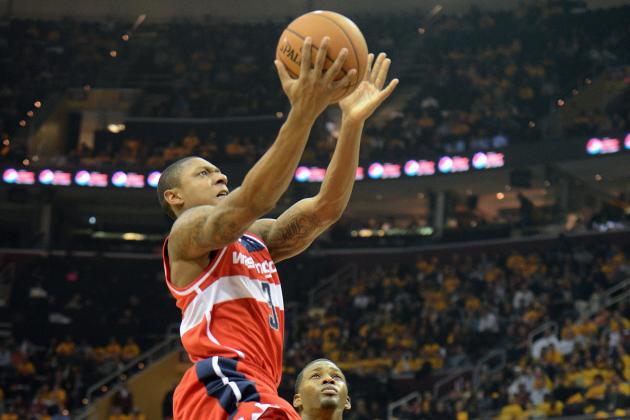 Jason Miller/Getty Images

Lesson: Get Bradley Beal Going
Bradley Beal has been bad. He's been substantially outplayed by fellow shooting guard rookie Dion Waiters.
When John Wall returns, the Washington Wizards hope to have an exciting young backcourt like the Cleveland Cavaliers. They may be disappointed.
Beal has shot 15 percent in his first two games, and teammates don't seem very happy about it. Coming out of college, he was compared to a young Ray Allen. That comparison is a slap in the face to Allen.
The Wizards need to do a better job of getting Beal going or this season will be the same old story for the Wizards once again.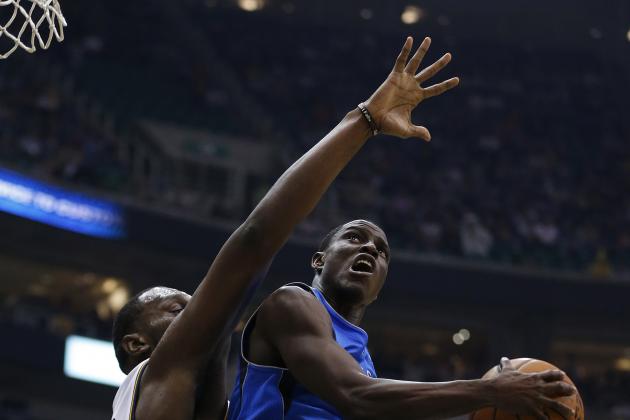 George Frey/Getty Images

Lesson: Hold Tight Until Dirk Nowitzki Gets Back
The Dallas Mavericks need to continue to play strong until Dirk Nowitzki returns from his injury. Surprisingly, the Mavericks have responded well with Nowitzki sidelined. They are currently 3-1 with wins over the Los Angeles Lakers and Portland Trail Blazers.
The Mavericks have been very efficient on the offensive end of the floor. Once Nowitzki is healthy, they will be even better.
Owner Mark Cuban's offseason moves look smart after the first week of the season. If they continue to play well, they could find themselves with a No. 4 or No. 5 playoff seed.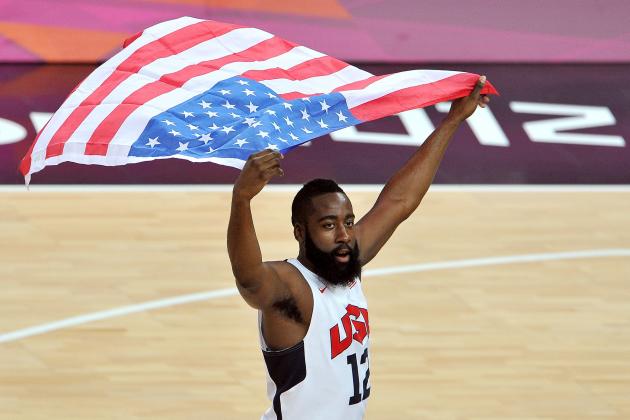 Pascal Le Segretain/Getty Images

Lesson: More James Harden Is a Good Thing
James Harden has been unleashed in Houston. Not only is Harden shooting more than he has ever before, but he's also scoring at an efficient rate.
When the Houston Rockets made the trade for Harden, they may have propelled themselves into the playoffs. Remember, the Rockets almost made the playoffs last season and they didn't have a player nearly as talented as Harden.
The Rockets finally have a franchise player. They have embraced him and need to continue to embrace him. Let Harden shoot as many times as he wants. He's their best option.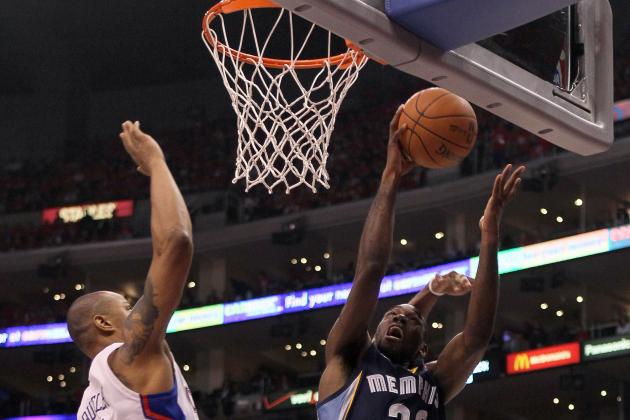 Stephen Dunn/Getty Images

Lesson: Increase Bench Production
The Memphis Grizzlies' starters have played well to start the season. Their bench? Not so much.
Through the first three games, the Grizzlies' reserves have averaged 22 points. The NBA season is a grind. The Grizzlies cannot continue to rely so much on their starters. What happens if Zach Randolph or Rudy Gay misses extended time? The Grizzlies are not deep enough to survive a serious injury.
Marreese Speights and Quincy Pondexter need to step their game up or else the Grizzlies will finish with a worse record than a season ago.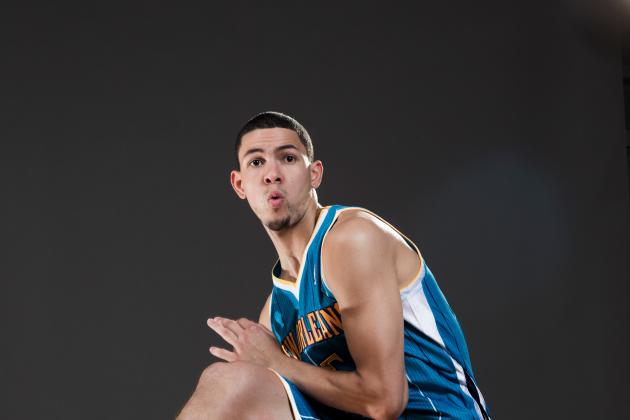 Nick Laham/Getty Images

Lesson: Bring Austin Rivers off the Bench
Austin Rivers' rookie campaign has not gotten off to a good start. Through three games, all starts, Rivers has shot 20 percent from the field. He also hasn't made a shot from behind the arc, which is an aspect of his game scouts expected him to do well.
Rivers' struggles don't mean he's going to be a bust. They could just mean he's not yet ready to start. Bringing Rivers off the bench wouldn't be a bad thing. Instead, it could help him develop at a rate he's ready for.
The Hornets don't have many options to put in front of Rivers, but they should find one soon. The worst thing for Rivers would be to develop a lack of confidence.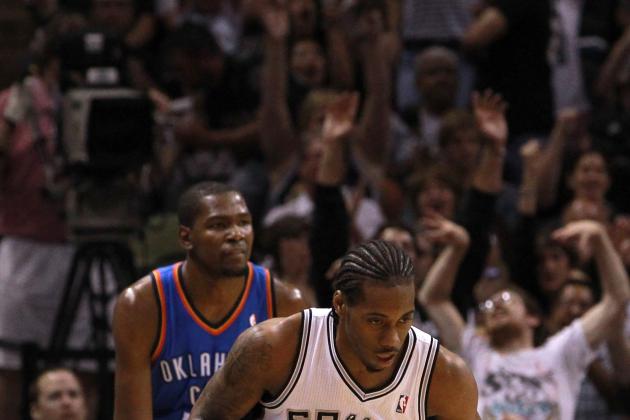 Ronald Martinez/Getty Images

Lesson: More Kawhi Leonard
The San Antonio Spurs have been the best team in the NBA through the first week of the season. It's not even close.
The scary thing is the Spurs can get even better. Kawhi Leonard, last season's super rookie, has played well but could do better. He's been impressive, but offensively there's a chance Leonard is only half the player he will eventually become.
As the season progresses, expect to see a lot more Leonard. If he steps up, the Spurs will have a top four that can compete with any team in the NBA.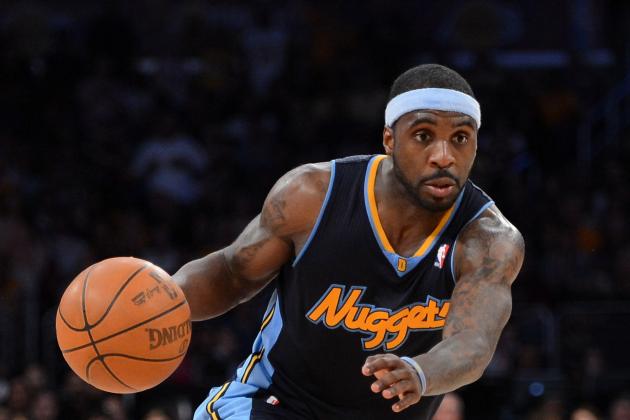 Harry How/Getty Images

Lesson: Improve Their Team Basketball on Offense
The Denver Nuggets are a team built around a mixture of talented players. They don't have any superstars: just a collection of above-average talent.
You think since the Nuggets excel at team basketball, they would average more assists through four games. At the moment, the Nuggets rank 26th in assists per game.
Their early struggles can be explained by starting the season on the road. The Nuggets have a ridiculous amount of road games in the next month. If they don't figure out their continuity, they could start the season in a serious hole.
Jonathan Ferrey/Getty Images

Lesson: More Alexey Shved, Less Brandon Roy
The Brandon Roy comeback was largely under reported. What could a player who retired due to his knees just a year ago actually do?
So far, not much. Roy is shooting 29 percent from the field and zero percent from behind the arc. Nobody expected him to be the player he was with the Portland Trail Blazers, yet that doesn't excuse his production. Is Roy playing 27 minutes a game because of his name or because he's one of the Wolves' better players?
Meanwhile, Alexey Shved has been impressive in limited action. He needs more minutes to flourish. It won't take head coach Rick Adelman long to realize Shved is a better player than Roy at this point.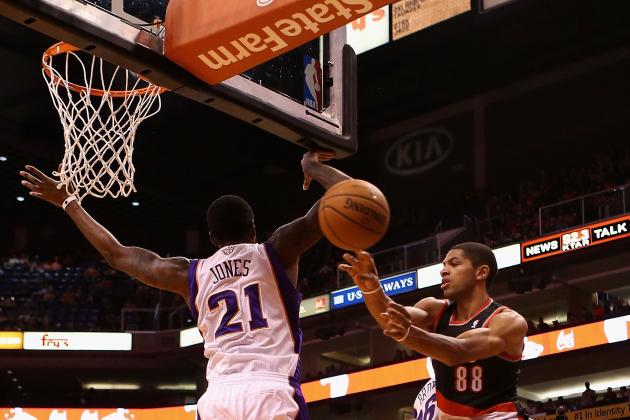 Christian Petersen/Getty Images

Lesson: Nic Batum's Importance
When the Portland Trail Blazers matched the Minnesota Timberwolves' $44 million offer to Nicolas Batum, they were essentially handing him a set of keys to the car.
Through four games, the importance of Batum is evident. When he plays well, the Blazers win. When Batum struggles, they are not the same team. In the season-opening win versus the Los Angeles Lakers, Batum played like a $44 million man, finishing with 26 points. In two losses, Batum finished with three points (at Oklahoma City) and 14 points, 0-of-5 behind three (at Dallas).
The Blazers cannot afford Batum to be this streaky. They are paying him to be a big-time player every game, not only twice a week. This kind of flip-flop in production could make the Blazers eventually regret their decision to match the Timberwolves' offer. The Blazers need to understand Batum's importance to their success and make an effort to get him going.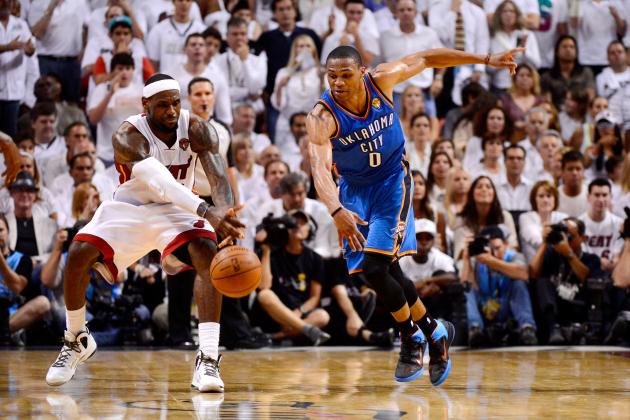 Ronald Martinez/Getty Images

Lesson: Control Russell Westbrook
The James Harden trade has affected the Oklahoma City Thunder in a way they probably didn't expect. No more Harden means more Russell Westbrook, and as you know, that can be a bad thing.
It's too early to call the Harden trade a mistake for the Thunder. Seasons aren't built on only five games. What is evident this early into the season is what Harden did for Westbrook.
Westbrook is a super streaky player. When he's hot, he's the most explosive player in the NBA. Harden was a consistent player (minus the NBA Finals). As Grantland's Bill Simmons has preached in his recent podcast and columns, Harden was the Thunder's safety net if things weren't going Westbrook's way.
Kevin Martin is a role player, not an impact player like Harden. With Harden gone, that means more shots for Westbrook. Just because Harden is no longer in town doesn't mean Westbrook can jack up over 20 shots per game. It's an inefficient way to play. If the Thunder are going to regain their momentum from last year, they need to keep Westbrook in check.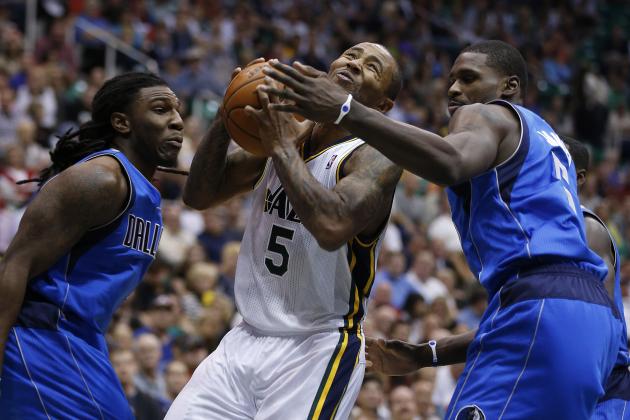 George Frey/Getty Images

Lesson: Too Much Mo Williams
Any time Mo Williams is your team's best player, it's bad news. Ask the Cleveland Cavaliers fans after LeBron James left. Williams is an above-average role player, but not a team leader.
Through four games, Williams is the Utah Jazz's leading scorer. He's averaged 16 shots a game, the most on the team. Gordon Hayward is second on the Jazz in shot attempts.
The Jazz need more production from their two bigs, Paul Millsap and Al Jefferson. These two players are too good to only average a little more than 11 shots a game.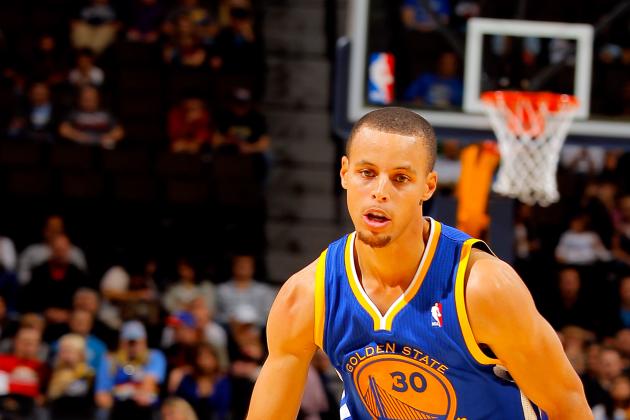 Doug Pensinger/Getty Images

Lesson: Don't Rely on So Many Injury-Prone Players
When everybody on the Golden State Warriors' roster is healthy, they're a solid team. The problem with that is the Warriors never seem to be at full strength. Whether it is a Stephen Curry and Andrew Bogut sprained ankle or a David Lee groin injury, something always seems to be wrong with one of the Warriors' best players.
The lesson here: It's unwise to trust injury-prone players with the keys to your franchise. Bogut looked slow footed Tuesday night versus the Sacramento Kings and as a result was destroyed by DeMarcus Cousins.
Hopefully Curry can find a way to stay on the court, but Bogut may be a lost cause. He hasn't played in more than 70 games since 2007-08. The Warriors need to build around Klay Thompson. He's a special player in just his second NBA season. Trading Bogut (if there are any takers) could allow the Warriors to better build around Thompson.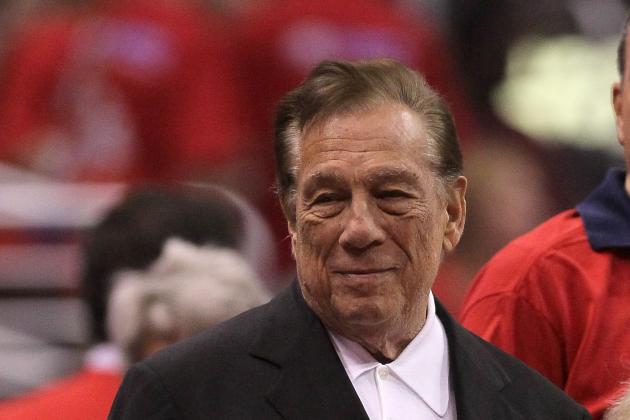 Stephen Dunn/Getty Images

Lesson: Don't Be So Cheap
The Los Angeles Clippers may have an exciting team at the moment, but that doesn't erase the fact they are owned by one of the worst owners in sports, Donald Sterling.
Sterling is terrible. He has a history of being a cheap owner, only lately he's disguised the fact by signing DeAndre Jordan and Blake Griffin to large offers. Sterling is still cheap; he's just done it in a different way. Instead of looking for a new, competent coach, Sterling went cheap and decided to pick up the Clippers' option on Vinny Del Negro. This means Del Negro will be the head coach for another season.
Not only did Sterling bring back Del Negro because it was cheap, he also shorthanded his general manager, Neil Olshey, who brought in Chris Paul. According to the Los Angeles Times:
The Clippers announced on June 1 that they had reached an agreement in principle to retain Olshey. Three days later, he was on the Trail Blazers' payroll.

What happened? Portland owner Paul Allen, the billionaire co-founder of Microsoft, swooped in with a contract offer including more money and more years than a proposal previously made by Donald Sterling, his Clippers counterpart.

Call it Deal 2.0.

Olshey's contract reportedly was for three guaranteed years and $3.6 million, with team options for two additional years. Sterling had offered one year for about $750,000.
Paul is a free agent at season's end. Unless the Clippers make a deep playoff run, expect him to look elsewhere for a new team. Sterling still has an opportunity to prove to Paul he's no longer a cheap owner. Until he does, Clippers' fans should be nervous.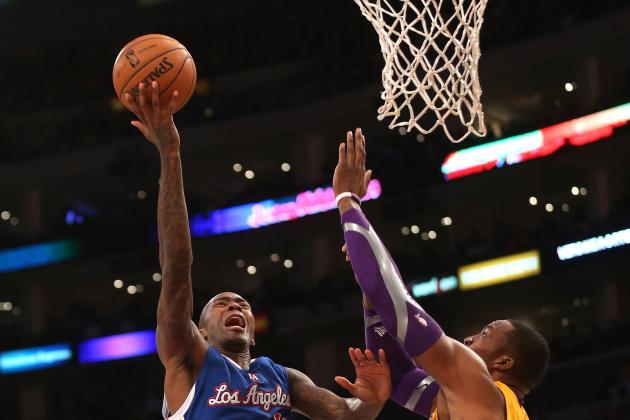 Stephen Dunn/Getty Images

Lesson: Forget About the Offense and Play Defense
We assume the Los Angeles Lakers will eventually solve their offensive issues. A new offense combined with a mixture of new players doesn't equal instant success. The Lakers will experience a learning curve at least for the next few months. By April, the Lakers offense will be fine.
But what about the Lakers defense? This issue is more concerning than the early lackluster offense. The Lakers won't make it out of the Western Conference if they don't stop anybody.
Unfortunately, other than Dwight Howard, the Lakers don't have any elite defenders. Metta World Peace is an above-average defender, but he's a far cry from the defender he was in 2004. Steve Nash, Steve Blake and Kobe Bryant are not great defenders. Bryant has a difficult time staying in front of players now. Like World Peace, Bryant is known as a better defender than he actually is.
In the Lakers' first four games, Howard was a defensive presence but the Lakers still allowed nearly 100 points per game. Head coach Mike Brown needs to figure out a way for the Lakers not to rely on Howard too much. Howard still doesn't look 100 percent, and relying on him too much could result in a long-term problem, especially if Howard reaggravates his injury.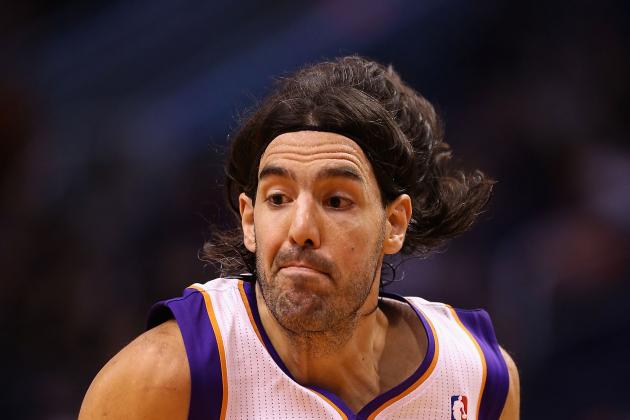 Christian Petersen/Getty Images

Lesson: Learn To Stop Someone on Defense
Through four games, the Phoenix Suns rank near the bottom in points per game, assists per game and points allowed per game. When you allow nearly 11 points more than you score, the results will be an obvious losing record.
Nobody expected much from the Suns this year, but it's still surprising how bad they are on defense. In the Suns' last two games, they have allowed 119.5 points. The Suns have been a bad outside shooting team, which is why it's imperative they stiffen their defense. Teams are scoring on the Suns at will in the paint.
If the Suns don't figure out how to stop somebody on defense, they are going to be a candidate for the No. 1 pick in the 2013 NBA draft.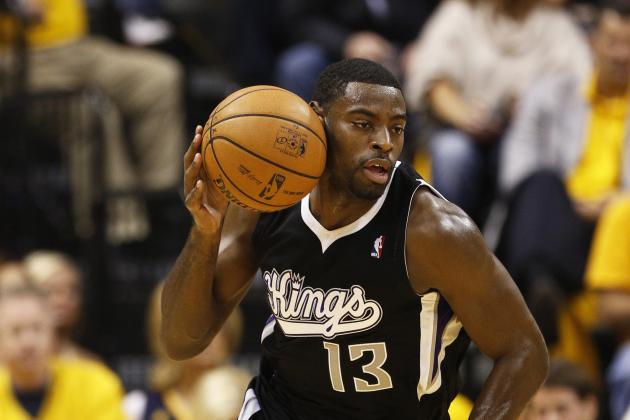 Joe Robbins/Getty Images

Lesson: Trade Tyreke Evans or Once Again Find Him a New Role
Every Sacramento Kings fan's worst nightmare may have been confirmed four games into the new season—Tyreke Evans might just not be good.
Evans started the season on a high note, scoring 21 points in a loss to the Chicago Bulls. In the next three games, Evans shot 21 percent from the field and averaged 7.6 points. Meanwhile, the Kings' other shooting guard, Marcus Thornton, has been a spark plug off the bench. He's clearly outplaying Evans.
The Kings messed up the development of Evans. For a player with so much potential, Evans has become a huge disappointment in Sacramento and it might be time for a new scenery. If the Kings do decide to keep Evans, it may be wise to bring him off the bench. He could flourish in the backup role.