On Saturday nights in Baton Rouge, football isn't played. It is won.
The LSU Tigers have dominated at home when playing on Saturday night in Death Valley. Since Les Miles became head coach in 2005, LSU has a 36-2 record in night games at Tiger Stadium, including Saturday night's loss to Alabama. The other loss was to Florida, 13-3, in 2009.
36-2! That is better than most teams total record over the course of 38 games at home during their best ever stretches of football. LSU had something to play for this past weekend and it had nothing to do with the hatred Tiger fans feel towards that Nick Saban character. Nothing at all.
It was pride of owning Tiger Stadium. That is their land. Their home. Their fans. No one comes into Death Valley on a Saturday night and walks away with a win without having to lose a few teeth.
But when the final seconds ticked off the clock, the roar that could be heard for miles around came to a whispering halt and the largest crowd in Tiger Stadium history went silent. Alabama just flexed their muscles and reminded us that they are still the top team in the country. Still the best in the land. And still the one to beat.
It hurts to type those words. It is tough to give Alabama the credit they deserve for the victory they claimed Saturday night. But they deserve it.
LSU came in ranked No. 5 in the BCS while Alabama was sitting peacefully at the top. The Tiger defense was ranked in the top 5 in the NCAA in Total Defense and Rushing Defense while Alabama was first.
Then there was last season. Any Tiger fan can give you a vivid description of just how it felt to watch the Crimson Tide slaughter the pathetic offense LSU tried to play.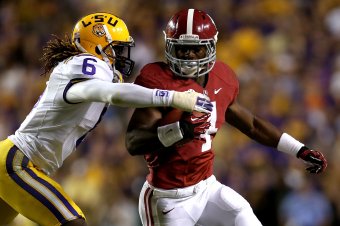 Matthew Stockman/Getty Images
The 2012 BCS National Championship was such a horrific one-sided beating that even Taylor Swift wouldn't be able to write a song about it.
But LSU was ready this time. They had to be, this was it. This was the game to prove that they have moved on from that atrocious beating and were ready to fight again. It was the boxer getting up after everyone told him to just stay down. LSU needed this game to be over and done with so we could all move on with our lives.
And boy did LSU show up. They not only played like champions, they beat the champions that have dominated college football for almost two years now, outside of that game in Tuscaloosa last season but everyone forgets about that one. Ain't I right Alabama?
Tracy Wolfson cracked a joke during a pre-game interview with LSU head coach Les Miles about the Mad Hatter and if he had any tricks up his sleeve. Well, he did. They just didn't work out the way you would have hoped.
First it was the fake field goal. No buena. Then it was a 54-yard field goal attempt from a guy who has a career long of 44. It fell short by about eight yards. Next came the onside kick which took a Tuscaloosa bounce right off the chest of LSU kicker Drew Alleman. Illegal touching, Alabama football near midfield. At this point LSU fans were wondering why but you do not get a name like the Mad Hatter without making some outrageous, albeit, gutsy calls. And let's not forget the wildcat fourth down into a wall of what seemed to be 45 Alabama defensive lineman. LSU actually lost three inches on that play.
But the defense of LSU held every time. Other than the missed 54 yard field goal attempt, not one of those calls led to Alabama points because LSU's defense played to the level everyone expected.
Let's not forget about the LSU offense dominating the top ranked Alabama defense.
LSU dropped 435 yards of offense against a team that hasn't given up 400 yards on defense since November 6th, 2010. And can you guess who the last team to do that? It was LSU.
LSU was also the first team to rush for more than 100 yards against the top ranked rushing defense in college football. They were also the first team to score more than 14 points against an Alabama defense that only allows 9.1 points a game.
But none of that mattered Saturday night because when the Tide were pushed to the edge, future Heisman winner A.J. McCarron answered the call and lead his Crimson Tide to a 43-second, five-play, 72-yard drive which ended with a T.J. Yeldon touchdown and crushed the hopes of dreams of the entire LSU family once again.
That was it. The game was over in a flash of brilliance displayed by the best team in the country. The LSU Tigers lost. They will have to wait until 2013 to get their rematch, and it will be another epic fight, before a raucous crowd of 100,000 screaming fans in Tuscaloosa.
Do I even have to explain why you should be proud of the LSU Tigers? Does it need to be said?
They played the best football we will see them play this season and they fell short. It happens. That is football. Alabama didn't come into Baton Rouge and destroy the Tigers like everyone from the entire staff at ESPN to the savvy dressing guys over at CBS thought they would. LSU fought like Tigers and didn't give up for one second. They played 60 minutes of hard-nosed, Les Miles football.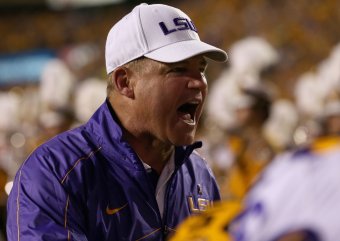 Ronald Martinez/Getty Images
And I am proud to call myself a true LSU fan. I was hurt after the loss, everyone was, but I looked back over the game and saw what truly happened.
LSU has put aside the loss from the BCS National Championship. They reminded the world that the SEC is where football and defense are played. They reminded everyone that LSU is still a force to be reckoned with.
I would hate to be the next team to head into Baton Rouge next Saturday night. Mississippi State is walking into an ambush of retribution and hate still settling in the mud of the Mississippi River. It is almost unfair to the Bulldogs to have to come to Tiger Stadium next Saturday night but it had to happen to someone.
LSU is back and football is still better than ever in Death Valley.