New York Knicks vs. Philadelphia 76ers: Live Score, Results and Game Highlights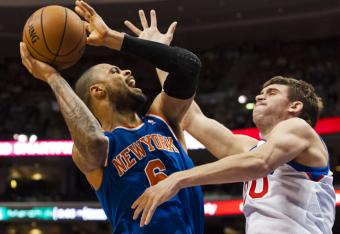 The New York Knicks improved their record to 3-0 by beating the Philadelphia 76ers for the second consecutive night. New York shot 40 percent from three and made all 19 of its free throws.
Carmelo Anthony scored 21 and J.R. Smith chipped in 17, including 10 in the fourth quarter.
Philadelphia, struggling mightily to stop the Knicks shooting and deadly pick-and-roll attack, couldn't find its own offense, shooting just 33 percent from the field. Jrue Holiday led the Sixers with 17, but made just four of his 15 shots.
Philly fell to 1-2 on the year.
Final Score: Knicks 110, Sixers 88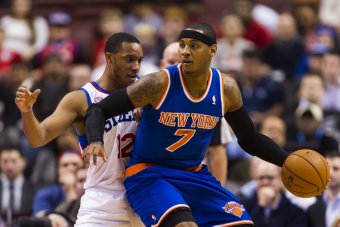 Howard Smith-US PRESSWIRE
Postgame Storylines
Knicks' Offense Looking Unstoppable
In theory, the Sixers are a good defensive team. They earned a playoff berth last season on the strength of Doug Collins' emphasis on stopping other teams. But things didn't look very tough for the Knicks against the Sixers.
New York kept up its hot shooting and despite being outrebounded by a margin of 10, blew the Sixers outs. With a half dozen capable shooters and Carmelo Anthony operating on the block and mid-post area, teams will have to pick their poison when the tangle with the Knicks. Talk about a lose-lose situation.
Sixers' Offensive Drought Continues
Maybe the Knicks really are a good defensive team, but there's a lot of evidence to suggest that the Sixers are going to struggle to score all season long. For the third straight game, Philadelphia failed to crack 90 points. This time around, they put up 88 on 33 percent shooting. Nobody scored 20 and nobody besdies Thaddeus Young (7-for-12) and Kwame Brown (2-for-3) made more than half their shots.
Jrue Holiday can't do it all himself, guys. The Knicks clearly focused on bothering Holiday throughout the contest, forcing four turnovers and a 4-for-12 shooting night. Without Jason Richardson and Andrew Bynum, things aren't going to get any easier for the Sixers' offense.
What Will Philadelphia Do Without Kwame Brown?
That's not a joke. Brown left the game with a strained calf, the same one that's been bothering him all season. With Bynum out indefinitely and Brown ailing, that leaves the Sixers with LaVoy Allen (whom Brown started ahead of tonight) and Spencer Hawes.
Allen went 1-for-7 and is far from a known commodity in the middle at this point. Hawes had a nice start to the season, but he managed just two points in 21 minutes against the Knicks.
Coach Doug Collins already has problems with his team's ability to score the ball. Now it looks like he's going to have issues figuring out how to defend the paint. New York picked the Sixers apart on the pick-and-roll largely because the Sixers' bigs weren't hedging or showing on the Knicks' guards. That's got to change in a hurry, or the Sixers are going to find themselves getting beaten on both ends.
Are the Knicks an Elite Team?
Sure looks like it. With a 3-0 start that includes a big win over the Miami Heat and now two division wins over the Sixers, the Knicks look tough to beat. Once thought to be a mid-tier playoff seed in the East, Mike Woodson has his team gunning for a top-four spot.
What About Amare?
Who cares? It's pretty clear the Knicks are at their best with Melo at the power forward spot. He's just a matchup nightmare for opposing forwards and he creates problems that Stoudemire doesn't.
As long as Stoudemire's out (and the Knicks probably aren't all that eager to see him return, given their excellent chemistry so far), Anthony will continue to operate as the team's devastating offensive focal point.
Knicks fans might not want to hear it, but this looks like a clear case of addition by subtraction.
Final Score: Knicks 110, Sixers 88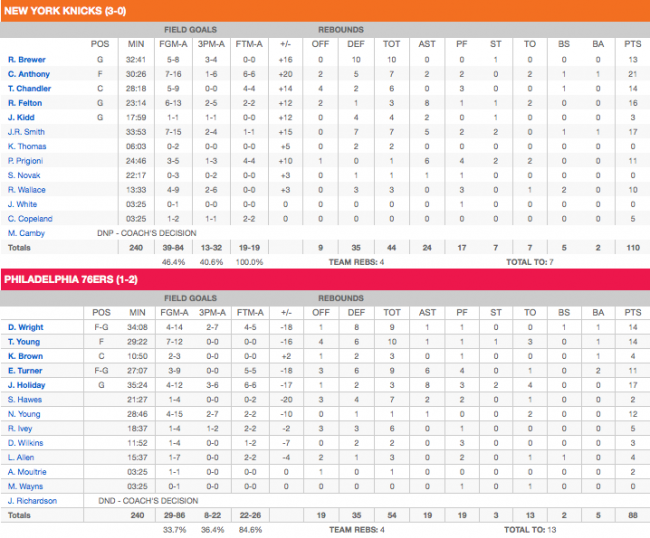 Final Box Score via NBA.com
Things started out rough for the Sixers and didn't get much better as the game wore on. The New York Knicks jumped out to an eight-point halftime lead and cruised the rest of the way, winning all four quarters.
New York shot it well again, hitting 13 of its 32 attempts from three-point land. Seven Knicks reached double figures and eight different players hit at least one three.
Carmelo Anthony led the way with 21 points in just 30 minutes as the Knicks' big lead allowed coach Mike Woodson to rest his star down the stretch.
The Sixers just didn't have enough firepower to stay with the Knicks' offensive attack, but they didn't help themselves by defending the Knicks' pick-and-roll so poorly. Jrue Holiday led Philadelphia for the second game in a row with 17 points.
Knicks Leaders
Anthony: 21 points, 7 rebounds, 2 assists
Smith: 17 points, 7 rebounds, 2 assists
Wallace (just for fun): 10 points, 3 rebounds
Felton: 16 points, 8 assists
Sixers Leaders
Holiday: 17 points, 8 assists, 2 rebounds
T. Young: 14 points, 10 rebounds
D. Wright: 14 points, 9 rebounds
N. Young: 12 points, 1 assist, 1 rebound, 4-of-15 shooting
Final Score: Knicks 110, Sixers 88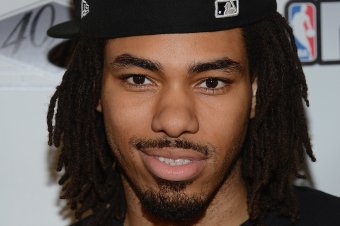 Dimitrios Kambouris/Getty Images
And that'll do it. Somebody named Chris Copeland just hit a three. Knicks are just pulling guys out of the stands now to shoot threes.
Knicks 110, Sixers 88 at end of 4Q
Hidden story of the game: great free-throw shooting. Knicks are 19-for-19, while Sixers have made 19-of-22. Pretty exciting, right?
Knicks 107, Sixers 86 with :37 left in 4Q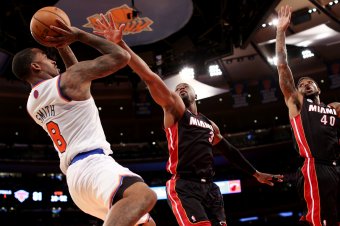 Nick Laham/Getty Images
J.R. Smith sits down after piling up 10 of his 17 points in the fourth. We have firmly entered garbage.
Knicks 105, Sixers 81 with 3:00 left in 4Q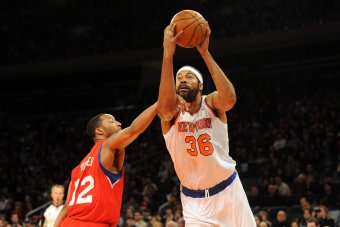 Joe Camporeale-US PRESSWIRE
How many current NBA players have a better one-on-one post game than Rasheed Wallace? Like, three?
Knicks 103, Sixers 79 with 3:45 left in 4Q
Debby Wong-US PRESSWIRE
Apparently, that dunk has knocked J.R. Smith unconscious—in a good way. He's got 14 now and is mugging the Sixers bench after a pair of made jumpers.
Knicks 100, Sixers 79 with 5:10 left in 4Q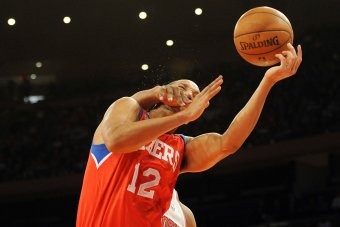 Joe Camporeale-US PRESSWIRE
Sixers are currently outrebounding the Knicks 45-41. I guess the problem is that the Knicks don't need to rebound when they make every shot. Funny how that works.
Knicks 98, Sixers 77 with 7:00 left in 4Q
See, I didn't make the last post up.
JR Smith with the DUNK OF THE NIGHT!

— Knicks Nation (@KnicksNation) November 6, 2012
Knicks 96, Sixers 75 with 7:30 left in Q4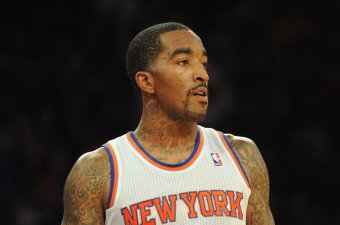 Joe Camporeale-US PRESSWIRE
Look out below! J.R. Smith absolutely crams one on two Sixers after a Prigioni steal. And 1. That, friends, is a highlight.
Knicks 91, Sixers 70 with 8:35 left in Q4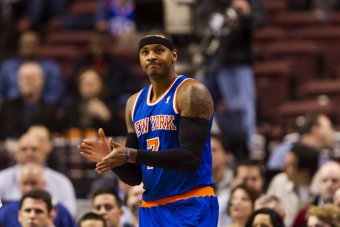 Howard Smith-US PRESSWIRE
The third quarter's in the books and it's been more of the same. The Knicks continue to shoot it well and they've got four players with at least 11 points. Melo leads the way with 21, and he's likely to get a rest in the fourth as the Knicks and Sixers enjoy some garbage time.
Knicks Leaders:
Anthony: 21 points, 7 rebounds, 2 assists
Felton: 16 points, 8 assists, 3 rebounds
Chandler: 14 points, 6 rebounds
Smith: 7 points, 7 rebounds, 5 assists
Sixers Leaders
Holiday: 14 points, 7 assists
Wright: 14 points, 9 rebounds
T. Young: 12 points, 10 rebounds
Knicks 89, Sixers 68 at the start of 4Q
Rasheed buries a contested three to end the quarter. Dagger. Why'd this guy ever retire?
Knicks 89, Sixers 68 at end of 3Q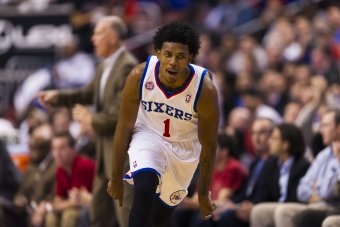 Howard Smith-US PRESSWIRE
Is anyone else excited for some Nick Young garbage time in the fourth quarter? What's the record for field-goal attempts in a game. He's only got 13 so far, but I could see him getting up about 40 in the fourth.
Knicks 84, Sixers 65 with 1:20 left in 3Q
Joe Camporeale-US PRESSWIRE
Now Prigioni is in on the fun. Just drilled a three. He hasn't missed yet from the field. Feels like that's the case for every Knick tonight (and this season).
Knicks 84, Sixers 64 with 1:32 left in 3Q
And...Rasheed hits a three. Why not?
Knicks 81, Sixers 64 with 2:30 left in 3Q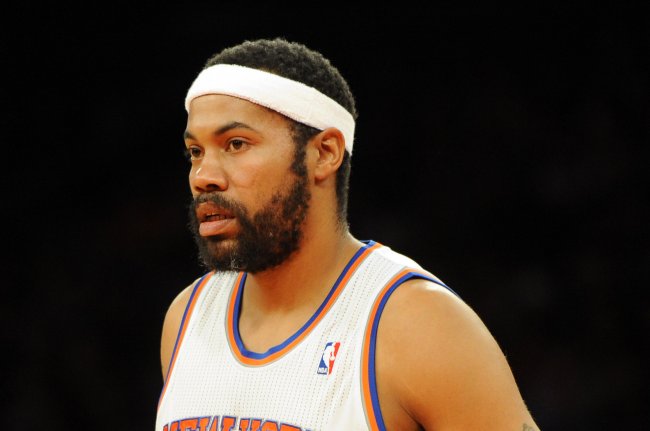 Joe Camporeale-US PRESSWIRE
SHEEEEEEEED!!!!! Philly native Rasheed Wallace checking in to the delight of all involved. You know the game's out of reach when Sheed's logging third-quarter minutes.
Knicks 78, Sixers 58 with 5:00 left in 3Q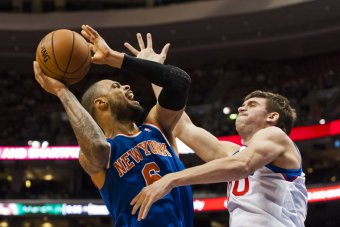 Howard Smith-US PRESSWIRE
You really get the sense that the Sixers wanted this one badly. They're extremely frustrated. Watch out for some potential cheap shots. Chandler is hacked by Evan Turner, as if on cue. Tech for Chandler for shoving Thad Young after the foul.
Knicks 76, Sixers 58 with 5:24 left in 3Q
#SixersTalk Kwame headed to locker room. Grimacing. could be left calf which he strained in preseason

— Dei Lynam (@dlynamCSN) November 6, 2012
That's correct. Telecast says it's a strained calf and Brown won't return. Pretty sure Kwame wouldn't be enough of a help to overcome this ballooning Knicks lead.
Knicks 76, Sixers 56 with 5:49 left in Q3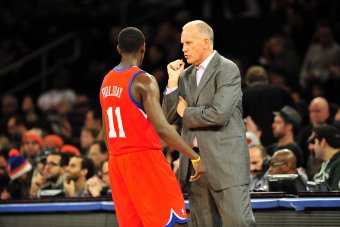 Joe Camporeale-US PRESSWIRE
Hey, Doug Collins, at some point you're going to want the big man to show on the pick-and-roll. What you are doing is not working, sir.
Knicks 72, Sixers 54 with 7:20 left in 3Q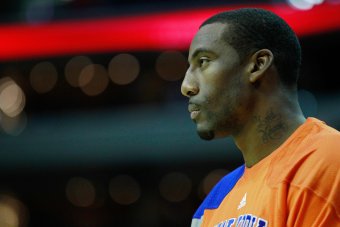 Geoff Burke-US PRESSWIRE
Melo has 19 as Knicks jump out to their biggest lead of the game. Who needs Amare?
Knicks 67, Sixers 54 with 8:15 left in Q3
Kwame Brown heads to locker room 90 seconds into the half with an injury. Hey, if that's what it takes to get Spencer Hawes off the bench, so be it.
News Alarm: Kwame Brown (C - Phi) Kwame Brown heading to locker room with Sixers team physician Dr. Jack McPhilem... NBAAlarm.com

— FantasyAlarm (@FantasyAlarm) November 6, 2012
Knicks 62, Sixers 52 with 10:30 left in 3Q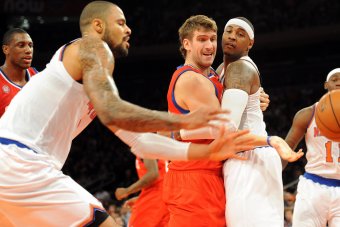 Joe Camporeale-US PRESSWIRE
4-0 Knicks run to start the second half. They're looking to put this away. And also probably want to build a big enough lead so Rasheed Wallace can get some time.
Knicks 60, Sixers 48 with 11:00 left in 3Q
Start of the second half delayed while Philly equipment guys replace ripped net. Insert hot-shooting Knicks joke here.
Knicks 56, Sixers 48 waiting for 3Q to start
Joe Camporeale-US PRESSWIRE
First Half Storylines
Knicks Stay Hot
After shooting the lights out in their previous two contests, the Knicks have kept right on gunning, piling up six more made threes on 13 attempts in the first half against the Sixers. They're generating good looks with solid ball movement and even a few off of secondary options on the pick-and-roll. If New York keeps it up, there's not a lot the Sixers can do to stay in this one.
What on Earth is Wrong with Nick Young?
Don't misunderstand, I'm not implying that Young is usually better than this. It's baffling how the guy keeps gunning in the face of mounting missed-shot totals. He's taken 12 shots—making just four—in only 15 first-half minutes. In doing so, Young has amassed a disgusting minus-14 in the plus-minus department. that's, by far, the worst on the Sixers in the first half. If Collins lets him keep hoisting away in the second half, we'll be asking what's wrong with him.
Sixers Struggling to Get Good Looks
This is a similar story to the one that helped define the last meeting between these two teams. Really, it's also defined the Sixers' season. They're relying on an ensemble cast to get the job done while their star center recuperates. Without a go-to scorer, Holiday has been admirably trying to shoulder the load, but he's doing it without help. Credit the Knicks defense if you want, but it's hard to watch the Sixers struggle to procure good offensive opportunities.
Melo is Good
In his extended cameo as a power forward, Anthony continues to impress. Philly hasn't adjusted yet, and even when they do, it's hard to imagine that it'll be enough to stop the versatile Anthony.
Knicks 56, Sixers 48 at the Start of the Second Half
This article is
What is the duplicate article?
Why is this article offensive?
Where is this article plagiarized from?
Why is this article poorly edited?

New York Knicks: Like this team?