Minnesota Vikings: Why Starting Joe Webb Wouldn't Revive Vikings' Passing Attack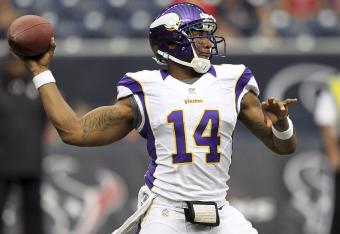 Bob Levey/Getty Images
Minnesota Vikings quarterback Christian Ponder has decided to get into the Halloween spirit a little late by dressing up as Tarvaris Jackson on Sundays for the past three weeks. Well, at least he's been playing like he's been possessed by the spirit of the last Viking "quarterback of the future."
Over the last three games, Ponder has been atrocious at moving the Vikings through the air. To add to a 1-2 record, Ponder has thrown for under 63 yards in two of the last three contests for the Vikings.
Ponder has been unable to keep his poise in the pocket recently and has made extremely poor decisions which have cost the Vikings valuable games in the loaded NFC North.
As Ponder capped his struggles with a 63-yard performance in the Vikings' 30-20 loss to the Seattle Seahawks on Sunday, the rumblings across talk radio in the Twin Cities have been calling for the Vikings to make a radical change and put backup quarterback Joe Webb in as starter.
Once again, the backup quarterback has been proven to be the most popular player on a football team.
Webb is a terrific athlete whom the Vikings drafted as a receiver in 2010, but then-Vikings coach Brad Childress saw something in him similar to when he declared Jackson as his "piece of clay" in 2007. Childress decided to move the 6-4, 220 pound freak to quarterback as his new project as a result.
Webb has gotten limited time in the spotlight, and most notably defeated the Philadelphia Eagles on the road in a snow-delayed game late in the 2010 season.
After a relief performance in Week 13 against Detroit almost lead to a victory and another relief performance in Week 15 lead them to the most costly win in franchise history (Robert Griffin III would look nice in purple right about now.) over the Washington Redskins, Webb has achieved cult figure status in the eyes of some Vikings fans.
Should the Minnesota Vikings bench Christian Ponder in favor of Joe Webb?
With Ponder struggling, some people think the Vikings' fortunes in what is now a must-win game against the Detroit Lions in Week 10 would be significantly better with Webb at quarterback.
In reality, there are simply too many things wrong with the passing game for even Brett Favre to save the Vikings' season.
There's the play calling by offensive coordinator Bill Musgrave that has put Ponder in a protective cocoon as he attempts to get his confidence back. While Ponder has the lowest pass distance in the National Football League by almost two yards, Ponder can't make deep throws if they're not called.
Ponder also won't be able to make deep throws if Brandon Fusco is sitting in his lap moments after the ball is snapped.
The Vikings made an attempt to revamp their offensive line this offseason, but outside of left tackle Matt Kalil and center John Sullivan, the Vikings have struggled to provide protection.
There's also the matter of a lack of playmakers at the receiver position. Percy Harvin has been spectacular in the first half of the season and is a most valuable player candidate if the Vikings can get out of their funk.
After Harvin, though, the Vikings have not been able to find any deep offense from OTA superstar Jerome Simpson, their two-headed tight end monster of Kyle Rudolph and John Carlson, or anybody else for that matter.
In short, the passing game has so many fundamental holes in it that even if Webb rode in on his purple unicorn to save the day, the Vikings still would end up with roughly 60 yards passing. They just are not that talented to air it out.
This is not a defense of Ponder, and it's not a indictment on Joe Webb, either. They both have a chance to succeed if given the right elements around them. That's just not happening right now with the Viking offense.
This article is
What is the duplicate article?
Why is this article offensive?
Where is this article plagiarized from?
Why is this article poorly edited?

Minnesota Vikings: Like this team?