Fantasy Football: Who to Sell High and Who to Buy Low After Week 9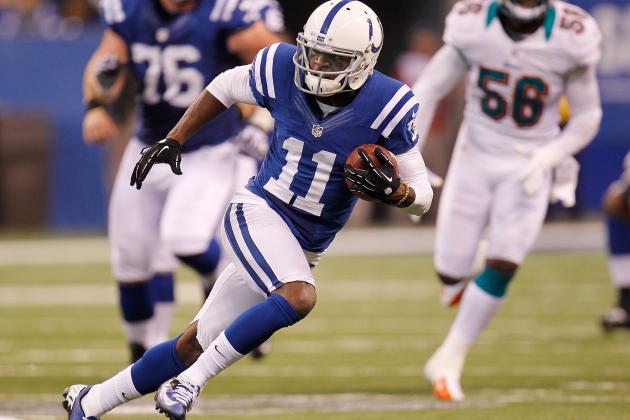 Gregory Shamus/Getty Images

With the 2012 NFL season more than halfway through, fantasy owners need to start adding players that will heat up as the season continues to progress.
This list looks at which players to sell at maximum value and who to snag at a cheap cost. Don't be fooled by big names or past performances, just follow this advice and your fantasy team should be in great shape.
Here are the players to sell high and by low following Week 9.
Begin Slideshow

»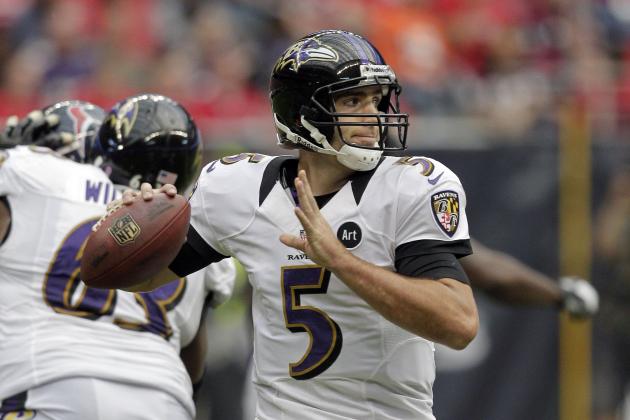 Bob Levey/Getty Images

The fact that Joe Flacco is in his contract year means nothing. Flacco has used 2012 to prove that he is not an elite fantasy player, no matter which players surround him.
Flacco and his Ravens struggled to beat the Cleveland Browns again this season, needing a strong fourth quarter to retake the lead and win by 10. Flacco finished the game with 153 yards and one score, coming in the fourth quarter.
Through eight games, Flacco has thrown for 10 touchdowns, six interceptions and 1,990 yards. He is a decent quarterback, but he doesn't deserve a roster spot on your fantasy team.
Here is how you deal him.
Remind the league that Flacco has a possession receiver in Anquan Boldin and a home run threat in Torrey Smith. He has thrown for at least 3,600 yards and 20 touchdowns in each of his last three seasons and has the weapons to explode at any given time. And since it is his contract year and he was a score away from the Super Bowl last season, Flacco will be more than ready to prove his worth as an elite quarterback.
But the reality is that Flacco is a glorified game manager. He has more sub-200 passing yard games (three) than he does 300-plus yard games (two). His main priority is to pick up first downs and hand the ball off, but his name value makes him a decent fantasy name. Trade him now before the league realizes that he is nothing more than a mediocre fantasy threat.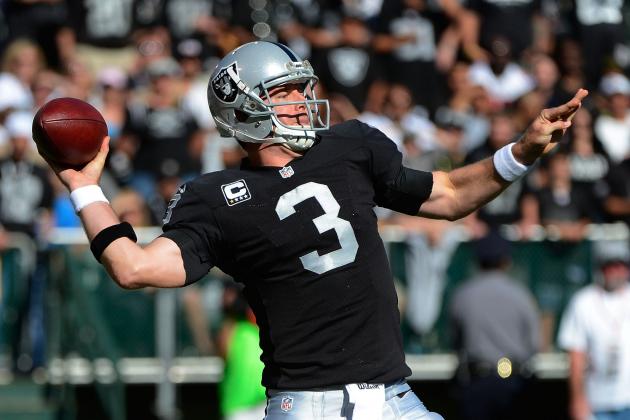 Thearon W. Henderson/Getty Images

Though Carson Palmer can light up a stat sheet as well as anybody in the league, he has yet to be considered a great fantasy player. His stock has certainly been hurt by Oakland's disappoint 3-5 record as well.
However, Palmer is exactly the player you want on your fantasy team. Through eight games, he has quietly thrown 13 touchdowns, eight interceptions and 2,355 yards, but he needs to be added now, when his stock is as low as it will be this season.
Here is how you get him.
Remind Palmer's fantasy owner that he is as inconsistent as they come. He is averaging an interception a game and has coughed up the ball four times, losing two of them. He has a weak supporting cast around him and is prone to bad decision making.
But the reality is that Palmer should explode with the recent injury to Darren McFadden. Palmer has thrown for 295-plus yards in five games and is coming off a 414-yard, four-touchdown performance.
With the Raiders losing their top offensive player, and Palmer having his best game of the season, the time to add him is now. And get him before he proves that Week 9 was no fluke.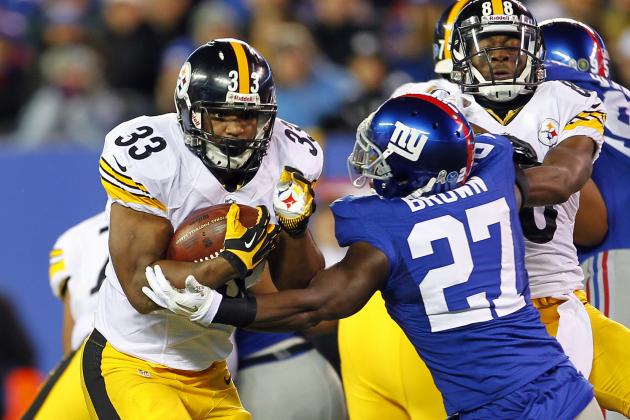 Rich Schultz/Getty Images

While this may sound surprising, as many fantasy owners would be in a rush to add Isaac Redman, don't be fooled by what will be a one-week wonder.
Redman is third on the depth chart, behind Rashard Mendenhall and Jonathan Dwyer. Mendenhall is resting to get back up to form, and Dwyer had two consecutive 100-yard rushing games before missing Week 9 against the Giants.
With the Steelers having an extra day to prepare for the Kansas City Chiefs, Mendenhall and Dwyer will have an extra day to get healthy. And chances are that the Steelers will look to exploit a weak secondary against the Chiefs.
Here is how to deal Redman at his highest value.
Remind the league that he is coming off a 147-yard, one-touchdown game against the Super Bowl champions. Convince the league that his explosion will make him hard to sit for the Steelers even when their top two running backs return. He averaged 5.7 yards per carry last game and is getting more comfortable game after game.
But the reality is that it will be tough for Redman to match his Week 9 production. The Steelers are very talented in the passing game and should have Dwyer back for Week 10. Even if Redman gets a handful of carries, he cannot be trusted to continue his Week 9 trend.
So while Redman may be a quality player, he is not the elite running back that his Week 9 stats make him out to be. Trade him now for some quality veterans that can be trusted down the stretch.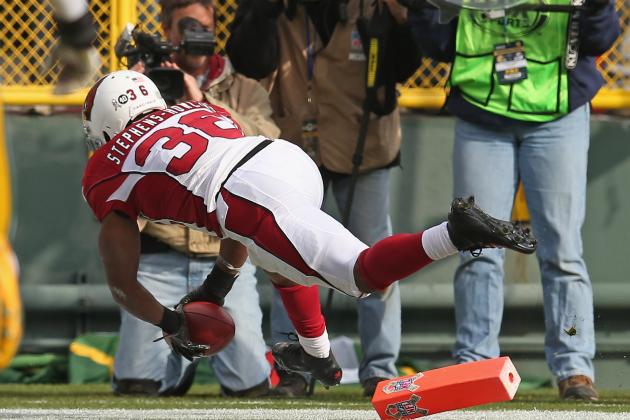 Jonathan Daniel/Getty Images

With Beanie Wells and Ryan Williams out for the Arizona Cardinals, it is LaRod Stephens-Howling, not William Powell, that you want to add to your fantasy team.
With the quarterback situation quite messy in Arizona, the 5'7'' Stephens-Howling is actually a solid bet to have a strong finish to 2012.
Here is how you add him.
Convince his fantasy owner that he is too small to take the physicality of pounding the ball between the tackles. Remind his owner that the Cardinals have Pro Bowler Larry Fitzgerald and first-round draft pick Michael Floyd in the passing game and will utilize their talents. Use the fact that Arizona is 0-5 after a 4-0 start as a reason why Arizona will have to air-it-out as the season continues.
But the reality is that Stephens-Howling is a versatile player who makes the most of his size. He fights for every yard and can explode in open space. The Cardinals will give Stephens-Howling his touches every game and he will make the most of them. After his 51-yard and one-touchdown rushing performance at Green Bay, he is showing that he can be a solid threat for the Cardinals. Grab him now when his cost is minimum.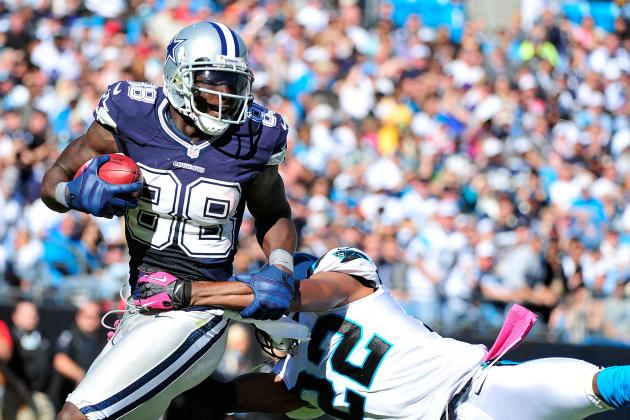 Grant Halverson/Getty Images

While Dez Bryant is as physically talented as they come in the NFL, the sports world knows that his maturity level is another story.
With all of the drama and baggage that comes with Bryant, he was able to get away with it through solid play. However, the past few weeks have been a struggle, and it is a matter of time before Bryant self-destructs.
Here is how you sell him at his maximum value.
Through eight games, Bryant has 42 receptions for 503 yards. He has two 100-yard games and a 13-catch, 98-yard game this season. He has enough talented receivers with him in Dallas to avoid double coverage and has one of the better quarterbacks in the league to throw him the ball.
But the reality is that Bryant is a hit or miss player. He has more games under 18 yards (three) than he does over 100 yards. He also only has two touchdowns, both of which coming in Week 6 against the Ravens. He only caught one pass for 15 yards on his birthday in Week 9 and needs to be dealt when his value is still high.
Bryant may explode here or there because he is a very talented receiver. But he has four fumbles and has not been on the same page as Romo quite a bit this season, which has led to a handful of interceptions. If his inconsistencies continue, a breakdown wouldn't be surprising. Get rid of the mess before it happens.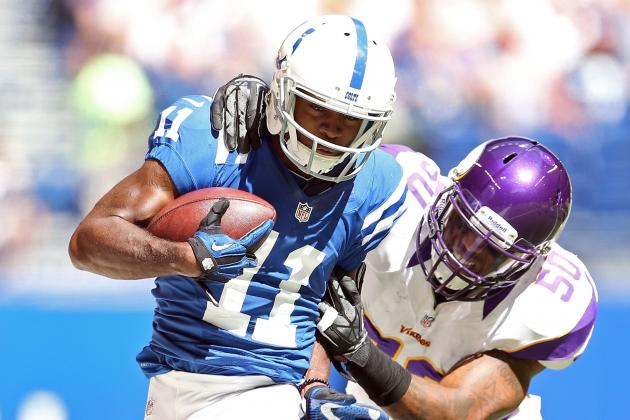 Andy Lyons/Getty Images

Though Donnie Avery left the Colts victory over the Dolphins with an injury, it does not appear to be significant. His play on the other hand is exactly that, significant, and he needs to be added to your roster.
Through eight games, Avery has 34 receptions for 454 yards and a score. While his stats don't look all that impressive, now is the time to add Avery and watch him grow.
Here is how you get him.
Convince Avery's owner that he is just an afterthought in the offense. Reggie Wayne, Coby Fleener and Dwayne Allen are all quality players for the Colts. Convince his owner that his one touchdown decreases his value, as several third-string tight ends have found the end zone once.
But the reality is that as Andrew Luck heats up, it will be Avery benefiting the most. Avery has caught four passes the past three weeks before having his five-catch, 108-yard game against Miami. He also had a nine-catch, 111-yard performance against the Vikings in Week 2.
Wayne will continue to attract coverage and Avery has proven that he is a quality player himself. He is only gaining Luck's trust and confidence and should continue to have balls thrown his way as Luck and the Colts heat up.
Acquire Avery now, when he is still relatively unknown and before he blows up. He has been a work in progress, but he is now ready to go and ready to make plays for Indianapolis.