Predicting the 20 Sickest Throwback Jerseys 10 Years from Now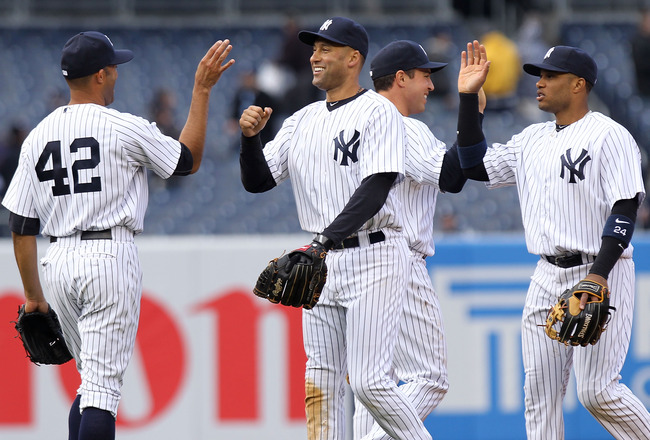 Nick Laham/Getty Images
After watching such young stars like Andrew Luck, Mike Trout, Robert Griffin III and Anthony Davis, one can only wonder as to the long-term potential today's young stars have.
Will Mike Trout catch Barry Bonds as the only major leaguer to hit 500 home runs and steal 500 bases in a career?
Will Luck and RGIII ever battle in a Super Bowl?
Can the New Orleans Hornets build a championship contender around Anthony Davis?
I'm all for wishful thinking; however, as owner of the self-given title of Bleacher Report's official Throwback Jersey Connoisseur, I think our energy is best focused on that sweet, sweet fabric on their backs every game.
From young stars to chiseled future Hall of Famers, here are the 20 best throwback jerseys...10 years from now.
Dishonorable Mention: Ben Roethlisberger, Pittsburgh Steelers (No. 7)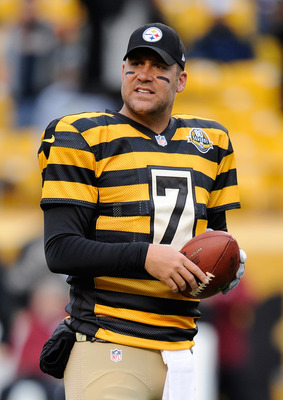 Joe Sargent/Getty Images
Which member of the NFL is responsible for subjecting us fans to this?
Apparently, these uniforms were designed to reflect the uniform of the 1934 Pittsburgh Pirates (NFL)—a superb idea that mirrors a rational decision of the time period: naming the city's NFL franchise the exact same name as their established baseball club.
Personally, I would much rather see the 1970s Steel Curtain uniforms surface again.
Author's note: Being hungover and watching these uniforms move about your TV screen may cause nausea and/or vomiting.
Dishonorable Mention No. 2: Memphis Grizzlies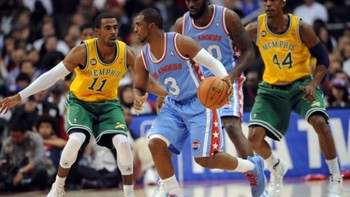 http://www.sportsgrid.com/wp-content/uploads/2012/01/clippersgrizthrowbacks.jpg
While Los Angeles Clippers guard Chris Paul spent the night looking splendid in the Anaheim Amigos throwback uniform, the superstar guard was forced to deal with one of the most hideous color combinations ever conceived by man.
Not only did the Grizzlies wear one of the worst throwback jerseys of all time, they lost the game.
I would personally like to thank the Memphis Grizzlies, however, as they've officially proven that no team will look as good in green and gold as the 2012 AL West champion Oakland Athletics.
20. Michael Vick, Atlanta Falcons (No. 7)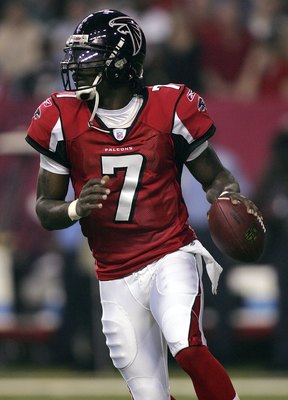 Ronald Martinez/Getty Images
While a horrendous criminal timeline continues to haunt Michael Vick's career, let us not forget that his uniqueness revolutionized the quarterback position and the athletic caliber of the NFL.
Before Vick, we rarely saw athletes like Julius Peppers and Jason Pierre-Paul playing as athletically on the defensive line—an evolution that traces back to Vick's initial breakthrough.
Currently, his troubled past continues to overshadow an apparent lifestyle change after spending two years behind bars.
Ten years from now, people will remember the fact that Vick spent two years off the field, behind bars, then got better after he returned.
19. Roy Halladay, Toronto Blue Jays (No. 32)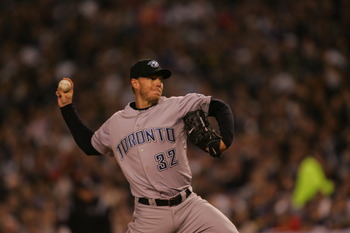 Chris Trotman/Getty Images
Like many of the greatest pitchers in baseball history, Roy Halladay has proven his dominance while calling multiple ballparks "home."
Whether in Toronto or Philadelphia, Halladay has posted consistent numbers year after year while convincing baseball fans that he is one of the best pitchers of the last 10 years.
Since beginning his 15-year career back in 1998, Halladay has recorded 199 wins, including three 20-win seasons.
His most memorable moment came in the 2010 playoffs when Halladay no-hit the Atlanta Braves in the NLDS—the first postseason no-hitter in the last 54 years.
18. Josh Hamilton, Texas Rangers (No. 32)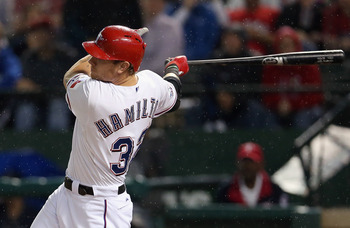 Ronald Martinez/Getty Images
Josh Hamilton has the sweetest swing in baseball, and 10 years from now, there will be no greater way to relive the memories than a Josh Hamilton Texas Rangers throwback.
Currently, Hamilton is a free agent that Texas is willing to let test the market.
One factor on why Hamilton fell on this list is the fact that he landed on another sports list: the Top 10 Most Athletically Successful Drug Users.
17. Rajon Rondo, Boston Celtics (No. 9)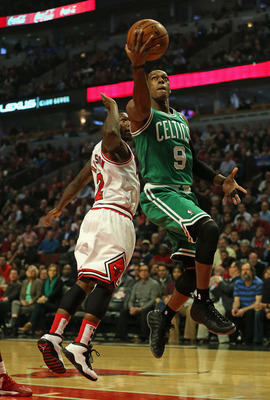 Jonathan Daniel/Getty Images
Rajon Rondo is a few seasons away from becoming the greatest point guard in Boston Celtics history.
There are only a handful of individuals who can don the historic Celtics jersey so well, and Rondo would definitely be a favorite to start on an "All Boston Celtics" dream team.
Rondo recently recorded his 37th consecutive NBA game with 10 or more assists—a feat that Celtic fans won't soon forget.
16. Frank Thomas, Chicago White Sox (No. 35)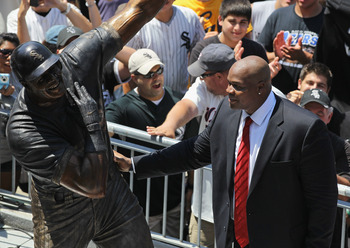 Jonathan Daniel/Getty Images
The "Big Hurt" left Chicago as one of the greatest White Sox of all time after wrapping up his career in Toronto and Oakland.
Nowadays, Thomas spends his time as a businessman selling the always-refreshing Big Hurt Beer.
That's 19 MLB seasons, 521 career home runs and a delicious beer brand all tied to Chicago's South Side.
15. Andre Iguodala, Denver Nuggets (No. 9)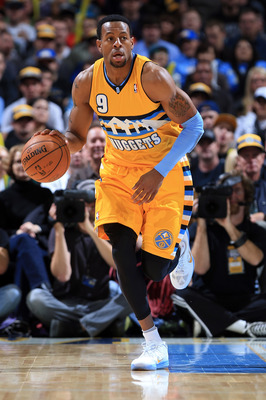 Doug Pensinger/Getty Images
Nuggets superstar Andre Iguodala is playing out his underrated career in an era dominated by superstars.
He mostly lurks in the shadows of his Olympic teammates like LeBron James, Kobe Bryant and Dwyane Wade. However, Iguodala's monster dunks combined with that insane yellow Nuggets jersey will live forever.
All we're waiting for is more YouTube highlights in a Denver uniform.
14. Tom Brady, New England Patriots (No. 12)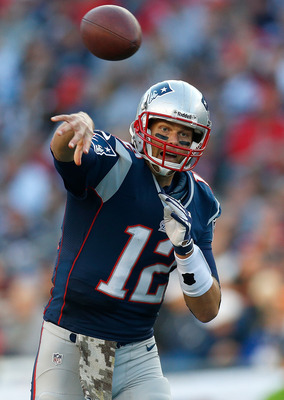 Jim Rogash/Getty Images
Brady has proven that he is one of the greatest quarterbacks of all time at the ripe age of 35. However, his football history is what will be passed down from generation to generation.
NFL Films released a documentary called The Brady 6, a 45-minute film breaking down the six quarterbacks taken before Tom Brady in the 2000 NFL draft.
The film explains how Brady set all-time records for both the slowest 40-yard dash and shortest vertical jump.
Brady knew those records would hurt him in his draft process. However, when he first met Patriots owner Robert Kraft after he was selected 199th overall, his exact words were: "Hi, Mr. Kraft. I'm Tom Brady, and I'm the smartest decision this franchise has ever made."
He was 100 percent correct.
13. Marvin Harrison, Indianapolis Colts (No. 88)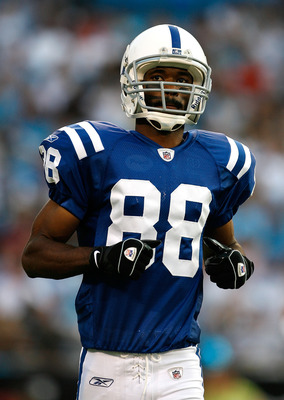 Kevin C. Cox/Getty Images
Indianapolis Colts wide receiver Marvin Harrison is the epitome of a franchise player.
Harrison's game was built on class and loyalty, further proven by the fact that his 13-year NFL career played entirely in Indy.
Harrison's iconic No. 88 thread will never be forgotten by Colts diehards, as the Peyton Manning-to-Marvin connection was one of the most consistent and explosive QB-WR duos in NFL history.
12. Drew Brees, New Orleans Saints (No. 9)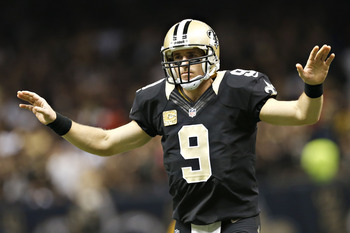 Wesley Hitt/Getty Images
Like Marvin Harrison, Brees is simply a guy you would want to mirror: all class.
Brees could run for mayor of New Orleans whenever his historic NFL career comes to an end after his incredibly uplifting Super Bowl run in 2009.
Brees recently broke Johnny Unitas' NFL record with his 48th consecutive NFL game with a touchdown pass, only to selflessly thank everyone who was a part of it.
''The amazing thing about a record like this is it spans over the course of four seasons, and hopefully we can keep it going to for a while,'' Brees said, per FoxSports.com. ''There are so many people that are a part of this.''
11. Tim Duncan, San Antonio Spurs (No. 21)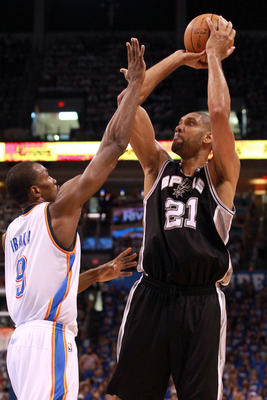 Ronald Martinez/Getty Images
"Mr. Fundamental" Tim Duncan has spent his entire 16-year career with the San Antonio Spurs, taking the Texas team to 13 playoff appearances.
Instead of basking in his four titles, Duncan spends his days off the court working on the Tim Duncan Foundation to help the greater San Antonio community.
Whenever his incredible NBA career comes to an end, basketball fans worldwide will remember Duncan by rocking the legendary No. 21 Spurs jersey.
10. Mariano Rivera, New York Yankees (No. 42)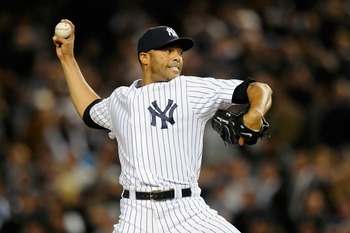 Patrick McDermott/Getty Images
The game's greatest closer is set to return for at least one more season as the MLB's only player wearing No. 42 after tearing his ACL last season.
Rivera is 43 years old and is a first-ballot Hall of Famer once he's done closing games in the legendary Yankee pinstripes.
Only a handful of ballplayers are forever remembered with retired jersey numbers at the baseball museum better known as Yankee Stadium, and Rivera's 600-plus career saves will surely land him a place in history.
9. LaDainian Tomlinson, San Diego Chargers (No. 21)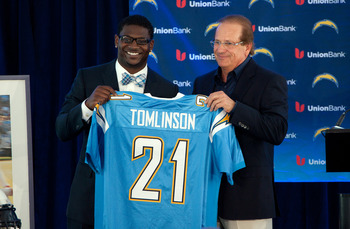 Kent Horner/Getty Images
Famed Chargers tailback LaDainian Tomlinson played 11 seasons in the NFL without a concussion or the need of any surgery—a feat simply unheard of for anyone who got as much attention as LT.
Tomlinson averaged 4.3 yards per carry for his entire career on 3,174 lifetime touches.
LT is simply one of the only bright lights shining in San Diego after the Bolts made just five playoff appearances while Tomlinson was recording his 13,000-plus career yards.
8. Nicklas Lidstrom, Detroit Red Wings (No. 5)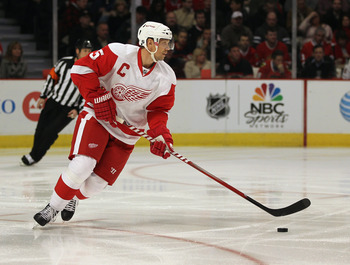 Jonathan Daniel/Getty Images
While Nicklas Lidstrom may not be a late walk-on to Bleacher Report's "Biggest Bros in Sports," the legendary No. 5 will never fade away in Motown.
Lidstrom finished his career in Detroit as a world-class athlete and unanimously the greatest defenseman in the NHL since Bobby Orr.
It's only a matter of time until we get our NHL back, and when we do, the Red Wings can finally hang No. 5 from the rafters at the world-famous Joe Louis Arena in Detroit.
7. Allen Iverson, Philadelphia 76ers (No. 3)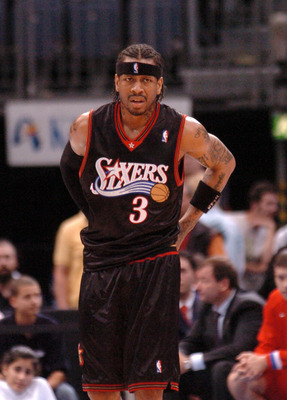 Mansoor Ahmed/Getty Images
"A.I." was one of the greatest players of the new millennium despite never winning an NBA title.
The closest Iverson came to earning an NBA championship ring was in 2001, when his scorching 48 points helped the Sixers take Game 1 from Kobe, Shaq and the eventual champion Los Angeles Lakers.
Iverson finished his NBA career in Denver, Detroit and Memphis before finally retiring in 2009.
6. Brian Urlacher, Chicago Bears (No. 54)
Frederick Breedon/Getty Images
If there's one city in the world that would never let a legend die, it's Chicago.
I am willing to bet that, within the next five years, legendary Bears linebacker Brian Urlacher will have a statue in front of Soldier Field and a steakhouse on Michigan Avenue.
Urlacher has given everything he has to the Bears organization and the fans of Chicago, including playing on the Sunday after his mother unexpectedly died in 2011.
5. Derrick Rose, Chicago Bulls (No. 1)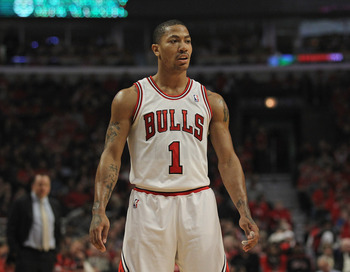 Jonathan Daniel/Getty Images
Meet future Bulls legend Derrick Rose, the NBA's youngest-ever Most Valuable Player.
Rose is one of the single most polarizing players in the NBA today. However, his team is currently playing without the MVP due to an intense long-term injury Rose sustained late last season.
If Rose cannot return to his MVP form anytime soon, Bulls fans will always wonder what success he could have brought the organization.
4. Ken Griffey Jr., Seattle Mariners (No. 24)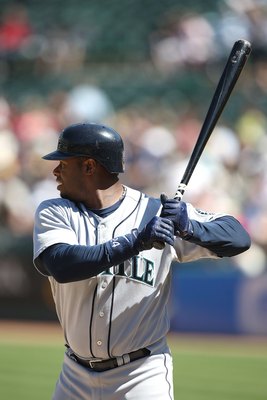 Jed Jacobsohn/Getty Images
Ken Griffey Jr. has perhaps the sweetest swing in baseball history.
While it's easy to glance at the record books and see that "The Natural" was a gifted home run hitter, true Griffey supporters remember his incredible Hank Aaron-esque all-around ability.
All you need to do is ask Ruben Sierra how great Griffey's fielding ability was.
3. Randy Moss, Minnesota Vikings (No. 84)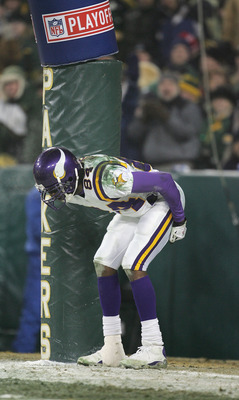 Jonathan Daniel/Getty Images
As owner of an amazing afro and one of the most infamous touchdown celebrations in NFL history, Randy Moss proved himself as one of the greatest wide receivers in NFL history.
While Moss's iconic No. 84 Vikings jersey will never die in Minnesota, you'll surely never see one in Titletown, Wisconsin.
The only thing that is better than watching Randy's highlight film is watching him spew unforgettable catch phrases, homey.
2. The Entire 2003 NBA Draft Class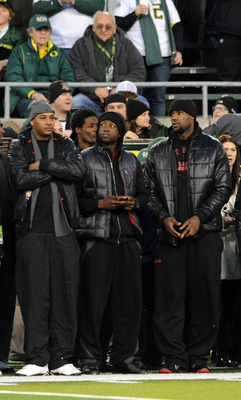 Steve Dykes/Getty Images
Pictured (left to right) is Carmelo Anthony, Dwyane Wade and LeBron James at a University of Oregon football game after visiting Nike Headquarters.
Melo, Wade and LeBron were all taken in the top five of the 2003 NBA draft along with Miami big man Chris Bosh. And, of course, the No. 2 overall selection of Darko Milicic.
Even with Darko, the 2003 draft class ranks among the most lethal groups of all time, and 10 years from now, you'll surely see plenty of their throwback jerseys.
1. Derek Jeter, New York Yankees (No. 2)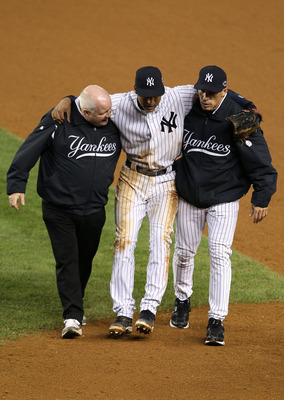 Alex Trautwig/Getty Images
As a diehard Oakland Athletics fan, I don't like Derek Jeter.
Who can forget Jeter's play in the 2001 ALDS when he famously relayed an outfield assist to nail Jeremy Giambi at home plate even though he didn't have to?
Jeter's heads-up play at the plate will always be remembered throughout baseball history, further proving that there is no better team captain in the game of baseball than him.
Jeter has arrived to every day of his 18-year career calm, collected and ready to help his team to victory—the mark of a true leader.
I chose this image of Jeter exiting the 2012 ALCS to remind all Yankee haters (myself included) that Jeter's career is far from over.
Unfortunately for Jeter, "The Hit King" Pete Rose still believes Jeter will fall short of Rose's 4,201 lifetime hits. Currently, at 38 years old, Jeter is 952 hits shy of tying Rose's all-time mark.
@kevry88 on twitter.
Keep Reading