After a 56-20 throttling on the road against an improved Duke team, Clemson is clicking on all cylinders with three games remaining and appears primed for a BCS bowl berth.
With the win, the Tigers moved up to No. 13 in the BCS Standings and No. 10 in the AP Top 25, sitting tied atop the ACC's Atlantic Division with Florida State (Clemson's only loss).
The Tigers have amassed 136 points in their last three games while surrendering only 50. Their defense, which has been much improved in recent weeks, may not have to simply give up less than 45 points for Clemson to win with its high-powered offense.
It appears likely the Tigers will run the table with their remaining schedule (Maryland, NC State, South Carolina).
South Carolina poses the biggest threat, but the Gamecocks will be without the services of star running back Marcus Lattimore after he suffered a horrific injury in a win over Tennessee on October 27. Also, the game will be played in front of the Clemson faithful in Death Valley.
The best-case scenario for the Tigers to reach a BCS bowl game would be FSU falling to either Virginia Tech or Maryland in one of the two contests.
In this scenario, the Tigers would just have to beat Maryland and NC State to earn a shot at the ACC Championship, where they would likely steamroll the Coastal Division winner and earn a second straight trip to the Orange Bowl.
The more likely scenario is that FSU will take care of business, win the ACC crown and reach the Orange Bowl, likely playing against Louisville.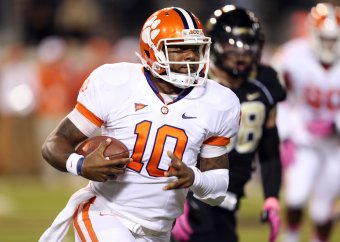 Streeter Lecka/Getty Images
If this happens, the Tigers must win out and look who is ahead in the BCS standings to gauge their shot at a BCS bowl berth.
The top four teams in the standings appear headed for a national title game or BCS game even if they lose a game, so we must look at the other teams in contention.
No. 5 Georgia and No. 6 Florida face tough roads ahead. Georgia will sew up a bid to the SEC Championship Game, but the Bulldogs will likely lose to Alabama. Florida still has FSU on the schedule and would also have a tough time with Alabama if it made it to the SEC title game.
No. 7 LSU could lose to Mississippi State this week, and No. 8 South Carolina faces an uphill battle without Lattimore.
No. 9 Louisville will likely earn the Big East's automatic bid, while No. 10 Florida State looks likely for the Orange Bowl appearance against the Cardinals.
That leaves No. 11 Oregon State and No. 12 Oklahoma. The Beavers still have Oregon and Stanford on their schedule, while the Sooners face four tough Big 12 foes, including West Virginia and Oklahoma State, to close the regular season.
The five teams behind Clemson all have two losses and don't seem capable of passing the Tigers for consideration for the BCS. Nebraska sits at No. 16 and would make the Rose Bowl with a Big Ten title, but this still wouldn't change the Tigers' chances.
It may come down to how marquee of a win the computers consider Clemson beating South Carolina to be.
Do the Tigers have a legitimate shot at a BCS Bowl Berth?
The Tigers could finish at 11-1, but it will be interesting to see if they will be chosen over a two-loss SEC, Big 12 or Pac-12 team.
The Tigers could have added one more marquee nonconference matchup to make their schedule more difficult, but they certainly have played well enough to be considered for a BCS bowl berth.
Minus one bad half against Florida State, this team has found a formula for winning through a high-powered attack led by quarterback Tajh Boyd that scores 42.7 points per game (seventh in the nation).
The defense is far from perfect under first-year defensive coordinator Brent Venables, but it doesn't need to be with the Tigers possessing such a dynamic offensive attack.
With talents like Boyd, running back Andre Ellington and wide receivers DeAndre Hopkins and Sammy Watkins, the Tigers are peaking at the right time and have a shot to surprise people in the BCS picture.