10 Biggest Surprises of the NBA's First Week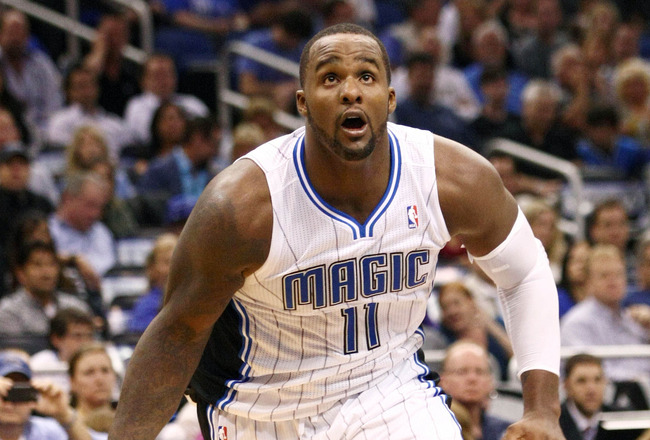 Douglas Jones-US PRESSWIRE
The first week of the 2012-2013 NBA season has now come and gone, and with it, many unexpected surprises.
While some contenders have stumbled coming out of the gate, other presumed bottom-dwellers have gotten off to hot starts.
To go along with team surprises, many players have over/under-achieved as well.
So which players, teams and games have raised the most eyebrows?
Let's take a look at the biggest NBA surprises, Week 1 edition.
Greivis Vasquez Is an Assist Machine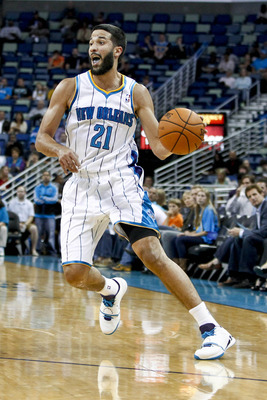 Derick E. Hingle-US PRESSWIRE
Despite playing without star Eric Gordon (again), the New Orleans Hornets have somehow managed to go 2-1 with wins over the Chicago Bulls and Utah Jazz.
They're doing this despite the absence of star rookie Anthony Davis, who was sidelined with a concussion during the team's win over the Bulls. Their other rookie, Austin Rivers, is shooting 20 percent to the tune of six points per game.
So how are they doing this, exactly?
The Hornets' best player has been Greivis Vasquez, whose 9.7 assists per game are good for fourth in the entire NBA.
Also chipping in 13 points and 4.7 rebounds a contest, Vasquez is more than keeping the Hornets afloat for now; he has them in second place in the tough Southwest Division.
Denver Nuggets Sputter to 0-3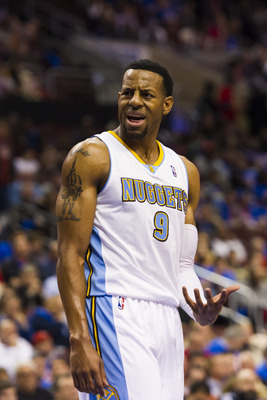 Howard Smith-US PRESSWIRE
A trendy pick to make a playoff run in the Western Conference, the Nuggets now find themselves dead last in the Northwest Division standings.
Defense was a concern going in for Denver, but it's the offense that's really struggled.
Ranked 23rd overall in the NBA with 93.3 points per game, Denver is shooting a lowly 42.7 percent from the field as a team.
Leading scorer Danilo Gallinari is the worst of the bunch. He's posted 25.8 percent shooting despite taking nearly 16 shots per game.
JaVale McGee, the $44 million man this offseason, is currently coming off the bench in favor of Kosta Koufos. As stated, the defense isn't necessarily the issue, but Denver needs to switch their centers and let McGee earn his money as the defensive anchor.
The Nuggets will eventually be fine, but it's certainly not the start they had hoped for.
Atlanta Hawks Beat OKC Thunder Without Josh Smith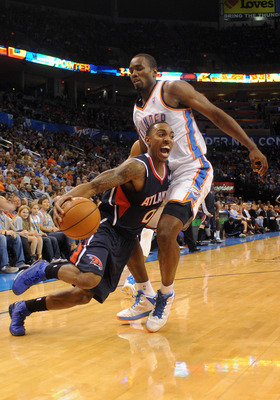 Mark D. Smith-US PRESSWIRE
Atlanta still has a nice group of players after trading away Joe Johnson, but it was the group on the court against the Thunder that made the win really surprising.
Anthony Tolliver, Kyle Korver and DeShawn Stevenson aren't exactly the most intimidating of names.
With star Josh Smith sidelined with an ankle injury, the Hawks appeared to be a huge underdog on the road against the defending Western Conference champs.
Led by Al Horford's 23 points and 12 rebounds, the Hawks shocked the home team, 104-95, for their first win of the season.
Atlanta may not be able to keep up its winning ways without Smith, but for one night they sure didn't seem to miss him.
Mo Williams Looking Like John Stockton in Utah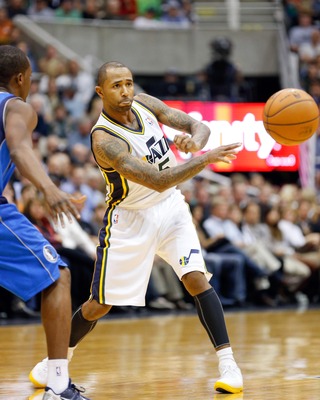 Russ Isabella-US PRESSWIRE
An All-Star during his time in Cleveland with the Cavaliers, Mo Williams has since been a forgotten member on the Los Angeles Clippers' bench.
An offseason trade brought Williams to Utah, his former team that currently had an opening at its point guard position.
Needless to say, Williams is enjoying his second time around with the Jazz.
Ranked 17th in the NBA in scoring, Williams is averaging 20.8 points, 6.8 assists and 1.3 steals thus far.
With so many talented bigs, Utah needs Williams to continue to distribute the ball and score when called upon. His shooting ability from deep should bode well when opponents try to double-team Al Jefferson, Paul Millsap and others in the post.
Kevin Martin May Be NBA's Best Sixth Man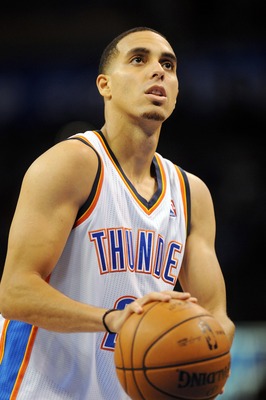 Mark D. Smith-US PRESSWIRE
Kevin Martin has been a good player for a long time now, although he often flies under the radar in the NBA world.
Now with the championship-caliber Oklahoma City Thunder, Martin seems to be enjoying his role as the team's sixth man.
Along with his 20.7 points per game off the bench, Martin is shooting a ridiculous 70 percent from beyond the three-point line. Keep in mind, he's attempting nearly six treys a game.
While the big news may revolve around James Harden's play in Houston, the strong play Martin is giving the Thunder shouldn't be overlooked.
Charlotte Bobcats End 23-Game Losing Streak by Defeating Pacers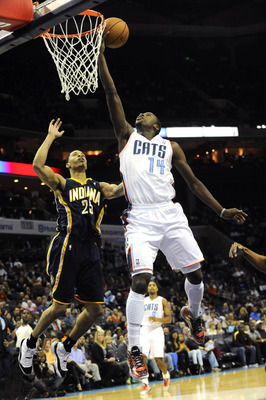 Sam Sharpe-US PRESSWIRE
It's not just that the Bobcats finally won a game, it's who they beat that's surprising.
The Indiana Pacers, likely a top-four seed in the Eastern Conference playoffs this season, were the Bobcats' first victim in nearly a third of a season.
While getting 30 points from Kemba Walker, the new-look Cats disposed of the Pacers, 90-89, in their home opener, conjuring dreams of an 82-0 season.
Charlotte has since reverted to their 2011-2012 form with a 27-point loss to the Dallas Mavericks, but the win over a good Pacers squad should be a cherished one, given that wins can be pretty rare in the Queen City.
Damian Lillard Looking Like an MVP Candidate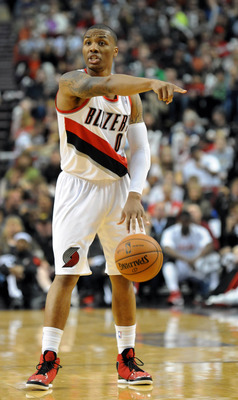 Steve Dykes-US PRESSWIRE
Forget about just Rookie of the Year; Lillard may have his sights set on bigger goals this season.
Leading what was supposed to be a questionable Trail Blazers team to a 2-2 record, Portland already has notable wins over the surging Houston Rockets and reputable Los Angeles Lakers.
In his four games, Lillard is averaging 19.3 points, 3.8 rebounds and 8.0 assists per game as the team's starting point guard.
The sixth overall pick in the NBA draft is making teams that passed on him look rather foolish, as he's by far the best of all the freshmen thus far.
It's still very early, and MVP consideration is probably asking too much, but don't be surprised to see Lillard beat out Anthony Davis for Rookie of the Year.
Orlando Magic Begin Season 2-0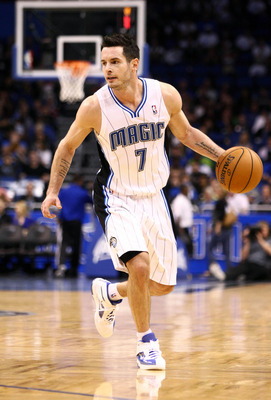 Douglas Jones-US PRESSWIRE
Buried in most experts' predictions, the Orlando Magic have given a big finger to those who doubted their patchwork roster.
Led by Glen Davis, E'Twaun Moore and J.J. Redick, the Magic beat the Denver Nuggets 102-89 to begin the season. Yes, E'Twaun Moore helped lead Orlando to a win over a good team.
An equally impressive 114-95 win over the Phoenix Suns bumped the Magic to 2-0, but it was who didn't play that made the win that much more significant.
Both Jameer Nelson and Hedo Turkoglu missed the game for the Magic, leaving Moore and DeQuan Jones to start in their place.
Second-year forward Nikola Vucevic also started and scored 18 points to go along with 13 rebounds.
Keep in mind the 2010-2011 Cleveland Cavaliers started 7-9 and were competitive for a while in their first year without LeBron James before going on to lose 26 straight games later in the year.
Enjoy the ride, Magic fans. You never know how long it will last.
James Harden Is the Best Player in the World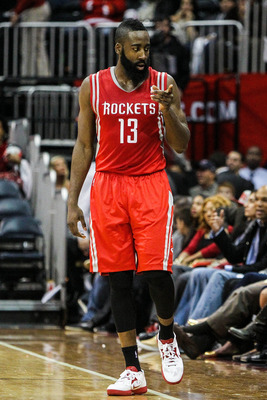 Daniel Shirey-US PRESSWIRE
Okay, so maybe that's a bit of a bold statement, but he has been the best player thus far this season.
Averaging an astonishing 35.3 points, 6.3 rebounds, 6.3 assists and 1.7 steals per game, Harden has led the Rockets to a 2-1 start this season.
While it's unlikely those stats will keep pace throughout the season given his high minutes thus far (41.7), it's not unreasonable to think Harden could lead the league in scoring.
With few proven scorers on Houston's roster, Harden shouldn't have to compete for shots and should have free reign on offense with Jeremy Lin.
It's reasonable to have expected a breakout season from Harden after his trade to Houston, but no one could have seen these kind of statistics from The Bearded One.
Los Angeles Lakers Start Season 0-3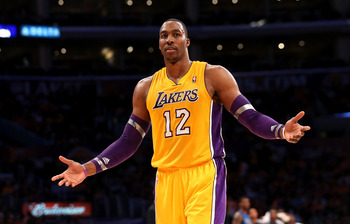 Stephen Dunn/Getty Images
Possibly the biggest team under the microscope this season, the Lakers fell flat on their collective face to begin the 2012-2013 season.
For a team with a goal to go 73-9, they've certainly got their work cut out for them.
Playing a Dallas Mavericks team sans Dirk Nowitzki at home, Game 1 was supposed to be an easy one for Kobe Bryant and crew.
Instead, L.A. missed 19 of its 31 free throws while the aging Elton Brand, Shawn Marion and Vince Carter led Dallas to a win.
Dropping the next two games to the Portland Trail Blazers and Los Angeles Clippers meant an 0-3 start for L.A., its worst start since 1978.
The Lakers have since won their first game of the season against the Detroit Pistons to improve to 1-3, but it's obvious things are far from normal in La La Land.
Keep Reading