4-star running back and Alabama commit Tyren Jones has suffered a knee injury, but this is not something that should impact his commitment to the Crimson Tide.
Michael Carvell of ajc.com reports on Jones' situation:
Running back Tyren Jones, who has committed to Alabama, was diagnosed with Grade 1 MCL knee injury on Saturday and will miss at least two weeks.

The 5-foot-8, 192-pound Jones suffered the injury in the first half of Walton High School's win over Etowah on Friday.
While it's never a good sign to see a running back go down with a knee injury, the good news is that it's just a Grade 1, and he's not expected to miss a huge amount of time. Two weeks for a knee injury is actually good news, considering how much worse they have the potential to be, so this shouldn't have much of an impact on his recruiting process, especially since he's already committed to Alabama.
Carvell also reported that Jones' coach, Rocky Hidalgo, hadn't heard from Alabama yet in regards to the injury (at least at the time of the report):
Walton's coach said on Saturday that he hasn't heard yet from Nick Saban or Alabama's coaches yet about Jones. "They've got their hands full with LSU; they've got a lot going on with the season, and I don't expect to hear from them anytime soon."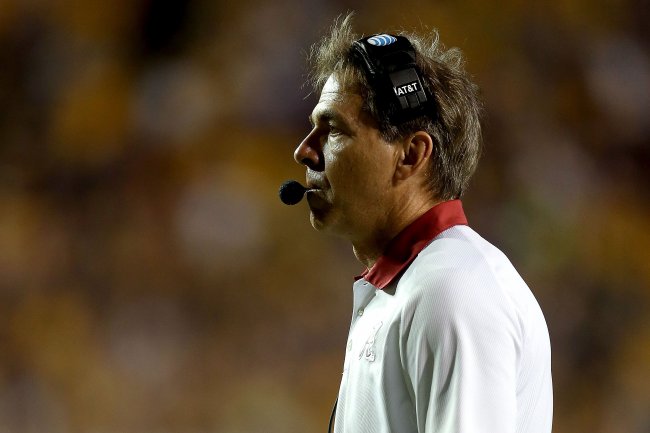 Matthew Stockman/Getty Images
This is a case of no news being good news. If this was something for Saban or his staff to really worry about, they would have undoubtedly at least called Jones' coach right away to see what the status of their recruit was.
The fact that they didn't immediately reach out points to them considering this to be a minor blip on the radar.
Should 'Bama be worried about Jones' injury?
Even though they were undoubtedly preparing for their big showdown with LSU, recruiting is important enough to garner immediate attention if needed, and dedicated members of the Alabama's recruiting staff would have reached out had there been a legitimate concern.
Coach Hidalgo's nonchalant attitude towards hearing from the Alabama staff also points to him not feeling to concerned about this injury and how it could impact his player's recruiting status.
It's never good when a player goes down with an injury, especially a knee injury, but there doesn't appear to be anything major to worry about with Tyren Jones.
I don't see this injury impacting his commitment to Alabama in any way.