15 Fighters the UFC Must Bring in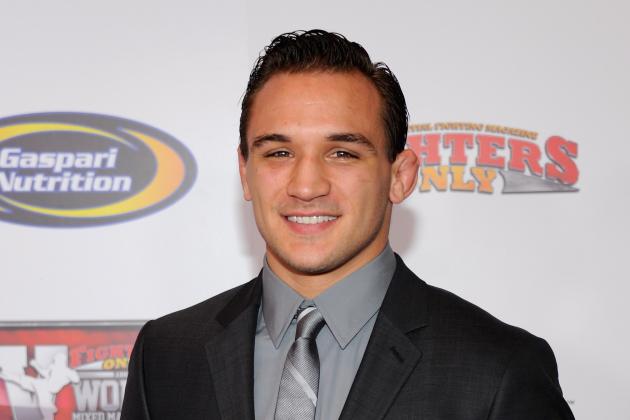 Ethan Miller/Getty Images

With the UFC roster loaded heavily with established, aging stars of the sport, it's time for them to consider bringing in a new wave of eager and hungry talent to round out the roster of every division.
In a sport where a lot of the fanbase seems to suffer from attention deficit disorder, it would certainly give them a jolt with some fresh, new and exciting fight possibilities.
Many of the fighters on this list have been climbing strong in organizations outside of the UFC and are ready to step in immediately and offer relevant and elite level fights with many, if not all, of the UFC fighters in their respective weight classes.
There has been much talk and speculation about the state of Strikeforce and where their best fighters should be. Due to the fact that it is already owned by UFC parent company Zuffa, all Strikeforce fighters, including the elite like Daniel Cormier, Josh Barnett, Gilbert Melendez, Luke Rockhold, Nate Marquardt, Ronda Rousey, Gegard Mousasi and Ronald Souza have been left off this list intentionally.
I have also left off fighters who have had recent stints in the UFC, but for one reason or another, were released from the promotion. Fighters that have proven they have the skill to compete with success, but have had problems outside the cage that led to their release. Names such as Anthony Johnson and Nate Marquardt fit this description and are not on this list.
Here are 15 fighters the UFC must bring in.
Begin Slideshow

»
Record: (12-3)
Weight Class: Bantamweight/Featherweight
Current Organization: One FC
Bibiano Fernandes is one of the elite bantamweight fighters in the world, and the UFC negotiated with him before he decided to sign on with One FC. He definitely beats to his own drum, and in making his decision, he chose family and career control over the prestige of the UFC.
With the UFC having a tough time generating traction and followers for the lighter weight classes, all elite fighters and matchups need to be explored to the fullest. Fernandes would add some very interesting and exciting fights to the mix at bantamweight and improve the depth of the division.
Record: (14-1)
Weight Class: Lightweight
Current Organization: Bellator
Former United States Olympic team Judoka Rick Hawn has evolved nicely into a well-rounded fighter in his career in MMA. He has participated in two Bellator Lightweight tournaments with much success. Surprisingly, the elite-level grappler has nine knockouts in his 14 career wins.
Hawn isn't getting any younger, and wins over Ricardo Tirloni, Loyd Woodard and Brent Weedman have set him up for a shot at Michael Chandler and the Bellator Lightweight title. If Hawn can upset Chandler or put on an entertaining war, it should pave the way for him to end his career in the UFC.
Record: (7-2)
Weight Class: Heavyweight
Current Organization: Free Agent
Todd Duffee has already fought in the UFC and brought some intrigue and excitement to the heavyweight division. He gained a flash knockout over Tim Hague in seven seconds at UFC 102 and then lost to MIke Russow in one of the most exciting fights at heavyweight in 2010.
The 26-year-old out of AKA in California then got unceremoniously released from the promotion due to a disagreement over injury compensation and hasn't been back since. He bit off more than he could chew in his next fight against Alistair Overeem in the Japanese promotion Dynamite, but Duffee has a lot of room to grow. Depth in the division is always an issue, and Duffee belongs in the mix.
Record: (11-2)
Weight Class: Lightweight
Current Organization: Score Fighting Series
Jesse Ronson is quickly becoming one the most feared lightweight fighters in Canada and is currently on a six-fight win streak. His most notable victories in that stretch are over Tony Hervey and Alex Ricci. Ronson's last loss was to current TUF participant Mike Ricci, and Ronson isn't afraid to mix it up with anyone in his weight class.
The Adrenaline Training Center fighter trains daily with fighters who are already veterans of the UFC, and his striking is on par with many of them. His next fight is already scheduled for later this month, as he will step up and face veteran Ryan Healy in SFS 7. A dominant win could open the door for him to sign in the UFC.
Record: (17-1)
Weight Class: Featherweight
Current Organization: Bellator
Patricio "Pitbull" Friere has long been thought of as one of the most exciting and dangerous featherweight fighters in the world. Friere has participated in two Bellator featherweight tournament's to much success, making it to the finals in season four, where he lost a split decision to Joe Warren.
Friere took a second shot at the featherweight tournament in season six and won the whole thing, defeating Daniel Strauss via decision. He was scheduled to get his shot at champion Pat Curran at Bellator 73 in August, but Curran was forced out by injury. Friere could compete with many of the featherweights currently on the UFC roster.
Record: (12-2)
Weight Class: Featherweight
Current Organization: Score Fighting Series
Roufussport trained featherweight Rick Glenn is dominating some very tough opponents in the Score Fighting Series and looking to make a name for himself as he does it. The 23-year-old has used his reach, cardio and dangerous frame to get dominant victories over Tristan Johnson and Lyndon Whitlock in his last two times in the cage.
The wins made Glenn look like a man among boys, and it is time for a step up for him in the very near future. Glenn is itching and searching for that step up, as he has called out former IFL and WEC star Chris Horodecki after both of those wins. Glenn is fairly young, but I think he would give anyone at 145, outside of Aldo and a few others, a very tough night.
Record: (22-5)
Weight Class: Welterweight
Current Organization: Bellator
Douglas Lima is an exciting power puncher and jiu jitsu player who has been beating very high-level competition for a couple of years now. The Brazilian, who now trains out of ATT in Atlanta, is 10-1 in his last three years, with his only loss coming against tough wrestler and Bellator welterweight champion Ben Askren.
Lima has since bounced back and just defeated Jacob Ortiz to get it back on track, and it is time to get in the UFC mix and compete with the best 170-pound fighters in the world. He already has wins over former UFC fighters Ben Saunders and Terry Martin and a tough loss to Matt Brown. The UFC welterweight division is tough and deep, but Lima could step right in and compete with many outside the top ten.
Record: (25-4)
Weight Class: Middleweight / Light Heavyweight
Current Organization: KSW
Polish Fighter Mamed Khalidov belongs in the UFC, fighting against the best in the world. At 32 years of age, it is a surprise to many that he hasn't already signed with the promotion. He seems to prefer the comfort of fighting at home in Poland under the KSW banner. Even though he has not fought in the UFC to date, Khalidov has faced and defeated many UFC veterans and elite-level fighters in his career such as Jorge Santiago, James Irvin, Matt Lindland and Rodney Wallace.
Khalidov would do well at 185 pounds in what I believe is the weakest division in the UFC. He is set to face Melvin Manhoef in KSW in December.
Record: (30-12)
Weight Class: Welterweight
Current Organization: Bellator
It has been almost three years since Paul Daley took an ill-advised post fight swipe at Josh Koscheck at UFC 113 and was released from the promotion. Daley has gone 7-3 since then outside the UFC, and even though president Dana White has stated it won't happen, a second chance may be in order. It will have to wait a while, as he is currently involved in the Bellator Season 7 welterweight tournament. He is pegged as an early favorite to win and get a shot at Ben Askren.
Daley is an exciting power puncher who brings a polarizing personality to the sport that generates interest in his fights. You either want to see beating up or getting beat up, and that is the perfect tonic for success in the UFC. There are many exciting and intriguing matchups for him once his time in Bellator is done.
Record: (18-9)
Weight Class: Heavyweight
Current Organization: World Series Of Fighting
The UFC is always on the lookout for elite and relevant heavyweights, and Arlovski has climbed himself back into this category with a three-fight win streak and a no contest in his last four fights. Despite an unsuccessful time in Strikeforce, the 33-year-old former champion should be motivated for one last run against some of the best in the world before he rides off into the sunset.
Arlovski has power and personality, and if he can keep his head and game plan straight, he is a threat against many of the heavyweights in the world. Guys like Dave Herman, Matt Mitrione, Cheick Kongo and Pat Barry would all have a tough time against The Pitbull.
Record: (46-7)
Weight Class: Middleweight
Current Organization: Bellator
The Russian middleweight is currently on a nine-fight winning streak that includes wins over Brian Rogers, Vitor Viana and Ikuhisa Minowa. His last loss was a five-round unanimous decision loss to Hector Lombard. Shlemenko earned his rematch with Lombard by winning the season five tournament, but Lombard left and signed with the UFC before that fight could happen.
Shlemenko is now set to fight for the Bellator middleweight title again against season six winner Maiquel Falcao. His ability to absorb punishment and persevere for the win is Nogueira-like and has gained him many fans throughout the world of MMA. A rematch with Lombard would be an excellent entry into the UFC.
Record: (10-0)
Weight Class: Welterweight
Current Organization: Bellator
Say what you want about how entertaining or not Askren's game is, the 10-0 fighter has not been touched in his time in the cage. His style is a very tough one to watch at times, but he will not be forced to evolve and round out his game until he steps up to the competition in the UFC.
I was there live in his last fight against Douglas Lima, and I thought going in that Askren was going to get knocked out. Instead, he dominated Lima and rendered him virtually defenseless against his takedowns and battering from the top. Many people in the building were upset and booing Askren, but personally, I was more frustrated with Lima and his inability to force Askren to mix it up.
The Bellator welterweight champion needs the challenge that comes with facing the very best in the world. He seems unbeatable by anyone outside the UFC, and for his own good, it is time to see how he would do inside it.
Record: (24-3)
Weight Class: Lightweight
Current Organization: Bellator
Eddie Alvarez is currently one of the most sought after free agents in the world of mixed martial arts, and both Bellator and the UFC are said to be negotiating for his services. According to Sherdog.com, Alvarez has stated that he needs to take care of his family first and that he will use this opportunity to go to the highest bidder.
Alvarez has long been considered one of the best fighters outside the UFC, and if he really wants to stamp his place as one of the best lightweight fighters in the world, he must take his talents to the UFC. There aren't many popular fights left for him in Bellator, unlike the UFC, where there are so many match ups that the fans would be excited to see.
The fans drive the demand that lines the pockets of the fighters, and many would be extremely disappointed if they never get a chance to see Alvarez compete against an Anthony Pettis, Donald Cerrone or Gilbert Melendez caliber of fighter.
Record: (17-4)
Weight Class: Featherweight
Current Organization: Bellator
This piece seems like a raiding and indictment of the Bellator roster, but in fact, it is quite the contrary. The fact that Bellator has contributed to developing many of these fighters so they are ready to fight in the UFC is a compliment of the highest order. Bellator is a major league promotion doing great things for fighters, but the truth remains that the majority of the best fighters in the world fight in the UFC.
Featherweight champion Pat Curran is a monster and champion who is good enough to compete with the very best in his weight class. His last fight was an utter destruction of Joe Warren earlier this year, and he is getting set for his first title defence against Patricio Friere. Curran is a large 145-pound fighter, and his striking and range set up his entirely lethal game.
The lighter weight classes of the UFC need more top fighters, and Curran is as good as it gets.
Record: (10-0)
Weight Class: Lightweight
Current Organization: Bellator
Twenty-six-year-old Bellator lightweight champion Michael Chandler shocked the MMA world a year ago when he defeated Eddie Alvarez in one of the best fights of the year. Chandler and Alvarez went back and forth and were both hurt before Chandler was able to seal the deal.
His well-rounded, aggressive and entertaining style in the cage combined with his classy persona outside of it is the perfect mix and example for young fighters to follow. Chandler is undefeated and has faced the likes of Alvarez, Patricio Friere and Akihiro Gono in his young career and is already thought of as one of the best in the world.
Chandler is set to defend his title for the first time against tournament six winner and fellow fighter on this list Rick Hawn on a date that is yet to be confirmed.
Dwight Wakabayashi is a Featured Columnist for Bleacher Report MMA and guest blogger for Sportsnet.ca.
Follow him on Facebook and Twitter @wakafightermma