NBA Power Rankings: Weekly Rookie Report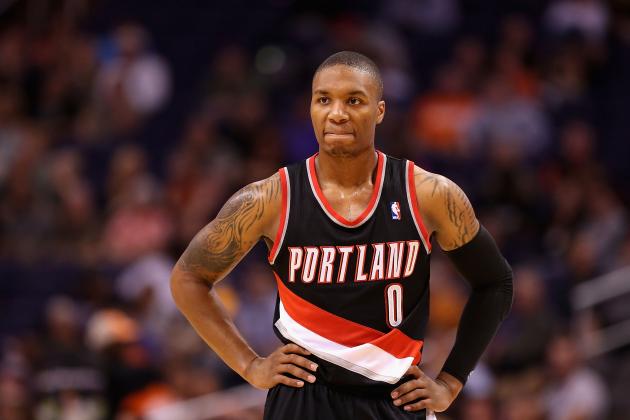 Christian Petersen/Getty Images

The NBA has a fresh group of rookies that are injecting new life into a league that—outside of the top five teams—was sometimes somewhat stale a year ago.
Rookies, and watching their progress, gives casual fans a reason to tune into some of the league's worst teams.
Why else would someone that doesn't usually follow the Cleveland Cavs or Washington Wizards tune in to their opening night game other than to gauge the progress of rookies Dion Waiters and Bradley Beal?
Rookies give hope to middling teams and fans alike.
Here is my first weekly progress report on the top rookies in the league.
Begin Slideshow

»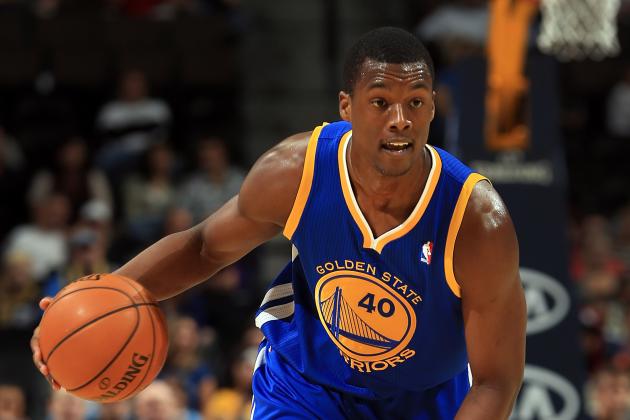 Doug Pensinger/Getty Images

Harrison Barnes was one of the most highly touted high school stars ever to enroll at North Carolina. In an unprecedented twist, Barnes was named to the preseason All-America team before even playing a game.
Barnes had a solid if unspectacular career with the Tar Heels. He showed excellent range and solid athleticism, but never really had the ability to create his own shot.
Now with Golden State, Barnes is not being asked to be the focal point of the offense, and that seems to suit him just fine. The Warriors have Stephen Curry, Andrew Bogut and a number of other players that will see their number called before Barnes does.
Even so, Barnes' ability to knock down the deep ball frees up the middle for the bigs and penetration from Curry.
Barnes has been doing his job, hitting 40 percent of his shots from three, and 50 percent from the field.
The one discouraging sign for Barnes is the fact that he has had five fouls in each of his last two games. But once he calms down and lets the game come to him on the defensive side, that number will come down.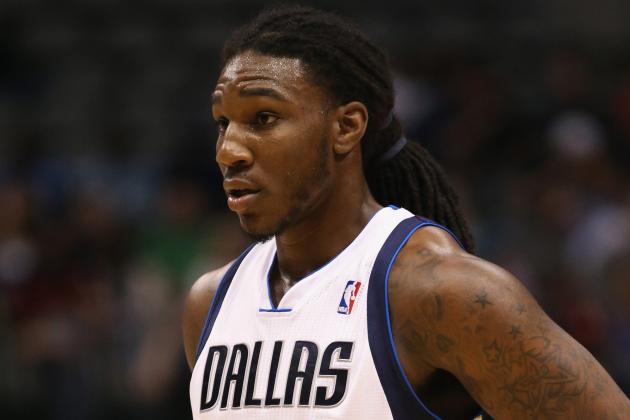 Ronald Martinez/Getty Images

Slashing forward Jae Crowder has been a model of efficiency so far this season, which is a rarity for a 22-year-old rookie.
In 64 minutes, he has a total of one turnover. He also is shooting nearly 42 percent from three-point range and is scoring over eight per contest.
Defensively, he has been solid, but he needs to continue to learn the tendencies of offensive players. Right now, it appears that he is playing off of his physical ability. And while he is very athletic, he will need to develop his instincts if he wants to take the next step in his development.
He also needs to improve his mid-range game, as his shooting from the floor is only around 43 percent.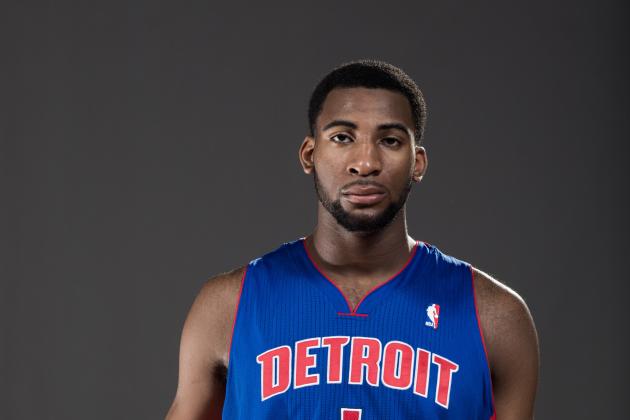 Nick Laham/Getty Images

Andre Drummond might already be the best rebounder on the Detroit Pistons roster. Defensively, he is without a doubt the best shot-blocker.
That's the good news.
The bad news is that Drummond's offensive game is incredibly raw and his instincts and footwork are not where they need to be. As of now, the only chance he has for points is through put-backs and alley-oops.
Additionally, the Pistons coaching staff seems to be afraid of pairing him with Greg Monroe, a move that seems obvious to nearly everyone. This is a defensive beast and Monroe struggles on that end of the court and would benefit from Drummond playing alongside him.
Look for more growing pains from Drummond this year, but that shouldn't deter coach Lawrence Frank from giving him heavy minutes.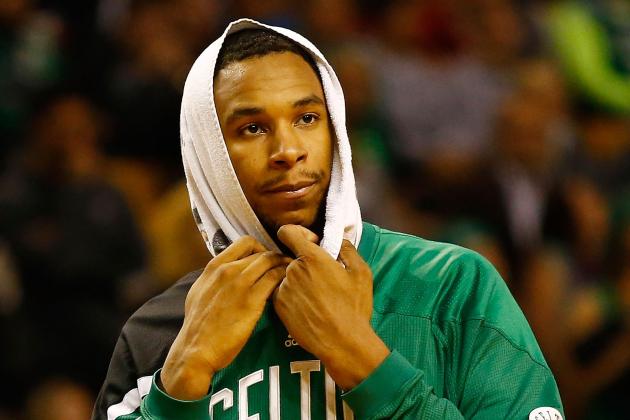 Jared Wickerham/Getty Images

Jared Sullinger could not have landed in a better situation than Boston.
Sullinger is a smart player with an advanced low-post offensive game, great passing ability and lower body strength that will serve him well on defense.
The Celtics are a veteran team looking for a long sustained playoff run and added depth up front.
So far, Sullinger is off to a slow start. He is grabbing a solid amount of rebounds (seven in each of his last two games) and only one turnover total this season. His personal fouls are somewhat high, but that is to be expected of young guys.
The next step will be to become more active on the offensive side of things, and use his passing ability. Thus far, he doesn't have an assist.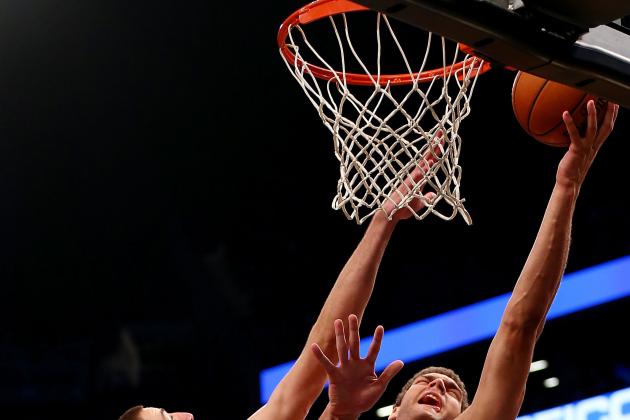 Alex Trautwig/Getty Images

Jonas Valanciunas started out the year looking pretty promising. He had a double-double in his debut with 12 points and 10 boards to go along with a block.
But his production has tailed off in his last two games, scoring a total of six points with seven boards.
He has a few things going for him. First, he is active and challenges nearly every shot. He also has solid rebounding instincts and has a balanced offensive game.
But he also is rail thin, and that will prove problematic against bigger frontcourt players. He also commits too many fouls and is not shooting the ball particularly well to start the year (33 percent from the field).
Once he calms down and settles into a role with this team, he should have a very good season.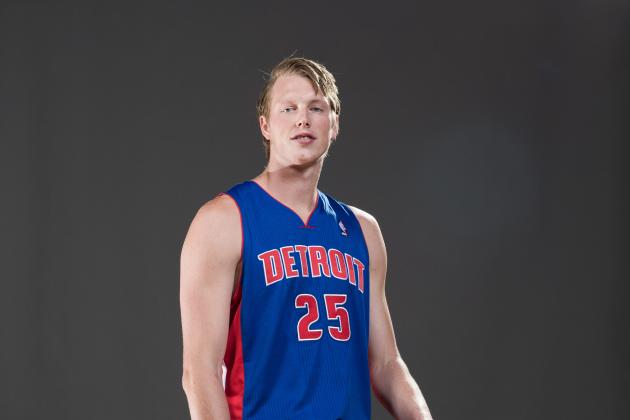 Nick Laham/Getty Images

Kyle Singler, Detroit's second-round pick a year ago, finally landed in the NBA after a year abroad playing in Spain.
And luckily for Detroit, he was worth the wait.
The book on Singler coming out of Duke last year was that he was a winner with below average athleticism, range and defensive ability. He played with great smarts and intensity, but he might not have the ability to play at this level.
So far, Singler has been quite a surprise for Detroit. He is quicker and stronger than he was in college and has much better range, knocking down 57 percent of his three-point attempts.
He also only has three turnovers in 66 minutes in three games. He still needs to get better at rebounding, but so far he has looked impressive in limited minutes and is certainly benefiting from the injury to Corey Maggette.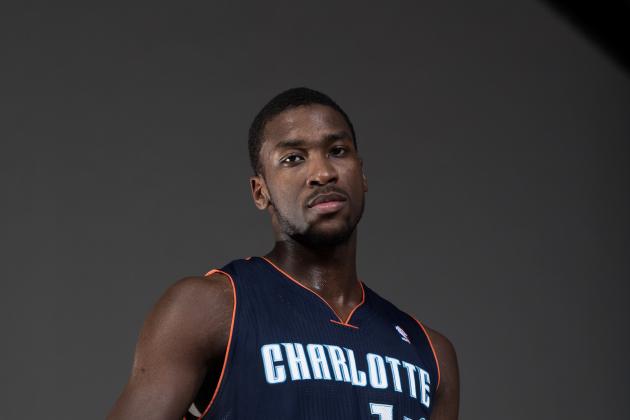 Nick Laham/Getty Images

Okay, full disclosure here. I really love this kid's game. He is a charismatic leader that plays defense with a level of intensity that few can match.
Kidd-Gilchrist still needs to develop more facets of his offensive game as he currently is mainly a slasher that will struggle with his outside shot. In fact, he has yet to attempt a three-pointer this year.
But so far his defense looks good, as evidenced by his five steals against Dallas against only one personal foul.
Kidd-Gilchrist still has a long way to go, but he looks good so far.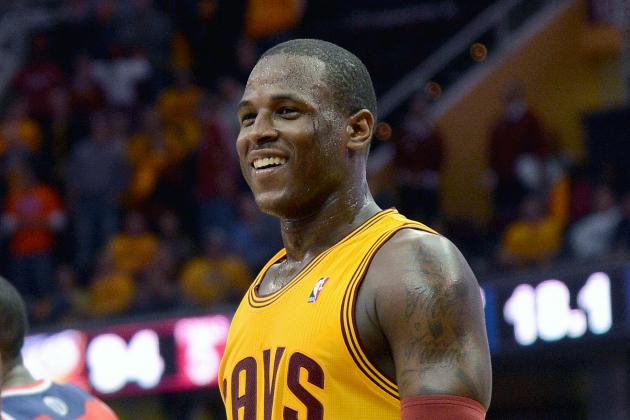 Jason Miller/Getty Images

When Dion Waiters was drafted, fans were calling for him to get the starting gig. However, most assumed that C.J. Miles had done enough during the preseason to hold off the young guy. But lo and behold, there was Waiters in the starting lineup on opening night against the Wizards.
Waiters certainly had his rookie moments, but overall looked very impressive. He can score in a number of ways and has more athleticism and quickness than some had thought.
He easily outplayed fellow rookie Bradley Beal, scoring 17 points in the victory.
In his subsequent two games, Waiters has somewhat regressed, averaging only 10 points over those two games.
Waiters is shooting better from deep than most thought, hitting 44 percent so far. He still needs to improve his mid-range game and his defense, but the sky is the limit for this kid.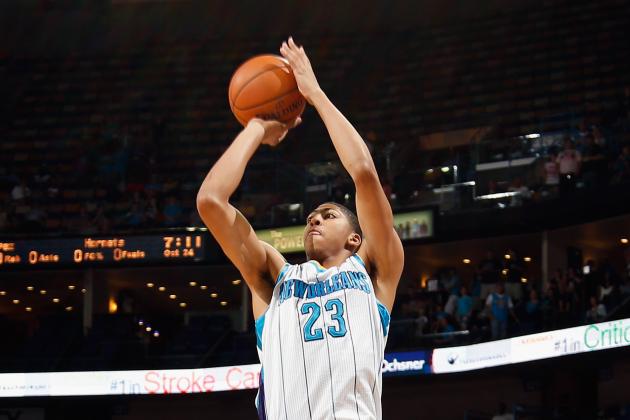 Chris Graythen/Getty Images

In his first game in the NBA, Anthony Davis was lined up opposite of Tim Duncan. Davis reminds some people of Duncan, so it was curious to see the two matched up against one another.
Although the Hornets eventually lost, Davis more than held his own against a revitalized Duncan, scoring 21 points and grabbing seven boards.
When Davis entered the league, he was viewed as a defensive stopper with the potential to eventually have a solid offensive game. But he already has the makings of a good post game and the intelligence and instincts to get to the next level.
While Davis no doubt would love to have Duncan's type of career, his game and style resembles a young Alonzo Mourning more than Duncan.
In his second game, Davis sustained a concussion that forced him to miss his next game. Otherwise, he would be a lot closer to No. 1 on our list.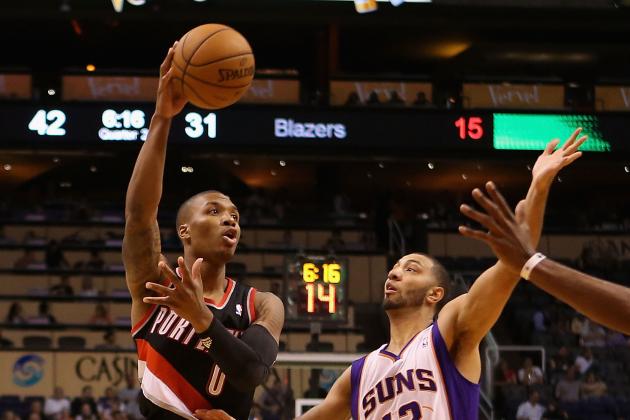 Christian Petersen/Getty Images

Damian Lillard is far and away the best rookie so far in this class.
Some questioned how quickly Lillard would adjust to the NBA game given his small-school background. But Lillard looks like a natural point guard that can score at will and create for his teammates.
What is most impressive is how easy it looks to him. He plays the game with a quiet ease that tells the league that he is in control and running his squad better than most can.
Right now, he is leading rookies with 21.3 points and nine assists per game. He's also shooting 47 percent from the field and just under 38 percent from beyond the arc.
Lillard calls to mind a young Rod Strickland but with a better shot. This kid could become scary good.