10 NBA Players Poised for a Huge Opening Month of the 2012-13 Season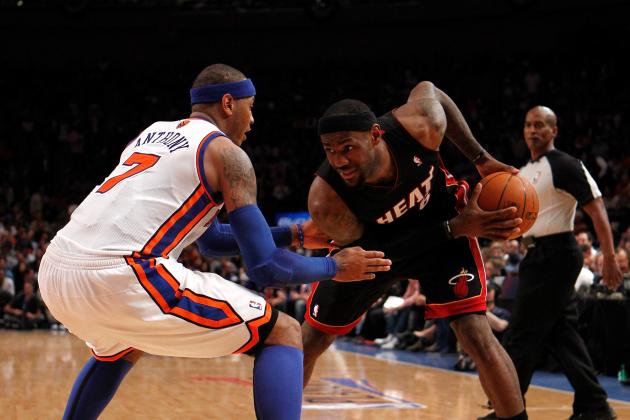 Jeff Zelevansky/Getty Images

Awards and trophies aren't won in November in the NBA, though there's no better time than the present to lay the foundation for a phenomenal 2012-13 season. The first week of action has seen no shortage of jaw-dropping, show-stopping performances from stars old and new around The Association, some borne of pure talent and others served up by circumstance.
Injuries, organizational shakeups, contract-year pushes and natural progression have played into some of the league's most intriguing early-season success stories and figure to foster strong starts for those still standing. Teams like the Orlando Magic, the Milwaukee Bucks and the New York Knicks have looked surprisingly good to start, though quick returns to Earth in each case may be in order before long.
Even if their most productive players keep plugging away at the box score, night after night, these 10 guys will reward those diehard hoop heads eager for fall 'ball with plenty of theatrics in the Month of the Turkey.
Begin Slideshow

»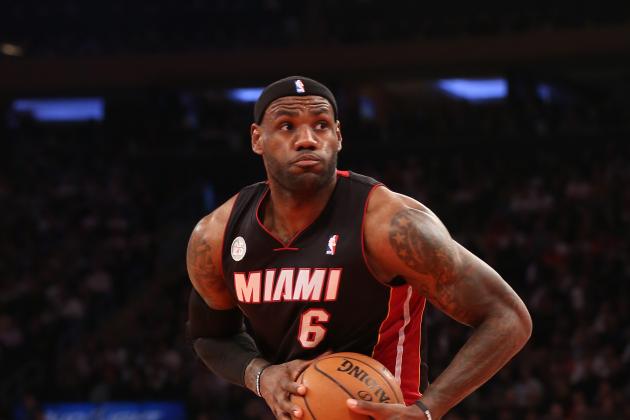 Nick Laham/Getty Images

I suppose a big month for LeBron James wouldn't exactly be enough to stop what few presses are still printing newspapers in this country. After all, James has been the league MVP in three of the last four seasons and went on a basketball bender this past spring that'd make Gary Busey blush.
What, then, would constitute a needle-moving month for King James? How about what he's put together so far—23 points, 8.7 rebounds and 6.3 assists? His attempts from the field, from three and from the free-throw line are all down significantly so far, though to his credit, his accuracy is up across the board.
Keep in mind, too, that he saw only 29 minutes of game time in the opener against the Boston Celtics on account of leg cramps but still managed to pile up 26 points, 10 rebounds and three assists.
A near-triple-double at the expense of the Denver Nuggets could be a harbinger of things to come. LeBron should have his way with the league this week when his Heat take on the Phoenix Suns, the Gerald-Wallace-less Brooklyn Nets and the Atlanta Hawks sans Josh Smith.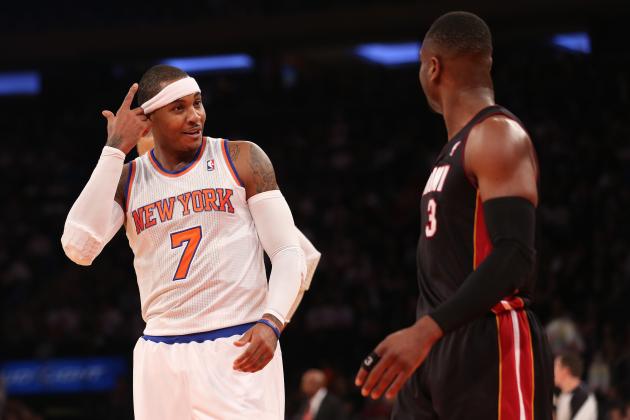 Nick Laham/Getty Images

Strange as it may seem, LeBron's been shuffled to the back burner in the early going, with longtime "rival" Carmelo Anthony stepping to the fore.
Not by accident, of course. Anthony's been the center of attention ever since his New York Knicks opened their season by taking James' Heat out behind the woodshed and showing them what for. 'Melo finished that game with 30 points (including 16 in the first quarter) and 10 rebounds.
His ascension as a focal point in the basketball world is nothing new, though doing so in such a positive way may seem foreign for a superstar who's been so oft-maligned of late. With Jeremy Lin joining the Houston Rockets and Amar'e Stoudemire sidelined by a knee injury, the spotlight at Madison Square Garden is Anthony's alone for the first time since he first joined the Knicks in March of 2011.
Tough to argue with the results so far—28.5 points, 7.5 rebounds, strong defense, hustle on both ends of the floor and two convincing wins over Eastern Conference playoff teams.
Anthony's success so far seems to stem, at least in part, from the comfort of playing alongside Jason Kidd and Raymond Felton, along with an improved understanding of how to get his shots within the flow of an offense.
Whatever the case may be, 'Melo's on the march, and figures to stay that way until STAT returns in December.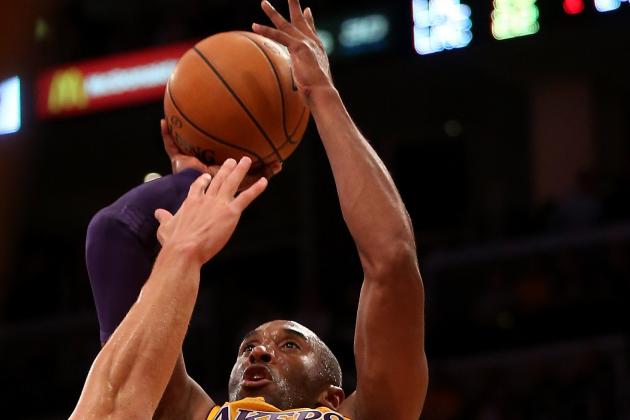 Stephen Dunn/Getty Images

Speaking of superstars often regarded as ball hogs, have you seen what Kobe Bryant's done so far this season?
Lost amidst the Los Angeles Lakers' Chicken Little-like 0-3 start (and subsequent shellacking of the Detroit Pistons) is the way the Black Mamba has been tearing the Association to shreds.
Not that Bryant's averages—26.8 points, five rebounds, three assists—would indicate as much. Those are hardly departures from his career numbers.
What's impressive, though, if not outright astonishing, is the efficiency with which he's putting the ball in the basket. So far, Kobe's shooting 59.7 percent from the field, 52.9 percent from three and 94.7 percent from the free-throw line, all of which would stand as career-highs by a mile-and-a-half if they were to stand up for the rest of the season.
Chances are they won't, though it's worth noting that his shots are coming easier than they have in quite some time, thanks in no small part to Dwight Howard demanding defensive attention in the middle for the Lakers.
Then again, if Kobe's shooting this well with a badly strained foot, a lack of inside looks and an offense that was uneven at times during the first week of the season, imagine how well he'll play once he heals up and his teammates get on the same page. In the meantime, he'll have his run of the joint until Steve Nash returns from a fractured fibula.
No wonder the Mamba's now talking about playing until he's 40.
Tom Pennington/Getty Images

The San Antonio Spurs sport the best record in the NBA, and Tony Parker is playing like an MVP.
What else is new?
The fleet-footed Frenchman opened the season with clutch shots in consecutive games—a go-ahead three against the New Orleans Hornets and a game-winner (preceded by an equalizing three) against the Oklahoma City Thunder.
His overall numbers (20.3 points, nine assists, 2.7 rebounds) aren't too shabby, either.
The Spurs have benefited tremendously from Tim Duncan's Ponce de Leon-like performance, though it seems a stretch to expect him to put up 20-10 games consistently at the age of 36. They've also seen but 16 minutes from Manu Ginobili, who figures to shuffle between street clothes and jerseys this season, as he has in recent years.
Parker, then, will once again be counted on to serve as the central constant who can carry the Spurs to the best record in the Western Conference for the third time in as many tries.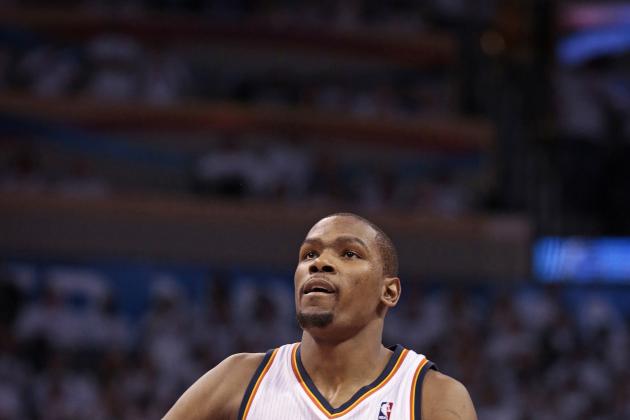 Brett Deering/Getty Images

Kevin Durant could do little more than watch as Tony Parker nailed that dagger (while Russell Westbrook was lost in space) to beat his Thunder on Thursday night.
The adjustment to life A.H. (After Harden) has been none too easy for OKC, though Durant has done his part to pick up the slack. With Westbrook fluctuating between Good Russ and Bad Russ, Durant has taken up the mantle of stuffing the stat sheet (14.3 rebounds, 6.7 assists), albeit at the expense of his scoring (22.7 points on 16.3 shots).
Not that Kevin's point production won't pick up as the season progresses. If anything, the three-time defending scoring champ should see fit to fill it up per usual once the reality of a Beard-less future truly sets in.
And if Durant can continue to crash the boards and distribute the ball at this rate, don't expect to hear much more about him being a one-dimensional superstar. Playing four of his next five against the Toronto Raptors, the Detroit Pistons (twice) and the Cleveland Cavaliers should help in that endeavor.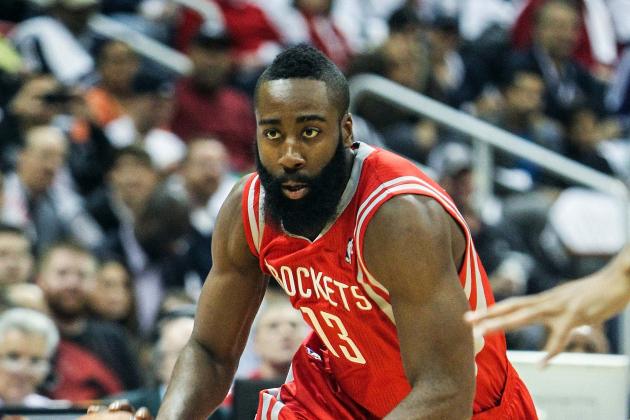 Daniel Shirey-US PRESSWIRE

Meanwhile, it's difficult (if not impossible) to see the success of James Harden's rumspringa with the Houston Rockets and not think he made the right move. There was no way the Thunder were ever going to extract full value from him on their roster, nor would Harden have ever had the opportunity to play to his full potential alongside Durant and Westbrook.
At least not to the extent that he has so far. Harden's 35.3 points per game are tops in the NBA by a country mile and are bested only by the fact that he's piled them up on 52.9 percent shooting from the field.
Not that The Beard's been perfect for the Rockets. His 4.7 turnovers are a bit disconcerting, and his most recent performance—24 points on 8-of-24 shooting against the Portland Trail Blazers—seemed to suggest that he'll come tumbling back from the stratosphere to some extent.
Nonetheless, Rockets GM Daryl Morey looks like a genius for swiping a potential All-Star from a Western Conference power. Harden will be hard-pressed to put up 35 points a night, even on a Houston team that needs him to score.
But if he can be a 20-plus-point guy and continue to contribute, say, 6.3 rebounds and 6.3 assists (as he has this season), then Harden should have more than a Western Conference Player of the Week or two about which to brag as the schedule progresses.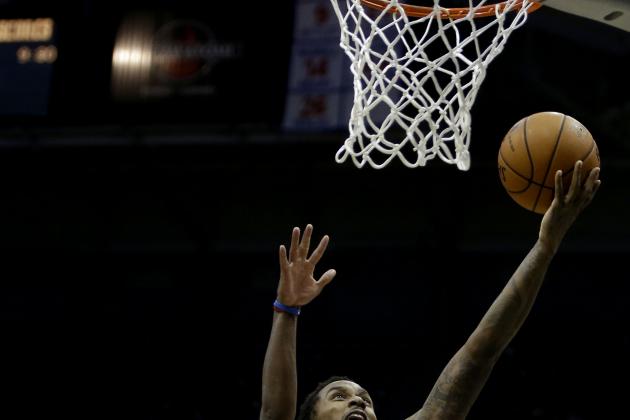 Mike McGinnis/Getty Images

As for the season's first Eastern Conference of the Week honor, that went to Brandon Jennings. The flat-topped point guard has been running off unadulterated "F You" mojo ever since the Milwaukee Bucks declined to extend his deal beyond this season.
That's left Jennings playing for a contract, which he's done to tremendous effect so far. His supposedly-lowly Bucks are 2-0 and sitting atop the Central Division after blowing out the Boston Celtics (in Boston!) on Friday and surviving a scare against the Cleveland Cavaliers on Saturday.
Thanks in no small part to Jennings. He outplayed Rajon Rondo in the opener—21 points, 13 assists and six steals for Jennings; 14 points, 11 assists, three steals for Rondo—and dropped another 13 dimes in a duel with Kyrie Irving that he closed out with a three at the buzzer.
Upcoming tilts opposite Mike Conley, Jr., Rondo and Jrue Holiday will be anything but cakewalks for Jennings, though on the whole, Milwaukee's November schedule should be friendly to his pursuits at the point.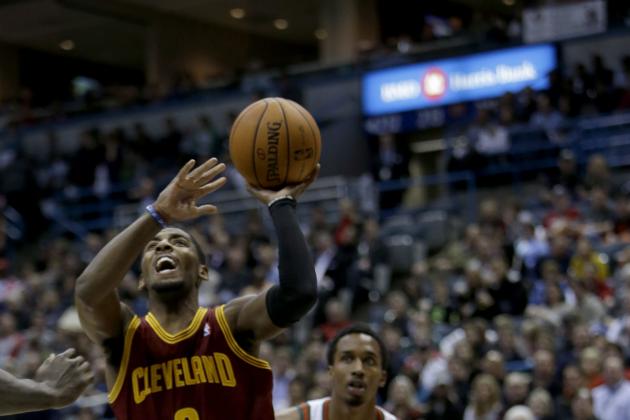 Mike McGinnis/Getty Images

Kyrie certainly deserves his due, even on a Cavs squad that isn't likely to go anywhere but into the lottery this season. His 27 points, seven assists, four rebounds and two steals in a head-to-head matchup with Jennings were made all the more impressive by the 13 straight points he scored for Cleveland over the final 6:03 of that loss to the Milwaukee.
Irving was almost as good in the season opener, when he dropped 29 points on a John Wall-less Washington Wizards team, but was brought down to Earth by the Chicago Bulls in between.
All told, the reigning Rookie of the Year will have every opportunity to test his mettle against the best at his position this month, what with dates against the Golden State Warriors (Stephen Curry), the Oklahoma City Thunder (Russell Westbrook) and the Brooklyn Nets (Deron Williams) among the notables on top for this month.
But first, Irving will have to measure up against the cream of the crop when his Cavs take on Chris Paul and the Los Angeles Clippers on Monday night.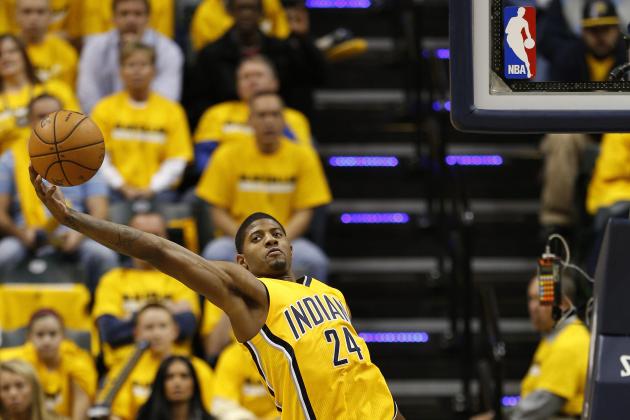 Joe Robbins/Getty Images

Paul George has proven to this point that he's much more than just a man with two first names. The third-year swingman has upped his scoring a smidgen while filling in for the injured Danny Granger at small forward.
Of greater import, though, is the spike in some of George's other numbers. His 13 rebounds per game rank among the most in the NBA, while his assist numbers (4.7 per game) and perimeter defense have thus far been just as stellar.
The Indiana Pacers clearly miss Granger, as close calls against the Toronto Raptors and the Sacramento Kings and a loss to the Charlotte Bobcats would suggest. But George has been nothing short of a warrior, logging a shade under 40 minutes per game (including a full 48 against the Kings) and filling the box score in nearly every way imaginable.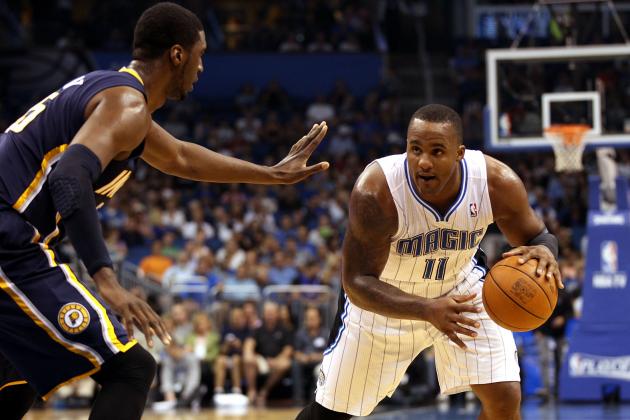 Marc Serota/Getty Images

The Orlando Magic won't finish the season 82-0 despite what their 2-0 start might suggest.
Not that anyone should expect Glen Davis to slow down. Big Baby has been brilliant so far, piling up 25.5 points, nine rebounds and 2.5 assists, albeit amidst a small sample size.
Don't be surprised if Davis continues to produce at a considerable clip, though. He's proven in the past that he can fill it up when given the opportunity. Davis averaged 15.9 points in games that Dwight Howard missed on account of a bad back last season and put up 19 points and 9.2 rebounds in five playoff games sans Superman thereafter.
The Magic don't figure to win many games this season, but somebody's going to have to score points and rip down rebounds. Why not Big Baby?