SEC Football: Power Ranking the 10 Biggest Surprise Stars of 2012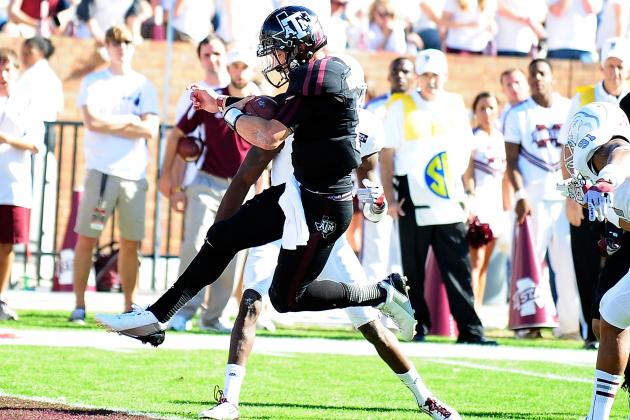 Stacy Revere/Getty Images
Quarterback Johnny Manziel has been phenomenal throughout his freshman campaign Texas A&M.
The 2012 season has showcased a bevy of new talent in the SEC and some players have been surprising stars for their teams.
Tyrann Mathieu, Tyler Wilson, and Jarvis Jones were dominant in 2011 after being relatively unknown players but each one is well known today—some for better reasons than another.
Whether it is a senior finally getting his chance or a true freshman bursting onto the college football scene, expectations are shattered and breakout players emerge.
Here are the Top 10 surprising stars in the SEC this season.
Note: Statistics courtesy of ESPN.com, NCAA.com and sports-reference.com
Begin Slideshow

»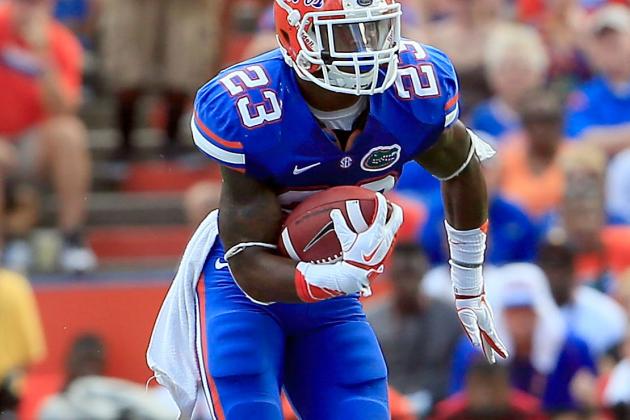 Sam Greenwood/Getty Images
Gillislee has been a bruiser in the Florida backfield.
Stuck behind Jeff Demps and Chris Rainey on the depth chart for three years, Mike Gillislee has made a name for himself in 2012.
After rushing for 920 yards in his first three seasons combined, the senior is on track to reach 1,000 yards by the end of the year.
Though he hasn't scored a touchdown in his last four games, Gillislee repeatedly runs through defenses every week. The Florida Gators have not had a consistent backup, evident by the next running back carrying the ball a mere 32 times compared to Gillislee's 177.
The 5'11" back has brought much-needed power and durability to a team filled with speed at all positions.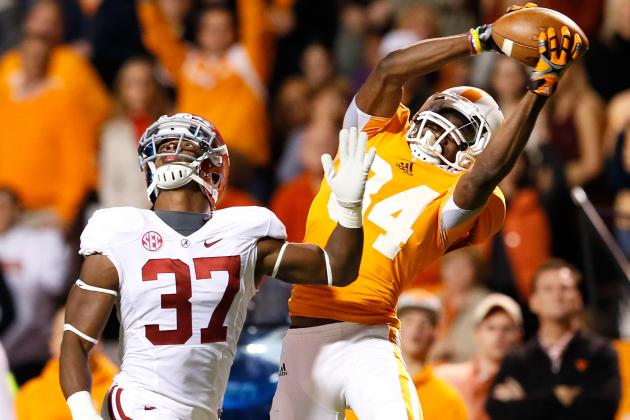 Kevin C. Cox/Getty Images
Patterson has been a bright spot on an otherwise disappointing Tennessee team.
The Tennessee Volunteers snared a JUCO gem, that's for sure.
Cordarrelle Patterson is the second-leading receiver, third-leading rusher and top returner in Rocky Top.
He has caught 36 passes for 585 yards and four touchdowns, averages 13.4 yards per carry with two touchdowns on the ground and gains nearly 30 yards per kick return.
Without Patterson's presence on special teams and opposite Justin Hunter offensively, the Volunteers may be even worse than its already dismal 4-5 record.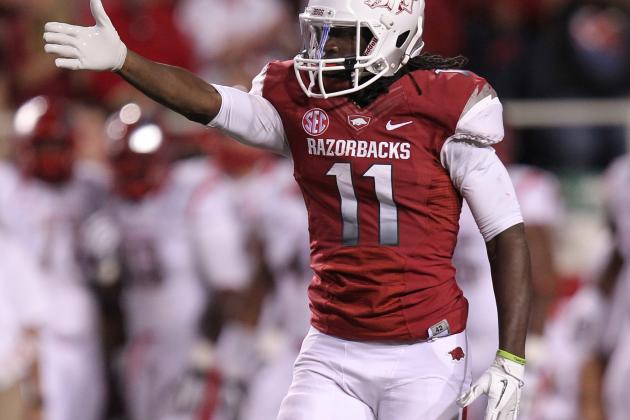 Nelson Chenault-US PRESSWIRE
Hamilton supplies many first downs as he averages 15.6 yards per catch.
After a relatively mediocre start in his first three games this season, Arkansas Razorbacks receiver Cobi Hamilton burst onto the scene against Rutgers University.
The senior caught 10 passes for an SEC record 303 yards and three touchdowns.
Since then, Hamilton has 49 receptions for 648 yards and currently leads the SEC in receiving yards with 1,077—fourth in the NCAA.
He also has three times as many catches (69) than the next leading receiver Chris Gragg (22).
According to the AP's Kurt Voigt, Hamilton set a single-season school record for receptions last week against Tulsa and should set another school record for receiving yards against South Carolina this weekend.
The only thing Hamilton hasn't done is repeatedly score touchdowns, but it cannot all be blamed on the senior because of the weak receiving corps around him.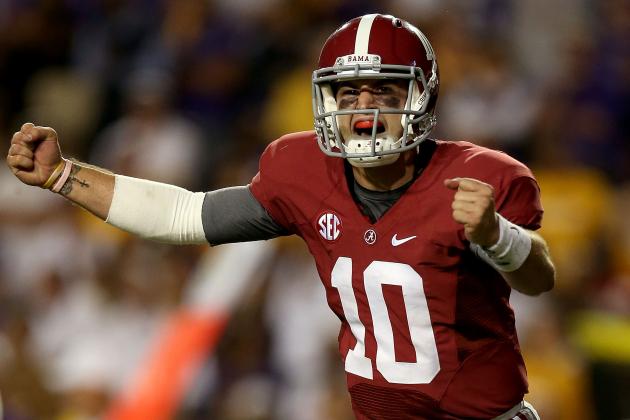 Matthew Stockman/Getty Images
McCarron has led the Crimson Tide to a 9-0 record thus far in 2012.
Yes, AJ McCarron led the Alabama Crimson Tide to a BCS National Championship in 2011.
But did anyone see this type of season coming?
The junior from Mobile, Alabama has been absolutely spectacular this year for the top-ranked team in the nation.
He boasts an impressive 19 touchdowns to zero interceptions ratio and gains more than nine yards per attempt.
McCarron has a chance to clinch the SEC West this weekend with a win over the Texas A&M Aggies.
Alabama's eyes are set on winning a second consecutive title, and nothing McCarron has done suggests the Crimson Tide won't be playing in Miami.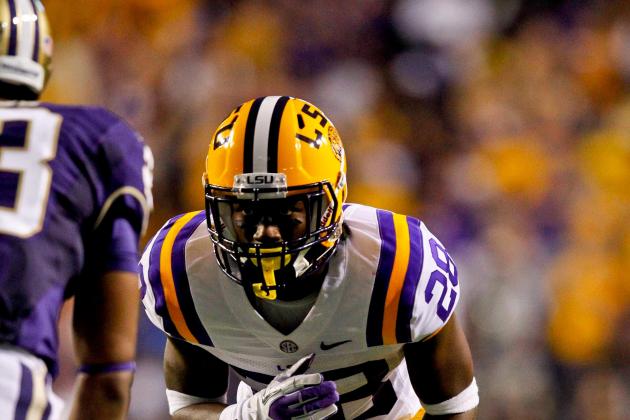 Derick E. Hingle-US PRESSWIRE
Mills looks to be another great lockdown cornerback at "DBU."
If you want to see an underdog story, well, here it is.
ESPN rated Jalen Mills, a 6'0" defensive back from DeSoto, Texas as a 2-star recruit.
Once on campus, he had the unenviable task of replacing the "Honey Badger," Tyrann Mathieu.
Long story short, Mills has both stepped up and shined for the LSU Tigers.
So far through nine games in 2012, the true freshman has 38 tackles (26 solo), two interceptions, and three pass breakups.
It seems as if head coach Les Miles found his next great defensive back in the young corner.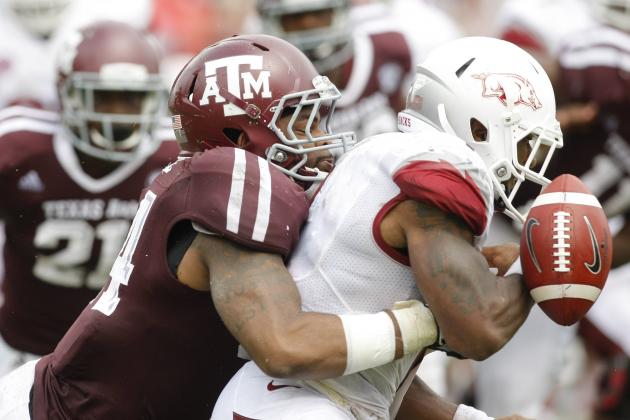 Brett Davis-US PRESSWIRE
Moore has been terrorizing opponents' backfields all season long.
Damontre Moore made the switch from outside linebacker to defensive end during this past offseason.
And he was ready to dominate.
Moore broke out in A&M's game of the season with ten tackles and three sacks against the University of Florida.
The junior from Rowlett, Texas now has 69 total tackles on the season—19 for a loss—aided by 11.5 sacks already this year.
As if that isn't scary enough for other SEC schools, Moore plans on returning for his senior season according to Kate Hairopoulos of Sports Day DFW.
Between playing a new position and entering a league built for power running from a conference based on speed, Moore has been a surprising force in the SEC.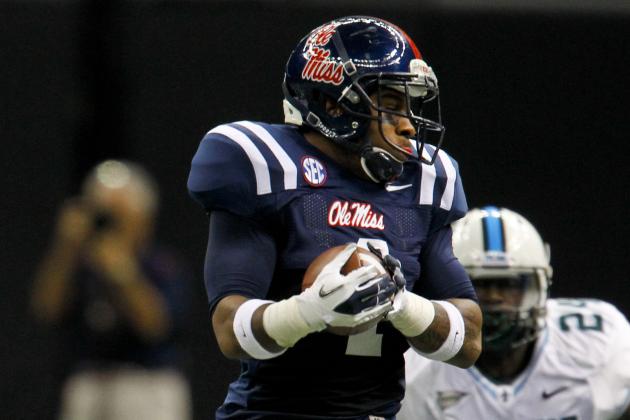 Derick E. Hingle-US PRESSWIRE
Nkemdiche makes one of his two season interceptions vs. Tulane University.
It's seemingly impossible to write about Denzel Nkemdiche without mentioning his brother and current Clemson Tigers commit Robert Nkemdiche. He is an unanimous 5-star and top recruit in the nation according to Rivals.com, ESPN.com and Scout.com.
Most fans think that Denzel's biggest attribute to the Ole Miss Rebels is potentially drawing his younger brother to Oxford—something Michael Carvell of the Atlanta Journal-Constitution notes is highly possible.
But in reality, he is also one of top freshmen in the SEC.
The older Nkemdiche leads the Rebels with 60 tackles and nine for loss this season. Add four forced fumbles, two interceptions and four pass break-ups and Denzel has put together an impressive 2012 campaign.
Whether Robert joins him at Ole Miss is to be seen, but the freshman linebacker will continue to be a terror in the coming years.
Jamie Squire/Getty Images
Yeldon has impressed on a national level in 2012.
After sharing time with Heisman Trophy winner Mark Ingram and Doak Walker winner Trent Richardson, this was supposed to be Eddie Lacy's year.
That Yeldon kid had to screw everything up.
I'm not an Alabama fan, but I can't imagine there have been too many complaints concerning the true freshman.
T.J. Yeldon is sixth in the SEC with 725 yards on the ground and also has scored eight total touchdowns—including six in the Crimson Tide's last four games.
Oh yeah, he scored the game-winning touchdown against LSU, too.
Roll Tide.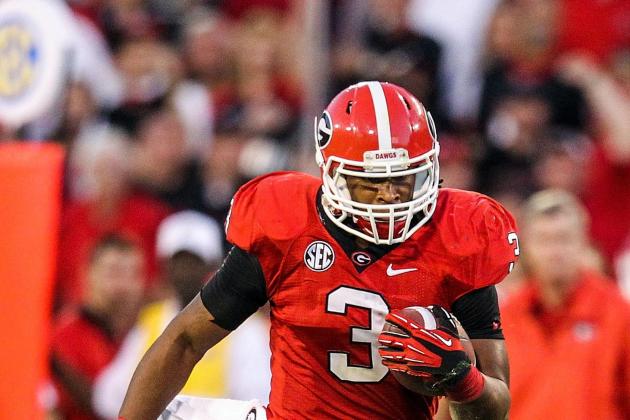 Daniel Shirey-US PRESSWIRE
The Bulldogs have ran the ball well between Gurley and fellow freshman Keith Marshall.
According to Chad Simmons of Scout.com, Todd Gurley ran for 242 yards and four touchdowns to lead his high school to a third consecutive state championship in 2011.
Gurley may not have run for that many yards in a single game this season, but he is still pretty darn impressive.
The true freshman has posted six 100-yard rushing performances, scored ten touchdowns and averages more than six yards per carry.
Gurley has 857 rushing yards—second in the SEC—through nine games and has been a huge factor in the Georgia Bulldogs' 8-1 record.
As the Bulldogs likely head to the SEC Championship Game in Decemeber, Gurley will then face his toughest test against the Crimson Tide.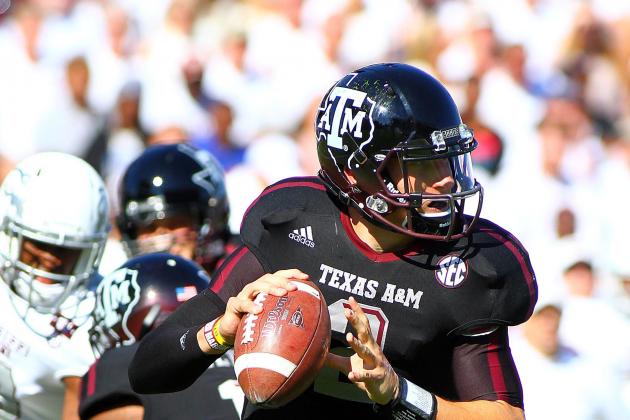 Spruce Derden-US PRESSWIRE
Manziel may be the best freshman in all of the NCAA.
This is all Johnny Manziel has done for the Aggies in 2012:
School record for passing yards in a single game. SEC record for total offense in a single game.
Currently leads the SEC in rushing yards, touchdowns, and scoring. Second in the SEC in passing yards, third in completion percentage.
Four-time SEC Freshman of the Week. Two-time SEC Offensive Player of the Week.
Second in the nation in total offense. Walter Camp National Player of the Week.
Yeah. That's all.
To make a long story longer, Manziel is a freak of nature—a phenomenal one.
"Johnny Football" is showing strides of Heisman ability and if it wasn't for Kansas State's Collin Klein, he would definitely be a big factor in the race.
Texas A&M has found the future of the NCAA in Manziel and he would solidify one of the most spectacular seasons by a freshman if he took down the top-ranked Crimson Tide on Saturday.