Which Undefeated BCS Title Contender Really Has the Toughest Schedule?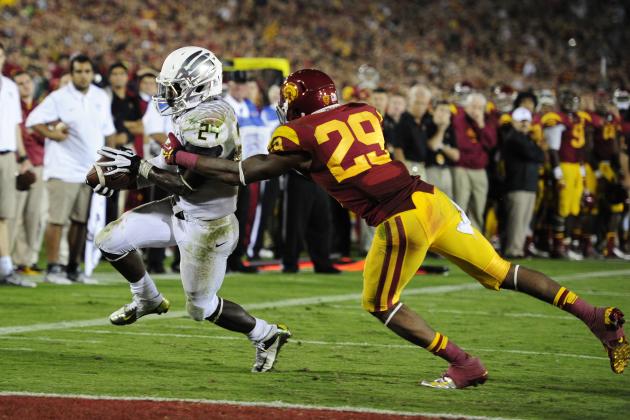 Robert Laberge/Getty Images

The 2012 college football season is winding down with only a month of competition remaining until the bowl games begin. There are four BCS title contenders staring at undefeated records with very little separation between them.
All four teams have faced tough competition to earn their national standing, but the games that remain on schedule will be the key to who lands in the title game.
Alabama has a firm lead at No. 1, but Oregon, Notre Dame and Kansas State are clawing to land at No. 2. Looking at the games left ahead, here is the breakdown of each remaining schedule and which team has the toughest road ahead.
Begin Slideshow

»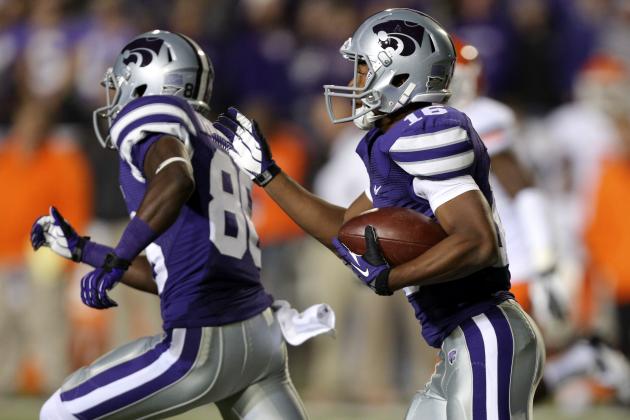 Ed Zurga/Getty Images

| | |
| --- | --- |
| | Remaining Games |
| Date | Opponent |
| Nov. 10 | @ TCU |
| Nov. 17 | @ Baylor |
| Dec. 1 | vs. No. 17 Texas |
The Wildcats have marched to an impressive undefeated season so far with big wins coming over Oklahoma, West Virginia, Texas Tech and Oklahoma State. Kansas State still must face one ranked opponent in No. 17 Texas, but the bulk of the tough competition was mopped up during the middle weeks of the season.
Baylor and TCU will be tough road wins for the Wildcats, but they have traveled to Oklahoma, West Virginia and Iowa State and earned wins already this fall.
Kansas State looks to be headed toward an undefeated run and a BCS bowl berth. Unfortunately for the Cats, there isn't enough power left in the schedule to vault them above the Oregon Ducks.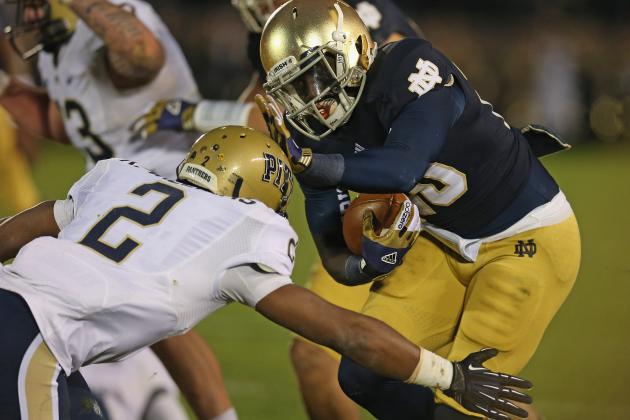 Jonathan Daniel/Getty Images

| | |
| --- | --- |
| | Remaining Games |
| Date | Opponent |
| Nov. 10 | @ Boston College |
| Nov. 17 | vs. Wake Forest |
| Nov. 24 | @ No. 19 USC |
Notre Dame is pushing toward an undefeated season with only one ranked team remaining in the way of the Irish's unbelievable loss-free run.
This season, Notre Dame has defeated four ranked teams with wins over Michigan State, Michigan, Stanford and Oklahoma. The Oklahoma win was the most impressive win all year, but it was followed with a letdown against Pitt.
The Irish will square off against No. 19 USC to close the season in Los Angeles, marking a tough final test for this Notre Dame team to pass. Outside of the Trojans, no tough tests remain.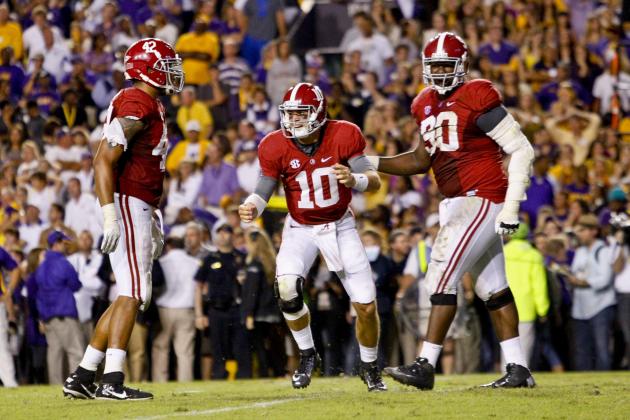 Derick E. Hingle-US PRESSWIRE

| | |
| --- | --- |
| | Remaining Games |
| Date | Opponent |
| Nov. 10 | vs. No. 15 Texas A&M |
| Nov. 17 | vs. Western Carolina |
| Nov. 24 | vs. Auburn |
| Dec. 1 | SEC Title Game |
The Alabama Crimson Tide have pushed through the 2012 season in a very impressive fashion. The Tide have throttled virtually every opponent so far this season, but last Saturday, there was a scare against a very good LSU team.
Alabama only has one remaining ranked opponent as it prepares to host No. 15 Texas A&M this coming weekend.
The Tide have defeated three ranked teams with Michigan, Mississippi State and LSU landing on the schedule earlier this year. The schedule has not been the toughest road for Alabama, but the Tide have marched to big wins this season, helping shape the perception of an unbeatable Crimson Tide team.
US PRESSWIRE

| | |
| --- | --- |
| | Remaining Games |
| Date | Opponent |
| Nov. 10 | @ California |
| Nov. 17 | vs. No. 14 Stanford |
| Nov. 24 | @ No. 11 Oregon State |
| Dec. 2 | Pac-12 Title Game vs. No. 18 UCLA |
Oregon has blasted away the competition this season with the most explosive offense in the country wearing Ducks uniforms.
This team has beaten three ranked teams so far this season, and it has two more remaining on schedule. The Ducks have defeated Arizona, Washington, and USC. A tough Arizona State squad also had its shot this season.
The games that remain will not be easy wins. Stanford is fielding a very tough, defensive-minded team, and Oregon State has been the most impressive newcomer to the Top 25 this year.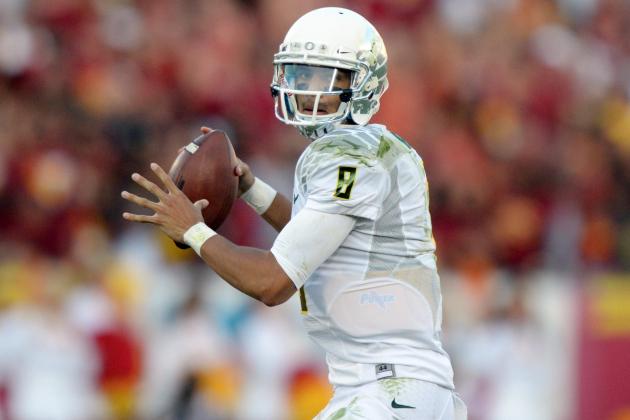 US PRESSWIRE

All four of the remaining title-contending teams will face a tough road to stay undefeated. Oregon and Alabama will have to face an additional test with conference championship games waiting in December.
With two Top 15 teams remaining, Oregon has the toughest road that remains to stay undefeated. The Ducks will also face a Top 25 opponent in UCLA for the Pac-12 Championship.
Three consecutive wins over Top 25 teams won't be easy to come by, but the Ducks appear up to the task. Win out and this team is in the BCS title game.