NBA Rookie Stock Watch: Ranking the Sinkers and Soarers After Week 1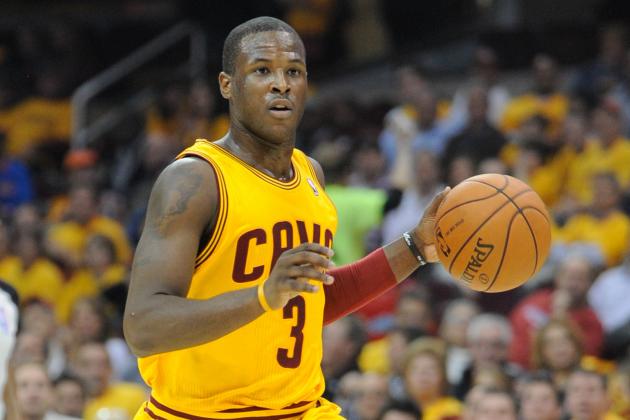 David Richard-US PRESSWIRE

It has been an entertaining first week of the NBA season for the 2012-13 rookies, as several are rising and falling in our stock watch.
Damian Lillard's three straight 20-point games helped his week 1 stock, but he's not the only one who impressed us in the early going.
A couple of international guards made noise on the hardwood, and one 2012 lottery pick flew up the charts after a phenomenal finish to his first week.
Some rookies underachieved in week 1, and some didn't get enough opportunities to prove themselves.
Whose stocks are soaring and whose are sinking after one week of action?
Begin Slideshow

»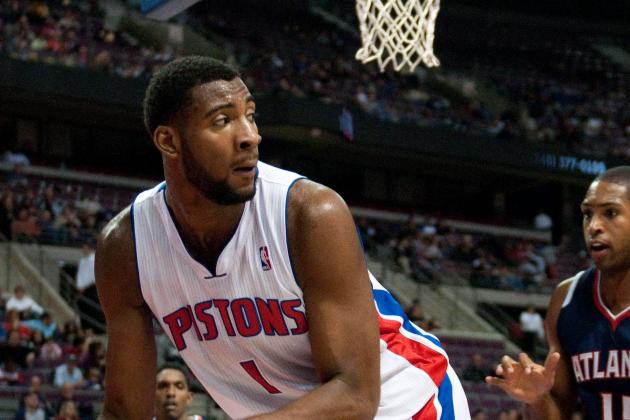 Tim Fuller-US PRESSWIRE

Andre Drummond, DET forward: Stock is Steady (5.7 RPG, 1.7 BPG)
Andrew Nicholson, ORL forward: Stock is Sinking (50 percent shooting in 9.0 MPG).
Bradley Beal, WAS guard: Stock is Sinking (2-of-13 through first two games)
Kim English, DET guard: Stock is Soaring (44.4 percent on three-pointers)
Pablo Prigioni, NYK guard: Stock is Soaring (11 points, six assists and two steals vs. PHI Monday)
Thomas Robinson, SAC forward: Stock is Steady (5.0 PPG, 2.8 RPG)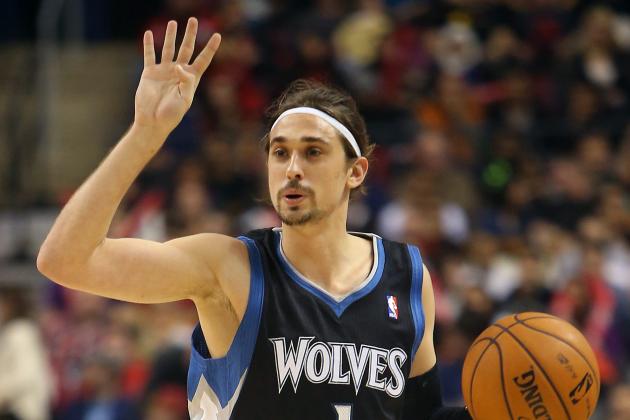 Tom Szczerbowski-US PRESSWIRE

Stock Report: Soaring
Last Week's Rank: Unranked
In his last couple games, Alexey Shved has emerged as a highly-productive reserve for the Minnesota Timberwolves.
The Russian standout provides a balanced mix of facilitation and outside shooting. Sunday at Toronto, he scored eight points, dished four assists and grabbed four boards.
He followed it up with 10 points and three assists against Brooklyn, as he was instrumental in the Timberwolves' colossal comeback win over the Nets.
Shved's contributions are especially valuable while Kevin Love and Ricky Rubio are sidelined. His recent success shows that he's not merely comfortable in the NBA, he's ready to excel.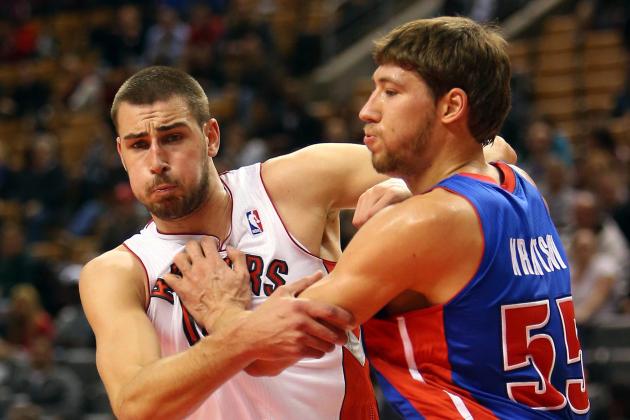 Tom Szczerbowski-US PRESSWIRE

Stock Report: Sinking
Last Week's Rank: 6
Toronto Raptors 2011 draftee Jonas Valanciunas had a terrific season opener against the Indiana Pacers but cooled off in his next two games.
After his 12-point, 10-rebound display against Indiana, he played a lesser role against the Brooklyn Nets and Minnesota Timberwolves.
The first few weeks might be a little tricky for Valanciunas, as Toronto is a team that's still establishing its identity and the ideal rotation.
It's no big deal if Valanciunas doesn't score at a high volume as long as he continues to attack, rebound and protect the rim.
Tuesday he gets a championship-caliber test, as he'll square off against Serge Ibaka and Kendrick Perkins of the Oklahoma City Thunder.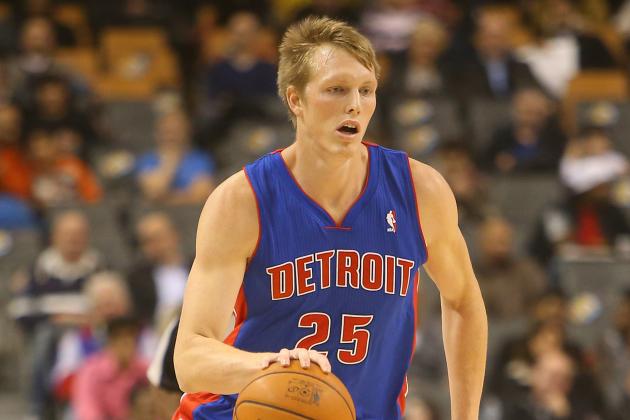 Tom Szczerbowski-US PRESSWIRE

Stock Report: Soaring
Last Week's Rank: Unranked
After spending a year playing hoops in Spain, Detroit Pistons 2011 draftee Kyle Singler got his NBA career off to a good start.
He's logging just over 20 minutes per game for Detroit, and he's making the most of his appearances.
Singler is shooting the ball extremely efficiently, registering a 57 percent clip from long range and 63 percent from the field.
He has the length, shooting skills, court awareness and ball-handling ability to be one of the most versatile rookies in the 2012-13 class.
Sam Sharpe-US PRESSWIRE

Stock Report: Soaring
Last Week's Rank: Unranked
Whenever Michael Kidd-Gilchrist commits to attacking on offense, he's a great all-around player and one of the best rookies in basketball.
Saturday against Dallas, the Charlotte Bobcats rookie exhibited the kind of all-around effort the team needs from him on a nightly basis. He was aggressive offensively, earning nine free-throw attempts and scoring 13 points.
Kidd-Gilchrist also shined in the hustle categories, as he grabbed five rebounds and five steals while fouling just once.
The 19-year old forward won't be the franchise savior, but nights like Saturday show that he can be a big part of the team's turnaround.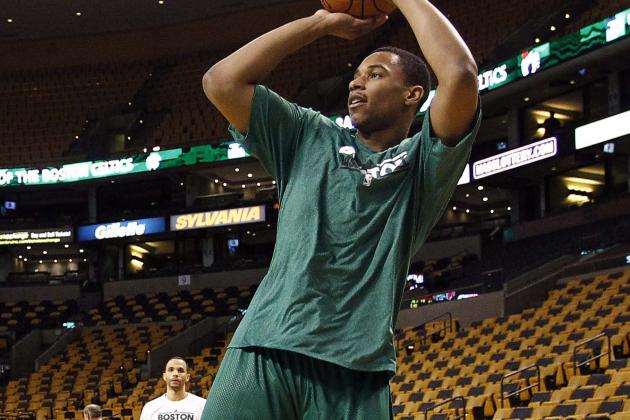 Mark L. Baer-US PRESSWIRE

Stock Report: Steady
Last Week's Rank: 2
Jared Sullinger's opening week started off slow with limited playing time against Miami, but he eventually earned the Boston Celtics' starting power forward spot Saturday against the Wizards.
None of his Week 1 numbers were eye-popping, but he held his own in the paint, rebounded well and converted a high percentage of his shots.
Perhaps the most impressive statistic for Sullinger is that the team's only victory came when he started and played 30 minutes. It showed that Doc Rivers' confidence in the youngster is merited.
Sully and the Celtics look to improve to 2-2 as they get a rematch with the Wizards Wednesday.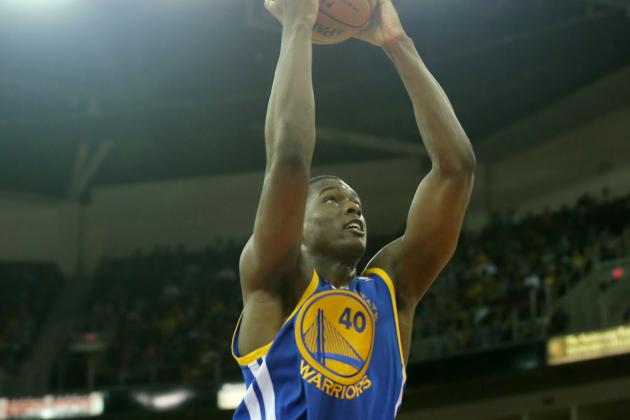 Stephen Dunn/Getty Images

Stock Report: Steady
Last Week's Rank: 5
Although he shot poorly Monday, Golden State Warriors rookie Harrison Barnes still had a solid first week as the squad's starting small forward.
He shot the ball well in his first couple of games, and when he went cold Monday against Sacramento, he remained involved in the offense and dished four assists.
Barnes is getting more comfortable in Mark Jackson's system from a shot-making and a pass-making standpoint. But more importantly, he's getting more comfortable moving without the ball.
He hasn't eclipsed 30 minutes in any game so far, but let's remember it's only Week 1. Barnes' first official week on the job was a success.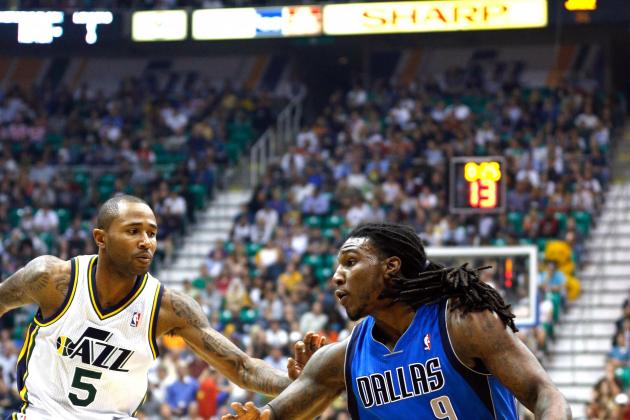 Russ Isabella-US PRESSWIRE

Stock Report: Steady
Last Week's Rank: 3
Jae Crowder's impressive preseason earned him Rick Carlisle's trust heading into the regular season, and Crowder has validated that trust so far.
Compared to most rookies, the Dallas Mavericks forward has an advanced court sense and understanding of the game. He knows what to do and where to be in order to set himself or his comrades up for a favorable shot.
Crowder has provided a boost off the bench, drilling seven three-pointers in the first four games.
His latest exploits include 2-of-3 shooting and a plus-22 point differential during his 14 minutes in the Mavs' win over Portland.
Derick E. Hingle-US PRESSWIRE

Stock Report: Sinking (Injury)
Last Week's Rank: 1
John Reid of the Times-Picayune reports that New Orleans Hornets rookie Anthony Davis is still under evaluation after suffering a concussion Friday.
Assuming he recovers from the concussion within the next couple of games, Davis should continue to be one of the most important players in the Southwest Division.
Before the injury, Davis was having a great first week, one that began with a 21-point, seven-rebound effort against the Spurs.
Most of his offensive and defensive work is done near the rim, but he did knock down a pair of 17-foot jumpers against San Antonio. His offensive game is more NBA-ready than I thought it would be, and that's horrible news for post players throughout the league.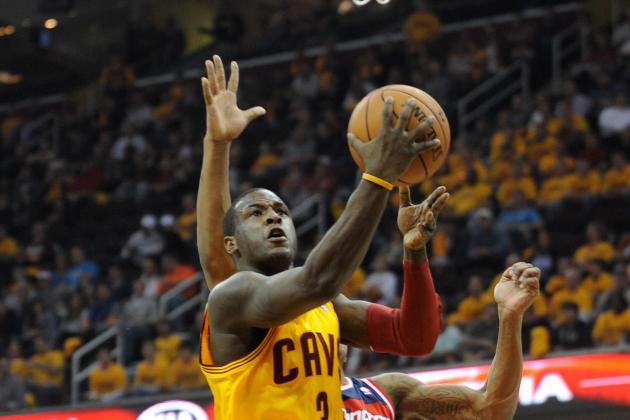 David Richard-US PRESSWIRE

Stock Report: Soaring
Last Week's Rank: Unranked
After missing the cut in last week's stock watch, Dion Waiters is now on our radar after a stupendous first week of the regular season.
The Cleveland Cavaliers guard has scored 16.3 points per game in his first four games, including a monster shooting night at Los Angeles Monday night. Waiters was 7-of-11 from distance, and his 28 points were critical in Cleveland's road win over the Clippers.
His athleticism and body control allow him to pull off closely-contested jumpers and strong drives to the tin. Waiters still isn't much of a facilitator, but he is a creative playmaker.
When Kyrie Irving is the only hot hand for the Cavs, they're a mediocre team at best. But if Waiters can consistently find his jump shot, they're a tough out for any opponent.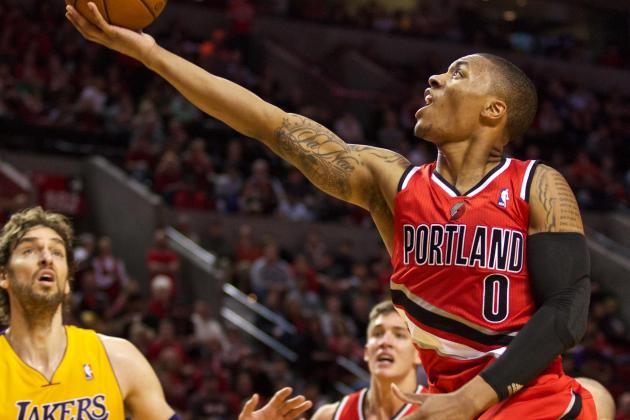 Jaime Valdez-US PRESSWIRE

Stock Report: Soaring
Last Week's Rank: 4
Monday was Damian Lillard's first mediocre game as a rookie, but we haven't forgotten how sensational he was in his first three contests last week.
Portland's new playmaker posted three straight 20-plus point outings, along with nine assists per game.
Lillard isn't an overwhelming athlete, but he uses his phenomenal ball-handling skills and shifty footwork to get into the heart of the opposing defense and create offense.
The Trail Blazers are a much more dangerous team with Lillard's legitimate outside threat to complement LaMarcus Aldridge.
This upcoming week will be tough, as he faces the Clippers, Spurs and Hawks. We'll see how his stock is after that trio of games.
For more hoops chatter, follow me on Twitter: @Danielobleacher