Ranking Manchester United's Best Transfer Finds Ever
Ruud Van Nistelrooy
Michael Steele/Getty Images
There are many ways of looking at Manchester Unirted's best transfer finds ever.
Do we choose the biggest bargains, the discoveries that few had heard of or the players who have made the greatest contributions?
Here, you'll find a mix of all of these. It's just one person's view.
So for example, Ruud Van Nistelrooy is a near miss because of the contribution he made to United's success.
He may have cost £19 million, but he scored 150 goals in 219 matches during a period when United didn't win a great deal because of Arsenal's success and the emergence of Chelsea as a competitive force.
Please post your own suggestions.
10. Robin Van Persie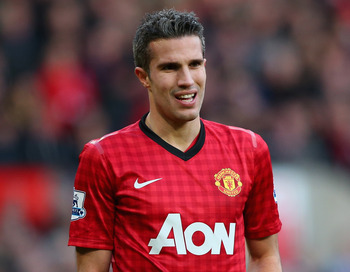 Robin Van Persie
Alex Livesey/Getty Images
It's early to be speculating as to how good RVP can be for Manchester United, but the first few signs are rosy.
All those people who said that £24 million was a lot to pay for a 29-year-old or that Sir Alex was taking a huge gamble on a player prone to injuries may be made to eat their words.
The thing is that Sir Alex had the chance to sign him as a 16 year old and even sent Jim Ryan to Holland to watch him. The conclusion was that he was too immature. Now he's the complete opposite.
Arsene Wenger revealed last week that Robin had turned down a £300,000 a week offer to join Manchester City before signing for United.
Of course, it's early to draw long-term conclusions, but he already looks like one of the most intelligent players who has ever played for United.
He is not just bringing goal-scoring as his forte, although he has been pretty lethal at finishing in the last couple of seasons. Indeed it could reasonably be claimed that he is one of the best goalscorers in the world.
No doubt some would want to cite Falcao in comparison because neither Messi nor Ronaldo are conventional strikers. In his defence, RVP brings so much more than Falcao in his all-around play, as we shall discuss later this week.
But as we mentioned on Saturday, he has already brought back the "voice" of the Old Trafford crowd. There is a growing number of people that believe he can be United's X Factor this season, not only in winning the title, but also progressing in the Champions League.
If that turns out to be the case and he gives United another three or four years at the very top of their game, he could prove to be a bargain at £24 million.
If he makes the difference between qualifying or not qualifying for the knockout stages of the Champions League, that alone could recoup his fee.
9. Tommy Taylor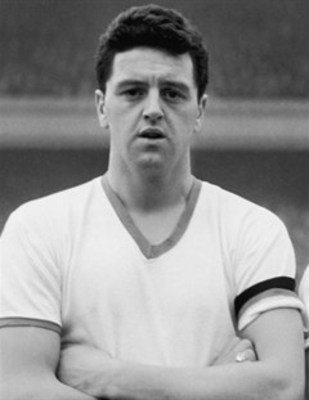 Tommy Taylor from Manutd.com
In his own way, Tommy Taylor was a phenomenon like Duncan Edwards. He could well be the greatest centre forward Manchester United and England ever had. We shall never know, as he was killed instantly in the Munich air crash.
In the era of the Busby Babes, not all his players were homegrown. When Sir Matt wanted a centre forward, he turned to the 21-year-old Taylor, who had signed for Barnsley at 17 and made his debut at 18.
In his first season for the South Yorkshire side, he scored seven goals in 12 appearances and went on to score 26 in 44 before Sir Matt snapped him up for £29,999. (He didn't want to burden him with being a £30,000 player.)
He scored seven in 11 in his first season and also broke into the England team. By 1957, he had led United to two League titles and a FA Cup win before Sir Matt turned down a world record bid from Inter Milan.
Like Duncan Edwards, there is no knowing how great he could have gone on to be if he had survived Munich. Suffice to say that he replaced the great Nat Lofthouse for England
8. Patrice Evra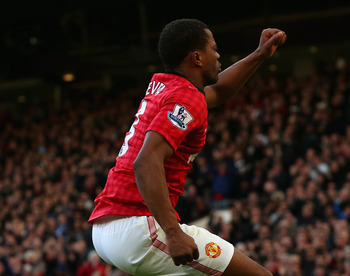 Patrice Evra
Alex Livesey/Getty Images
There were two surprise signings of January 2006 who not only went on to become world class in their positions, but also ended up as captain and vice-captain.
While "Paddy" has waned a bit this season, he has been regarded in recent seasons as one of the best attacking wing backs in the world, even though he could do with having scored more goals. He has made a good start at rectifying that this season with two headed goals already.
He is arguably better going forwards than defending. Evra is also one of the finest headers in the United team despite being only 5'8".
Evra was even cheaper than Nemanja Vidic at £5.5 million and has captained his national team as well as United.
Although he struggled in his first season to secure a first-team place in competition with Mikael Sylvestre, he has since gone on to be more regular than any other United player.
7. Nemanja Vidic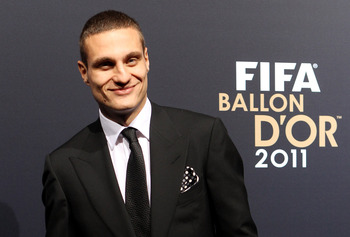 Nemanja Vidic
Scott Heavey/Getty Images
Sir Alex Ferguson may have rued letting Jaap Stam go while he was in his prime, but he made up for this when he signed Nemanja Vidic.
For someone who forswears buying players in January, the Manchester United manager surprised many people when he signed both Vidic and Patrice Evra in January 2006.
While they had been apparently interested in him more than two years previously, they eventually had to snatch him from the clutches of Fiorentina when he left Spartak Moscow for £7 million.
When you consider that Rio Ferdinand had cost £30 million four years previously, this gives an insight into the bargain that Vidic was.
The pair immediately bonded to form possibly the greatest central defensive partnership in the history of the Premier League, being parsimonious in conceding goals.
To date, Vidic, now United's captain, has won 13 trophies in six years, including four Premier Leagues and one Champions League.
6 Javier 'Chicharito' Hernandez

Chicharito

For those that thought Vidic and Evra were bargains, Sir Alex pulled off a stunning coup with the capture of Chicharito in April 2010 for just £6 million.
The young Mexican had been watched several times before he was finally signed. The transfer was executed in utmost secrecy after Sir Alex had decided to move because of growing interest in the young talent.
Chicharito was due to appear in the World Cup that summer, and there was a fear that the interest in him and consequent price would increase.
Within weeks of the start of the 2010/11 season, the Premier League was buzzing with approval for the 22-year-old goalscorer. Sir Alex had, as he has done since, tended to use him coming off the bench, and not surprisingly, he had been likened to Ole Gunnar Solskjaer for his predatory skills.
By the end of that season, Sir Alex knew he had got a treasure and an absolute bargain, the young man having scored 20 goals in 45 appearances.
While he had a more difficult season last year, his complete summer's rest has seen him come back firing on all cylinders. To date for United, he has scored 37 goals in 92 appearances, many of them as a substitute.
Even more impressive and despite being still only 24, he has scored 28 in 43 matches for the Mexican national team.
5. Edwin Van Der Sar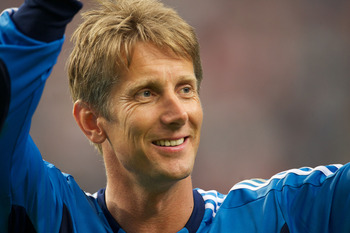 Edwin Van Der Sar
Getty Images/Getty Images
Two goalkeepers stand out in most people's minds when they think about Manchester United.
It is hard to compare the two, but Peter Schmeichel and Edwin Van Der Sar must vie with each other to be regarded as the best ever.
Sir Alex had, in fact, wanted to sign Edwin in 1999, but Chairman Martin Edwards had already committed to the now infamous Mark Bosnich.
So it wasn't until June 2005 that the big Dutchman arrived at the age of 34 for a mere £2 million.
Few would have bet that he would not only go on playing at Old Trafford until he was 40, but also that he would achieve so much in his 266 appearances.
Among others, he broke the world record for the longest time without conceding a goal after 1,311 minutes in United's successful season of 2008/9.
In the same season, he kept 21 clean sheets and won the European Goalkeeper of the Year.
4. Cristiano Ronaldo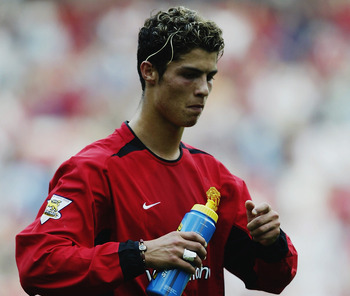 Cristiano Ronaldo
Alex Livesey/Getty Images
In summer 2003, Manchester United signed an 18-year-old "beanpole" going by the name of "Ronaldo" for a jaw-dropping £12 million. If the fee hadn't been so high, we might have ranked him higher in this selection.
United had played Sporting Lisbon in their preseason tour, and Cristiano had torn Gary Neville to shreds on the left wing. On the flight back, several United players implored Sir Alex to sign their first ever Portuguese player.
He asked for No. 28 on his shirt, but Sir Alex insisted he had the iconic No. 7 that had been worn by Best and Beckham before him.
On any measure, this signing was one of Sir Alex's and indeed United's greatest ever. Cristiano repaid everyone's faith many times over on every possible measure.
He is arguably the greatest winger ever in world football, although the position he plays is hard to characterise, as with Messi. Last season for Real Madrid, for example, he scored 60 goals in 55 matches. God knows how many he would score if he was played as an out-and-out striker.
United had value in both performances and financially. In 2009, having wrung one last year out of him, Sir Alex banked a £68 million profit when he moved to Real Madrid.
Anyone still think Van Persie is expensive at £24 million?
3. Ole Gunnar Solskjaer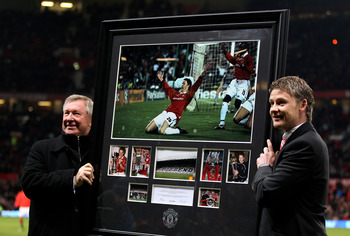 Ole Gunnar Solskjaer Testimonial
Alex Livesey/Getty Images
As we've said, Ronaldo might have ranked higher as a bargain discovery if it hadn't been for his £12 million fee.
As possibly the greatest "super-sub" ever, Ole cost a mere £1.5 million in 1996 and repaid Sir Alex's faith with almost 12 years of playing service.
Two years previously, he had been playing in the Norwegian Third Division. He was eventually signed from Molde after just 38 appearances in which he scored 31 goals.
By that time, he also had four goals in eight matches for the Norwegian national side, for whom he debuted at the age of 22.
In a total of 366 matches for United and despite injuries towards the end of his time that eventually finished his career, he hit the net 126 times. A record 28 of these were from the substitutes' bench.
He is arguably one of the most clinical finishers United have ever had. His most famous achievements include instinctively scoring the winner in the 1999 Champions League triumph. Also, he once came off the substitutes' bench for the last 12 minutes of an 8-1 thrashing of Nottingham Forest, during which he scored a mere four of them.
He later repeated the feat with four goals against Everton.
It was a tragedy that the end of his career was blighted by injury, when he might reasonably have played on into his late 30s, like contemporaries Ryan Giggs and Paul Scholes.
Ole remains a fans' favourite at Old Trafford. While he already has a successful managerial career at Molde, he previously managed United's Reserves and will surely return in some capacity in the future?
2. Peter Schmeichel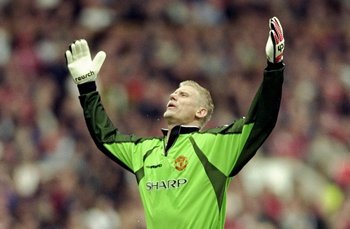 Peter Schmeichel
Shaun Botterill/Getty Images
Peter Schmeichel is surely the greatest goalkeeper ever at Manchester United, one of the best in the history of the game and one of the most shrewd signings Sir Alex ever made.
These days, it is hard for United to avoid paying meaty transfer fees once their interest in a player is known, which is why David De Gea cost £17 million at the tender age of 20.
The "Great Dane," however, cost a mere £505,000 when Sir Alex signed "the bargain of the century" from Brondby in 1991.
He went on to play 393 games in just eight seasons until he sought a slower pace of football in Portugal in 1999 after the Champions League triumph.
This remarkable man can count among his achievements an MBE, which is a rarity for a non-British national. He was also voted the best keeper ever in a poll in 2000 and still holds the record for the greatest proportion of clean sheets in the Premier League at 42 percent.
1. Eric Cantona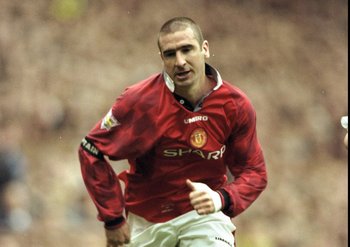 Eric Cantona
Shaun Botterill/Getty Images
When selecting the Best Manchester United Transfer Finds ever, who else could top the poll except Eric Cantona?
He came to Old Trafford by chance. Leeds United had contacted their Manchester counterparts to inquire about the availability of Denis Irwin. When they were rebuffed, Sir Alex, who had failed in his attempts to sign David Hirst, Matt Le Tissier and Brian Deane, desperately needed a striker.
He cheekily enquired about Eric Cantona, and a few days later, the deal was done for an astonishing £1.2 million.
What is there left to say about the talismanic, mercurial, unpredictable Frenchman? From the moment he arrived, his heart was in Old Trafford, and the fans loved him for it.
He enriched a team that might have struggled otherwise. Before his arrival, United hadn't won the top division title for 25 years. During the five years Eric played, they won nine trophies, including four Premier League titles.
He was charismatic and inspirational, and the fans could forgive him anything, including his eight-month ban for the infamous "kung fu" attack on a Crystal Palace fan.
He was then what Robin Van Persie may soon become for the Old Trafford faithful: a touchstone for success when it is most needed.
While sometimes difficult to understand, he was nevertheless highly intelligent and creative. He inspired great play and was a natural leader, even before he was appointed captain.
He could play anywhere in midfield or up front, which was one of the main reasons he was so difficult to defend against. In his all too few 185 appearances, he scored 82 goals, which would be a very acceptable rate for an out-and-out striker.
He has forever been immortalised in the songs that pour down from the Stretford End terraces, where he remains a hero. Soon, he may be joined as a folk hero by Robin van Persie, as the singing on Saturday suggested.
Keep Reading

Manchester United: Like this team?