5 Positive Signs from the Chicago Bulls' Early-Season Games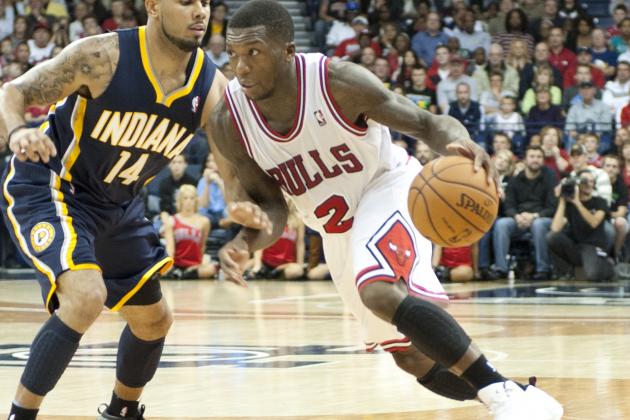 Jerry Schultheiss-US PRESSWIRE
Nate Robinson has given the Bulls spark off the bench.
The Chicago Bulls are only mildly entertaining to watch without Derrick Rose, but even without their superstar, they are still managing to do some things well.
After notching another win last night against the Orlando Magic (moving to 3-1 on the season), they appear as if they'll at least be able to hold their head above water while Rose is on the sidelines.
Now, a couple of their wins haven't been pretty (narrow victories over Sacramento and Orlando), and their one loss at home to a depleted New Orleans Hornets team was baffling.
We must remember, however, that this team is still gaining familiarity with one another, as there are a bevy of newcomers seeking to establish their roles.
Therefore, a 3-1 start is acceptable, and the positive signs listed here are definite things to build upon as the season progresses.
Begin Slideshow

»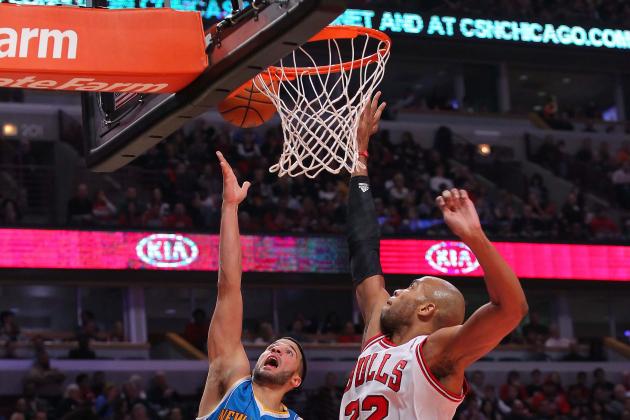 Dennis Wierzbicki-US PRESSWIRE
Taj Gibson continues to alter shots near the rim.
This doesn't come as a surprise.
With Tom Thibodeau at the helm, the Bulls will always be an efficient defensive ball club. His defensive principles are at the core of the Bulls' success, and their effectiveness will enable the Bulls to consistently limit opponents.
In their first four games, they only allowed one opponent to score over 90 points (Orlando scored 93). They currently rank second in the league in points allowed at 87 points per game and, judging by what the Bulls have done the past couple seasons, this efficiency should remain throughout the 2012-13 season.
Derrick Rose's absence will clearly hurt the Bulls offensively, but he's replaceable on the defensive end. Additions Kirk Hinrich and Nate Robinson are both providing smothering defense on opposing floor generals.
Further, Joakim Noah and Taj Gibson are established post defenders and rebounders, and Luol Deng is one of the most versatile perimeter defenders in the league.
This defensive tenacity is at the foundation of the Bulls and it has already been evident through just four games. As long as it continues, the Bulls should be able to compete in just about every game and their overall defense shouldn't be a concern going forward.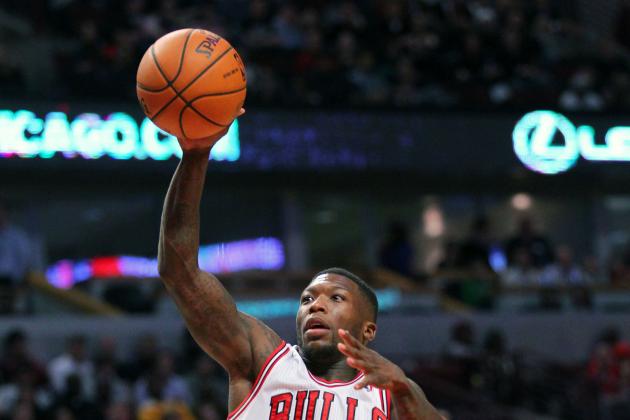 Dennis Wierzbicki-US PRESSWIRE
Robinson recently tallied 16 points and 12 assists against Cleveland.
C.J. Watson had his share of stellar performances in his two seasons with the Bulls, but on the whole he wasn't much more than serviceable.
Last season, he shot a dismal 36.8 percent from the field, and it grew even worse in the postseason (24.1 percent).
Further, Watson always seemed to carry a rather lifeless expression, and he certainly wouldn't fall under the category of a "vocal leader."
Kirk Hinrich and Nate Robinson are of a completely different mold.
Hinrich has already flashed his elite perimeter defensive skills and ability to run an offense. His defensive prowess, in particular, should be highly valuable for the Bulls throughout the season.
Robinson is an offensive and emotional spark plug. He can create his own shot as well as dish to others. He has chipped in some crucial minutes in a couple of the Bulls' victories. He was particularly instrumental in sparking a fourth quarter run in last night's victory over the Magic.
"Nate Rob" has also displayed some pesky defense, typically picking up the opposing point guard full court and hounding him up the floor.
What's more, his emotional energy brings a jolt of life to the Bulls' chemistry. His personality (while annoying to some) is one that players will feed off of and look to for motivation.
Both Hinrich and Robinson will have off-shooting nights, but Bulls' fans certainly grew accustomed to that with Watson. What's more, Hinrich and Robinson each bring elements to the table that Watson never brought, and thus they appear to be more than adequate replacements amidst Chicago's core.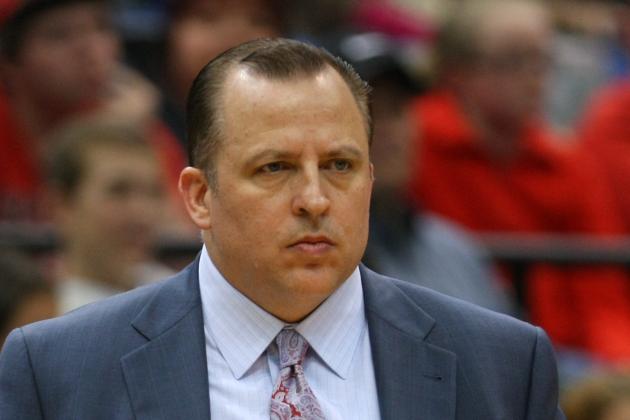 Brace Hemmelgarn-US PRESSWIRE
Thibodeau has established himself as one of the league's top coaches.
Any talk about the Bulls not making the playoffs or "tanking" this season is downright foolish. It's foolish because this simply will never happen with Tom Thibodeau patrolling Chicago's sideline.
Thibodeau is basketball's version of Bill Belichick. In each of the past two seasons, the Bulls have notched the league's best record. Yes, Rose's presence was pivotal in that, but what was even more pivotal was the steady preparation of Thibodeau.
This preparation is already evident this season. The Bulls have executed their defensive plan in convincing fashion and their offense has looked formidable in all but one game (against New Orleans, when Hinrich, Noah, Richard Hamilton and Carlos Boozer were a combined 8-38 from the field).
This is a positive sign through four games and, quite frankly, it is unsurprising. This is the "Coach Thibs" we've come to know the past couple years.
Thibodeau will continue to push the Bulls to greater heights both defensively and offensively. He's never satisfied and is always searching for new wrinkles to add that will net more victories.
His foot will always be on the pedal, and because of this, you can eliminate any thoughts of the Bulls missing the playoffs or "tanking."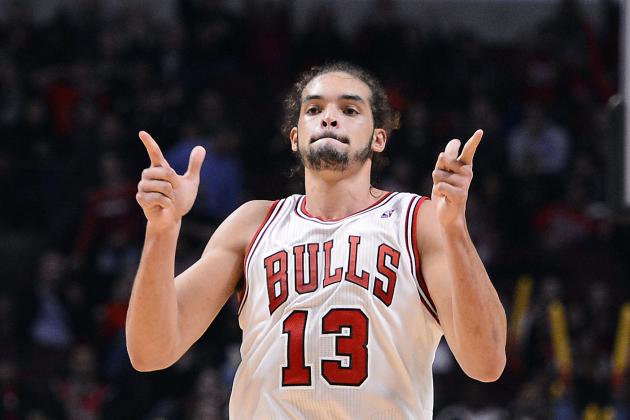 Mike DiNovo-US PRESSWIRE
Noah is contributing in a plethora of ways for Chicago.
The play of Joakim Noah has been a major bright spot through four games. His versatility has been realized.
On opening night against the Sacramento Kings, he tallied 23 points (including 11-12 free the charity stripe), 10 rebounds, 3 assists, 3 blocks and 5 steals. His fantasy owners were surely pleased after that beastly performance.
He's since notched a double-double against the Hornets and contributed an impressive 20 points, 9 rebounds, 4 assists and 5 blocks against Orlando.
He has been an emotional leader the past few years, but he's now taking a more foundational role in terms of production. These numbers proclaim his value and reveal that great things are in store for Noah throughout 2012-13.
One factor that contributes to this is his increase in minutes. He's played over 40 minutes in three of the Bulls' first four games. This increase is largely due to the departure of former Bull Omer Asik, who would often steal minutes from Noah.
Noah is revealing why Asik was expendable. He can play major minutes and continue to remain effective and, if his eye-opening outings continue, he will very likely make his first All-Star appearance.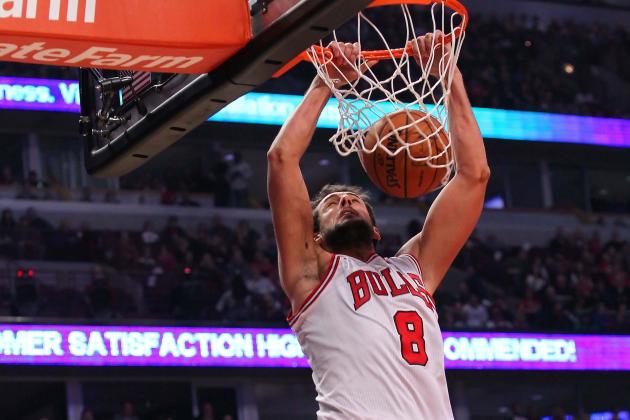 Dennis Wierzbicki-US PRESSWIRE
Belinelli tallied 13 points against the Hornets.
During the last couple of seasons, Bulls fans fell in love with Kyle Korver, particularly because of announcer Stacey King's emphatic slogan: "Give me the hot sauce!"
But the Bulls bid farewell to Korver over the summer, trading him to Atlanta in what was chiefly a financial move.
This move is already proving to be a wise maneuver, and not just from a financial standpoint. Korver's replacement off the bench, Marco Belinelli, not only comes much cheaper in 2012-13 (less than $2 million compared to Korver's $5 million), but he also appears to be much more multifaceted.
Belinelli is a career 39.3 percent three-point shooter and has already drained a few in the Bulls' early season outings.
What's more, he has some play-making skills, revealing an ability to create his own shot and set up teammates. He even threw down a dunk in transition against New Orleans.
These are skills that Korver never had in his repertoire.
It's tough to match Korver's shooting ability when he comes off screens, but Belinelli has multiple dimensions to his game that should spark the Bulls' new-look "Bench Mob."
The 26-year-old Italian's play has definitely been a positive sign for the Bulls, and he should continue to take strides as he gains further familiarity with Chicago's offense.