7 Opponents Wade Barrett Needs to Face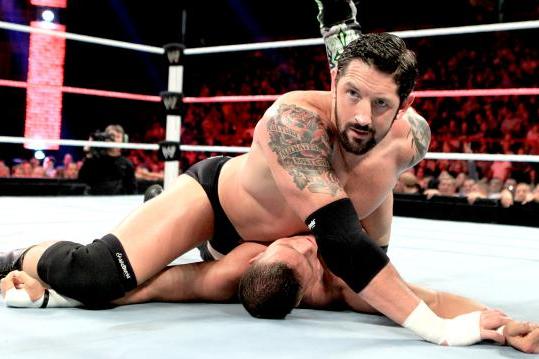 Wade Barrett picks up a victory over Tyson Kidd. (Courtesy of WWE.com)
This week, WWE travels overseas to the United Kingdom for their semi-annual Raw and SmackDown tapings, which always prove to be great given the electric environment. Not only that, but England has also given us some of the greatest wrestlers in history, including the British Bulldog, William Regal and, of course, Wade Barrett.
Since debuting as part of NXT's inaugural season in February 2010, Barrett has undoubtedly made an impact in the WWE over the last two and a half years, most notably with his innovation of Nexus two summers ago.
Now that Barrett is flying solo, it's only a matter of time before he finally captures the golden prize and becomes WWE's first ever British World Heavyweight Champion in the process.
Unfortunately, the evil Englishman's "barrage" came to an abrupt halt this past February due to an injury that saw him sidelined indefinitely, but he has since returned to the ring to make waves in the WWE once again. Upon his comeback, Barrett was mostly being fed enhancement talent for a number of weeks, but his more impressive showings were against Sheamus and Randy Orton.
In coming weeks, I hope to see Wade Barrett square off with these seven Superstars, as each opponent would provide nothing short of an excellent match with the former Intercontinental Champion. While some of the following wrestlers might not be possibilities at the moment, I'll list them regardless, as anything is bound to happen in the foreseeable future.
Begin Slideshow

»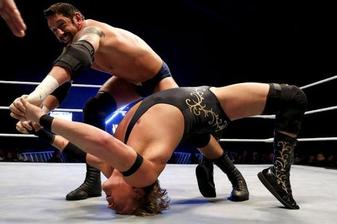 Wade Barrett vs. William Regal (Courtesy of WWE.com)
Speaking of legendary British brawlers, look no further than William Regal. His impressive accomplishments over the course of his 20-year wrestling career practically speak for themselves, as Regal is widely known as one of the greatest performers to have never won a World Championship.
Aside from a few encounters during Lumberjack matches at ringside, I don't ever recall seeing Wade Barrett and William Regal crossing paths on WWE television. Sure, they've faced off and even teamed together at a recent house show during WWE's tour of the United Kingdom, but they've never once acknowledged any sort of partnership on screen.
Being the massive Regal that I am, this has always irritated me. A tandem or quite possibly a feud between WWE's two evil Englishmen could be money, so I'm not exactly sure why WWE has failed to capitalize on that.
Of course, I realize Regal is no longer a full-time in-ring competitor, but he wouldn't even need to be wrestling in a managerial role. Before Regal hangs up his boots for good, this is one dream match I'm hoping he contemplates taking part in.
If you think these two don't have history, think again. During the inaugural season of WWE NXT, Wade Barrett filled in for his mentor Chris Jericho in an eight-man tag team match, where he scored the pin-fall victory for his team by pinning Christian.
At the time, that was considered a major deal since Rookies pinning Pros was unheard of and was considered an upset. Although he came up short of defeating Christian in one-on-one action the following week, Barrett still had an impressive showing against Captain Charisma.
Fast forward to November 2011, where the two devious foreigners partnered up to rival Sheamus. The two were scheduled to team together at that year's Survivor Series pay-per-view, but Christian was unfortunately pulled from the card due to suffering an injury at the last minute.
While Christian is still rendered inactive at the moment, this is one match I'm extremely looking forward to upon his return.
During that same time period, Wade Barrett clashed paths with fellow NXT Rookie Skip Sheffield on quite a few occasions, who was being mentored by none other than William Regal. For those unfamiliar with who Skip Sheffield is, he is now better known as Ryback, but back then, he portrayed a happy-go-lucky cowboy for a majority of his NXT tenure.
Once Nexus was formed a few months later, it seemed to me that both Barrett and Sheffield were the two shining stars of the black and yellow stable.
Unfortunately, Sheffield suffered a serious ankle injury in August 2010 and was rendered inactive for nearly two years before finally making his return to the ring this past April.
While the evil Englishman embarks on his Barrett Barrage, Ryback continues to seek competition and contend for the WWE Championship. Both are bound to be World Champions at some point, but in the meantime, I'd love to see these two former stablemates go head-to-head.
Besides, Ryback's undefeated streak is technically over, so how much harm could it do? Having Barrett target Ryback could give both guys something to do for the foreseeable future.
After winning NXT Season One, Wade Barrett made an immediate impact by forming a group of angry rookies that demolished and took control of Monday Night Raw, a stable later known as the Nexus. With Barrett as their loyal leader, they targeted John Cena each week and eventually even forced him to join the group.
By December, Cena broke free of Barrett's grasp and defeated the British brawler in a Chairs Match at the WWE TLC event. They'd eventually face off once more a year later on an episode of SmackDown in August 2011, but that contest was too short to be remembered for anything special.
Now that Barrett's back and completely rejuvenated, why not have him go after WWE's top dog, John Cena?
We've seen in recent weeks that Barrett's numerous victories over Randy Orton have done nothing but boost his credibility, so an upset over Cena could very well do the same. While I know that defeating Cena seems to be an impossible task these days, Barrett was able to do it at 2010's Hell in a Cell pay-per-view, so don't count out the former Intercontinental Champion just yet.
One feud that seemed the most likely to happen at the birth of the Nexus was Wade Barrett vs. Daniel Bryan, following Bryan's controversial release from the WWE mere days following the group's initial attack. He returned at 2010's SummerSlam pay-per-view to successfully defeat his former stablemates, but he shifted his focus to The Miz shortly thereafter, so nothing ever came of it.
However, the former NXT Rookies crossed paths once again at SummerSlam a year later, where Barrett defeated the then-SmackDown Money in the Bank winner in clean fashion. Sadly, the feud was dropped following the event and both Barrett and Bryan went their separate ways.
From what I have seen from these two in the ring, they can produce excellent matches, so I'm hoping we eventually see a future rematch between Barrett and Bryan now that both guys have experience in the WWE over a year later.
Following Wade Barrett's loss to John Cena at 2010's WWE TLC event, CM Punk took the reigns of the Nexus. Upon Barrett's return a few weeks later, he demanded Punk forfeit his leadership of the group, but the Straightedge Savior later tricked Barrett and forced him to be exiled from both the Nexus and the Raw brand.
On the go-home edition of Raw prior to 2011's Royal Rumble pay-per-view, the two were scheduled to go one-on-one in the main event, but special guest referee John Cena caused the bout to go to a double disqualification minutes into the matchup.
Since that fateful night, Barrett and Punk have yet to engage in singles action once again, but it's only a matter of time before they do. Their aggressive in-ring styles and strong verbal skills could make for a very entertaining feud, especially over Punk's WWE Championship.
With both former Intercontinental Champions being heels at the moment, don't expect them to face off anytime soon, but I'm still highly anticipating their eventual rematch.
Of all the dream matches on this list, this is obviously the most unlikely, but there is still a small possibility of it occurring at some point.
If you can recall, it was Wade Barrett and his fellow Nexus stablemates who brutally ambushed Undertaker on Raw's 900th episode in August 2010. They did the same a few months later at Bragging Rights, where they shockingly (and randomly) aided Kane in burying Undertaker into the ground to help the Big Red Monster successfully retain his World Heavyweight Championship.
Rumors ran rampant that Wade Barrett was penciled in to challenge Taker's undefeated streak at WrestleMania 27, which would've explained his various attacks on the Deadman. Somewhere along the way, plans changed and Triple H faced the Deadman at the event instead, leaving Barrett to compete in an eight-man tag team match that lasted a mere minute.
As of right now, it's unclear as to whether Undertaker will be competing at the upcoming WrestleMania, but if he does, Barrett must be his opponent. Sure, the bout wouldn't live up to Taker's past Mania matches with Triple H and Shawn Michaels, but it would give Barrett a major rub for sure.
In all honesty, Barrett wouldn't even need to win this match to be considered a star, as just hanging with Undertaker at a WrestleMania is more than enough to boost Barrett's credibility as a future World Champion.
Thanks for reading, Bleachers, and be sure to drop a comment below with your thoughts on my listed Wade Barrett dream opponents and any other Superstars you'd like to see Barrett face at some point. As always, your criticism and overall feedback of my latest piece is welcomed and greatly appreciated.
On a side note, I've recently surpassed the two million mark as far as overall article reads go here on Bleacher Report, so I graciously thank you for your continuous support of me and my work. Here's hoping for many more article reads to come!
GSM out.
Visit my website at Next Era Wrestling, like me on Facebook and listen to my SAVE US GSM radio show every Wednesday night at 10/9c for more of my thoughts and writings, along with WWE/TNA news, reviews, recaps and more.
Listen to internet radio with Spoilerspodcast on Blog Talk Radio