MLB Cy Young Award 2012 Predictions: Who Will Win and Who Should Win?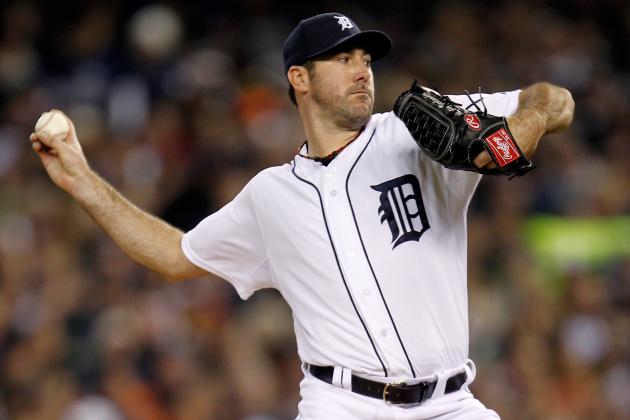 Gregory Shamus/Getty Images
Will Justin Verlander win his second straight AL Cy Young Award?
The race for the Cy Young Award in both the American and National Leagues was close all season long.
Favorites for the league's top pitching honor emerged, but strong arguments could be made for a number of candidates. No one pitcher dominated his league throughout the regular season. Depending on when you checked in during the year, a different pitcher looked like the top contender for the award.
Making the respective races even more intriguing is that the reigning Cy Young Award winners in each league made a strong charge at the end to challenge for the trophy again. Both Clayton Kershaw in the NL and Justin Verlander in the AL could very well take the award home again this winter.
Will voters get the winner right, or will someone have a case for being robbed of his rightful status as the best pitcher? Who will win the Cy Young Award in each league, and who should earn the honors? Here's one opinion.
Begin Slideshow

»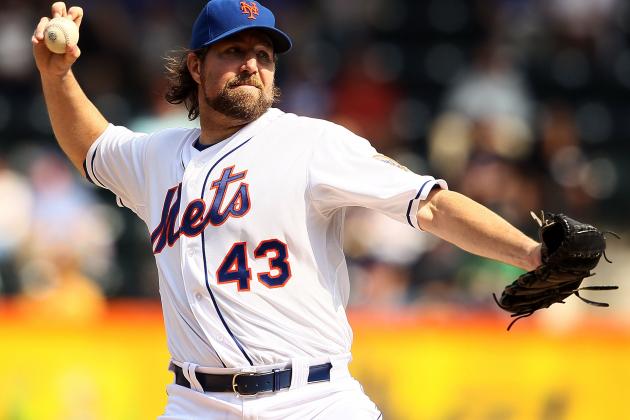 Alex Trautwig/Getty Images

R.A. Dickey seems like a virtual lock to win the National League Cy Young Award.
The New York Mets knuckleballer was one of the NL's best starting pitchers throughout the season. He was one of two pitchers to win 20 games, compiling a 20-6 record. His 2.73 ERA ranked second in the league. He led the NL with 230 strikeouts and 233.2 innings pitched.
Dickey also finished among the league's top five starters with a 1.05 WHIP (walks and hits per innings pitched) and a .226 opponents' batting average.
He pitched a streak of 32.2 scoreless innings, setting a Mets record. That was a part of a streak of 44.2 consecutive innings without allowing an earned run, which is the second-longest span in team history. Only Dwight Gooden, who pitched 49 straight innings with no earned runs allowed in 1985, had a longer streak.
But it's more than the numbers with Dickey. It's his story that makes him so compelling.
Six years ago, Dickey was trying to remake himself into a knuckleball pitcher and was on the fringes of the major leagues. Now he's turned what is often viewed as a gimmick pitch into a serious weapon and had a dominant season for a Mets team that finished 74-88.
If Dickey's performance wasn't already impressive enough, the news that he had pitched since April with a torn abdominal muscle that eventually required surgery made his achievements even more exceptional.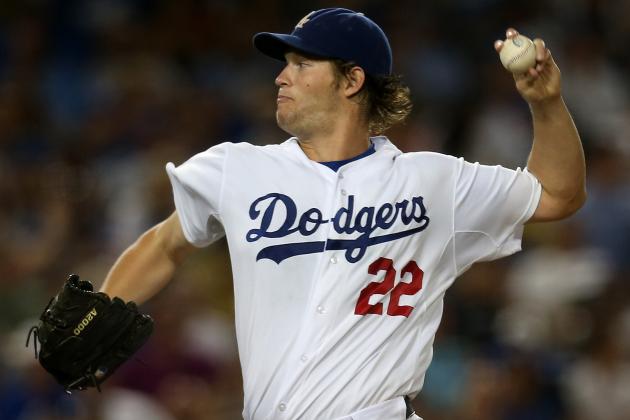 Stephen Dunn/Getty Images

Clayton Kershaw won six fewer games than R.A. Dickey during the season and doesn't have the compelling late-bloomer storyline accompanying his numbers.
But his numbers are just as—if not more—impressive.
If the Los Angeles Dodgers left-hander wasn't the reigning NL Cy Young Award winner, would he be receiving more consideration from fans, reporters and analysts following MLB?
Kershaw led the league with a 2.53 ERA and a 1.02 WHIP. His .210 opponents' batting average was second in the NL behind Gio Gonzalez's .206 mark.
With 229 strikeouts (compiled in six fewer innings), Kershaw finished one behind Dickey in that category.
The difference in their strikeout totals came down to Adam Greenberg. The guy who got his shot at one at-bat with the Miami Marlins seven years after being hit in the head with a pitch struck out against Dickey on Oct. 2.
If WAR (wins above replacement) is your chosen measure for a player's value, then Kershaw has it over Dickey in that category. Kershaw was the best pitcher in the NL, according to both FanGraphs and Baseball-Reference.
Though wins aren't supposed to mean as much in these days of advanced metrics, Dickey's six additional victories will likely influence voters. Those six wins look even more impressive considering that Dickey pitched for a fourth-place Mets team, while Kershaw's Dodgers finished two games out of the NL wild-card playoff race.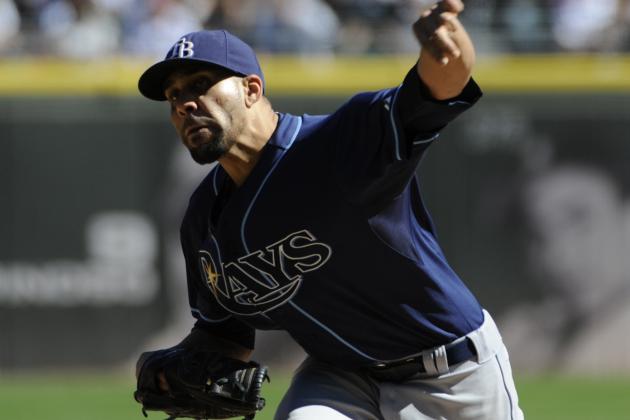 David Banks/Getty Images

David Price led American League starting pitchers with a 2.56 ERA. He was also one of two pitchers to reach 20 wins this season, compiling an overall record of 20-5.
The Tampa Bay Rays left-hander also placed in the league's top five with a 1.10 WHIP and .226 opponents' batting average for a team that finished five games out of first place in the AL East and wild-card playoff races.
Additionally, Price surpassed the 200-inning and 200-strikeout marks—two numbers that demonstrate durability and dominance—for the second consecutive season.
His consistency is astonishing. Price finished with the exact same rate of strikeouts (8.7) and walks (2.5) per nine innings this season as last and nearly had the same rate of hits and home runs per game.
The big jump for Price was in his win-loss record.
In 2011, Price finished with a 12-13 mark and 3.49 ERA for a Rays team that won 91 games. This year, the Rays had 90 victories but went three months without their MVP candidate, Evan Longoria. Tampa Bay needed Price to be better this season, and he came through with a career-best performance.
With a 3.34 ERA from its starting pitchers, the Rays led MLB. But Price was the clear leader of the staff, emerging as the ace he's been expected to be since he was the No. 1 overall pick of the 2007 amateur draft. (Yes, Price was very good in 2010, finishing 19-6 with a 2.72 ERA. This year, he was even better.)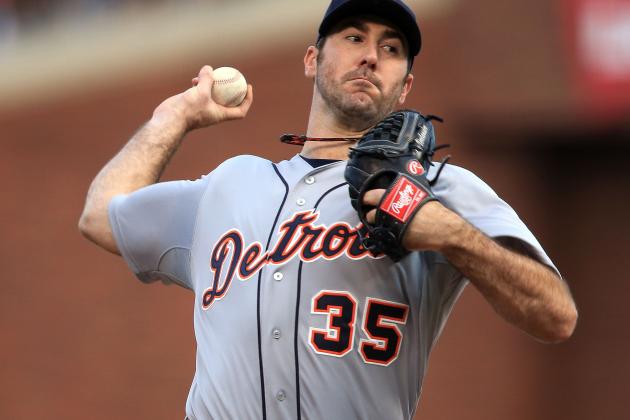 Doug Pensinger/Getty Images

Justin Verlander's numbers in 2012 may not have been as impressive as they were in 2011.
It would be difficult—if not impossible—to top a performance that earned him not only the AL Cy Young Award, but the AL MVP award as well.
In 2011 Verlander finished 24-5 with a 2.40 ERA. He led MLB with 250 strikeouts in 251 innings pitched, helping lead the Detroit Tigers to winning the AL Central by 15 games over the Cleveland Indians.
While he may not have matched those numbers in 2012, Verlander's performance still ranked as the best in the AL.
The Tigers right-hander led the majors with 239 strikeouts and 238.1 innings pitched. His 2.64 ERA was second in the AL behind David Price. Verlander also ranked in the AL's top two with a 1.06 WHIP and .217 opponents' batting average.
No, Verlander didn't win 20 games, and he had three more losses than Price. But he was the better pitcher in almost every other major category.
He was arguably even more important to the Tigers' playoff chances and division title run.
Though Detroit finished second in the AL to the Rays in team ERA, its pitching staff struggled all season to find a fifth starter. Doug Fister fought an oblique injury through April, and Rick Porcello led MLB in hits allowed.
While the Tigers don't have a one-man rotation, Verlander had to carry a significant portion of the pitching load for his team. The Tigers don't make the playoffs, let alone make it to the World Series, without him.
Follow @iancass on Twitter