English Premier League: Latest EPL Rumors, Preview and Predictions for Week 11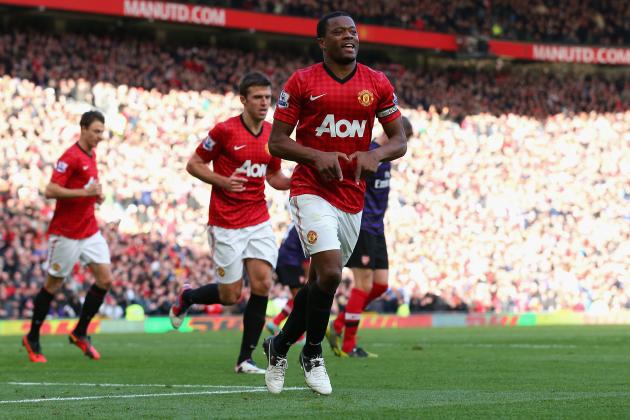 Alex Livesey/Getty Images

Manchester United's triumph over Arsenal paired with Chelsea's inability to claim all three points against Swansea equates to a new English Premier League leader. The Red Devils are now one point clear of the Blues with Manchester City two points back.
More importantly, the top three continue to sneak away from the rest of the pack. Everton, which currently sits in fourth place after its fourth straight draw, is five points back of third. It's a gap unlikely to disappear barring an amazing run by a second-tier club.
Now that more than a quarter of the season is in the books, fans should have a better read on their favorite team and most of the others as well. Changing the tide now comes down to staying healthy and making the right January moves when the time arrives.
Let's take a look at some of the latest EPL news along with a preview of the week's most intriguing clash and predictions for the entire weekend of matches.
Begin Slideshow

»
Alex Livesey/Getty Images

Manchester City has struggled to live up to sky-high Champions League expectations, and now manager Robert Mancini is under fire. City currently sits in last place in Group D with just two points, leaving the squad few paths to advancement.
Greg Stobart of Goal.com reports the new director of football, Txiki Begiristain, isn't allowing the poor results go by without expressing his disappointment to Mancini. The two are now expected to meet weekly to discuss progress.
It's yet another example of how quickly success can be forgotten in the sports world. Mancini led the Citizens to an EPL crown last season and a handful of months later he's already feeling the heat. It's not for a lack of trying, though. Mancini continues to make changes with hopes of finding a lineup that clicks.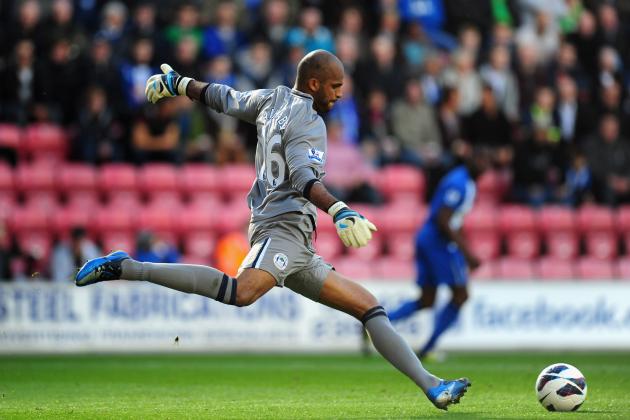 Stu Forster/Getty Images

Even though the January transfer window is still a couple months away, the rumor mill is already working at full capacity. One link that was made recently surrounded Liverpool and Wigan goalkeeper Ali Al-Habsi.
Alas, ESPN reports Wigan manager Roberto Martinez doesn't believe it's realistic talk. The in-form keeper will surely attract attention from bigger clubs, but the boss believes he will stay put since he's signed to a long-term contract.
The Reds' slow start suggests the team will be looking to do some wheeling and dealing once the window opens to bolster their squad for the second half. But, unless something drastically changes, Al-Habsi shouldn't be part of those plans.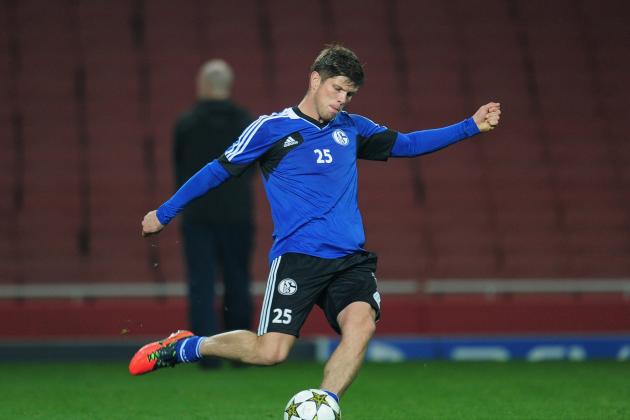 Shaun Botterill/Getty Images

Liverpool has struggled to find consistent production up front aside from Luis Suarez. While the Uruguay international has found the net seven times in league play, no other player on the Reds roster has scored more than once.
Due to that large disparity, it's no surprise Liverpool is being linked to strikers, as rumors for the January window begin to swirl. Kevin Palmer of ESPN reports Schalke star Klaas-Jan Huntelaar is atop Liverpool's wish list.
The 26-year-old Dutch striker has already scored more than 250 goals in his club career, which is exactly the type of sustained production the Reds will be looking for when the window opens.
The rumored priced of £6 million is also reasonable.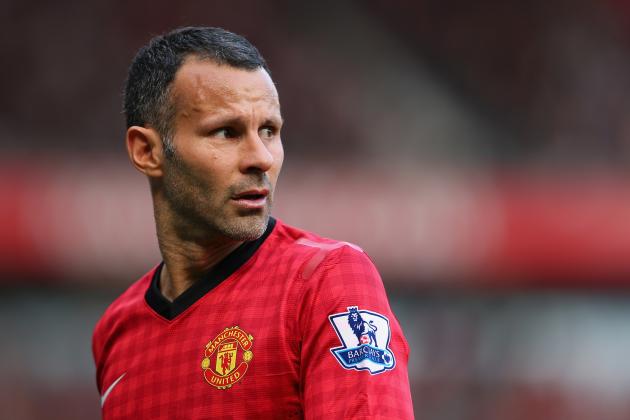 Alex Livesey/Getty Images

Ryan Giggs has been an Old Trafford fixture for more than two decades. His reliable play in the midfield has been one of the key reasons the Red Devils have remained a top contender despite plenty of turnover elsewhere on the squad.
But his future is still in question.
Greg Stobart of Goal.com reports Manchester United has decided to cut off contract talks with the 38-year-old Welsh star until the season ends. Giggs' contract runs out in June, and if he's not re-signed, it would mark the end of a tremendous run with the club.
The ultimate decision will come down to what path United is going to take in the midfield. The club won't bring him back to simply ride the pine. That said, if there will be playing time available for the veteran, the two sides are likely to reach an agreement.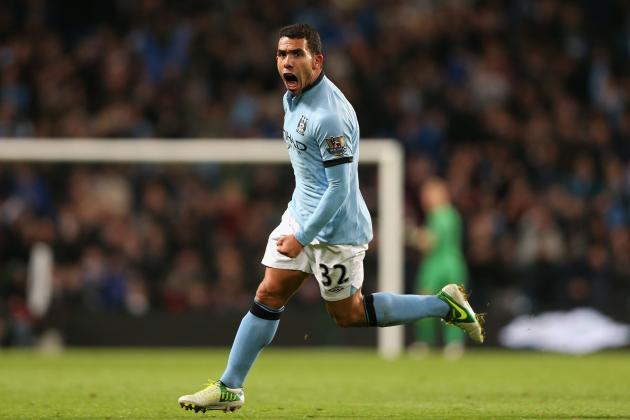 Clive Brunskill/Getty Images

Manchester City should have cruised past Swansea and West Ham to earn an easy six points. Instead, the Citizens were only barely able to escape against the Swans and mustered just a draw with the Irons.
Yet, they are still right there with Chelsea and United.
City still hasn't been able to rediscover the form that made the club Premier League champions last season, which makes the fact it's only two points back even more impressive. The squad could go on a roll at any moment and take over the top spot.
Manchester City will take on a Tottenham squad on Sunday that's coming off a disappointing home loss to Wigan. Although the Spurs have shown glimpses of being a contender, they haven't been nearly consistent enough to keep up with the top three.
A result here could change that outlook.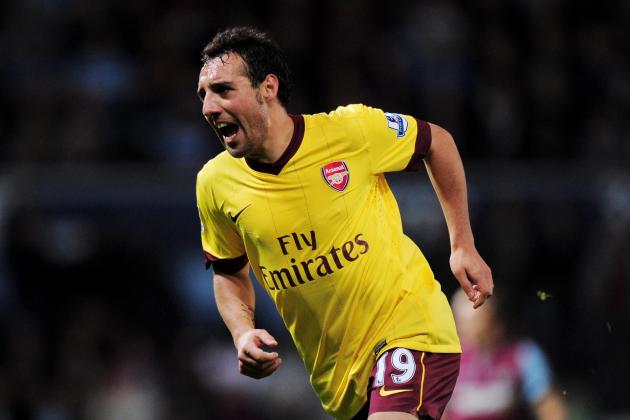 Shaun Botterill/Getty Images

Arsenal vs. Fulham
Santi Cazorla added a late tally against United to make Arsenal's loss look better on paper than it was. The Gunners were totally outclassed and will need a strong bounce-back performance against Fulham, which has struggled on the road.
Prediction: 2-1 Arsenal
Everton vs. Sunderland
The Toffees let a late lead slip away in a draw with Fulham, forcing the European contenders to accept yet another draw. They have to start collecting wins again soon or their strong start will be erased. Facing a struggling Sunderland side should do the trick.
Prediction: 2-0 Everton
Reading vs. Norwich City
Even though the Royals are still winless, their offensive options have proven up to the Premier League task. They need the back line to follow suit if they are going to dig themselves out of the relegation zone, however. Norwich has been playing too well to be Reading's first victim.
Prediction: 2-2
Southampton vs. Swansea City
Southampton has allowed eight more goals than any other club so far, and that doesn't even count Monday's tilt with West Brom. The continued errors at the back with very few signs of progress point toward a long season ahead. Swansea should capitalize.
Prediction: 2-1 Swansea City
Stoke City vs. Queens Park Rangers
The Potters' struggles can be summed up by looking at the last two matches. They weren't able to score despite winning the possession battle and creating a few solid chances. Their inability to finish is a major problem, but winless QPR should provide less resistance.
Prediction: 1-0 Stoke City
Wigan Athletic vs. West Bromwich Albion
West Brom has played like two different squads. One that plays the home games, and one that travels to road matches. Add in the fact Wigan should be riding a wave of momentum after two straight league victories, and the advantage falls to the Latics.
Prediction: 1-0 Wigan Athletic
Aston Villa vs. Manchester United
The injury bug has struck Aston Villa pretty hard in the early going, and that's never a good sign heading into a clash with the league leaders. United has been on quite a roll lately and should be able to earn all three points with relative ease on Saturday.
Prediction: 3-1 Manchester United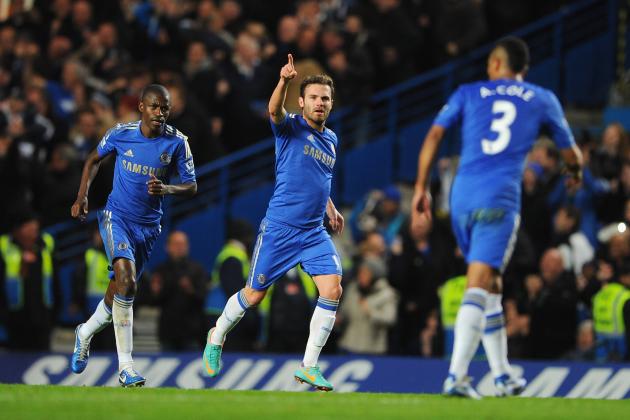 Michael Regan/Getty Images

Manchester City vs. Tottenham Hotspur
Manchester City won both matches between the two sides last season, helping propel the Citizens to the title. If Tottenham was in better form, the upset watch would be on, but the Spurs haven't been at the top of their game. City should squeak out a narrow win.
Prediction: 2-1 Manchester City
Newcastle United vs. West Ham United
Mark this down as the underrated match of the week. Both clubs are hanging around the top half and have enough attacking talent to make a move if they can limit the mistakes at the back. It's an even matchup, and a draw seems like the most likely outcome.
Prediction: 1-1
Chelsea vs. Liverpool
As mentioned when talking about Klaas-Jan Huntelaar, Liverpool has been unable to find a second scoring option. Chelsea should be able to shut down Luis Suarez, allowing the Blues to keep pace with their rivals from United.
Prediction: 2-0 Chelsea