20 Bold Predictions for the Rest of the Premier League Season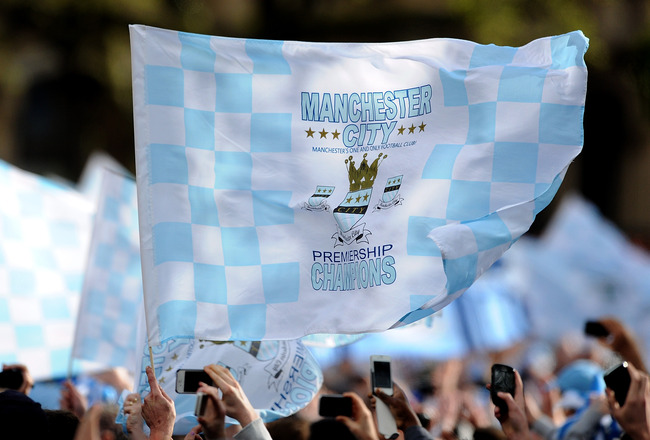 Chris Brunskill/Getty Images
The 2012-13 Premier League is shaping up nicely as we pass the quarter-way stage, with the top three positions filled probably as expected—though there are plenty of surprises elsewhere in the table.
Teams, managers and individual players will, by now, have an idea of what this season could have in store for them. It could be a struggle with relegation, a battle on their hands just to stay in the side or a fight to save their job—or, at the other end of the scale, a trophy to play for or the goalscoring form of their life.
Plenty can change in football from one week to the next as sudden injuries, suspensions or unexpected transfers in the January window occur, meaning that this term will still be a great season to watch as it unfolds.
Here are 20 bold predictions for the remainder of the Premier League season.
Luis Suarez to Finish as Premier League Top Goalscorer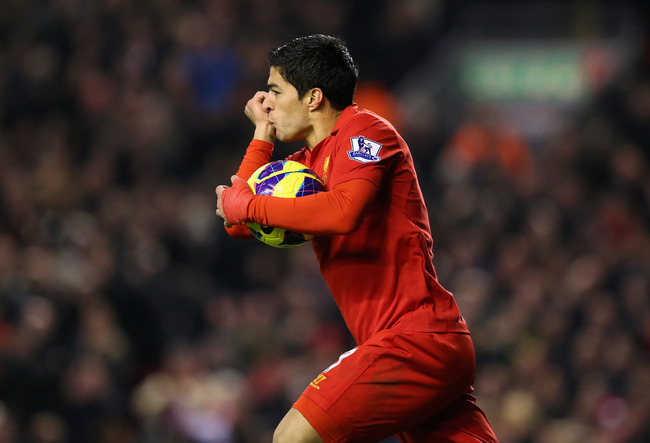 Alex Livesey/Getty Images
Might as well start big enough, right?
So far, the Premier League looks like it's throwing up three contenders for the Golden Boot award: Demba Ba of Newcastle United, Robin van Persie of Manchester United and Luis Suarez of Liverpool.
A whole host of players have scored four or five goals so far, with Michu of Swansea on six, but Suarez and Ba (seven) and van Persie (eight) lead the way.
In all honesty, they could make up the top three come the end of the season. As acknowledged in the opening slide, form and fitness are entirely unpredictable but these three are the key front men for their teams and their positions or roles will not likely change much over the course of the season—though Ba could yet move on to a new team, of course.
Why Suarez then ahead of the other two?
Manchester United and Newcastle are likely playing at a similar level now to how they will for the remainder of the season. The Magpies will battle for another top eight finish and how high in that eight they go might even be determined by how well Ba continues to score—but they also have Papiss Cisse who will start weighing in on the goals sooner or later.
Van Persie will continue to score plenty, and United will challenge at the top, and he should comfortably reach the 20-goal mark for league strikes.
But Liverpool have yet to improve their attacking line in the forthcoming transfer window, and are slowly but surely improving their final third play under their new manager. With Suarez at the head of that attack, the chances he makes for himself should soon be supplemented by chances being created for him as well by better quality team mates.
Suarez has all the attributes needed to reach 20 and go beyond that mark.
Roberto Di Matteo to Be Sacked at Season's End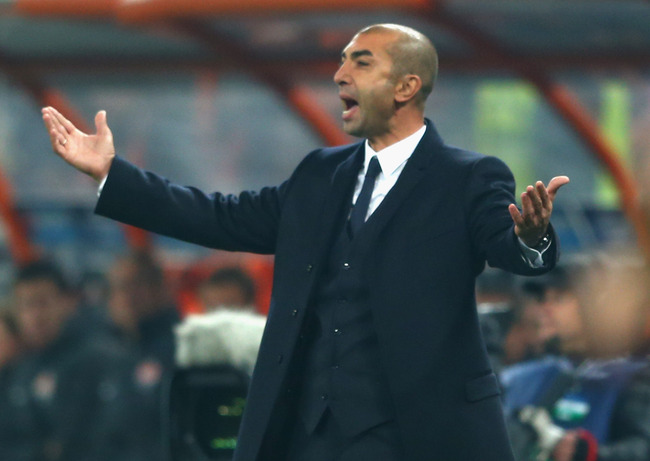 Michael Steele/Getty Images
FA Cup winner, Champions League winner and—until this weekend just past—sitting top of the Premier League table; it doesn't seem at first glance that Roberto Di Matteo could possibly have anything to worry about.
But this is Chelsea, and his boss is Roman Abramovich.
He doesn't just want wins and trophies, but for it all to be done with a certain style. A dominating, attacking style. And he wants it to be done with the biggest names in football.
Whether Di Matteo picks up more wins and cups or not is immaterial; he does not appear—from this viewpoint at least—to have the full backing and respect of the club's owner.
The two-year contract offered in the summer is merely indicative of that; a short-term hold-over until a bigger name is available, a year-long stay of execution after delivering the biggest prize of all which could then be terminated without too much undue cost.
Klopp, Guardiola, Mourinho or whoever—expect somebody new to be deciding the Chelsea team sheets come 2013-14.
QPR to Avoid Relegation, Despite No Win Until November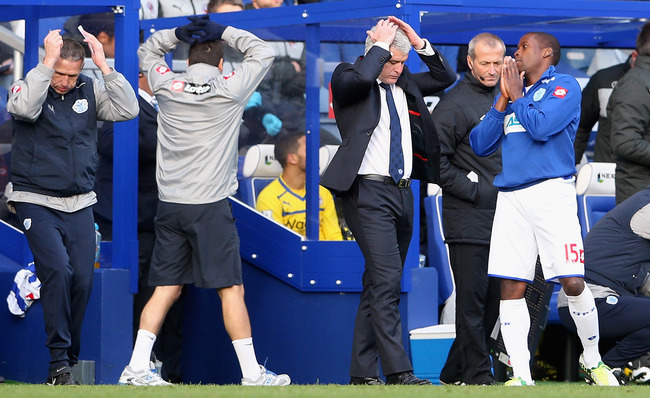 Scott Heavey/Getty Images
Six defeats, no wins, 19 goals conceded and the usual clutch of red cards: 2012-13 has not been particularly kind to Queens Park Rangers.
Mark Hughes is coming under pressure having spent considerable money in the summer to bring in the likes of Park Ji-Sung, Samba Diakite, Esteban Granero and free transfers Rob Green, Julio Cesar and Jose Bosingwa.
Despite these names, Hughes has not managed to forge his players into a cohesive, winning unit as yet—three months after the season started.
And yet...they have enough to survive.
Already five points adrift of safety even at this early stage, QPR need to start picking up the points quickly. They might add one or two players in January, especially a centre back, but more important for them at this stage is to get a settled team and work on shape and confidence.
Do that and they have enough talent in the final third—Mackie, Taarabt, Cisse—to pick up a significant number of wins and points.
3 Managers to Be Sacked During the Season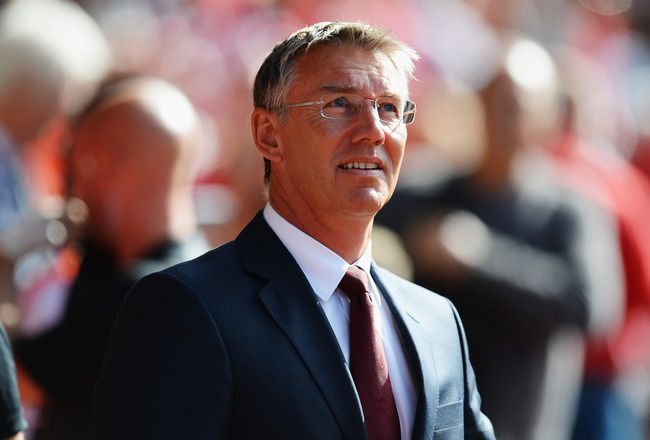 Mike Hewitt/Getty Images
Mark Hughes might be alright if he starts winning games with his team, but doubtless at some point one of his adversaries will not be so fortunate.
The official line might be "resigned", or "mutual termination", but we all know what it means—a manager was given the choice; walk now, or get the boot.
Southampton's manager Nigel Adkins seems to think he is one of those who could be in line for the chop, judging by his most recent comments, with his team bottom of the Premier League.
It's not only relegation zone-entrenched managers who need fear the axe though, an underperforming middle-of-the-table team's chairman might get itchy if form drops enough, given the costs and work associated with relegation, while those expected to challenge for trophies and top four spots will also come under scrutiny if they fail to live up to expectations.
So three is the number: three current Premiership bosses to lose their jobs between now and the 38th game of the season. Other teams might wait until that natural break point to dispense with the manager—such as the prediction for Di Matteo—but three will not last that long.
Andre Villas-Boas to Be Given a 'Vote of Confidence' by Spurs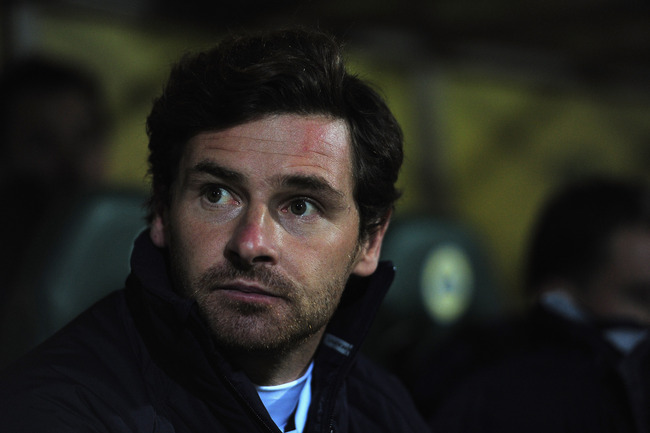 Jamie McDonald/Getty Images
Here's a man who shouldn't be associate with the previous slide but who will be made out to be at some point by the press: Andre Villas-Boas.
As of right now, he's doing pretty much as expected in charge of Tottenham Hotspur.
Spurs sit sixth, but are level on points with fourth place. Their form has been a little irregular and patchy because they are working through playing a new formation and method of defending, and some established names have made way over the past couple of seasons.
But he's doing just fine.
A cup run might help after the new year, while another addition or two is undoubtedly needed, but by and large if Spurs finish in the top five they can count that as a decent first season for Villas-Boas.
But this is the Premier League, where the English-biased media need dealing with, and AVB replaced Harry Redknapp and a top four spot in the summer. They will call him out for not doing well enough, will challenge his lack of progress and highlight poor results as evidence of not living up to standards.
Spurs will at some point feel compelled to back their manager, as they should—and it will inevitably be seen as a "vote of confidence" for the Portuguese manager, somehow heralded as another sign that he is under pressure.
Tiresome, inaccurate and merely stoking flames of a barely-existent fire—but to be expected.
More Than £100 Million to Be Spent by Premier League Teams on January Transfers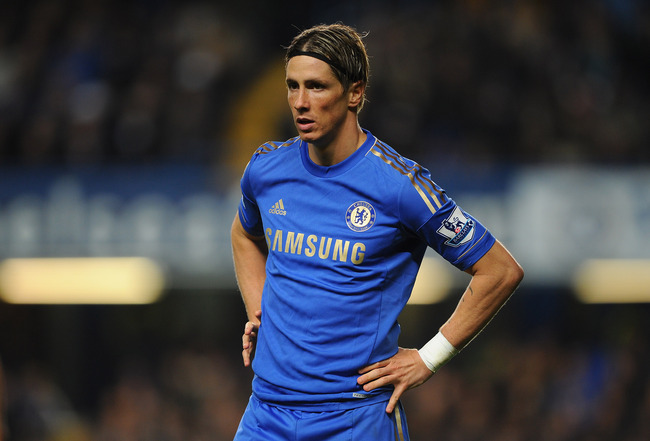 Michael Regan/Getty Images
January transfers have fluctuated considerably over the past few seasons in the Premier League.
During the 2011 window, an estimated £200 million was spent by the 20 clubs combined—much of it on Andy Carroll and Fernando Torres.
Last year, the 2012 version saw spending of only £60 million—a 70 percent reduction on the previous year.
Managers and clubs frequently refer to the winter window as being more difficult to find quality to bring in, but is it really?
Patrice Evra, Daniel Agger, Luis Suarez, Demba Ba, Nemanja Vidic, Edin Dzeko and plenty of others have all joined new teams in January, and have gone on to prove themselves top players.
This winter, we should expect the clubs to spend a gross in excess of £100 million between them.
Every English Team to Exit Champions League by the End of the Quarter Finals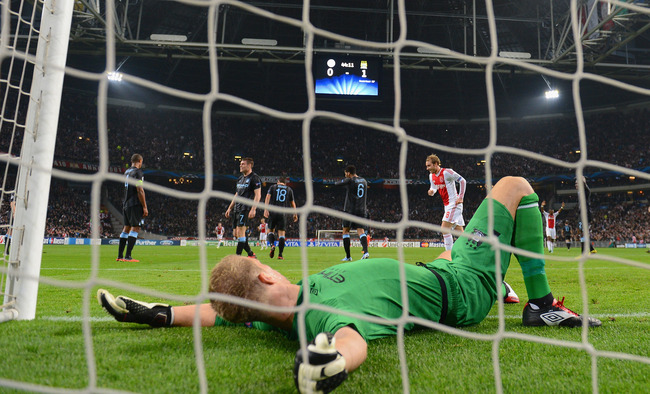 Mike Hewitt/Getty Images
England's finest clubs have a proud recent record in the Champions League.
Since 2004-05, at least one Premiership side has contested in the semifinal of every campaign except one—and on three occasions since that date, no less than three of the four semifinalists have come from England.
Manchester United, Chelsea, Arsenal and Liverpool have all reached the final itself.
But that run will not be extended this year.
Manchester City are already struggling to even get out of the group stage and are currently bottom of Group D, while Arsenal, though comfortably positioned to qualify, have been far from impressive enough to suggest they can reach the latter rounds.
Manchester United's fate is all but assured as they are leading their group with three wins from three, but they have not exactly shown their squad to be amongst the best four in Europe.
True, the best don't always win, but you might not fancy them to progress if they come up against the likes of PSG, Real Madrid or Bayern Munich in the next round—all currently sat in second place in their groups.
As for Chelsea, they also face a battle to make the knock-out phase as they are currently second and facing an extremely tough test against Shakhtar in their next game. A home draw versus Juventus might yet be the undoing of them.
At Least 1 Team to Win Cup Trophy Who Finishes Outside Top 4 in the League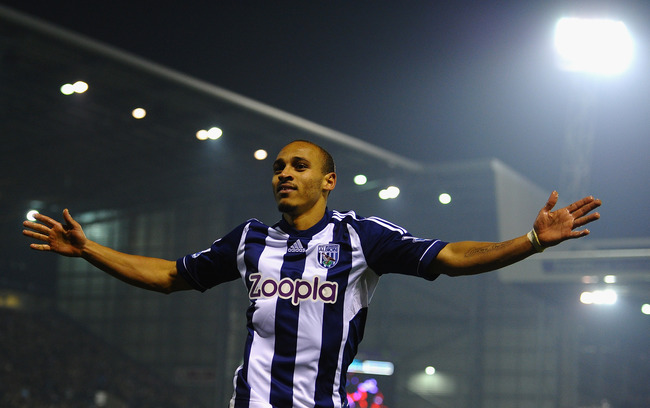 Laurence Griffiths/Getty Images
Successful teams win trophies, often multiple trophies in the same year.
The league champions might do the double with the FA Cup, or the team who ends up as runners up in the Premier League gets the consolation of that trophy to end the season on a high.
Often, the FA Cup and the League Cup is a prize won by one of the top four sides, a team who is strong in the league and rests players early on in the competition but when they make headway—and sometimes the prize of the league seems unattainable—stronger lineups emerge in the latter rounds, leading to silverware.
The FA Cup is a prime example; between 1991-92 and 2009-10, only Liverpool, Arsenal, Manchester United and Chelsea won the trophy—save for Everton, once, in '95 and Portsmouth, also once, in '08.
Manchester City then became the next "new" team to win it in 2011 (their first FA Cup win since 1969) before Chelsea again won it last season.
But—here's the prediction—at least one of the FA and League Cups will be won by a team this season who does not finish in the top four.
Will it be Newcastle United, finally breaking their barren, trophyless run? Will one of the almost-top-four sides pick up a trophy?
Perhaps Everton or Liverpool (who reached both domestic finals last season), teams with ambitions of reaching the top four, will have a successful stop-gap year with a trophy win?
Or maybe one of the less-heralded but certainly capable sides will prove their worth? West Brom or Swansea might be a good bet...
London to End the Season Empty-Handed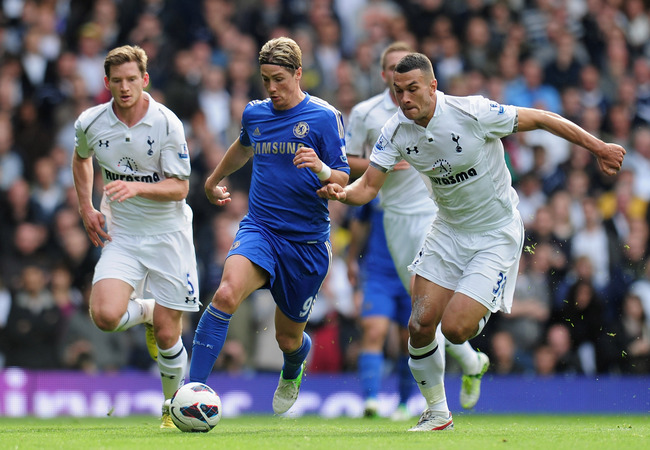 Shaun Botterill/Getty Images
The city of London is well-represented in the Premier League as usual this year with Chelsea, Arsenal, Tottenham, West Ham, QPR and Fulham all heralding from the country's capital.
Three are competing in European competition, all have the FA Cup to look forward to and the biggest two, Arsenal and Chelsea, are still in the League Cup going into the quarterfinal stage.
It might seem a risk to say it then—but no London club will win a trophy this season.
At Least Two More 'Racism in Football' Incidents to Make the Headlines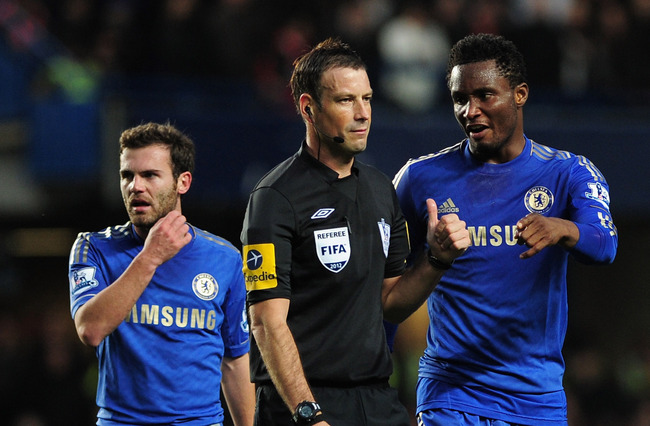 Shaun Botterill/Getty Images
Racism has no place in society, let alone in football, yet it seems to be making the headlines more instead of less as the months roll past.
Referee Mark Clattenburg is the latest to be surrounded in investigations following accusations, while a Chelsea supporter is also facing charges of racially aggravated behaviour.
Nobody wants to see it happen any more, but perhaps these incidents getting prominence is what the game needs to finally be rid of such happenings.
Twice more this season, we'll see Premier League-based, racially-motivated incidents making headlines in the media.
Reading, Southampton and Sunderland to Be Relegated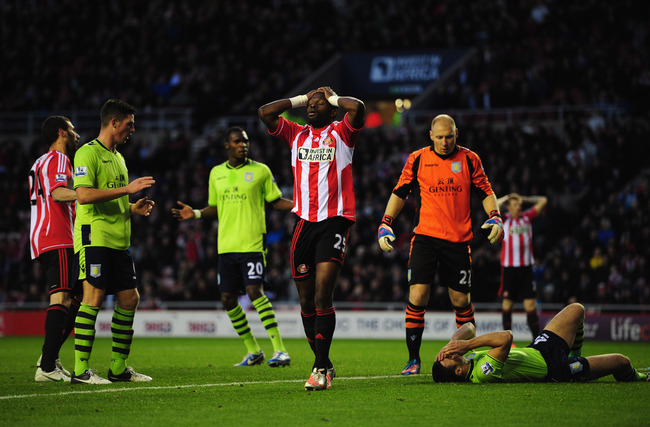 Stu Forster/Getty Images
Tipping two of the promoted sides, Reading and Southampton, to be relegated might not be that much of a bold prediction—especially when both sit in the relegation zone with a combined total of one win in 19 matches.
So we'll pick the third team to go down with them—and it's Sunderland.
Martin O'Neill has simply not done enough at this stage to create a team with anything like the ability and quality they think they should have.
His outdated style of relying on fast wide players isn't working, and O'Neill has rarely had an alternative way of playing.
Steven Fletcher has proven a good signing so far with his goals, but nobody else has hit the net for them this season.
They need to add not only more goals but more guile to their team; a different way of approaching games. One win from nine speaks for itself; even if they haven't lost many games either.
Lee Cattermole to Be Sent off Twice More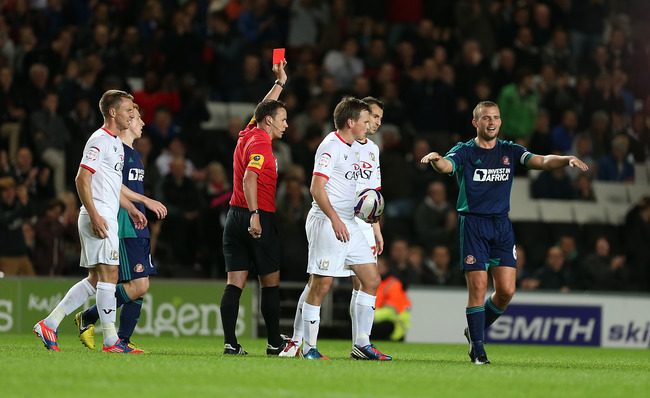 Pete Norton/Getty Images
Let's stick with Sunderland a moment longer.
Lee Cattermole getting sent off again in the next six months isn't a bold prediction—so we'll double our offer and say he'll be shown a red card twice!
The, er, combative midfielder has recently signed a contract extension with the Black Cats, thereby providing Premier League referees and assistants with an opportunity to get the big calls right in a straightforward way for the next five years.
Or, if you're a Sunderland fan, judging him by his reputation instead of the challenge itself for the next five years.
Reading to Not Win a Home League Game Until After Christmas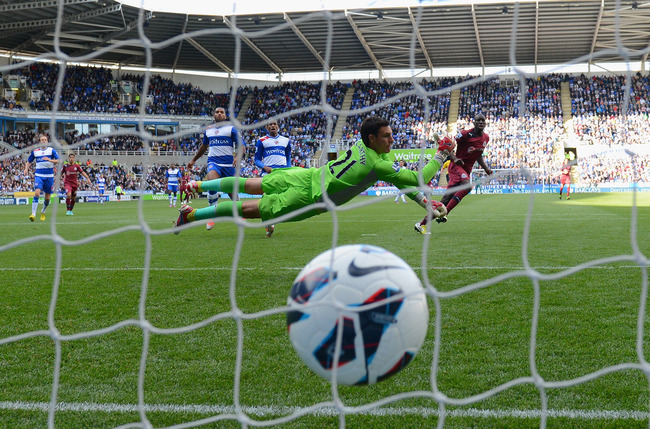 Mike Hewitt/Getty Images
Onto the next relegation-threatened team: Reading.
So far their Premier League record reads: played nine, won none, lost four, drawn five.
Their five points have them in 18th place and whilst losing only four of their opening nine games isn't too shabby, they have simply been rather worse in defence than they are in attack, leaking goals too easily and costing themselves points.
It's often said that a team's home form is what keeps them up, but Reading's isn't going too well so far. They have a big double-chance to put that right over the coming weeks, with home games against Norwich and Everton—but this prediction says they will fail to do so.
Their only other home league games before Christmas are against Manchester United and Arsenal.
It's a long wait until Boxing Day and a home game against Swansea if Reading doesn't pick up points in their next two fixtures.
Southampton to Break Record for Most Goals Conceded in 38-Match Season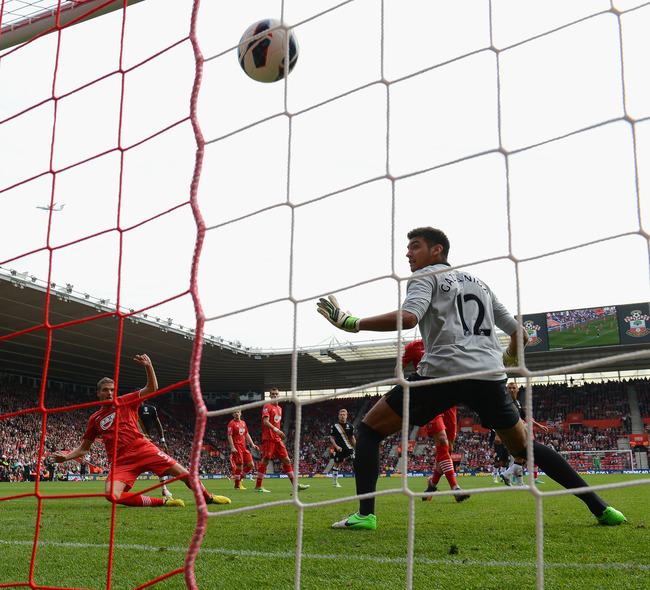 Mike Hewitt/Getty Images
Finally, a prediction for the third to-be-relegated side, Southampton.
Not much explanation needed here; the Saints have fielded three goalkeepers already this season and have conceded 28 goals in 10 games.
That's a rate of 2.8 goals conceded a match which over the course of a season relates to 106 goals blasted past the team.
Sure, they have time to get it right to an extent where they are not the worst defence to have graced the top flight, though that is hardly their main aim for the season.
The current record for the most goals conceded in a 38-match season is Derby County, who let in 89 goals during the 2008-09 season, a rate of 2.3 per game on average.
As you can see, the Saints have plenty of work to do on the training pitch on the defensive side of things.
West Brom to Finish in the Top 8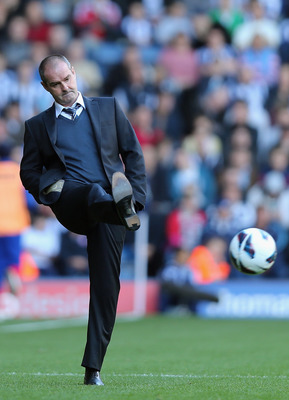 Bryn Lennon/Getty Images
Back to the positivity for a spell!
West Bromwich Albion, unlike Reading, Sunderland et al, are doing superbly well under new manager Steve Clarke.
The former Liverpool and Chelsea assistant is in charge for the first time in his career and has adapted superbly, taking his WBA team on to great heights early on in the season.
A win over Southampton most recently saw the Baggies climb to fifth in the league.
Difficult though it will be for them to maintain this form over a longer period, Clarke has gotten the best out of his players over the first quarter of a season and has the possibility to add to his squad in January.
They might fall just short of a Europa League spot in the end, but West Brom can absolutely hope to aim for a top eight spot in the Premier League this season.
Liverpool to Finish Ahead of Everton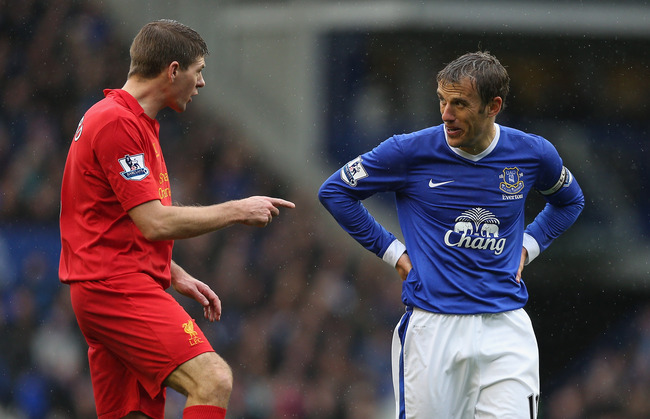 Clive Brunskill/Getty Images
2011-12 saw Everton finish the season in seventh position, one place and four points ahead of Liverpool.
It was the first campaign since 2004-05 that the Blues had finished higher than the Reds, and the third season in succession that the two Merseyside clubs had ended the term next to each other in the standings.
A quarter of the way through this season and Everton are again higher in the league—fourth, to Liverpool's 12th.
It's quite a turnaround for the Reds to achieve then, but that's the prediction: Liverpool improves to end the season placed higher than Everton in the Premier League.
Wayne Rooney and Robin Van Persie to Score a Hat-Trick in the Same Game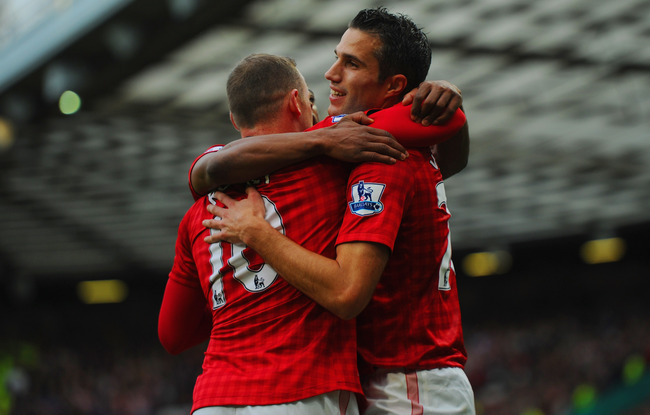 Michael Regan/Getty Images
With the attacking riches at their disposal, it won't come as a surprise if Manchester United knock five or six goals past an opponent or two over the course of the season.
Last year, of course, they put eight past Arsenal—and Man City put a bucketful past United shortly afterwards.
This season, United will score at least six goals in a game, and both Wayne Rooney and Robin van Persie will score a hat-trick each.
Rooney currently has six in the Premier League, van Persie four.
At Least 3 Sides to End Up Regularly Playing with a Back 3 Formation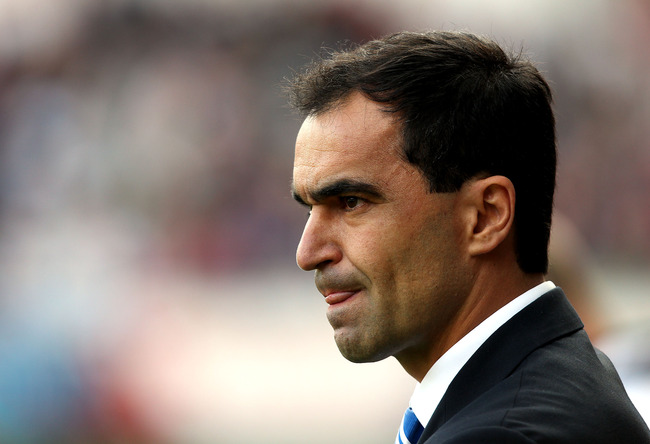 Jan Kruger/Getty Images
It's dead, 4-4-2.
Long live, well, a variety of systems with tactical flexibility—and the England national team and Stoke.
Last season, Wigan Athletic achieved a mini-miracle as they won a shed-load of points late on in the season, combining a previously unseen defensive solidity with attacking invention and bravery.
And they did it off the back of a 3-4-3 formation.
Some teams have flirted in England with the use of a back three system over the years, though it has not been prevalent since the mid-90s.
Manchester City boss Roberto Mancini has made it an option for his team at times, while a succession of Liverpool managers have also lined up with three at the back.
Whether with a striker pairing of two or a single forward supported by wider players, three at the back is a preferred method for several teams in Italy, amongst other countries.
By the end of the season, at least three teams will be showcasing a similar set-up in the Premier League.
Chelsea's Eden Hazard to Win a Player of the Year Award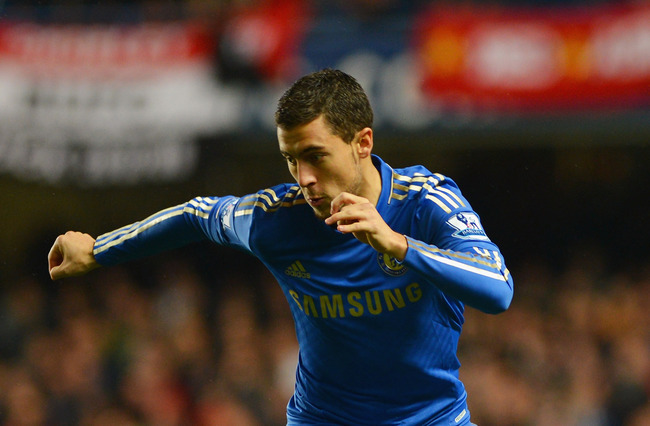 Shaun Botterill/Getty Images
Chelsea's Eden Hazard has already had a remarkable impact on the Premier League since joining in the summer from Lille.
In 10 starts this season he has created 20 scoring chances for team-mates, claimed five assists, scored twice and produces a successful end result from more than half of his dribbles.
The attacking midfielder is a vital component in his team and should be a mainstay for seasons to come.
Aged just 21, he is eligible for both the PFA Players' Player of the Year and the Young Players' Player of the Year awards.
Not since Cristiano Ronaldo in 2006-07 has one player scooped both awards, but Hazard could well do so this term if he keeps up his impressive performances.
Goal-Line Technology Trialled or Used in the Premier League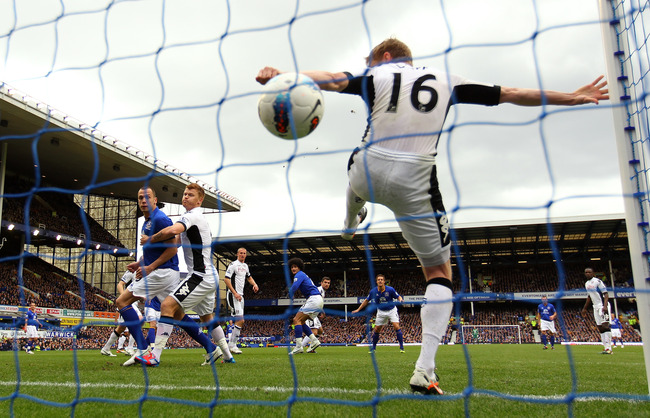 Alex Livesey/Getty Images
It's one of the biggest and longest running debates in the game now, and everybody is getting pretty tired of it.
Goal-line technology is needed in the Premier League to aid decision-making on potentially game-changing incidents.
Referees should already be allowed to consult television monitors to decide whether a goal has been scored or not—in most cases the match is already stopped anyway as the ball is deemed "out of play" when a goal is scored, and it would take a brief second or two to decide.
They're not though, so goal-line technology is the logical alternative which needs to be implemented correctly to give the assurances of accuracy in these big moments.
The final prediction for this season's Premier League is that the competition sees the first use of said technology before the end of this campaign, whether by full or merely a trial use. It will be a long-overdue step in the right direction.
Keep Reading